This is one of those areas where frugality and environmentalism overlap (in my experience, that happens quite often!).
I also think that this is probably one of the most painless money saving moves I make.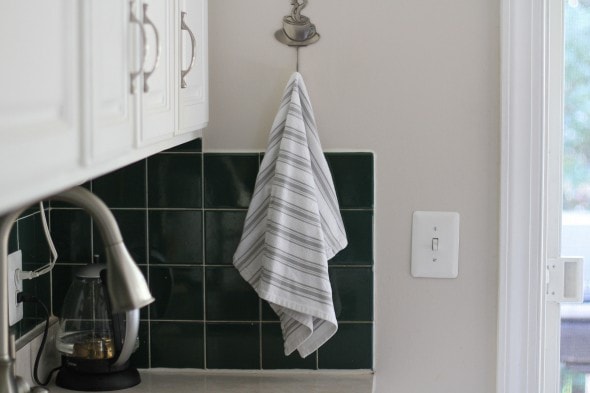 I've poked around for quite a while and I cannot for the life of me find the statistics about how many rolls of paper towels a household uses on average, but let's assume that you use two rolls a week.
Even if you get paper towels for $1 a roll (which is what the cheapie-cheap-cheap ones cost here), that's $110 a year that you're spending on something that you just throw away.
If you have $2/roll paper towels, that's $220 a year.
Wouldn't you rather spend that on something more fun?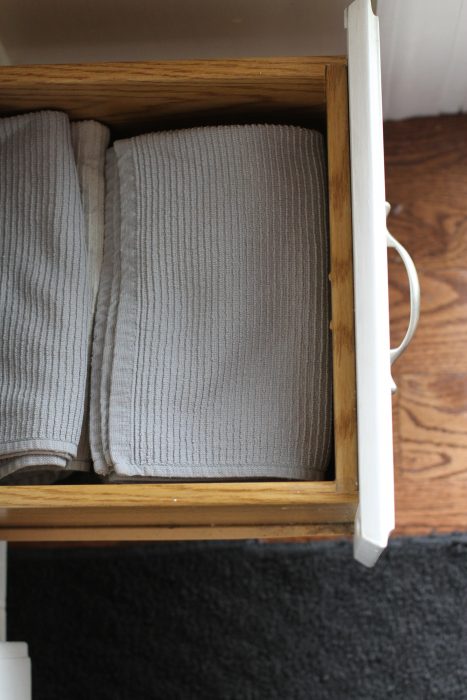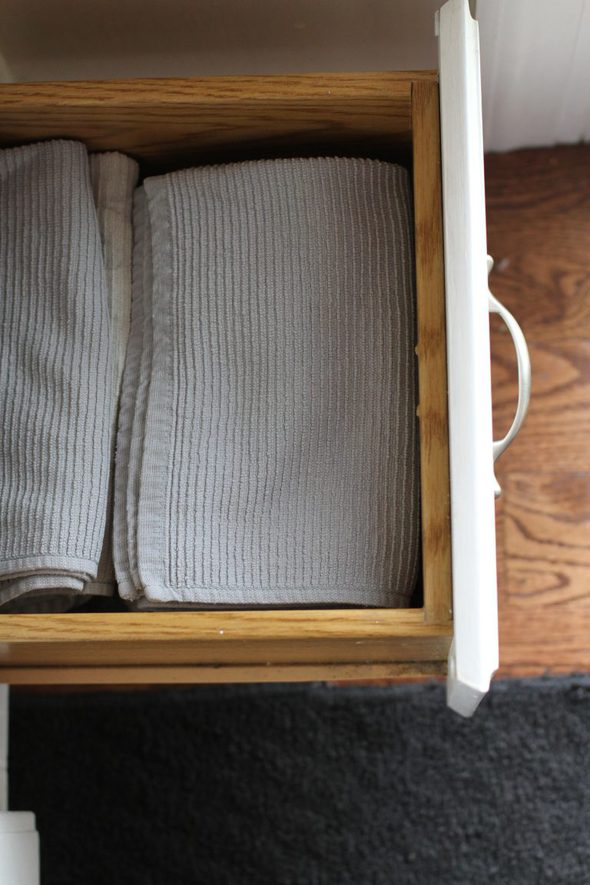 And of course, it's not exactly eco-friendly to throw away two rolls of paper each week either.
So, here's what I use instead.
Washcloths
I always have a stack of cotton dishcloths in my cabinet, and I cannot imagine having a kitchen without them.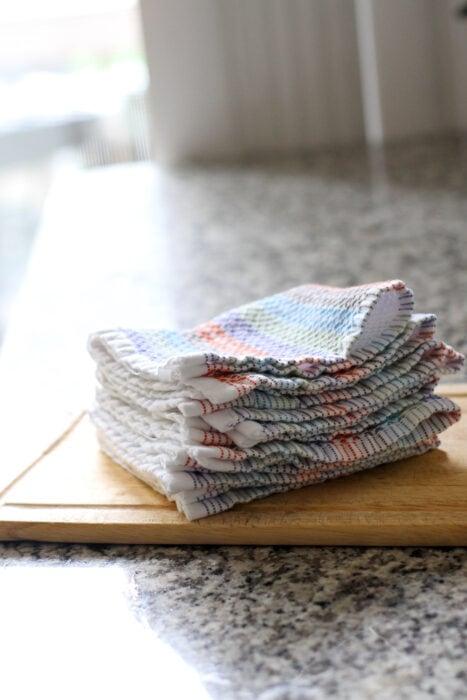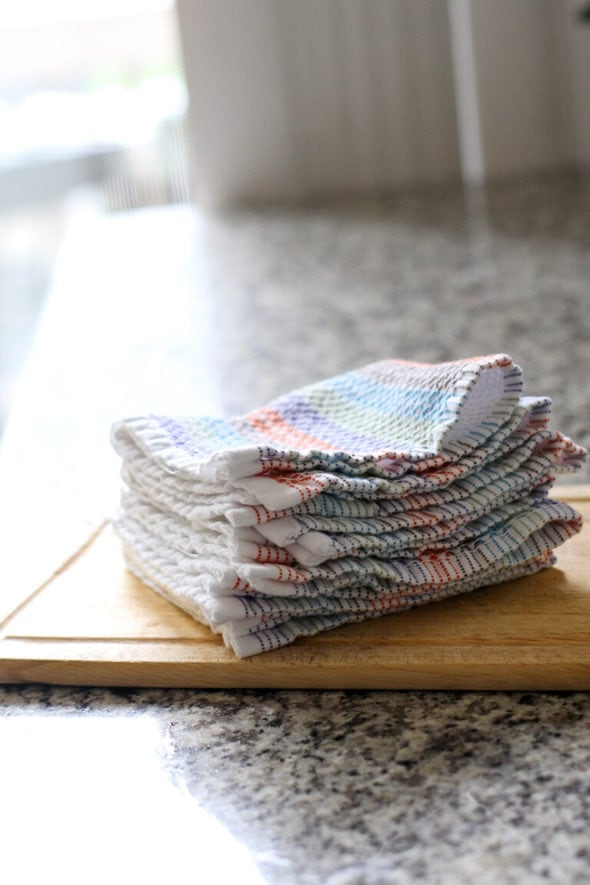 (organic cotton dishcloths from Mighty Nest)
I use them for wiping counters, wiping my stove, wiping my sink, and wiping anything else in the kitchen that needs wiping!
Cloth washcloths can get smelly if you're not careful, so I change my kitchen washcloth each day.
Also, before I go to bed at night, I always hang the washcloth over my faucet or oven door so that it can dry out overnight.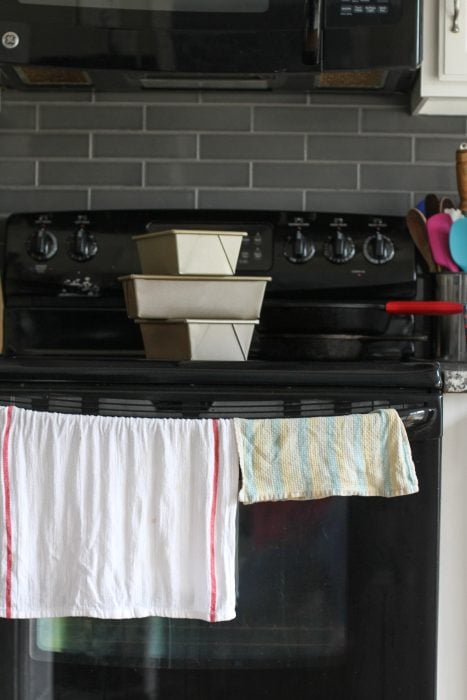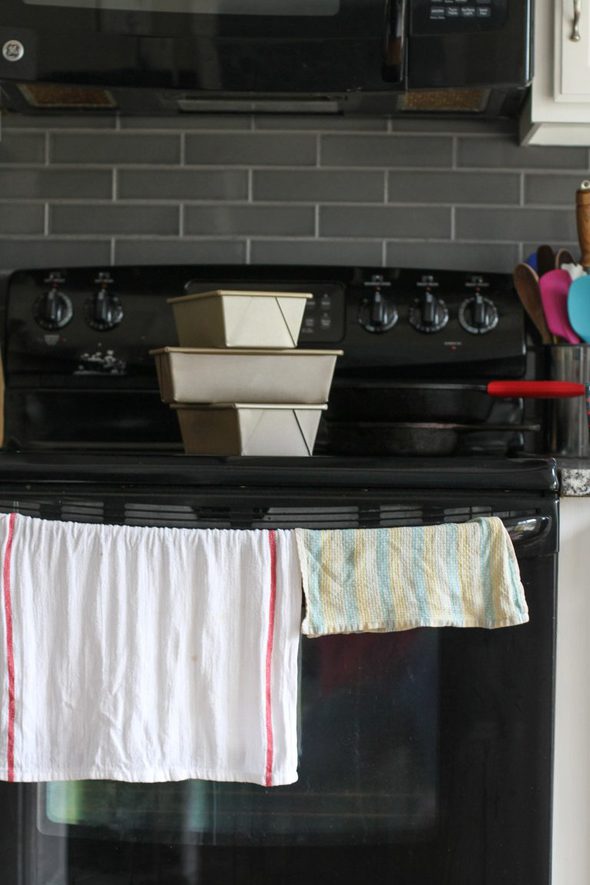 (Leaving it wadded up in a wet ball behind the sink is not a good idea, just so you know!)
The next morning it gets thrown into the laundry pile.
Every so often the washcloths get dirty enough that they need some extra cleaning, so I boil them for ten minutes in a pot on the stove.
(More details on that, plus 7 other tips for keeping kitchen linens clean)
Even with heavy daily use, mine usually last me for a number of years.
Considering that I can get a pack of washcloths for the price of a multi-pack of paper towels, I'm definitely money ahead this way.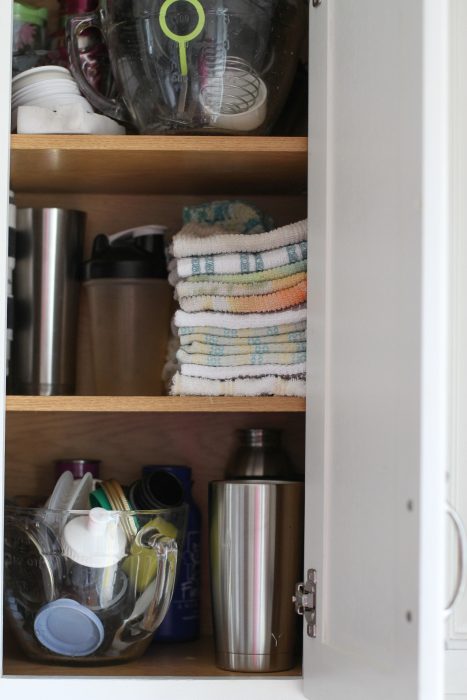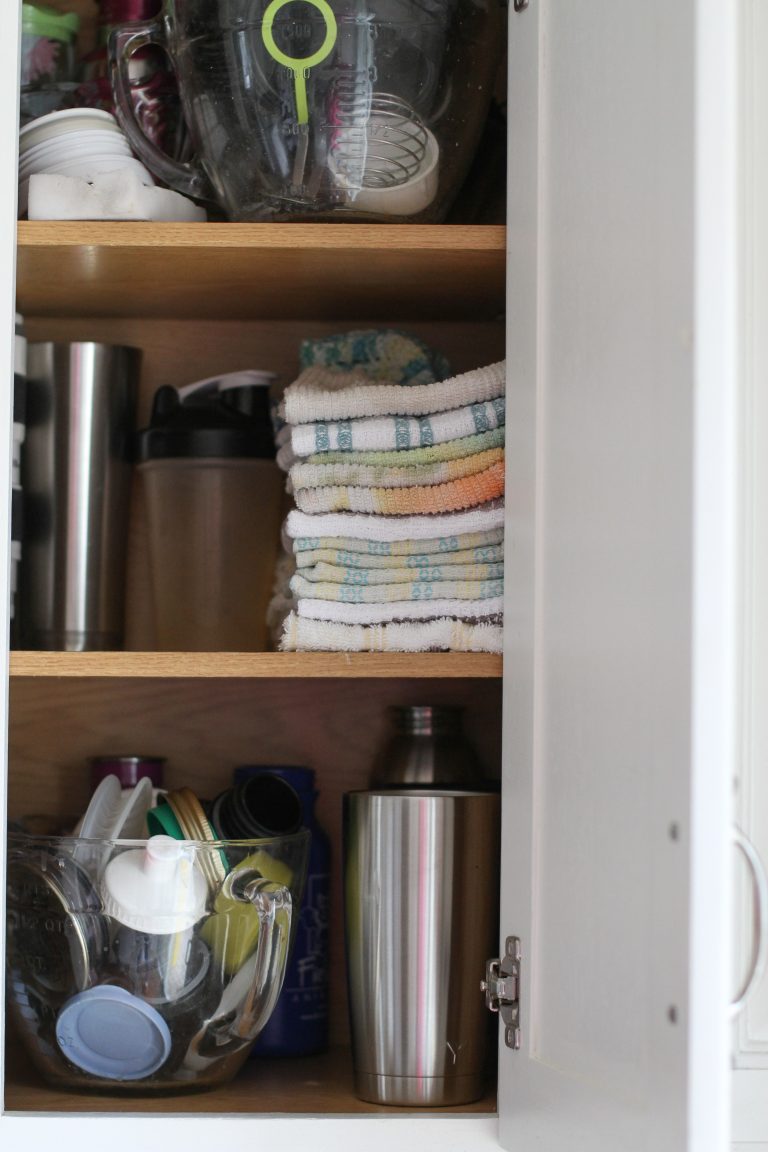 I know some people think that using a washcloth all day in the kitchen is unsanitary and unhealthy, but as long as you keep up on the changing and washing, your washcloths should be just fine.
Of course, if I use a washcloth to wipe up something that is truly unsanitary (a counter that's had chicken on it, for example), I don't use that particular cloth for anything again until it's gone through the wash.
Rags
For non-kitchen wiping purposes, I usually use my stack of old t-shirt rags.
I LOVE these things.
They don't really cost a penny, because I make them from old t-shirts that are ready for the trash, and they work so, so well.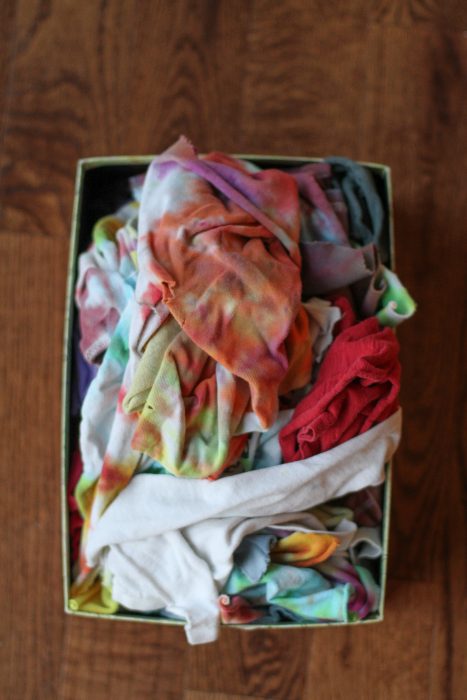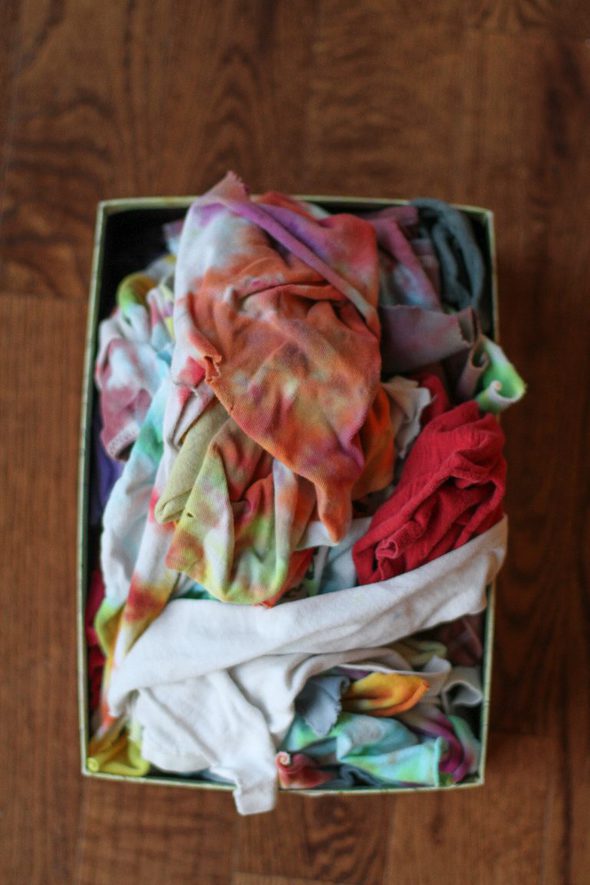 I don't do anything fancy to the t-shirts…I just cut them up into what seems like an appropriate rag size and throw them into a box in my linen closet.
These are doubly eco-friendly because they keep you from using a disposable product and they also keep you from having to throw old shirts away.
I used to use paper towels to clean windows and appliances, and all sorts of other things but once I gave t-shirt rags a try, I never looked back.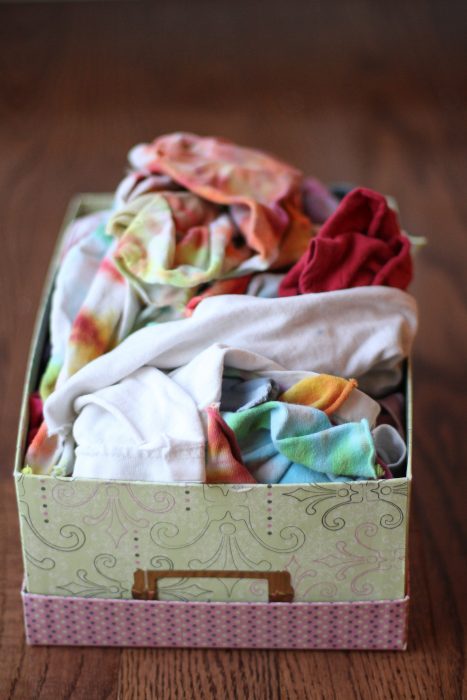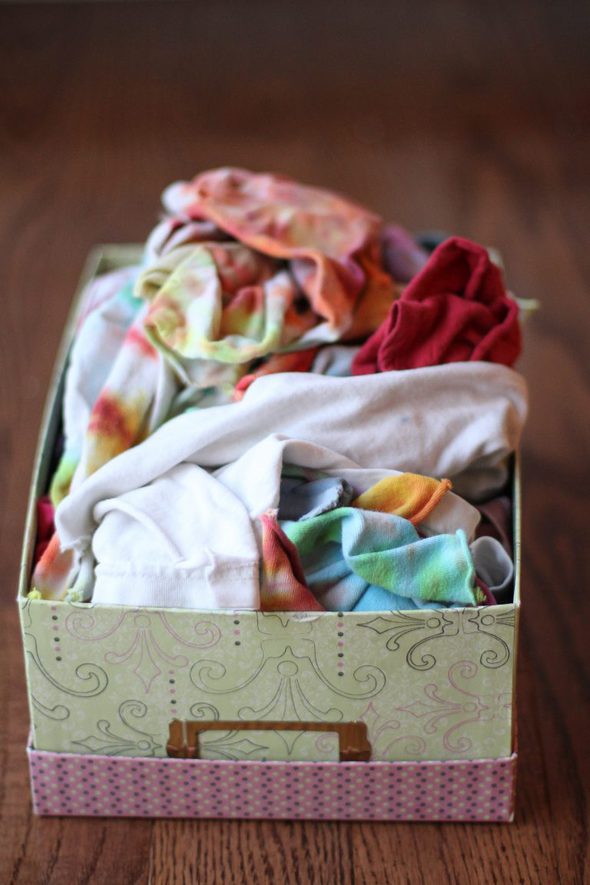 It took tons of paper towels to get my sliding glass door clean, but I can do the whole thing and then some with a single rag.
I also use them to dust my piano, clean the outside of my appliances, and to clean my mirrors.
Good ol' kitchen towels
I have an entire drawer of cotton towels in my kitchen, which we use for hand-drying and dish drying.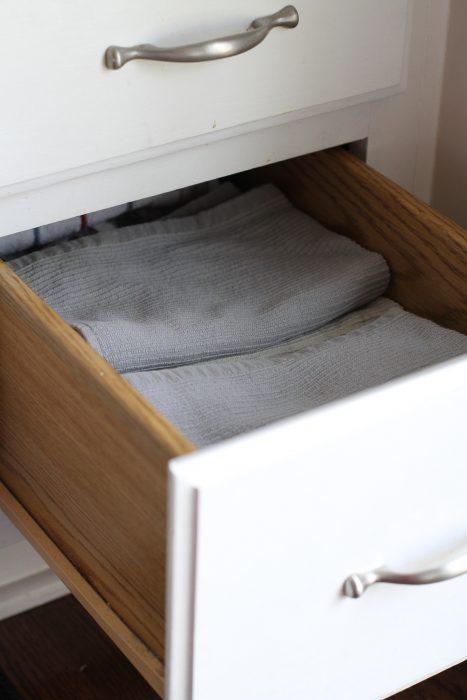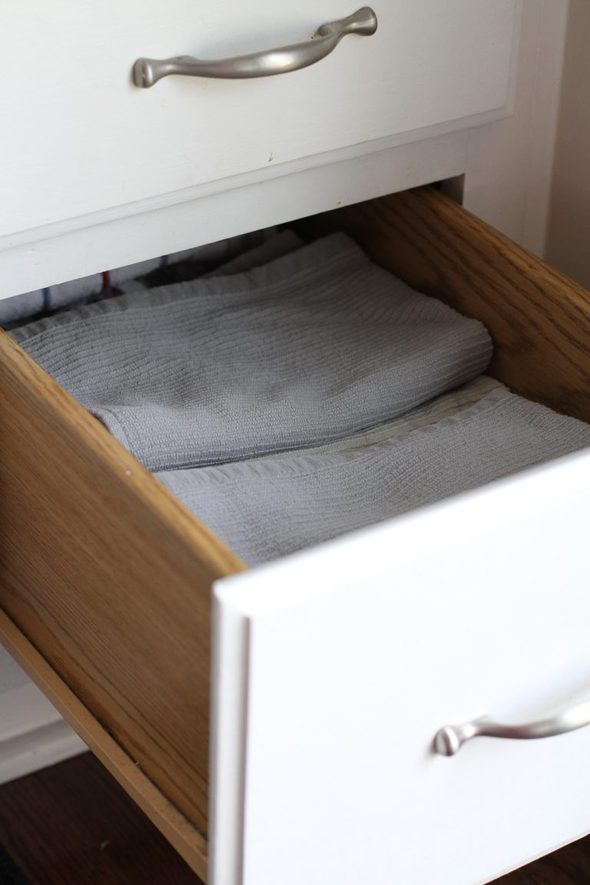 (I have a variety of towels, but the ones pictured here are Now Designs cotton towels.)
Paper towels honestly aren't that great for drying wet things (they get soggy so fast!), so I prefer real towels.
Plus, when you are drying clean hands or clean dishes, there really is no reason to use a disposable product, even if you are super duper paranoid about sanitation.
Doesn't this make a lot of laundry?
Nope.
I promise you, the rags and washcloths do not significantly increase my laundry load. They're so small and I use so few of them each day, their impact is negligible.
Give it a try, and I bet you'll be pleasantly surprised, especially when you see how long a roll of paper towels can last you.
Any other paper-towel avoidance ideas I missed? Add them in the comments!