I had such a fun time on my trip to the Aldi blogger event last year, so when I got an invite for this year's event, I was super excited!
And of course, I have to tell you all about it.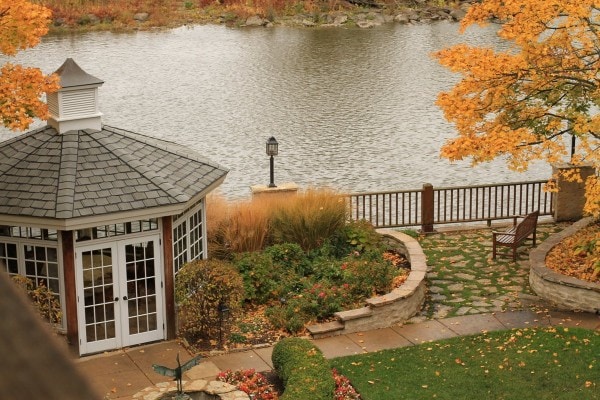 Last year, we stayed in downtown Chicago. And though the Michigan Avenue Omni is lovely and all, I was so delighted to stay in a gorgeous little town outside of Chicago.
(Kristen and cities don't mix that well!)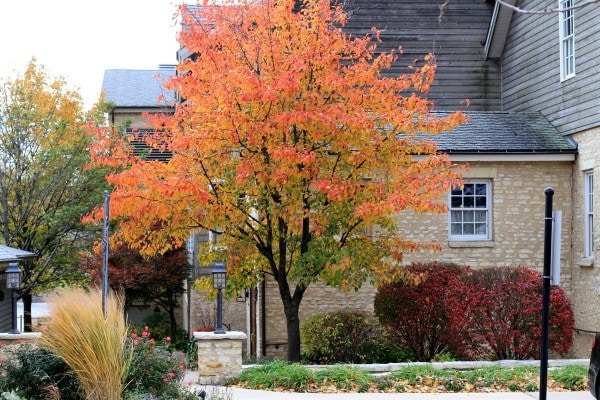 Isn't it beautiful?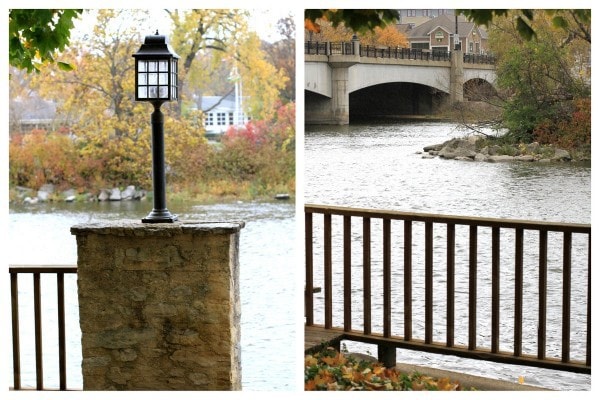 Even in the rain, it's lovely.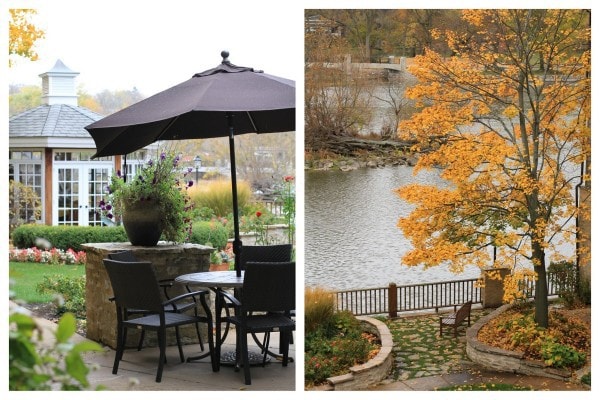 Once all the bloggers had arrived in Geneva, we headed off to the Aldi test kitchens to sample some new holiday products.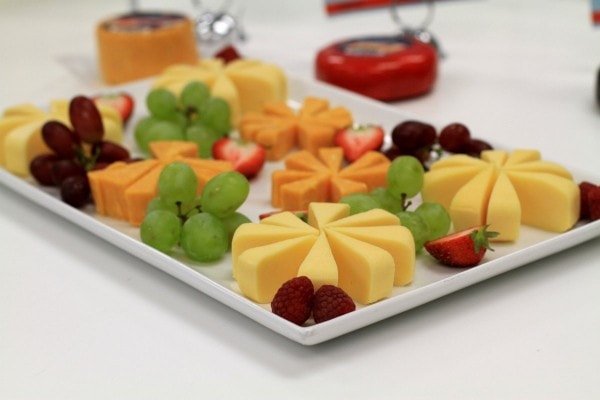 The apple cheddar is really good. I'd never have thought of such a thing, but it was surprisingly tasty-keep an eye out for it.
We also got to sample some of Aldi's wines and sparkling beverages.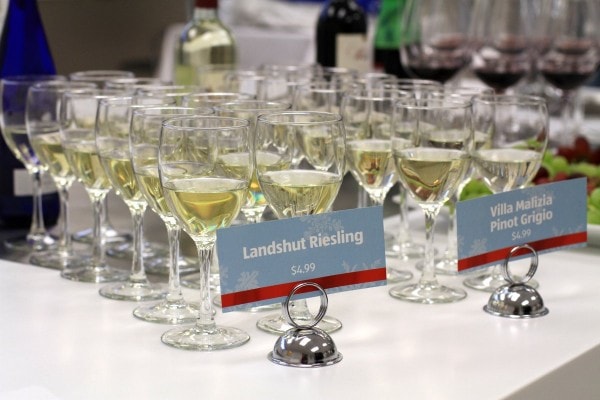 I'm pretty much the lightest lightweight in the world when it comes to alcohol, so I don't have a terribly well-developed wine-tasting palate. But, they did taste good to me, and a number of Aldi's wines are award-winning (since the awards are given out by people who aren't lightweights like me, you can trust them!)
After we finished our taste-testing, we got to see this amazing table display, made entirely with food from Aldi.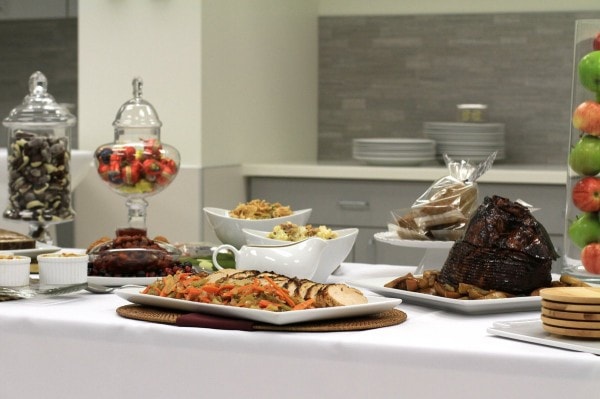 We also got to hear a presentation by Janice Stahl, a food stylist who's worked with Oprah, Extreme Home Makeover, and Tyler Florence, among others.
And know what? She's an avid Aldi shopper! I love it. She has all these fancy-pants catering/food styling jobs and she uses Aldi food.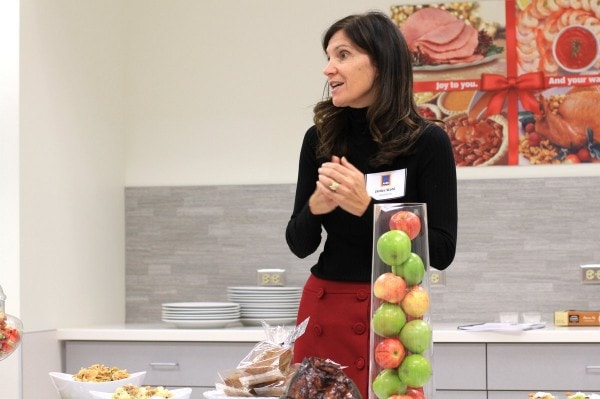 She talked to us about ways to keep our holiday celebrations simple (something I'm obviously quite on board with!)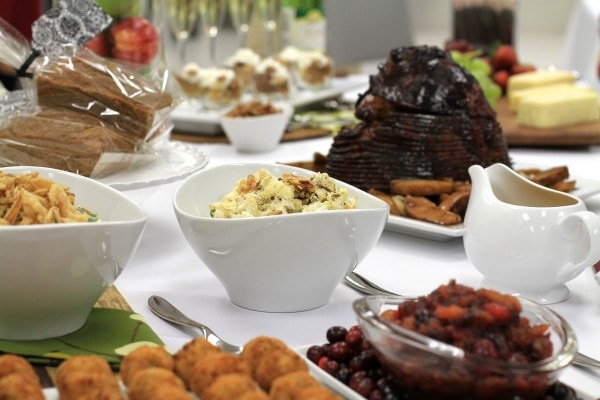 She suggested keeping decor rather minimalist, letting the food provide visual interest. And she recommends simple white dishes, which show the food off and which can be used all year round.
(White dishes are also fabulous for photographing food!)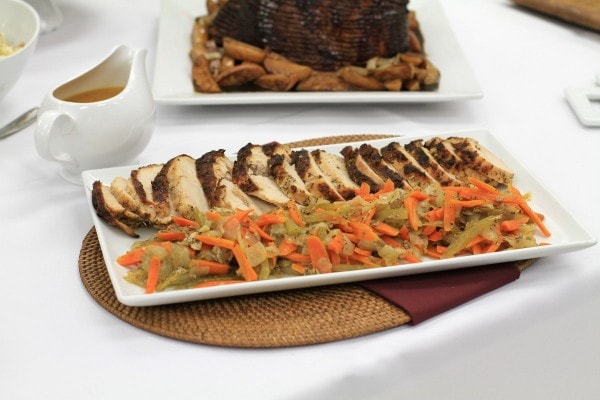 The berries really dress up this sparkling juice, don't they?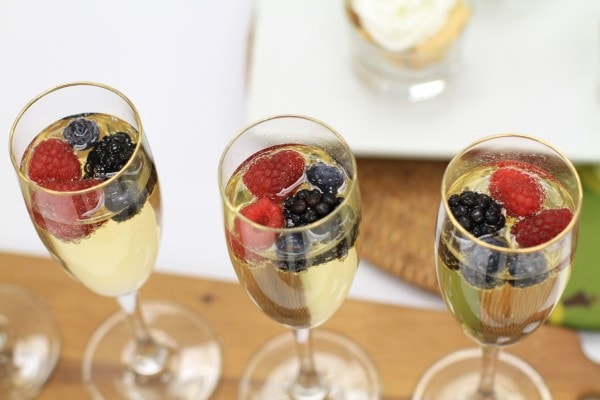 Janice told us that large desserts aren't really in vogue right now. So don't spend hours making a 5 layer frosted cake for your next gathering. Instead, go for something bite-sized because small desserts are really popular right now.
(these bite-size desserts are made by spooning pecan pie into dishes and topping them with whipped cream)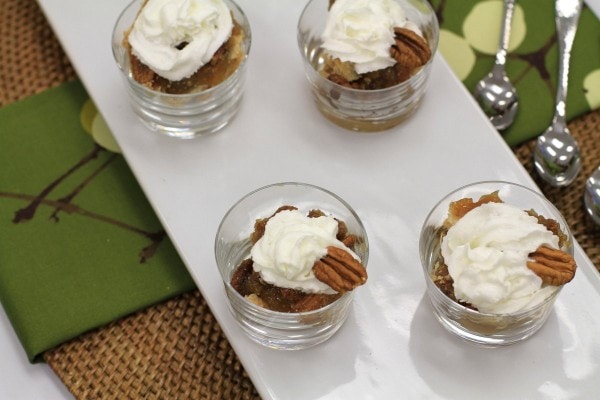 Ooh, and for table decorations and centerpieces, Janice recommends using food.
Check these out: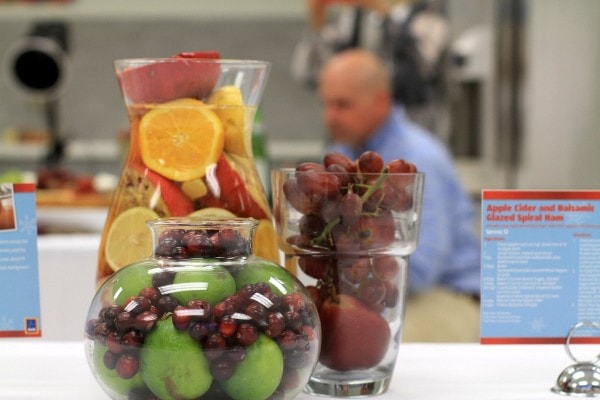 The lime/cranberry one is my favorite. And once your celebration is done, you can just use the food. Lovely.
I love these apothecary jars with candy in them too.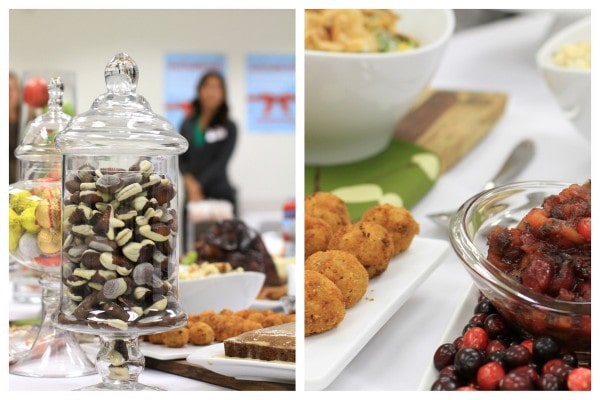 We got to eat all of this delicious food too. The roasted turkey breast was SO good and very moist, which is not what I typically expect from turkey breast. I'm definitely going to look for this at my Aldi store.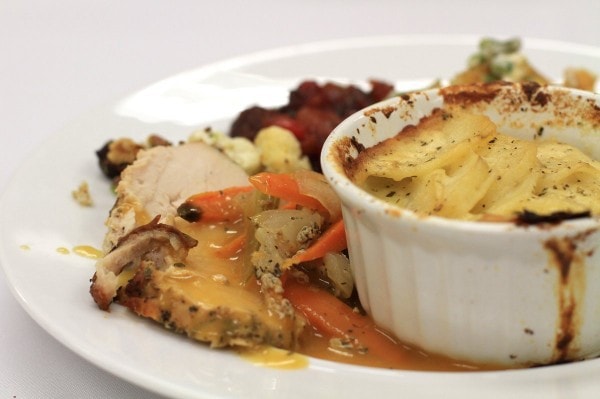 I have more to tell you about my time at the Aldi test kitchens, but I'll save the rest for a part two so that this doesn't get too long!
If you're interested in making any of the tasty food I ate at the Aldi dinner, you'll be happy to know that the recipes are all available on Aldi's website. There's a virtual booklet with photos of every recipe and you can print out any of the recipes you want to make (the Roasted Turkey Breast and Individual Au Gratin Potatoes were my two favorites!)
____________________________________
Aldi paid for my trip expenses, but I was not otherwise compensated. If you've been reading here for a while, you know that I was crazy about Aldi before the company ever knew who I was. So, all fan-girling is 100% authentic. 😉
____________________________________
Joshua's 365 post: Underwater Snow