On our second day in the Chicago area, the other bloggers and I had a tour of an Aldi store with a regional vice president.
I figured I probably wouldn't learn much, since I'd had a similar tour last year, where we learned about all the ways that Aldi cuts costs by being efficient. Efficiency is a large part of what helps them provide low prices without skimping in quality.
But the vice president pointed out something I didn't know before. I knew that Aldi saves manhours by displaying items in the cases they come in, but I hadn't noticed how the cases are color-coordinated to go with the product.
See?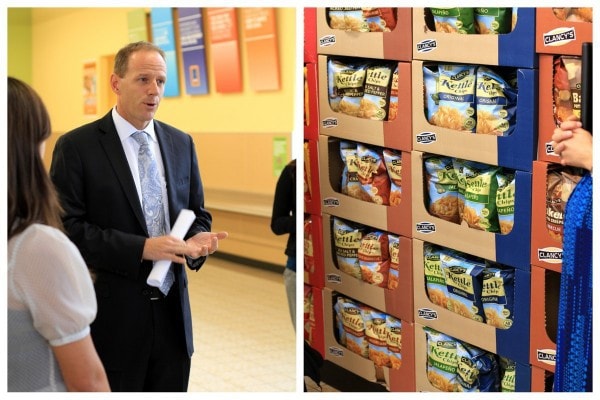 This greatly improves the store's visual appearance and helps to keep it from feeling too much like a warehouse (imagine if you were greeted by rows of brown cardboard cases!). And it also makes it easy to find what you're looking for.
There are cost-cutting, efficient systems in place all over Aldi stores. A few examples:
The milk is stocked on rolling carts to save manhours (the milk comes off the truck already on the carts)
The freezers have doors to save energy.
The store footprint is small to save on rent
The lighting has been redone to reduce energy costs.
Aldi's packages have multiple SKUs so that cashiers can ring up groceries quickly, thus saving manhours.
Aldi stocks only the most commonly purchased grocery items so that their stock rotates quickly (this reduces food waste!)
This is pretty much my favorite part of any Aldi store…the unpackaged produce area. Love, love, love.
I've had such great experiences with Aldi produce (see my photo essay about that), and the prices really cannot be beat.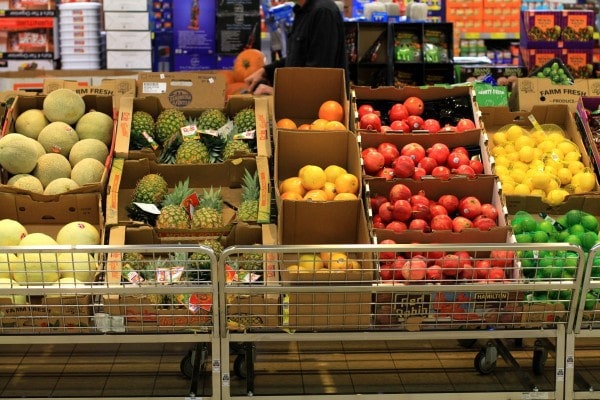 (You can read about how I handle produce packaging at Aldi in this Q&A post.)
I also want to add a word about how Aldi treats their employees. Though Aldi employees are expected to work really hard (there are usually only 2-3 employees in a store at a time), Aldi pays significantly more than other grocery stores and they have an excellent benefits package (which start at the 20/hr/week level!)
On an anecdotal level, the employees at my Aldi (who have no idea I'm a blogger and thus have no reason to fake it) all seem happy and friendly. I've asked many of them what they think of working at Aldi, and every response has been positive.
Oh, if you want more details about Aldi's cost-cutting strategies, you might want to read what I wrote about my store tour last year.
After our store tour, we headed back over to the Aldi test kitchens for a little contest. You see, when we took the Aldi store tour, we were told to pick out a secret ingredient to add to a bowl of guacamole, which we were each going to make at the test kitchen.
I'm not a very creative cook, so I was coming up totally dry as far as a secret ingredient goes. But fortunately for me, the vice president who gave us our Aldi store tour had an idea for me (which sounded crazy, but I just decided to trust him.)
The test kitchen cooks had prepped a whole bunch of guacamole ingredients for us.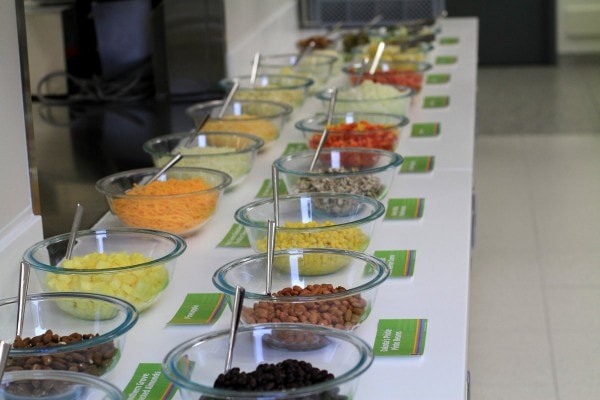 So, all of us chose our preferred ingredients and got to work making some guacamole.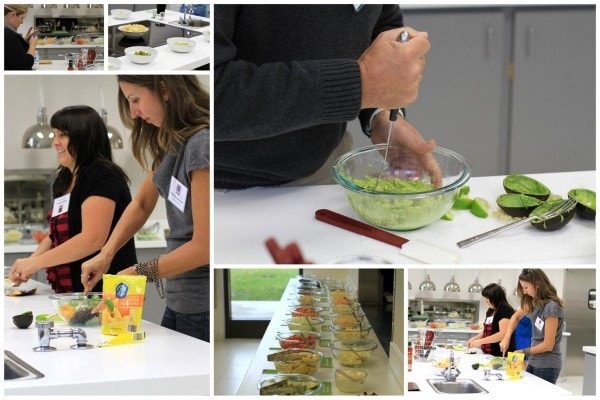 Once we were done, we lined up all of our bowls, tasted each one (oh, the hardship!), and wrote down which one we thought was the best overall and which was the most creative.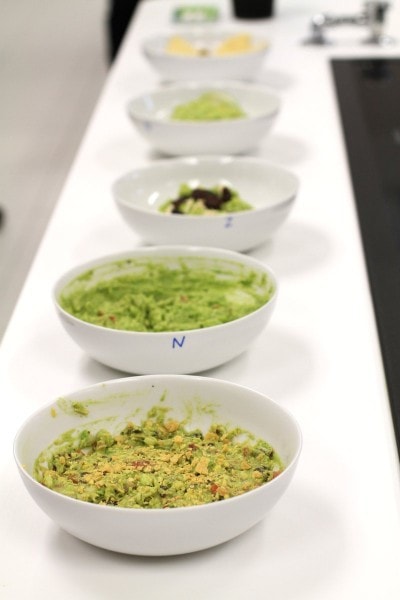 Guess what? My guacamole won Best Overall! I was very surprised, because I never win anything. 😉 And I was super happy because the prize was $100 in Aldi gift certificates.
Oh, yes, please.
Mine's on the left, and Briana's Most Creative guacamole is on the right (she added Craisins and chocolate to hers.)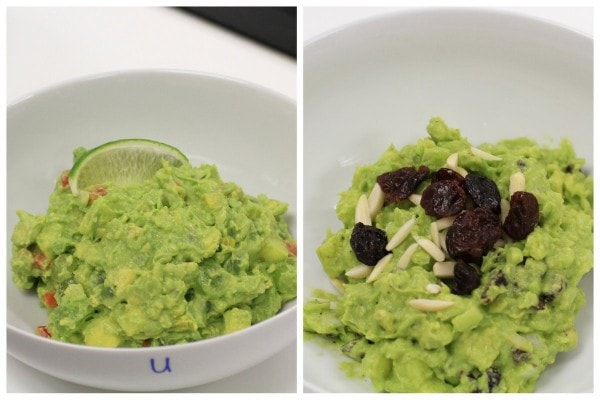 Want to know my secret ingredient?
Green grapes (I know! I was skeptical too.)
I also added chopped pineapple, onion, and sweet peppers, so it ended up being kind of a sweet guacamole. And it was surprisingly tasty.
After our guacamole contest, we had a super delicious buffet of Mexican food prepared by the Aldi test kitchen staff using Aldi food (naturally). I adore tacos and guacamole and all the rest, so I was a happy camper.
And then it was time to say goodbye and head off to the airport. Happily, though, this time I got to fly on Southwest, so my flights were perfectly on time, unlike last year, when I had some terrible flight SNAFUs.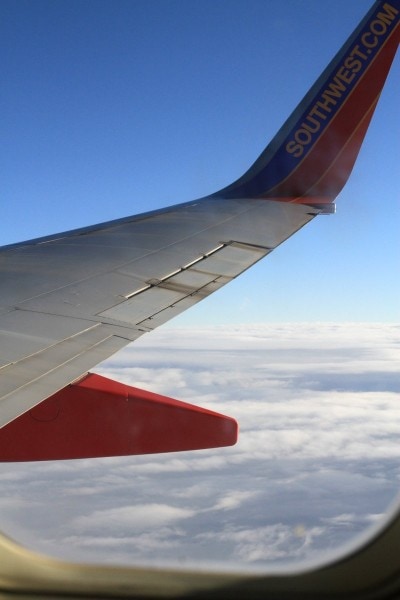 I lurve Southwest so much.
I had a marvy-fab time on my trip, and just like last year, everyone at the test kitchens was delightful.
And I was super happy to get to see Briana, from Bargain Briana, who I met last year (she's become a crazy Aldi fan since our trip last year!)
I also got to meet Meagan Francis from The Kitchen Hour (who knew me because she reads my blog, so that was fun!), Tara Kuczykowski from Unsophisticook, Liza Corbo from Buy-Her (I think she also blogs for 5 Minutes for Mom), and Kelly from KCMamas. And I know there were more bloggers there too, but their names and blogs escape me at the moment.
Alrighty. I think that's all I have to say.
Oh, except this: If you have an Aldi store near you and you haven't given it a try yet, go! I think you'll be very pleasantly surprised by the quality and the prices.
_______________________________
I suppose I should put another disclaimer in here, ey? Aldi paid for my trip to Illinois, but I wasn't otherwise compensated. And since I've been a faithful Aldi shopper for years, any and all glowing remarks about the company are heartfelt.