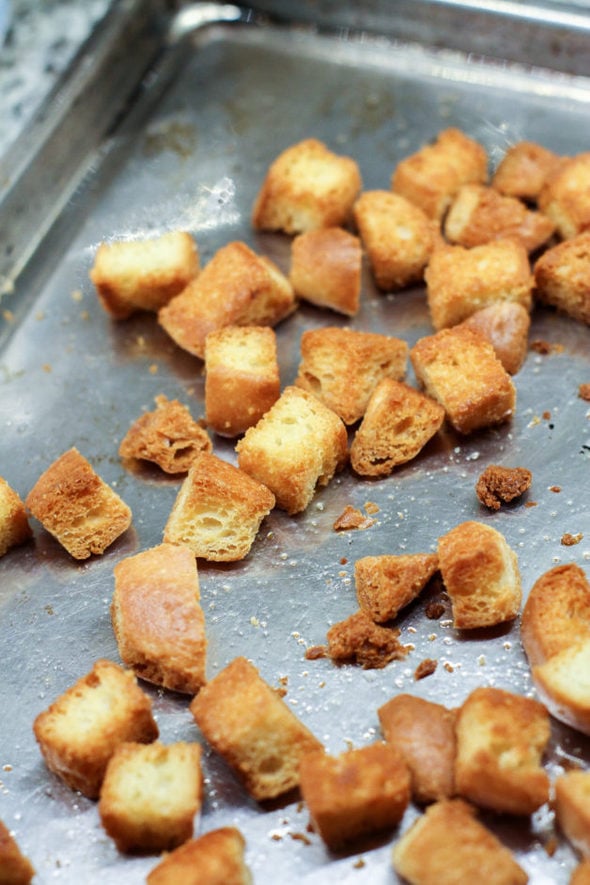 The basic recipe that I followed is from Cook's Illustrated, although most crouton recipes seem to be pretty similar.
I doubled the recipe, because it seems silly to go through the effort of making these only to end up with a few croutons. I tried the recipe once with real garlic and another time with powdered garlic, and I have to say that the real stuff is much better (and a bulb of garlic is pretty darn cheap).
I used a motley collection of bread leftovers…sourdough, french bread, rolls, heels of bread and so on, and the croutons were just fine.
In the future, I plan on keeping a ziploc bag in the freeze for collecting odds and ends of bread, and when it's full, I'll use the bread to make croutons.
GARLIC CROUTONS
Makes about 2 1/2 cups
1 large clove garlic, minced to paste or pressed through garlic press (about 1 1/4 teaspoons)
1/8 teaspoon table salt
1.5 tablespoons extra-virgin olive oil
6 slices white sandwich bread (good-quality, 6 ounces), cut into 1/2-inch cubes (1 1/2 cups)
Adjust oven rack to middle position and heat oven to 350 degrees. Combine garlic, salt, and oil in small bowl; let stand 20 minutes, then pour through fine-mesh strainer into medium bowl. Add bread cubes and toss to coat. Spread bread cubes in even layer on rimmed baking sheet and bake, stirring occasionally, until golden, about 15 minutes. Cool on baking sheet to room temperature. (Can be covered and stored at room temperature up to 24 hours.)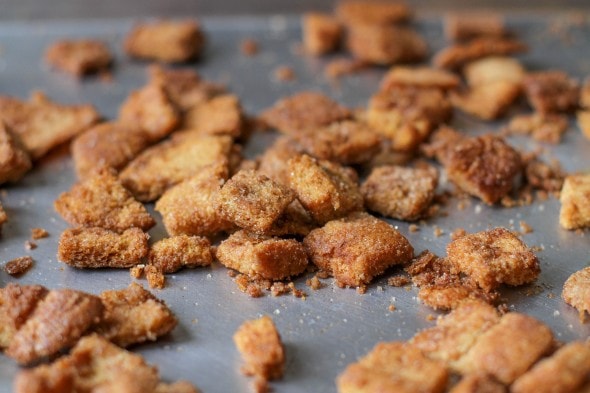 Because these reminded me of the pita chips Trader Joe's sells, I was inspired to try a cinnamon version (TJ's sells cinnamon pita chips in addition to garlic pita chips.) I followed the basic crouton recipe except that I used butter instead of oil and added no garlic (duh!)
And after adding the butter, I doused the croutons with cinnamon sugar and mixed them well before putting them on the baking sheet. They were pretty tasty, although not quite as crisp as the garlic ones were. I'm thinking this may be because I used butter, so next time, I'll try using half butter and half oil to see if they turn out better.
They weren't really bad this way, though…they were all gone within an hour or two. 😉