On Tuesdays and Thursdays, I post a picture and just a few words.
I don't know that we've ever taken our kids to the carnival before, but sort of on the spur of the moment, Mr. FG and I took the girls over one night.
(Joshua was gone at a sleepover. He doesn't dig thrill rides anyway.)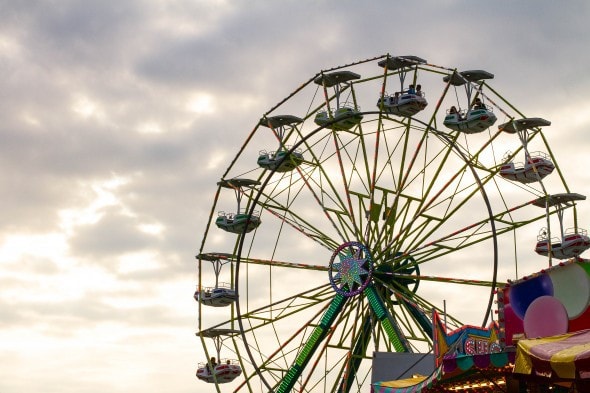 Whenever we go to Myrtle Beach, the girls and I have a blast riding the Tilt-a-Whirl at the Family Kingdom amusement park, and when we saw that the carnival had one, we sort of had to ride it. 😉
It wasn't quite as good as the Family Kingdom one, and the per-ride cost was higher, but it still was fun. And I had a hoarse voice from screaming. 😉
I think this counts as a thing from my bucket list (grab small bits of time to do fun things), so there's that too.
_____________
Do you ever do carnivals? Or do you find the per-ride price to be chokingly high? 😉
____________
P.S. Thanks for all of your thoughts about our paint choice dilemma. I think I have a new compromise plan to try today. Of course, I will keep you posted.
Because that is what a blogger does.