While I've done my fair share of paint-color-picking, I've never been in the position of having to get two children to agree on a color.
It is not the easiest thing ever.
Sonia and Zoe, having never been responsible for picking out paint colors before, were naturally drawn to some very loud, saturated shades of blue.
That is NOT MY THING AT ALL, but since I try really, really hard to let my kids have a big say in decorating their spaces, we trotted off to Home Depot yesterday and brought home three bright blue samples.
I thought they would look sort of…Caribbean. Which is not my thing, but whatever.
Instead, it was worse.
It looked like I slapped painter's tape up all over the walls.
No, just no.
Plus, we could tell that the saturated, dark nature of the colors was going to make their space feel small.
(And this was after I talked them down a shade or two from their initial chosen colors!)
So.
We went back to Home Depot and came home with two shades of light greenish blue, which were a marked improvement.
However, one kid felt that they were really TOO green.
Cue sad trombone, because at this point, I'd already spent half my day on this and gotten nowhere.
So.
We went back to Home Depot for a third time that day.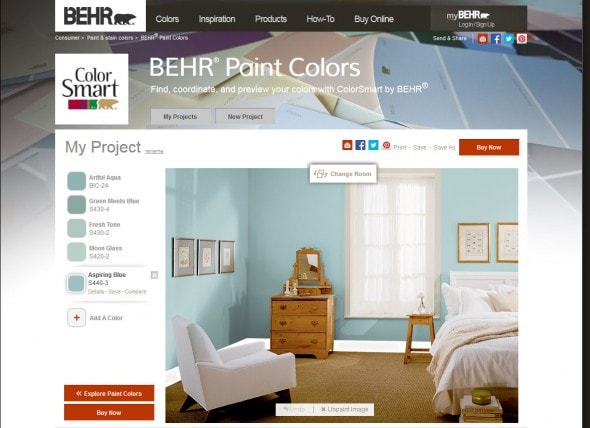 When we got there, the color machine was being reimaged and updated. Because of course.
I was not having a super good attitude by this time.
I mean, I knew it was silly to get upset about this because hello, it's a very first world problem.
"Waaah! I'm having to get in my car multiple times to drive to a nice, modern store where I will get small jars of custom mixed paint to use in a not-at-all-necessary-for-survival project in my safe, insulated, heated, and cooled home. My life is obviously full of pain."
But even after I thought about that, I still felt crabby.
(Keepin' it real, here.)
Anyhoo, we bought two additional cans of sample paint, this time in a more turquoise shade.
So now we are down to two paint colors, and neither kiddo wants to budge at the moment.
Colors are difficult to represent accurately, especially when you take photos at the end of the day, but here you go.
This one is Aspiring Blue, which is a slightly gray/green shade, and is more subtle.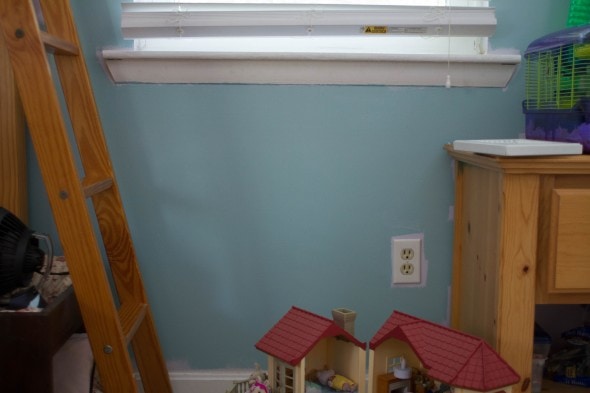 And the other is this turquoise color, which is more saturated.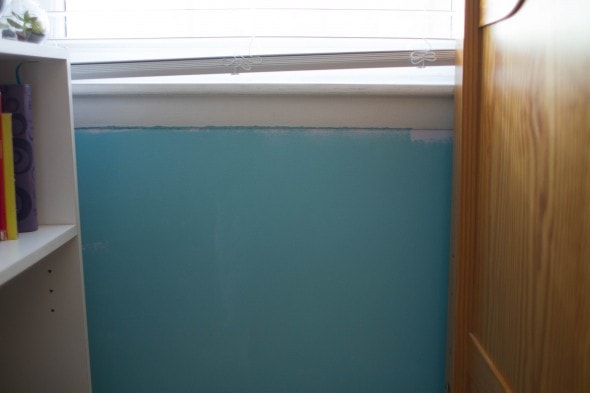 Actually, a better contrast between the two is here. Look to the right of the fish tank…the lower color there is the Aspiring Blue, while the one right above is is the turquoise.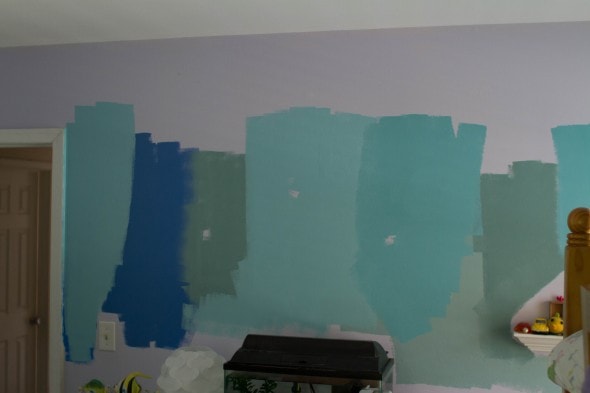 While none of us other four household members would pick any of these colors, Mr. FG, Joshua, Lisey and I all prefer the more subtle shade.
So, now we have to figure out what to do. The two colors obviously do not match well enough for a compromise (two walls in one, two walls in the other!), so I think we have to just make a decision.
The problem is that one kid wants BRIGHT AND COLORFUL and the other thinks that a more subtle color will be more classy and sophisticated.
I do think that the subtle shade is something that they would still love in their teen years, and since 5/6 of us prefer it, I'm inclined to go with that. Also, it looks far more colorful and fun when it's not right next to the bright turquoise.
Aaaand it matches the rest of the house better.
But I do feel bad for the 1/6 of us who likes the turquoise so I hesitate to make a decision.
Oof.
So, um, I guess stay tuned to find out what happens!