This week, I am thankful:
for some green leaves
I went for a walk earlier this week and it seems like almost overnight, some baby green leaves have popped up in the brush on my trails.
Yay!
that my cold is getting better
I don't even know how this is possible, but at the very end of my ski trip, I came down with a bad cold.
It had been a number of days since I'd been in the airport (longer than the rhinovirus incubation period), and after arriving, I was solely spending time with my (non-sick) family, in the condo or out on the slopes.
I am MYSTIFIED. Where did this virus come from??
(It's not the flu or the 'vid; I got tested!)
Anyway, I am super-duper happy to be improving now.
And I am grateful to have gotten sick at the tail end of my trip and not at the beginning.
for the comforts of being home
I felt really crappy the whole day that I traveled home, and being sick in an airport/airplane is just, ugh, extra bad.
I was so, so happy to get home because home is the best place to feel miserable. Ha.
that we have a water heater now
It has been such a process to get switched from the oil boiler to an electric water heater; my poor landlords have had to pay for quite a bit of labor!
But at long last, we have a functioning water heater and OHHHH it is so nice to have plenty of hot water for showers now.
that the plumbing break this week was not too bad
While the plumber was here, he was fixing something on the toilet, and while he was working on it, the very, very old pipe in the wall broke.
It was terribly corroded and probably could have broken at any time, so I'm glad it broke while he was here.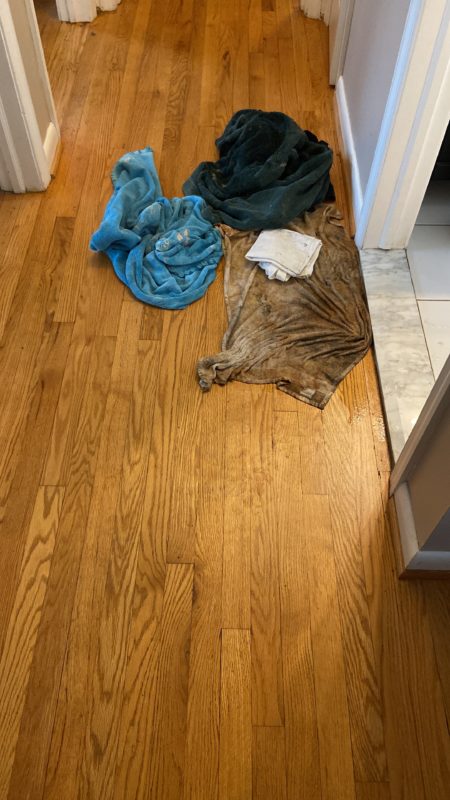 He shut the water off right away, but still, there was quite a flood both upstairs and downstairs…water was leaking through Zoe's ceiling and dripping out through her smoke detector!
The plumber was able to repair the pipe right away, and I worked on mopping up all the water, and now we are back in business with a fresh copper pipe.
I was just grateful we got to have our water turned back on in the same day. Whew.
for the flowers my friend Mia sent to me
She's a fellow single mom, so she sent me some Galentine's flowers, which was very sweet.
One of the flowers broke off during shipping, so I clipped the end and stuck it in a little jar, where it happily perked up!
for the delightful chaos Lisey brings to our house
When Lisey comes home from school each day, she brings a lot of chaotic energy with her, and Zoe and I both love it.
She's always got crazy stories from her days at trade school and we love to hear them; I feel like I know all of her classmates, even though I've never met them!
for a warm day today
It's supposed to be in the 70s today. That makes me feel a little weird, but since the temperature of the planet is beyond my personal control, I'm just gonna bask in the warm air. 😉
What are you thankful for this week?