Since current circumstances are putting a damper on even the most perky among us, I'm doing a weekly post full of things I can be thankful for/encouraging things I've seen. Join me in the comments to give yourself a little mood boost!
I am thankful:
that the weather has been so sunny.
Has it been unseasonably cool? Ok, yes.
But there have been a lot of days with gorgeous blue skies and bright sunshine.
And I will take that over warm + cloudy any day.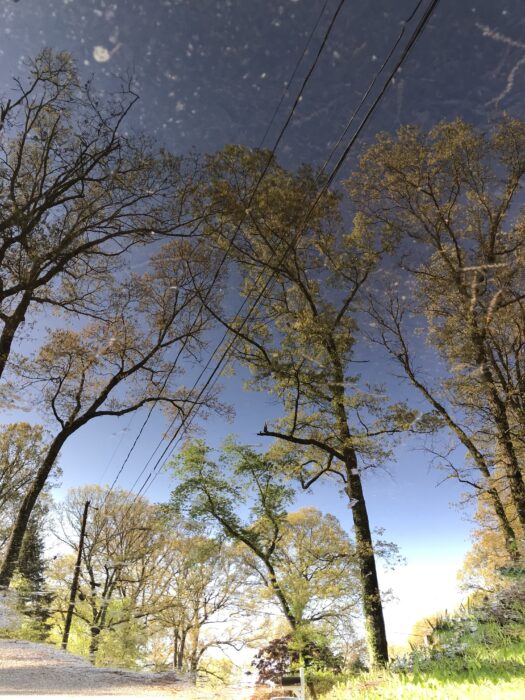 that all four of my kids showed me appreciation on Mother's Day.
I know it's a Hallmark holiday, but it's nice to be appreciated.
And Mr. FG gave me a card with such a nice note it in, it made me cry (in a good way).
that grocery store stock levels are a little better now.
Toilet paper is still tough to find, but little by little, things are improving each time I do a two-week shopping trip.
for work.
I am really grateful to still have plenty of things to keep me busy; so far, I haven't had any remotely empty days.
There's school with the girls, cooking, cleaning, laundry, blogging, home projects, and more, and I am thankful.
A life with no work would get old and empty really fast!
that we are all healthy.
Unoriginal, I know, but it's still a super important thing to be grateful for.
that we can afford to have our dead tree taken down.
Paying to have a tree removed is massively unrewarding (kind of on the level of paying for tire replacement).
But I am grateful we have the money saved to cover the cost.
that we have so many options for going outside.
Without even using our cars to go anywhere, we have our deck, our yard (which has a nice fire pit), and neighborhood roads that are good for walking, with access to the riverfront.
I know people in cities do not have this luxury right now, so I try not to take it for granted!
that people in my neighborhood are nice to each other.
NextDoor is a dumpster fire on the regular, but our private neighborhood online group is 95% drama free.
that some more curbside pickup options are going to be offered here soon.
Sonia would really appreciate Jo-Ann's being allowed to do curbside pickup again.
that I can maintain most of our haircuts myself.
I can handle Mr. FG's hair, I can buzz Zoe's undercut, and I cut Sonia's hair myself all the time even under normal circumstances.
Lisey could use a trim, but her hair is so thick, I am scared to give it a try. Luckily, she has a medium length style right now that can look fine without a cut for a while.
And I hardly ever get my hair cut anyway, so my hair is fine for now.
This is a very fortunate time to be low-maintenance on the beauty side of things because even though salons are all closed, my eyelashes, hair color, and fingernails look exactly the same as always!
What are you feeling thankful for this week?