This week, I am thankful:
that my ear has healed up
I don't know if was a zit or just a pressure injury from my stethoscope, but my right ear got a seriously sore spot on the skin and it hurt like you-know-what when I put my stethoscope in.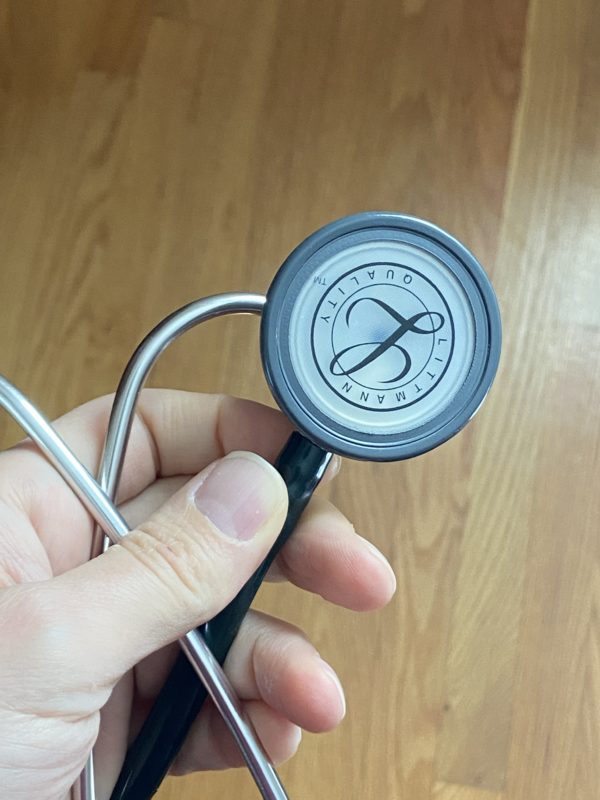 This, unfortunately, coincided with an assignment where I had to do blood pressure readings on a bunch of different people.
But now my ear is all better and I am so so happy to be able to use my stethoscope without pain.
that my friend passed our short class
This is a pretty high-stakes class; only two exams and they each only have 30 questions. And if you don't get a high enough grade, you have to sit out the rest of the semester and start all over next semester.
My friend was really nervous going into the final, so we studied together several times, and on Saturday, she texted to say she passed. Woohoo!
I never want to lose classmates. 🙂
that not every day is a bad day
Last Friday I had a day where everything I touched seemed to go wrong.
I:
gave myself a needle stick at lab and had to fill out an incident report
made some dumb mistakes on a final exam
spilled Chiquita's kibble all over the floor when I tried to fill up her big plastic kibble container
accidentally pulled out the clear plastic earring that's in place of my gold cartilage hoop (no hoops allowed in clinical)
put a piece of electronic equipment through the wash in my pocket (thankfully not my phone!)
I was starting to feel like I should perhaps be placed in a padded room for the rest of the day.
And I was tired + PMS-ing which made all of this more upsetting than it should have been.
But thankfully, not every day is terrible. And I was able to remember that in the midst of my day of mishaps.
Not every day is good, but also, not every day is bad. Also: I have more competent days than incompetent days.
(I also should add that spilling kibble on the floor is not too terrible because the floors are wooden, and Chiquita thinks it's a fun scavenger hunt assignment to find and eat all the kibble that skittered across the floor.)
for walks in the woods
I went for a walk in the woods the morning after my bad day, in search of a good attitude.
And I would say I found a small one while walking. That usually happens!
for commiseration from you guys
After I shared my computer-mouse-opening disaster, a lot of you shared times when you have destroyed brand-new items while opening the packaging.
And it DID make me feel better, so thank you!
for encouragement from Zoe
She sent me a little Instagram reel the other day that said, "I hope you know that.." and then the girl in the reel jumped off a step and a post-it note fell out of her jeans with the words, "…you are a great mom".
That made me cry, in a good way.
for kindness from my professors
When I walked into one of the competency rooms, the instructor there greeted me and one of the first things she said was, "You have been doing an amazing job on your exams!"
And when I finished all my competency testing, I had to check out with the head of the nursing program.
She knows some of my story, and she said, "I see your hard work is paying off. After all you've been through, I'm so glad to see you rising from the ashes." and she gave me a hug.
So then of course I cried a little because I felt so seen. To have faculty acknowledge that I am doing a good job in a hard program, and that I am doing it under really challenging circumstances…that felt so so good.
I'm tearing up just thinking about it now.
for encouragement from all of you
Thank you for cheering me on after I passed my competency tests!
for Chiquita's tunnel
I know I keep saying it, but my goodness, this Buy-Nothing-Group tunnel has brought Chiquita SO much joy. It's one of my best freebies ever.
for the funny things Chiquita does
The other day I was getting ready for a Zoom call and look who started walking into view. 😉
Then that night I was on a call with my support group friends and I looked to my left and there was Chiquita climbing up the curtains.
that Shelley did not hiss at Chiquita the other night
The two of them were in the same room, on opposite ends, the other evening. Usually, Shelley is the one who initiates the hissing, but this time she was quiet.
So…maybe a baby step of progress? We shall see.
What are you thankful for this week?