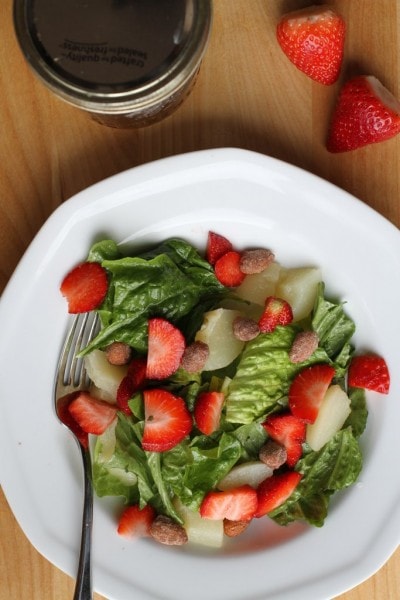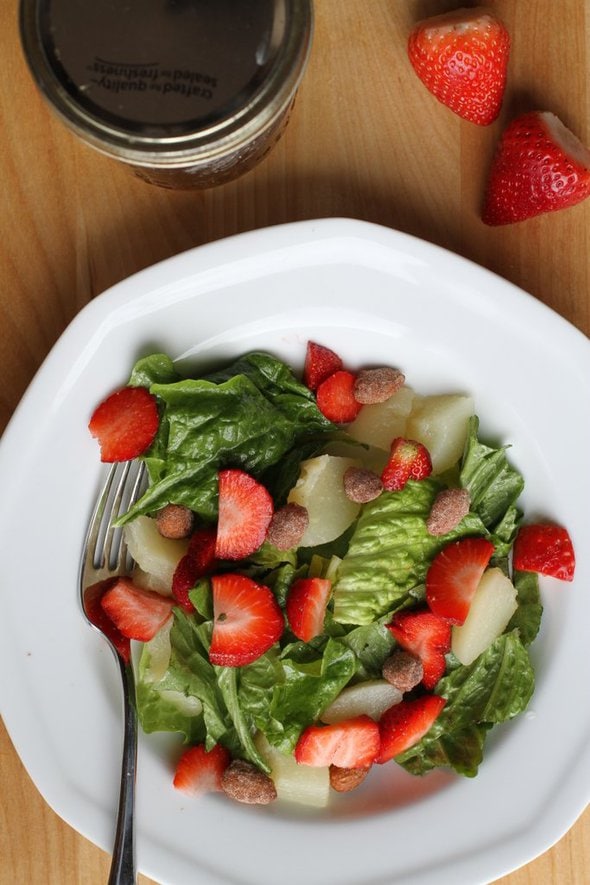 This is my family's very favorite salad of late. Not only is it delicious and beautiful, it's really easy too.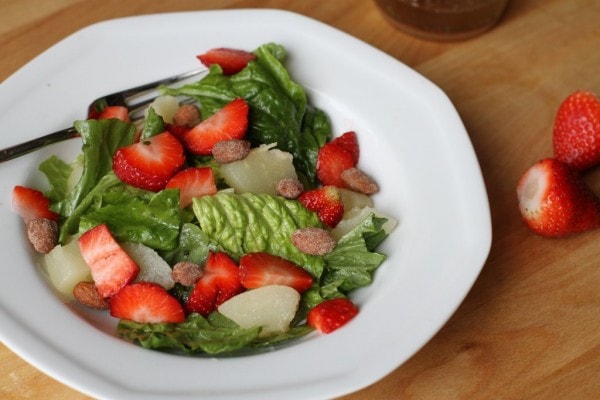 It's kind of a riff on the Mandarin Spinach salad I shared with you a little while back, as it uses the same dressing.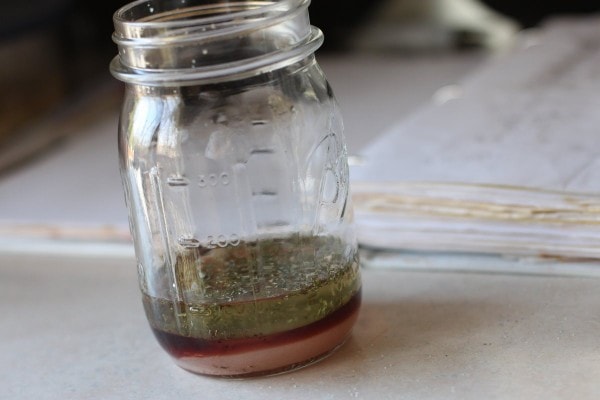 To make the dressing, you just shake the ingredients in a jar with a tight-fitting lid. I've discovered that my family isn't a huge fan of vinegar, so I usually cut back on that a bit, using one tablespoon instead of two.
Once you've made the dressing , you just toss it with torn Romaine lettuce, sprinkle in sliced strawberries, sliced pears, and top it with sugared almonds. These particular almonds are from an Aldi special buy at the holidays (my goodness, they were SO good!) but if you'd like to make your own nutty salad topping, just follow the directions on the Mandarin Spinach salad recipe. Or you could make these spiced nuts.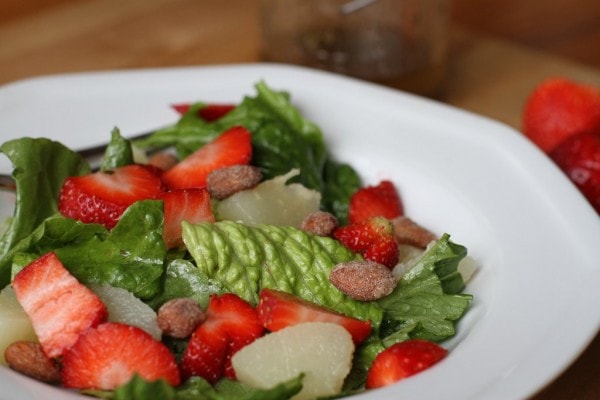 If you don't have any perfectly ripened pears at your house, you can use canned, drained pears (which is what I usually do!).
You'll need to use fresh strawberries, though…if you use frozen, thawed berries, they'll be way too mushy to be enjoyable. But hey, strawberry season will soon be upon us, so you can make this to your heart's content with fresh, local berries.
I think this salad is WAY better if you toss the lettuce with the dressing rather than drizzling it over each serving. But be careful not to dress more salad than you'll eat in one sitting, because dressed salad will wilt over time and become significantly less appealing.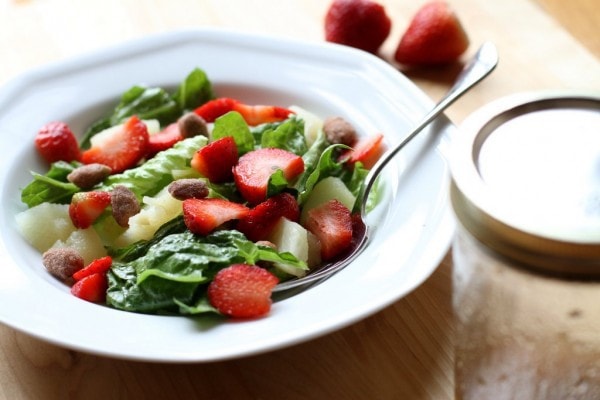 Strawberry Pear Salad
2 heads of Romaine lettuce, washed, spun, and torn
2 fresh pears or 1 15 oz. can of pears, cut into slices or chunks
1/2 pound fresh strawberries, sliced
sugared almonds or spiced nuts
Toss lettuce with dressing to taste (see below). Toss in pears and strawberries, and sprinkle nuts over top of the salad.
Dressing
1/4 cup oil (olive, canola, etc)
2 tablespoons red wine vinegar
1/2 teaspoon salt
dash pepper
1 teaspoon dry parsley
2 tablespoons sugar
dash of Tabasco
Combine ingredients in a jar with a tight-fitting lid and shake until combined. Store leftover dressing in the refrigerator.