Those of you who've been here since the start of The Frugal Girl (lo, these 4.5 years ago!) will remember that I was an enthusiastic line-dryer back then.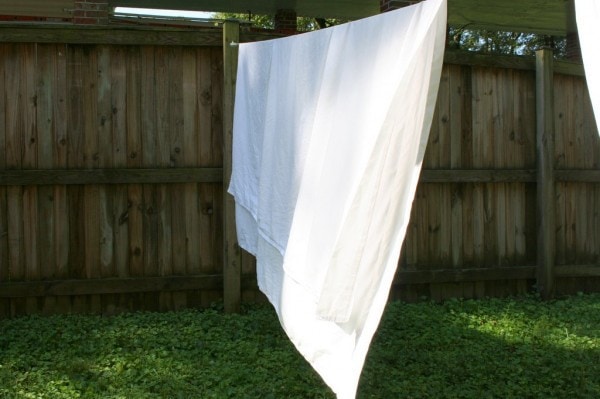 But these days, most of my laundry is going into the dryer.
Why?
Well, I'm a big believer in choosing frugal tasks that you don't despise (assuming you have the luxury of choosing at all). And after line-drying my laundry for over a year, I was starting to despise it.
Maybe if my family was smaller, maybe if the weather was warm and sunny more days of the year, maybe if I had more time…then ok, I might still be line-drying.
Oh. And if it actually saved me more than a couple hundred dollars a year, that would give me some fresh motivation.
(I did the calculations, and was a little surprised by the dismally small number I came up with for a year of hanging my laundry.)
So, between the despising of the whole thing and the fact that it wasn't saving me that much money, I decided to, uh, hang it up.
Hee.
And I am way, way happier since I switched back to using my dryer more regularly.
I do still hang up some of our clothes, like things which are especially prone to fading or shrinking. But most of 'em go into the dryer.
Is it a little more spendy than line-drying? Yeah. But I'd much rather use my time to bake bread, make yogurt, shop at Goodwill, mend clothes, and pack lunches.
And the very handy thing is that all of those activities each save me significantly more than line-drying ever did.
___________________________
How do you feel about line-drying? Love it? Hate it?
Save