I'm currently trying Stitch Fix using the "the cheaper, the better" price range setting. It's not ending up to be exactly cheap so far, but it's a fun experiment. I earn a commission through links in this post.
I know that's a long title, but whatever.
Let's start with the aforementioned skirt, I suppose.
Before we do that: I'm sorry that these photos are kind of bad. It was cloudy, dark, and rainy, so we couldn't go outside, and the inside light was really terrible. Also, a kitchen makes a cluttered backdrop. Apologies!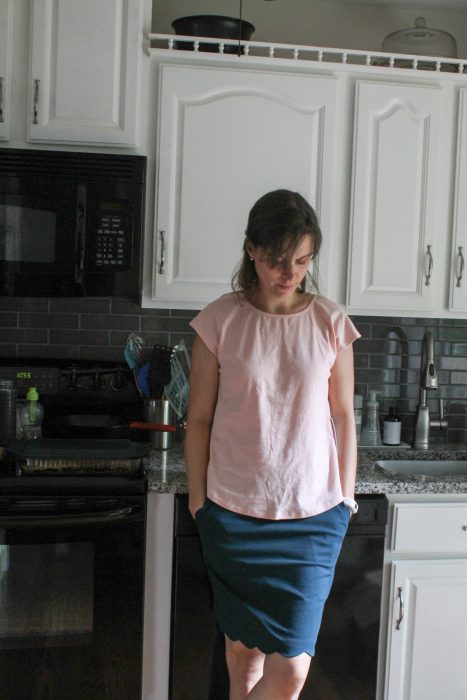 So, this is a pencil skirt ($44), and it doesn't look terrible from the front.
But, YOU GUYS. THE BACK. WHAT IS GOING ON HERE?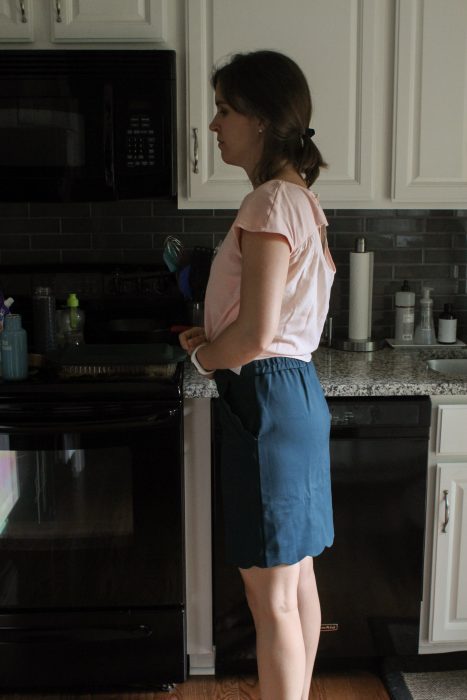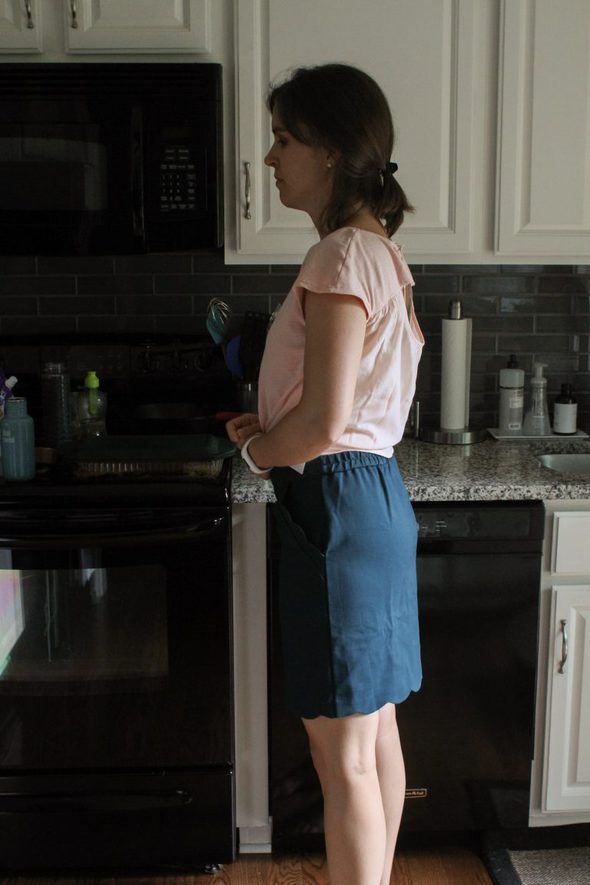 Why is it bunchy elastic? Who could possibly look good in a skirt like this? No one's rear view is improved by bunchy elastic in the back of the waistband.
I really cannot envision a type of body that this would be flattering on. You could have a perfect shape and still not look fabulous in this skirt.
And even if you let the shirt fall down past the waistline, the skirt still lays really weird in the back, and it is totally not flattering.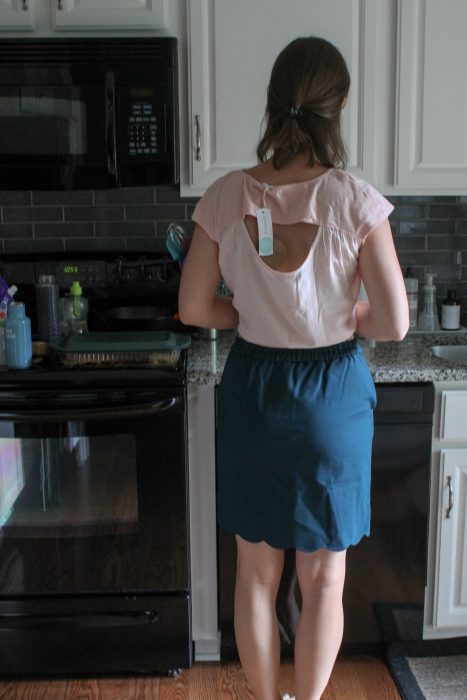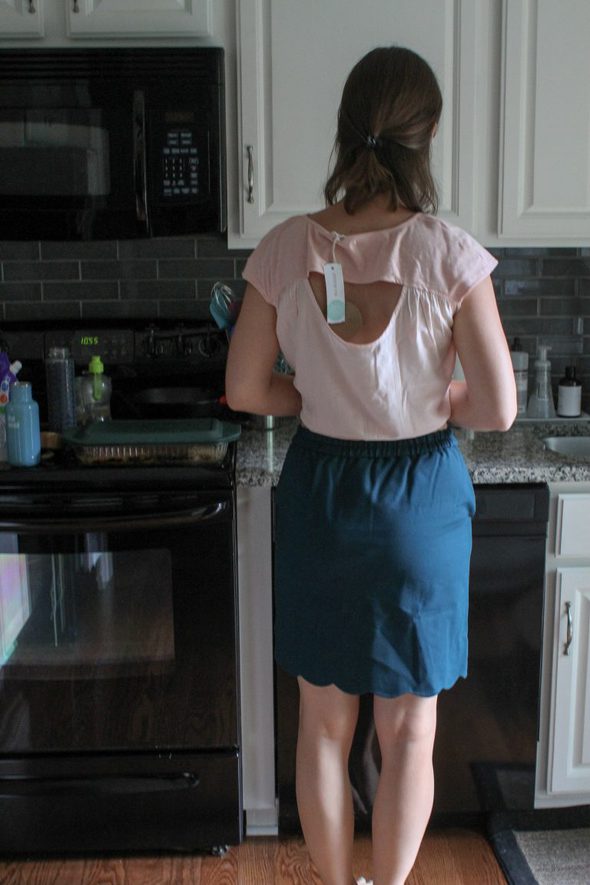 I thought pencil skirts were supposed to be kind of form-fitting from top to bottom, and this one definitely doesn't do that.
A definite no for me!
The shirt ($36) I'm wearing was also part of the fix, but I wasn't a fan of how it fit, and the back fabric was pretty transparent.
Next up: a dress ($44).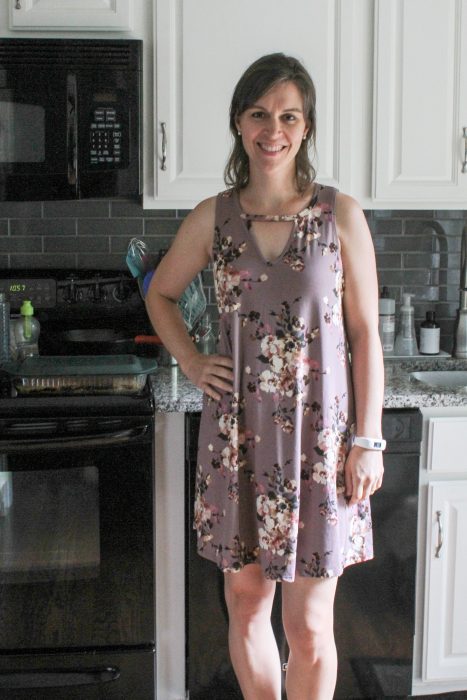 I don't think this dress is terrible, but it's not a great color on me and it was too big. It gaped at the armholes and was probably roomier and more shapeless than what was intended.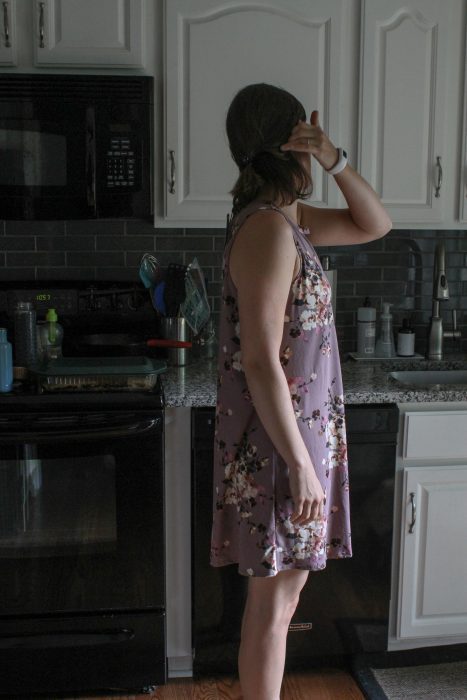 Neeeeext!
I like this t-shirt ($34). It's a soft, yet substantial fabric, it drapes nicely (when it's not wrinkled from sitting in a pile waiting to be photographed for a few days. Ahahahaha.), and it fits me really well.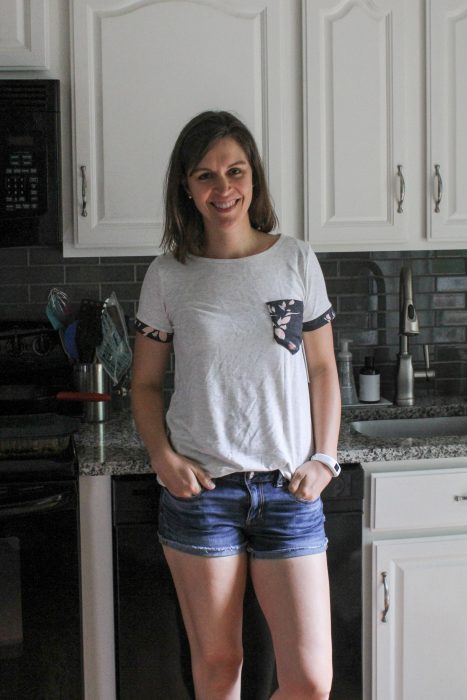 Yay for a thing to keep!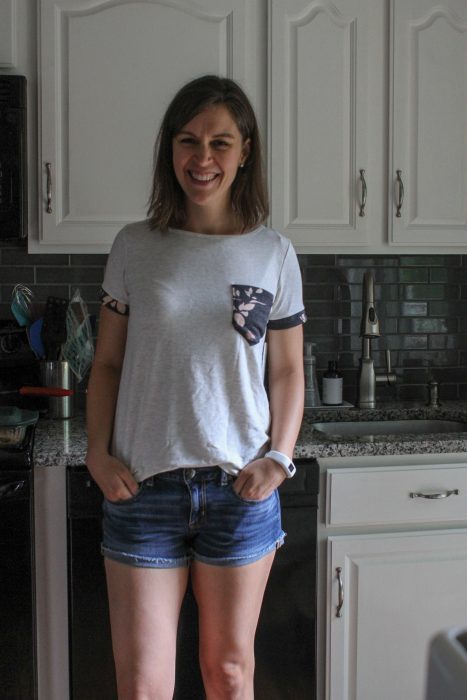 And lastly, here's one more knit shirt ($34).
I didn't end up keeping this one, but now that I look at it in the photograph, I kinda wish I had.
(a thing that did not happen when I saw photos of the pencil skirt. !!!!)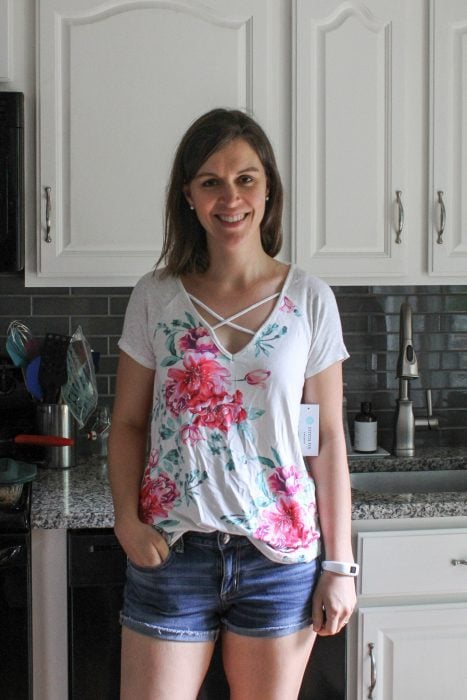 The flower pattern was a little out of my comfort zone, but as I see it in the photo, it doesn't look as overwhelming as I thought it did.
Ah well.
You live and you learn!
________________
And that wraps up this fix.
What do I think of Stitch Fix so far? Well, I have to say that I've definitely had more misses than hits from my stylists, which is a little surprising to me.
I feel like I have a fairly easy-to-dress body shape, so I'm not sure what the problem is here, especially since tons of other people routinely keep everything in their boxes.
I have much better luck when Lisey goes shopping for me, actually. Maybe Lisey needs to go work at Stitch Fix and send me boxes of clothing. 😉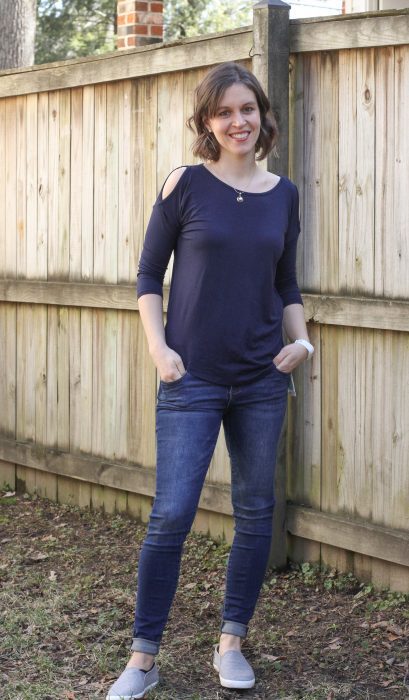 On the other hand, the things I have kept from Stitch Fix are getting lots of wear, and I really do love them. And since I hate shopping for clothes, Stitch Fix is a handy way to make sure I get a few updated things here and there.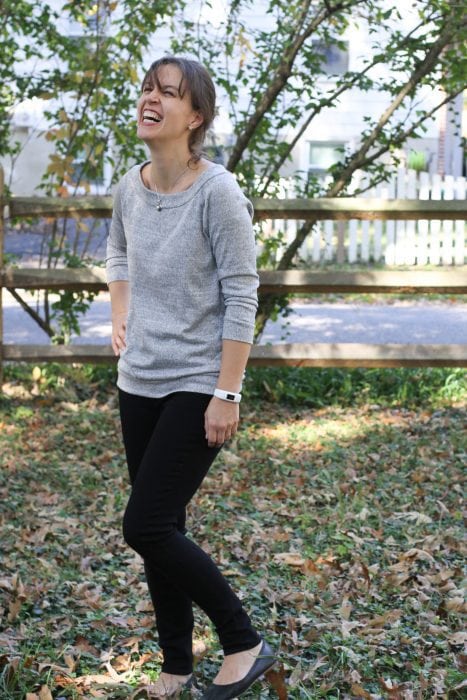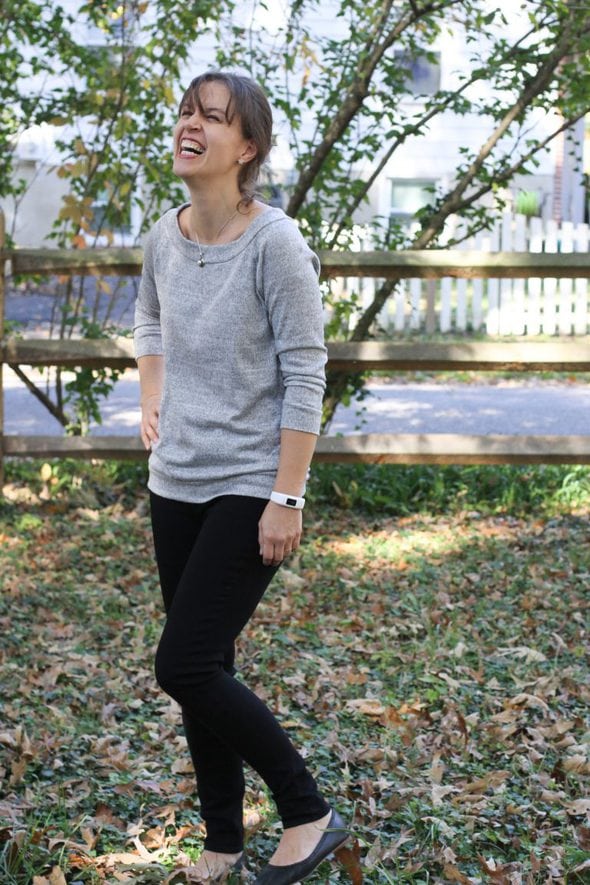 So I feel like it's been worth it to sift through the things I haven't loved so much.
_________________
If you'd like to try Stitch Fix, click here and fill out a profile. You'll pay a $20 styling fee, which will be applied toward anything you keep, and then Stitch Fix will send you a box containing five items for you to try. Keep what you want and send any rejects back with a prepaid label.
Want more Stitch Fix posts? You can find them all right here in the clothing category.