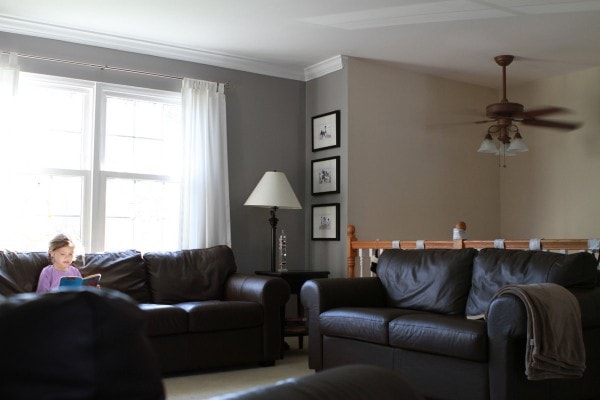 When we bought our townhome nine years ago, we used some of our savings to buy some new furniture. We bought a La-Z-Boy couch and recliner, thinking that they'd last for a very, very long time. Unfortunately, this was not the case.
The fabric on our couch pilled very badly, and for the last several years, the fabric on the cushions had been sprouting holes. In addition, I was starting to get annoyed at how difficult it is to keep a fabric couch clean with four kids.
Sometime this last year, my husband and I spied some leather furniture at Ikea which was very reasonably priced. We didn't technically need new furniture, though, so we decided that we would just try to squirrel away any extra money into a sofa fund.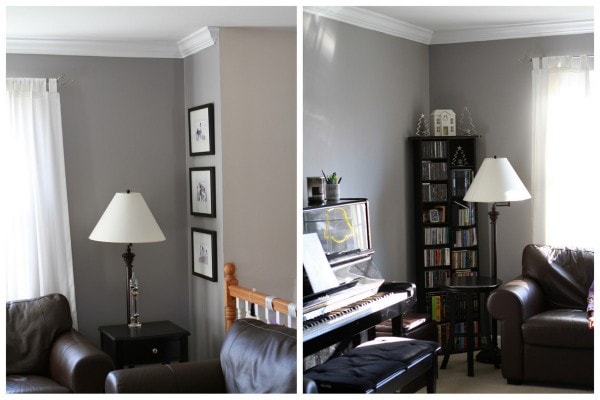 I played for a wedding, and we put that money into the fund.
I subbed for the choir's accompanist, and we put that money into the fund.
We sold used books online and put that money into the fund, even if it was just $0.75.
Finally, at the end of December, we had enough money saved up for the sofa, but not the chair. Boo.
Then January happened to be the month where we got an extra paycheck (my husband gets paid every two weeks, and we budget off of that money. Twice a year, he ends up with three paychecks in a month, and those are extra money to us.)
We decided to use some of that money to finish up our furniture fund, so then we had enough for the sofa, the chair, and a new leather cushion for our other chair.
Woohoo!
And worry not-none of the old stuff hit the landfill. Our sofa and chair were happily taken by our friends, and the old cushion from the Poang chair replaced a more worn cushion on a Poang chair in Zoe's room. The worn cushion now serves as a calisthenics cushion for me to use (all the downstairs floors are hard surfaces, and are thus not at all suitable for crunches!).
Here's what our living room looked like with the old furniture:

And here's what it looks like now.

Old chair:

New chair:

And just because I love before and afters, here's what the living room looked like the day we bought the house.

This is with the old furniture, but with new windows, curtains, railings, and a much improved foyer (did you notice the ridiculous brick stuff in the first picture??)

And this is now!

It was hard to be patient and wait for the furniture, but I think that since we had to save, we appreciate our furniture more. If we had been able to just go out and buy the new furniture, it wouldn't seem so special to us.
I love the leather so far…I think it looks fabulous, and I love, love, love the fact that it is non absorbent and wipeable.
Update!
We eventually decided to buy another Ektorp leather piece-a loveseat. And we added crown moulding and painted our living room too.
So, now it looks more like this.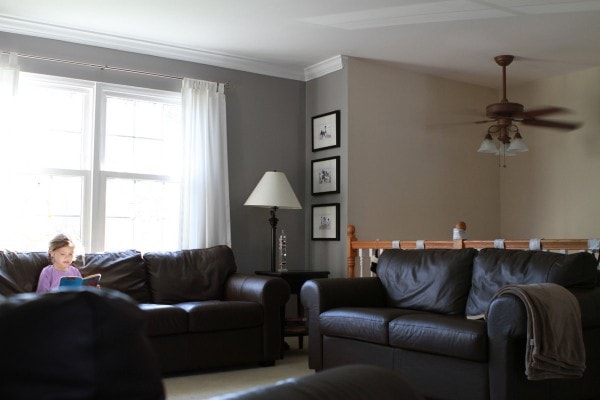 And this.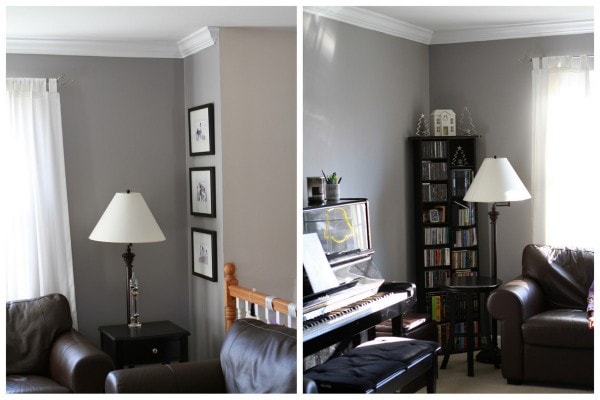 Three years into owning our Ektorp pieces, we're still really happy with them. The leather has worn way better than our fabric furniture did, and it looks so much more classy.