Hey everyone! I'm here with a quick little weekend note about a few things.
1. I need some more meet-a-reader submissions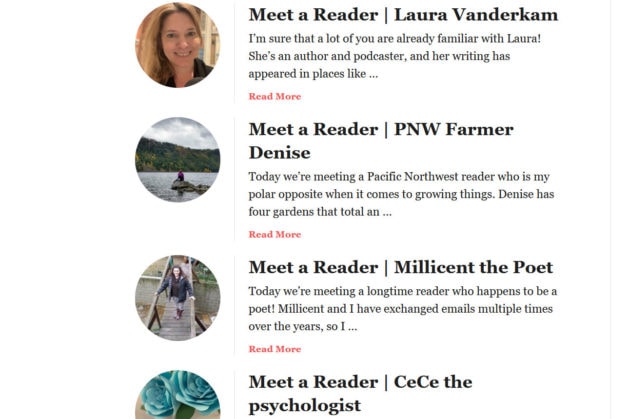 I have a few sets of questions emailed out to readers who volunteered, but I'm still waiting on those to be sent back.
(If you emailed me back with interview answers and I missed it, please let me know! Hopefully, I haven't lost anyone's submissions.)
So, if you'd like to participate, just send me an email and I'll get the questions sent over to you.
If you are worried your life isn't interesting enough, or you aren't die-hard frugal enough, never fear! Readers will love to meet you, even if you feel like you are not-that-interesting. We love meeting fellow regular people. 🙂
Also, if you want to catch up on all the previous Meet a Reader posts, you can find 'em all right here.
2. Want to show me something? Or chat with other readers? Join my Facebook group!
I have a public Facebook page, but I also have a private Frugal Girl Facebook group. That's better than the page because anyone in the group can start a post.
So, if you make something and you want to show me and other readers, you can share a picture. I love to see what you guys are cooking or rehabbing or how you are rescuing food/using leftovers, so please do come and show me!
If you have a question for me and other readers (like: "I have way too much tomato paste. How do I use it up??"), you can share it and get answers right away.
If you want to rant about how expensive something is, you can share it with your other frugal kindred spirits.
If you want to share a frugal win, we'll all cheer you on.
I know sometimes Facebook groups can get a little spicy, but the FG Facebook group feels a lot like the commenting section here. It's a nice place to be. 😉
3. If you want to find me on social media, Instagram is the place to be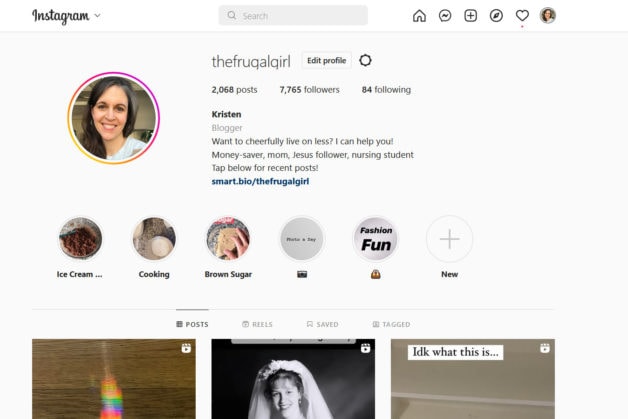 I do try to share my Instagram posts to Facebook when I can, but Instagram is the spot you can most reliably find me.
I don't share anything earthshaking there (which is probably true for most social media posts. Ha.), but I do share lots of pictures of the sights I see on my walks, some in-process pictures of my rehab projects, and reflections on my current circumstances.
And that's all I've got for you today. 🙂