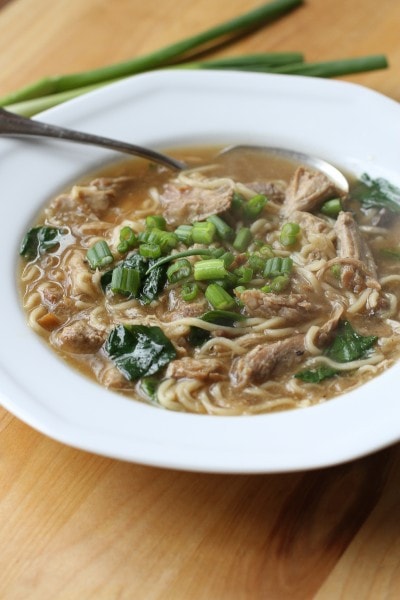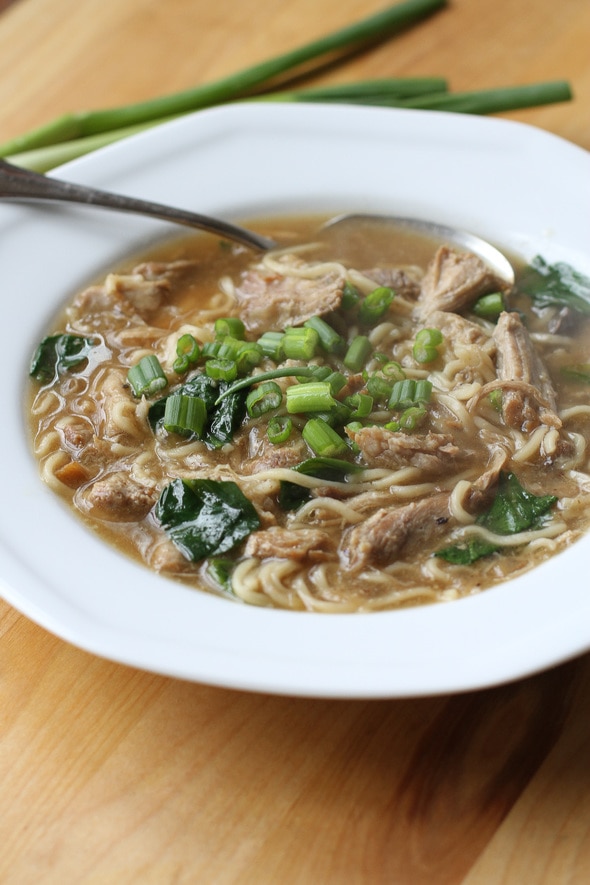 I've been on a bit of a brothy soup kick of late, largely because Joshua has put in a request for more Asian food (so much Tex Mex around here!) and for more non-creamy soups.
As I perused my cookbooks, I saw that this one would fit both requests, so I gave it a try, and he loves it. The girls aren't quite as enthused, but that's ok. They'll probably come around eventually. 😉
The first time I made it, I went with a half batch, and that fit fine in my ancient slow cooker. But the next time, I made a double batch and ended up having to do the last step of the recipe in a pot on the stove.
So, if you have a small slow cooker, just be forewarned.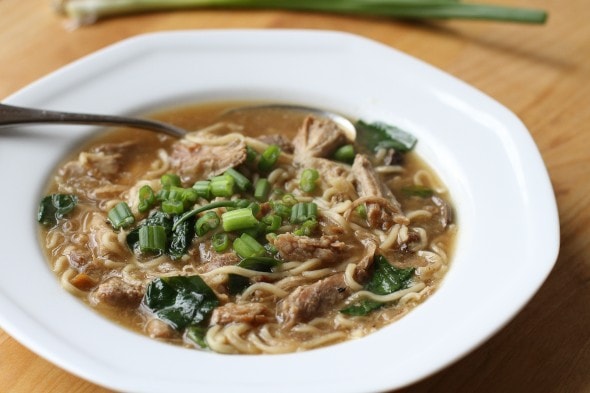 Also of note: I mistakenly thought the recipe called for bone-in short ribs, so I carefully searched for those only to get home and realize that the recipe specifies boneless.
Oops.
I bought a big pack and froze some of them, so I've used those bone-in ribs for both batches. So, I haven't tried it with boneless ribs, but I'm sure it would be very good that way as well.
The ATK recipe calls for starting things off by microwaving spices together and then throwing the meat and broth in the slow cooker.
But ATK/CI recipes have taught me that browning things is a Very Good Idea, and I couldn't bring myself to go the fast route.
So, I salted and peppered my ribs.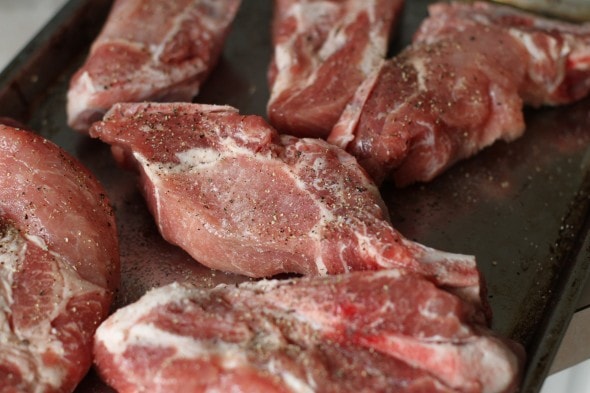 And then I browned them (in a little bacon grease) on the stovetop.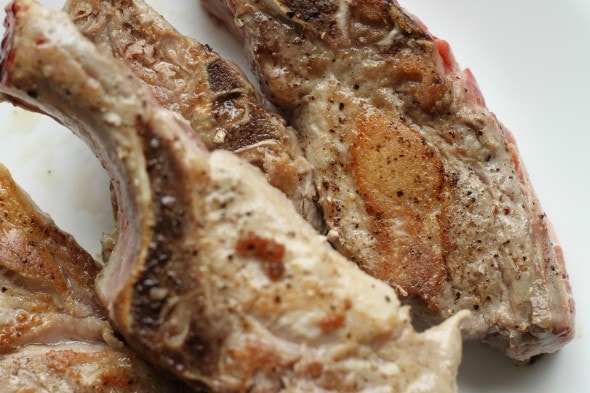 This leaves a pot with a beautiful collection of browned bits.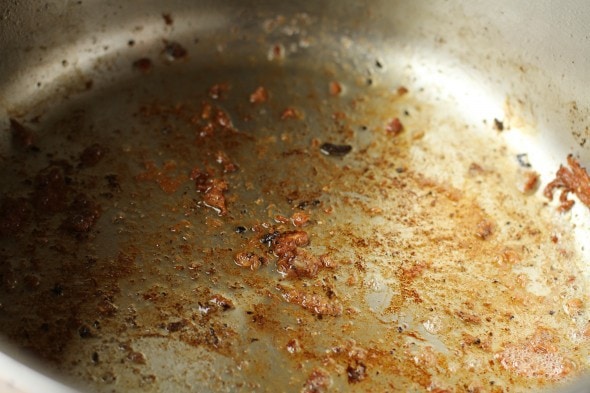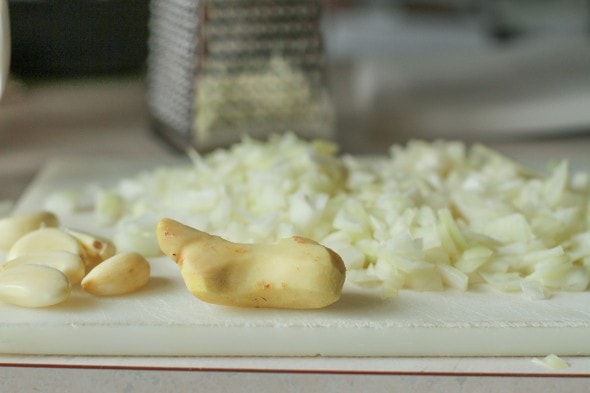 I add my onions to the pot, and cook them until they're softened.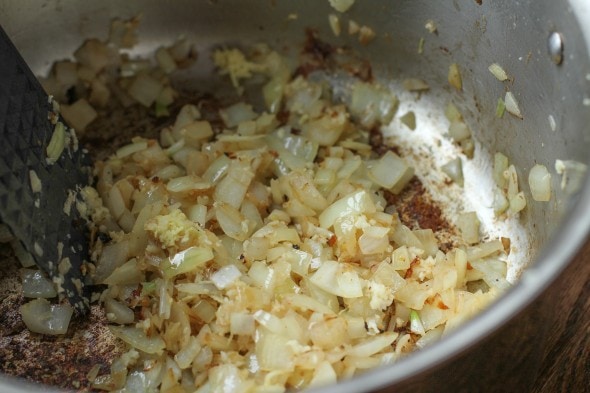 The garlic and ginger get stirred in and cooked for just a minute, and then in goes the broth. Scrape up the browned bits as the broth heats, and once the bottom of the pot is pretty cleaned off, you can dump the broth mixture into the slow cooker along with the browned pork ribs.
Your pot bottom should look something like this….all the tasty browned bits should be in your crock pot now.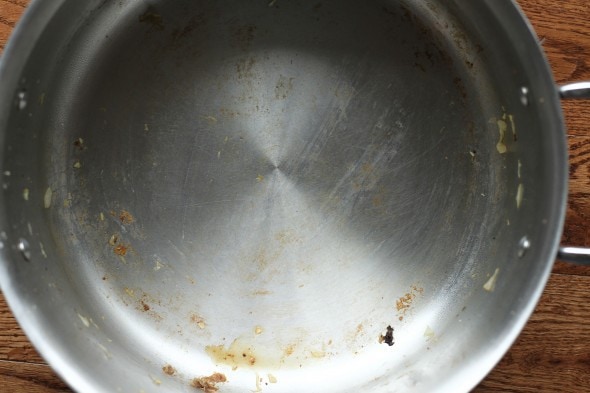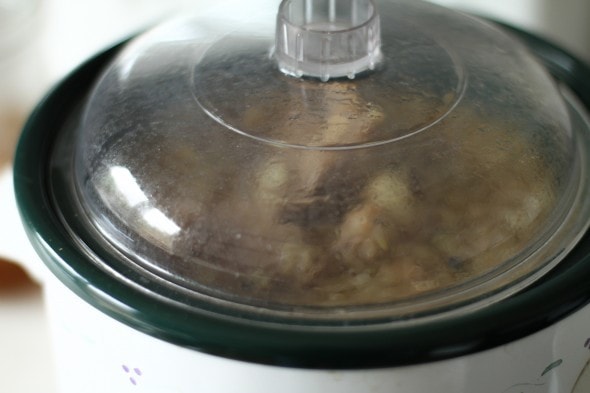 Cook the ribs for 7-8 hours on low, or 4-5 hours on high.
Once the pork is fall-apart tender, take it out of the broth, let it cool a bit, and shred the meat.
Skim the extra fat from the surface of the broth, then stir in plain ramen noodles and cook for about 8 minutes.
Once the noodles are tender, add the pork, a few more seasonings, and fresh spinach.
The original recipe said to add the spinach with the noodles, but I prefer my spinach to be just past raw in a soup, so stirring it in at the end is perfect.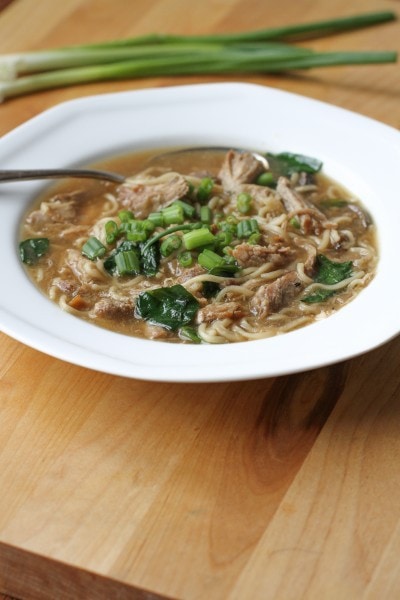 Serve the soup with a garnish of chopped green onions. We also like to add the crispy noodles you'd put on wonton soup.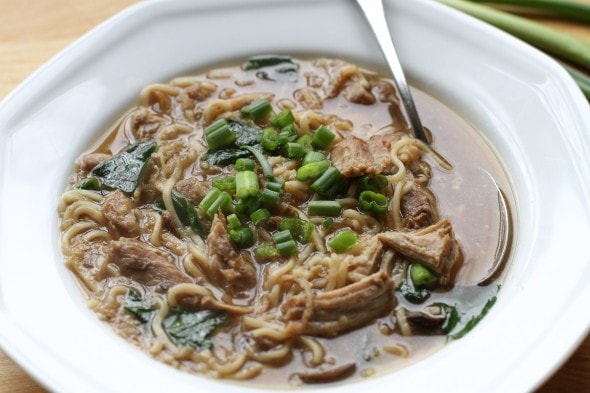 Slow Cooker Japanese Pork and Ramen Soup
Printable Japanese Pork and Ramen Soup Recipe
serves 8
2 onions, chopped fine
6 garlic cloves, minced
2 tablespoons grated fresh ginger
1 tablespoon oil
8 cups chicken broth (I use homemade chicken broth)
12 ounces shitake mushrooms (I use regular)
1 1/2 pounds boneless country-style pork ribs, trimmed of excess fat
To finish soup:
2 3-ounce packages ramen noodles, seasoning packets discarded
6 ounces (6 cups) baby spinach
2 tablespoons white miso (I didn't add this bc I couldn't find it at the store!)
2 tablespoons soy sauce
1 tablespoon mirin
1 teaspoon toasted sesame oil
2 thinly sliced scallions
Easy directions: Microwave onions, garlic, ginger, and oil stirring intermittently, until onions are softened. Transfer to crock-pot, add broth and mushrooms. Season ribs with salt and pepper and add to slow cooker.
Harder directions: Heat oil or bacon fat (my choice!) in a stock pot. Season ribs with salt and pepper and cook for several minutes on each side, or until nicely browned. Set aside. Add onions to pot; cook 5 minutes, or until softened. Stir in garlic and ginger and cook for one minute.
Add a cup or two of the chicken broth and heat, scraping bottom of pot to loosen browned bits. Pour all the broth (8 cups total) into slow cooker and add pork ribs and mushrooms.
____________
Cover crock pot and cook until pork is tender, 7-8 hours on low or 4-5 hours on high.
When pork is tender, remove from pot, let cool slightly, and shred into small pieces.
Skim extra fat from surface of broth, then stir in ramen noodles. Cook for 8 minutes, or until noodles are tender. Stir in shredded pork, miso, soy sauce, mirin, and sesame oil and let it sit until everything is heated through.
Serve with a garnish of chopped scallions, and/or crispy noodles if you wish.