-looking forward to having a little break from school next week (we'll probably just do math, our U.S. Presidents study, and plenty of library trips and reading)
-surprised Thanksgiving is in just a week. How did that happen??
-hoping Sonia and Zoe will be more cheerful today. I've experiment with letting them stay up a bit later, and it's become clear that Zoe, at least, is not ready for that. When she starts saying things like, "Books are boring! I hate books!" I know she's just really, really tired.
-looking forward to writing another post about homeschooling, this time answering a reader who asked why we homeschool. Most of the time when I write about homeschooling, I'm responding to emails that question how well homeschooling works, so it'll be fun to write about it from a more positive angle.
-wondering what percentage of people who worry about homeschooling know any homeschoolers in real life. Most times, when people meet us, they feel less nervous about homeschooling.
-thinking about how funny it is that Mr. FG, who went to public school, isn't nearly as outgoing as I am. I could pretty much talk make small talk with a brick wall. 😉
-grateful that he and I both came into this relationship wanting to homeschool our then-future kids. It's lovely to be on the same page.
-thankful that when we have relational bumps, we always manage to work them out, and even more thankful that these bumps are usually productive and change-producing.
-happy about how well My Job Chart is still working to keep Joshua on top of his chores.
-chuckling at some of these outtakes.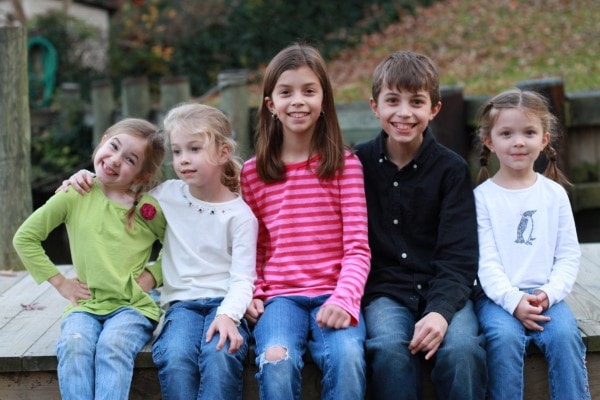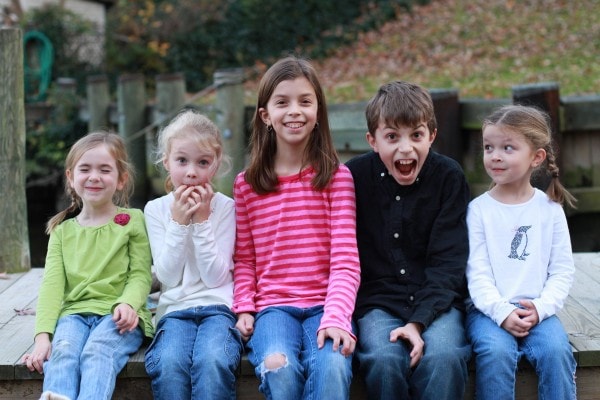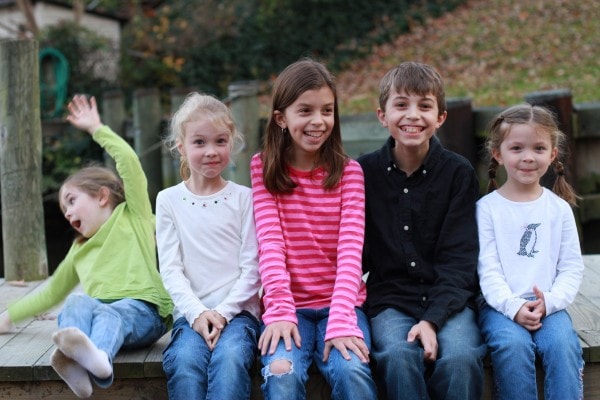 That kid over there on the left has some serious personality. 🙂
-wishing I was able to cross more things off of this week's to-do list.
-feeling blah about cooking, but happy that I'm better now at fitting in cooking in the morning.
-still shooting in full manual mode some, and turning out some really awful pictures in the process.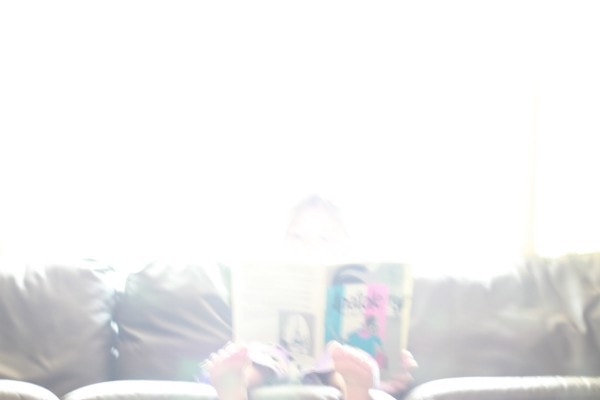 It's all part of the learning process, though, and I'm so grateful for the reusable digital memory I have. I'd ring up a terrible film-developing bill if I was learning back in the day. Either that, or I'd learn to be more careful!
-remembering my unusual but delicious dinner sandwich (fresh whole wheat bread, grilled peppers, spinach, mayo, and dijon mustard). The kids were duly grossed out, but politely said they were glad I enjoyed it.
-hoping that this day of homeschooling will be easier than yesterday. We got done kind of late yesterday and by the end, I was seriously starting to feel like losing my patience. But, by the grace of God, I made it through without raising my voice at anyone. Phew. If the mom loses it along with the kids, things unravel quickly!
Right Now posts (inspired by SouleMama) are really fun to write…if you write one today on your blog, feel free to leave the link in the comments. Or you can do a short 5-item Right Now list directly in the comments.
__________________________________
Today's 365 post:I never get tired of seeing this.
Joshua's 365 post: Something I really enjoy!