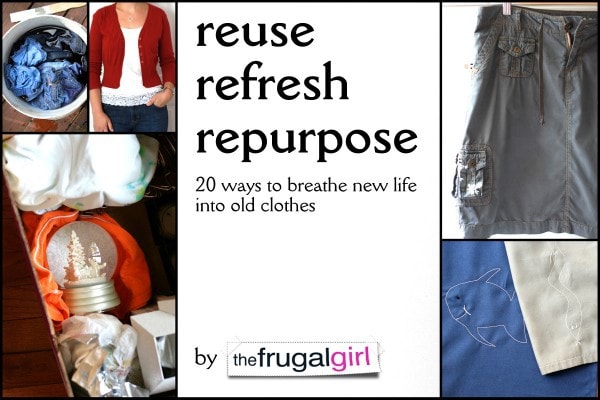 After what seems like forever (to me, at least!), my ebook is up and running. Whew!
Ever since I can remember, I've hated to throw things away. I've also always been fascinated with the idea of making something new out of something old, or fixing up something old to make something new (this explains my obsession with painting old furniture!).
These two desires of mine have caused me to be hesitant about throwing out old clothes because I see potential in what other might see as trash. And since I'd love for you to see potential instead of trash, I decided to write a book containing all of my best ideas for reusing and refreshing worn clothes.
I've poured my heart and soul into this book over the past 6 months, and I'm excited to share it with you! I hope that you find the ideas to be inspiring and compelling.
For 24 hours only, I'm offering my ebook to you, dear readers, at 50% off of the usual price!
The regular price is $3.99, but if you enter the code frugalgirl50 when you check out, you'll get my ebook for only $1.99.
This code will expire on 09.09.11 at 9:00 am, so make sure you order before then. And make sure you enter the code into the discount box.
Want to learn more about my book and read what other bloggers are saying about it? Visit the

reuse, refresh, repurpose main page.
FAQs
I can't sew!/I don't have a sewing machine! Will this book be useful to me?
Yes! A number of my ideas require only a pair of scissors, and several of them don't even require that. Even if you're a total crafting fail, you'll find something useful in the book.
Do I need a Kindle or other e-reader to buy this book?
Nope! My ebook is a downloadable PDF, so you can read it on a regular computer.
Can I buy it for my Kindle?
At some point, I'm going to figure out how to format it for the Kindle, but at this point, it's just available in PDF.
Does this book contain ideas you've already shared on your blog?
If you've been reading here since the very beginning, you may recognize a few of the ideas in the book. For the most part, though, they're new content that has not been shared on the blog. I'm so excited to share these new ideas with you…it's been killing me to be doing projects and not be blogging about them. 😉
How do I pay for this book?
E-Junkie is providing the shopping cart services for my book, and you can pay for it with your PayPal account. If you don't have a PayPal account, you'll be happy to know that it's free to open one. Just visit PayPal and click on "sign up" at the very top of the page.
____________________________
I've tested the shopping cart and the download process several times, but if you have any problems with your purchase, please do let me know!
And of course, I'd also love to hear your feedback on the book. 🙂
____________________________
Today's 365 post: Homeschooling with the cousins