Well, hello there, readers! Normally I post on Mondays and am quiet on Tuesdays, but we're flip-flopping that this week.
And I'm making up for my absence yesterday by posting an easy main dish recipe today. Because heaven knows most of us could use more easy main dish recipes, no?
Especially if they taste fabulous.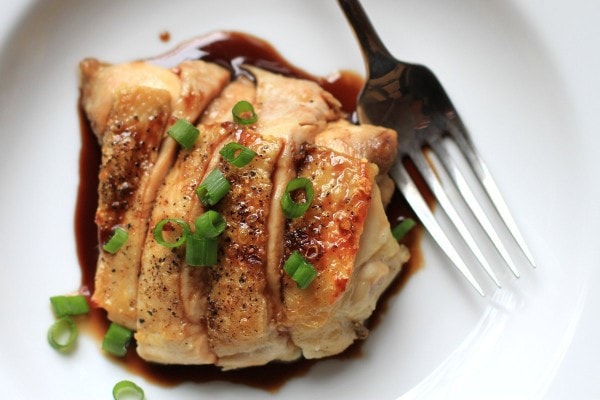 As is the case with so much of what I cook, this recipe came from Cook's Illustrated.
And as is the case with pretty much everything I've made from CI, this is really tasty.
Another plus is that it's not at all hard to make. The only slightly tricky thing is deboning the chicken thighs, but if you can find some skin-on boneless chicken thighs, you can skip that step.
(Here's a good tutorial for deboning chicken thighs. Just don't take the skin off when you debone your chicken, because you need it for this recipe!)
The more thighs you debone, the more your skills will improve. After you've done it for a while, you'll be lightning fast.
I don't think it's possible to get every bit of meat off the thigh bones, but no matter. Throw the bones into a post with some water, salt, onion ends and celery ends, and make some broth for use in another recipe.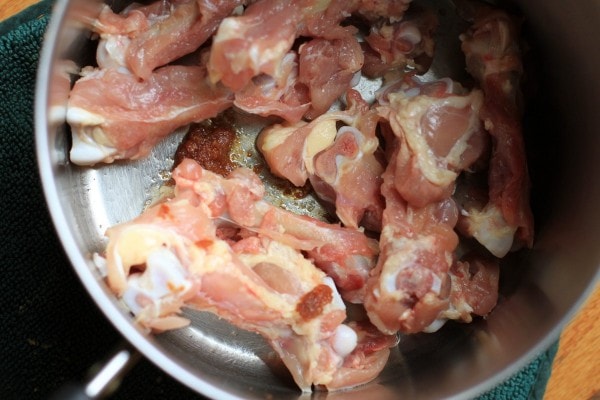 Ok. So. You'll need 8 chicken thighs, and you'll need to debone them and trim off any excess fat or gristle.
Once they're deboned, season them with salt and pepper on both sides. Then place them on a broiler pan, folding the edges under to create a neat, even shape. The thighs should be fairly flat…if you make them too thick and tall, they won't cook through before the skin burns.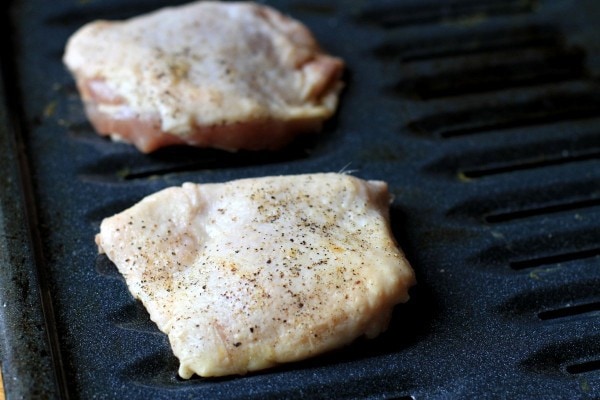 You're also supposed to slash the skin, but I totally forgot about that this go-round.
(Please imagine slashes. Thank you.)
Heat your broiler on high, and then broil the chicken thighs 8 inches from the heat for 8-14 minutes, or until a thermometer registers 175 ° in the thickest part.
While the chicken is broiling, you can whip up the teriyaki sauce. It's crazy easy, so don't be tempted to buy the bottled stuff.
In a saucepan, combine soy sauce, sugar, ginger, and garlic.
And in a small bowl, mix together cornstarch and rice wine (you can sub. white wine if you want.)
Stir the cornstarch mixture into the soy sauce mixture, and bring it to a boil over medium heat, stirring every now and then. Simmer over medium low heat until sauce thickens slightly (4 minutes or so.) Set aside.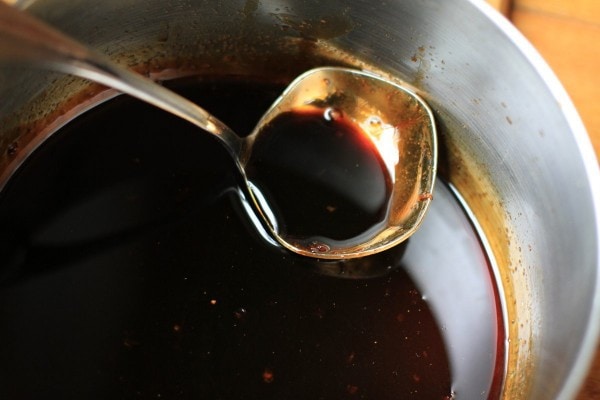 When the chicken is done, remove it from the oven, and let it rest for a few minutes. The resting will help your chicken to be more juicy, so exercise patience and don't skip this step!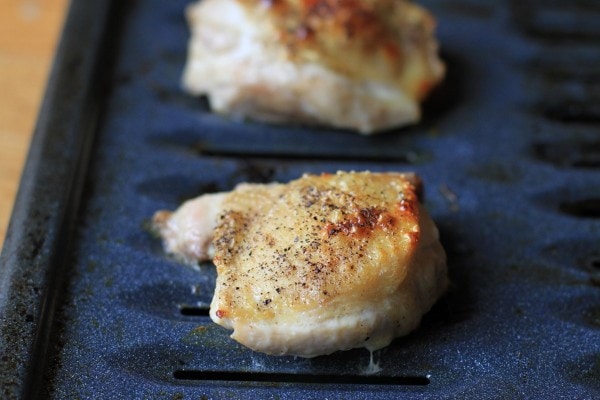 Once the chicken has rested, slice each thigh into strips, drizzle with teriyaki sauce, and sprinkle with chopped green onions.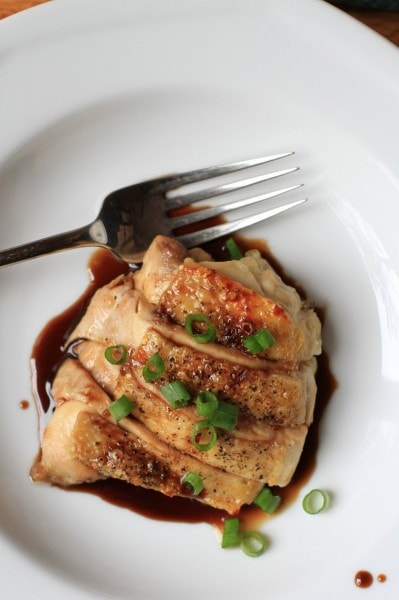 The onions are optional, of course, but I think they add a fresh taste to the chicken.
This recipe is so simple, you might think it would taste boring. But the salt and the pepper really do season the chicken, the broiler crisps up the skin nicely, and the teriyaki sauce adds a really great sweet/salty flavor to it all.
Go make yourself some!
Quick and Easy Teriyaki Chicken
Printable Teriyaki Chicken Recipe
8 bone-in, skin-on chicken thighs (about 5 ounces each), trimmed, boned, and skin slashed
1/2 cup soy sauce (I use low-sodium)
1/2 cup sugar
1/2 teaspoon grated fresh ginger
1 clove garlic, minced or pressed through garlic press (about 1 teaspoon)
2 tablespoons mirin (or white wine)
1/2 teaspoon cornstarch
Adjust oven rack to 8 inches below broiler; heat broiler on high.
Season thighs with salt and pepper on both sides, then place on broiler pan, folding edges under to make a neat, even packet (They should be fairly thin.)
Broil thighs for 8-14 minutes, rotating halfway through cooking. Thighs are done when they're browned and a thermometer registers 175 ° when inserted into the thickest part of the thigh.
While chicken cooks, make the sauce. In a saucepan, combine soy sauce, sugar, ginger, and garlic. In a separate small bowl, mix together wine and cornstarch. Stir cornstarch mixture into soy sauce mixture and bring to a boil over medium-high heat, stirring occasionally. Turn heat down to medium low and simmer sauce for 4 minutes, or until it becomes slightly thickened.
Remove chicken from oven; let rest 2-3 minutes. Slice each thigh into strips and drizzle with teriyaki sauce. Sprinkle with chopped green onions if desired.
___________________________
Joshua's 365 post: My Epic Gecko