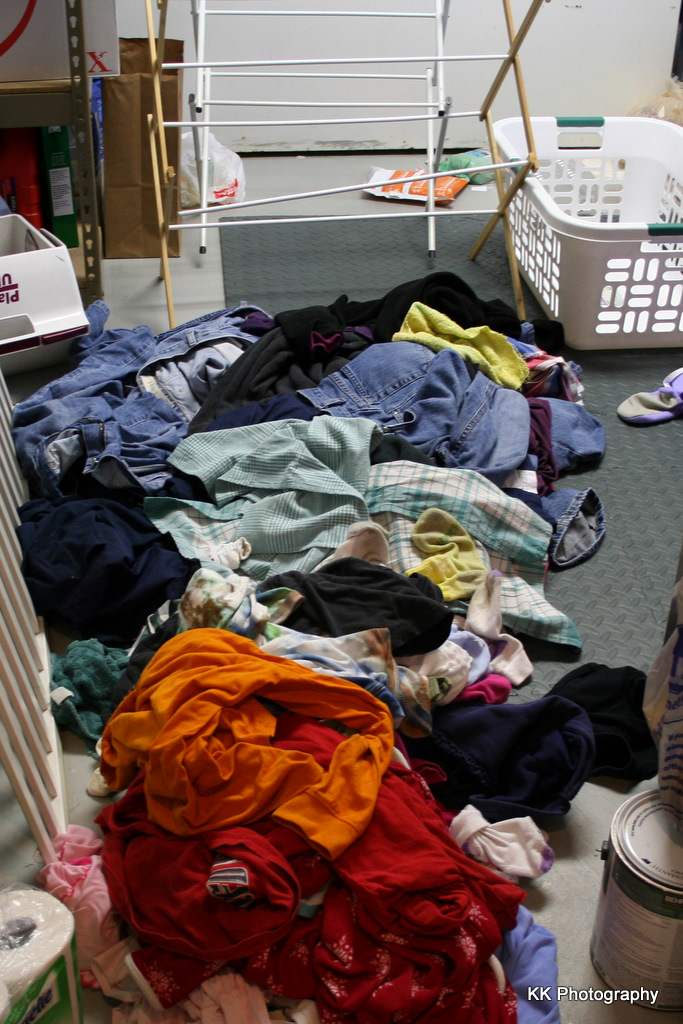 In the wintertime, I normally try and do a load or two of laundry every day, so that I can keep up with the line-drying. Since it's cold now(and wet too, often), I can't really use my outdoor clothesline, so I'm limited to using my two drying racks and hangers. Then too, in the wintertime there just is more laundry, especially since we're keeping our house so cold this winter. We're all usually wearing pants and at least two shirts, so we create a lot more laundry than we do in the summer. So, it's especially important that I do laundry regularly when it's cold out.
This last week, I skipped doing laundry for a couple of days due to the Thanksgiving holiday, and when Saturday rolled around, I faced the pile in the photo above. That's not an enormous amount of laundry if you're using the dryer, but that's a lot to try and air-dry. There were at least six pairs of adult jeans, and those alone would more than fill up my drying racks for 24 hours. So, I reminded myself that line-drying is not an all-or-nothing sort of thing, and I dried at least three whole loads of laundry in my dryer.
I thought I'd post about this because I didn't want you all to think that everything in my frugal life always works out perfectly…I get behind on laundry and have to use the dryer, I fail to plan properly and end up spending more on groceries than I want to, I get sick and tired and end up ordering pizza, and so on.
But, just because it doesn't always work out exactly the way I want it to, it doesn't mean I should quit trying. The fact of the matter is, I do manage to avoid using my dryer a lot of the time, I do save money by planning my menu and grocery list, and I do resist the urge to eat out more often than not.
Voltaire said that the perfect is the enemy of the good. In other words, all too often we quit trying something just because we can't do it perfectly which is silly, because doing something imperfect is better than not doing anything at all.
So, plan your menu, even if it's just some of the time. Air-dry some laundry, even if it's just a load here and there. Eat leftovers for lunch, even if it's just one time a week. Make meals at home as much as you can, and don't sweat it if you have to eat out sometimes. Because if you wait until you can do all that stuff perfectly, you'll never even get started.