Since I've mentioned composting here and there in my posts, I thought I should maybe share exactly how I compost. I don't have any special equipment, and my total monetary outlay for my bin was about $6.
Back in April, around the time I started working on reducing my food waste, I got inspired to try composting. I heard great things about worm bins, but they seemed a bit complicated, and I didn't want to have to buy a bunch of worms! Happily, one of my commenters pointed me to some very simple instructions for a plain old wormless compost bin, so I decided to give it a try.
Following the instructions on You Grow Girl, I made my own bin from a Rubbermaid container. Basically, you just need to cut a bunch of air holes in the lid of the bin, and several drainage holes in the bottom. The site said to use a knife, but I'm not nearly patient enough for that! I got out the drill and made quick work of that….a few minutes, and I was done.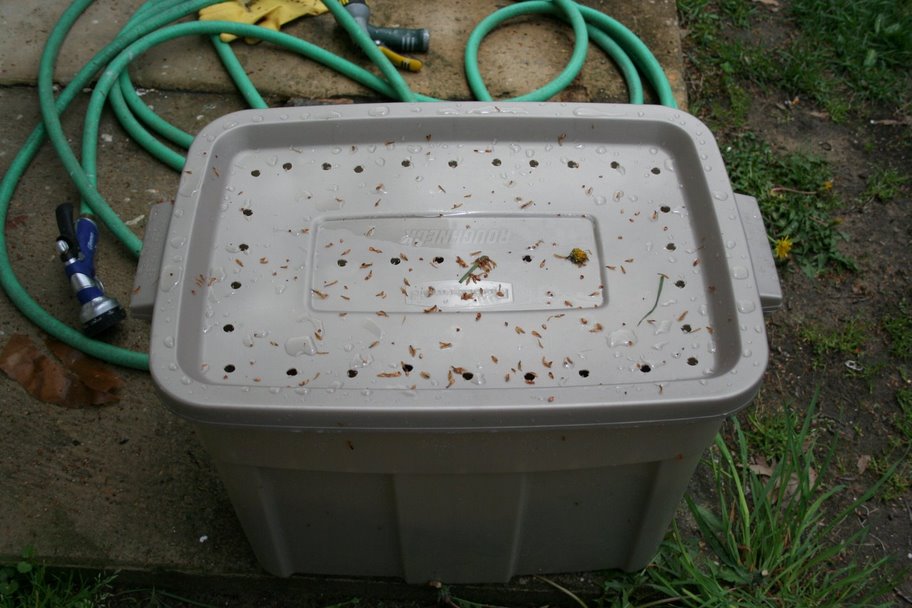 I started it off with some leaves and some fruit and vegetable scraps, which I soaked with water, and I've been adding produce scraps, tea bags, egg shells, hair clippings, and sometimes some paper ever since. Aside from adding organic material to the bin, all I have to do is turn the compost with a shovel every couple of weeks (although I sometimes forget about it and leave it longer than that, especially in the wintertime when it's frozen solid and can't be turned.).
2014 Update: To keep my compost from getting too wet, I try to add a layer of browns (dead leaves, shredded paper, etc.) whenever I add a bucket of food scraps to the bin. I find that this also helps to reduce fruit fly problems in the summertime, since the wet scraps are always covered by a dry layer of browns.
I've been using the bin since April, and it's only just now getting full (and I even put a whole pumpkin in there). I'll probably buy one more bin to use and I'll just let this one rest until spring. Hopefully at that point I can empty it out and use the compost to fertilize the beds in the front of my house.
The bin is out in our backyard, which isn't the most convenient place in the world. To make things easier, I keep a small plastic bin on my deck, which is right outside of my kitchen, and whenever I have some compostable kitchen waste, I just open the door and throw it into the little bin.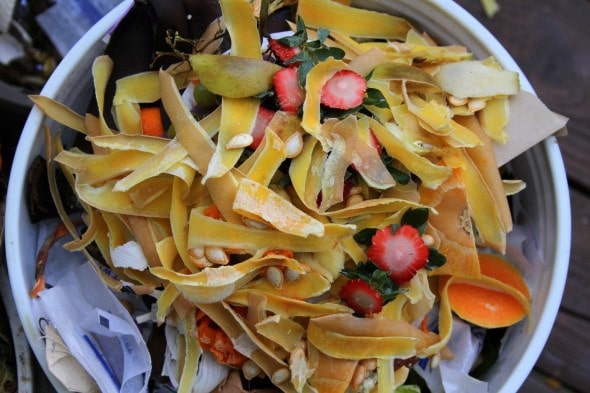 And when the bin gets full, Joshua, a.k.a. Compost Boy, comes and empties it into the big bin in our backyard.
Composting has greatly reduced the amount of trash that comes out of our house, and it make our trash less stinky. Before I started composting, I often had to take out a bag of trash that was only half full simply because it smelled so bad. Now the only smelly things in the trash are meat-related items, which I usually just put into a small bag and take out right away.
Of course, cutting back on our food waste has certainly contributed to the reduction in trash, but composting has played a very large part. Even the most faithful leftover eater is going to have some food scraps (no one is going to eat tea bags and banana peels), and it's nice to have an environmentally friendly way of disposing of these inedible items.