If you are new here or new to Stitch Fix: Stitch Fix is an online styling subscription program. You fill out a profile, pay a $20 styling fee, and you get a box of five clothing items to try. The $20 styling fee applies toward anything you keep. I originally was trying out the "the cheaper, the better" price point, but it was all pretty expensive anyway. As of now, I'm just trying to use up the credit I accumulated from an older post. If you hate Stitch Fix posts, consider yourself informed about today's post content (i.e. do not leave me annoyed comments. Read at your own risk!)
Alrighty! You know how my last box was a big fail? And how Lisey revamped my profile for me?
Well, I got a fresh new box of things to show you now.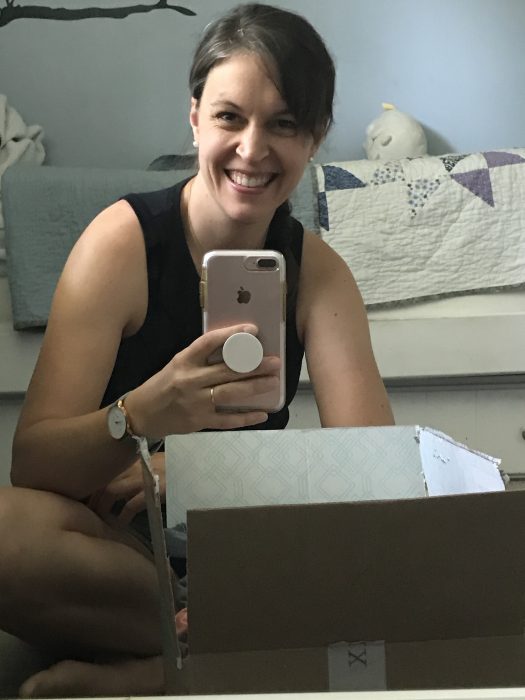 Item #1 : green joggers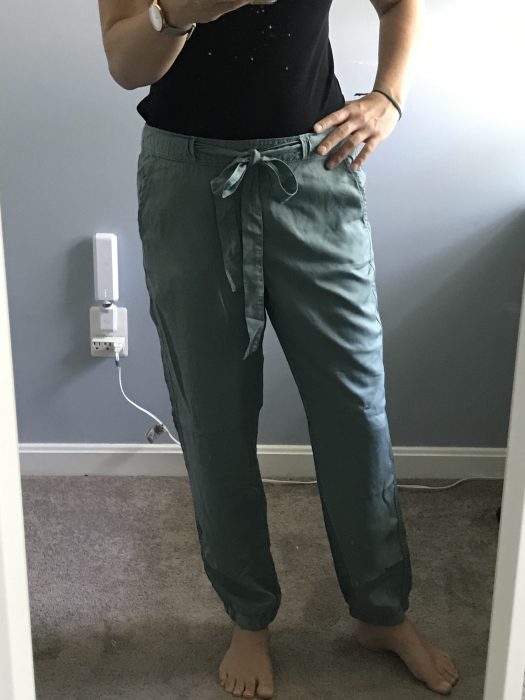 These fit me oddly, and the style/color combo just immediately made me think of medical scrubs.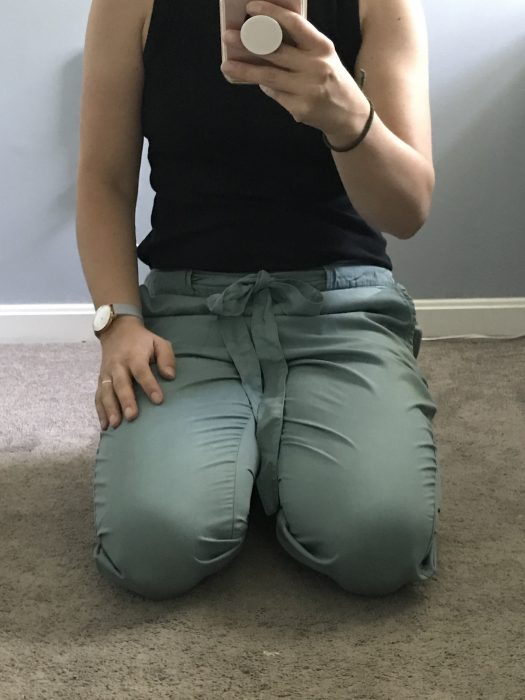 If I wear the waist low, it isn't flattering, and if I pull the waist up, it isn't flattering either!
Not a winning pair of pants for me.
Item #2: high waisted denim shorts
First issue: when I put them on, the button cover popped off.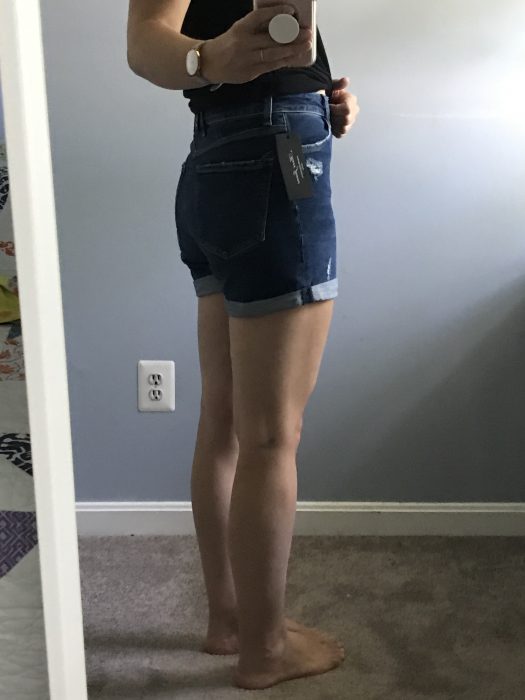 Second issue: I don't think they are super flattering on me. The side/back view is ok, but from the front, they make me look more square than I actually am.
Item #3: peach open-back shirt
I do really like the color of this shirt; warm coral/orange shades look good with my skin color.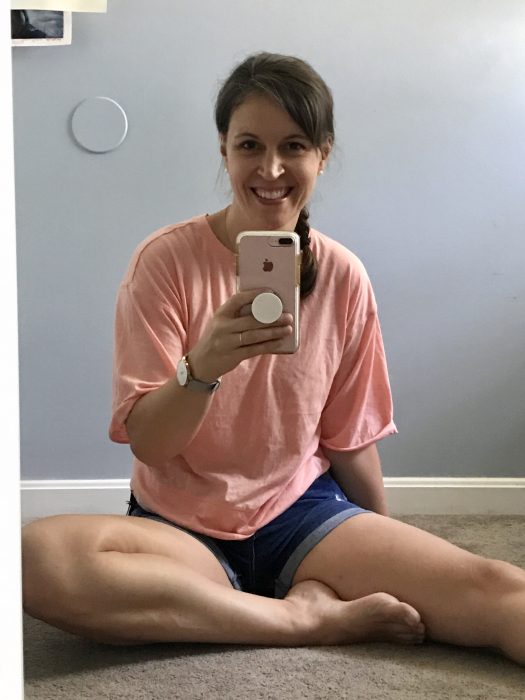 But the loose fit sleeves and the crew neck were not my favorite.
There's a circular cutout on the lower back that I tried very hard to take a photo of, but I could only do so well.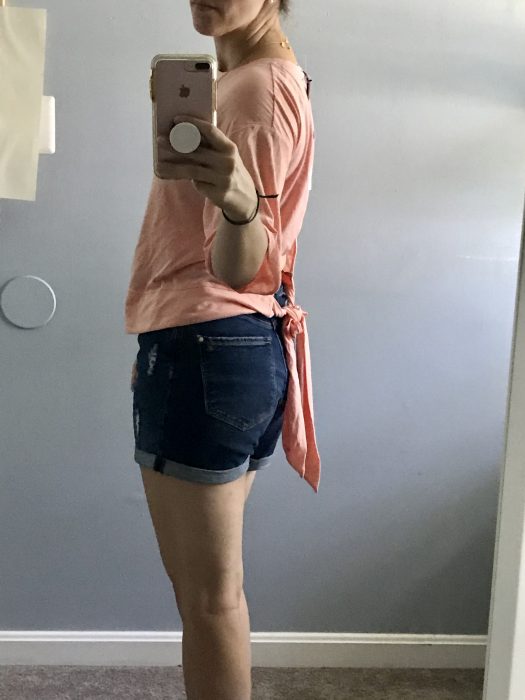 Item #4: white short-sleeve shirt
This one is not bad from this view.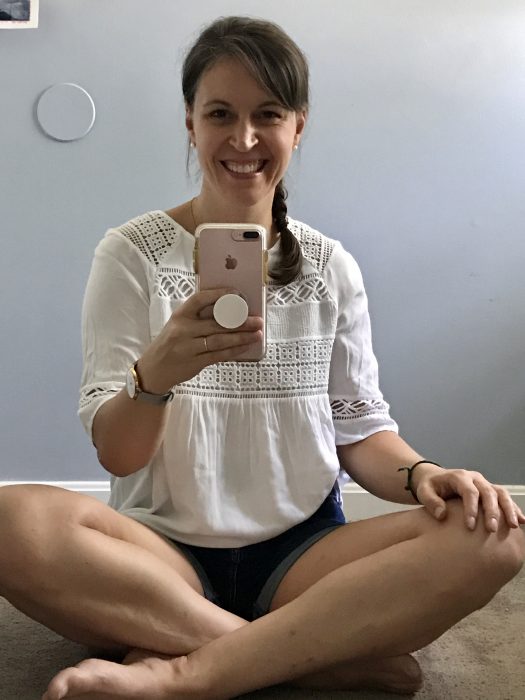 But from the side, it feels awfully shapeless.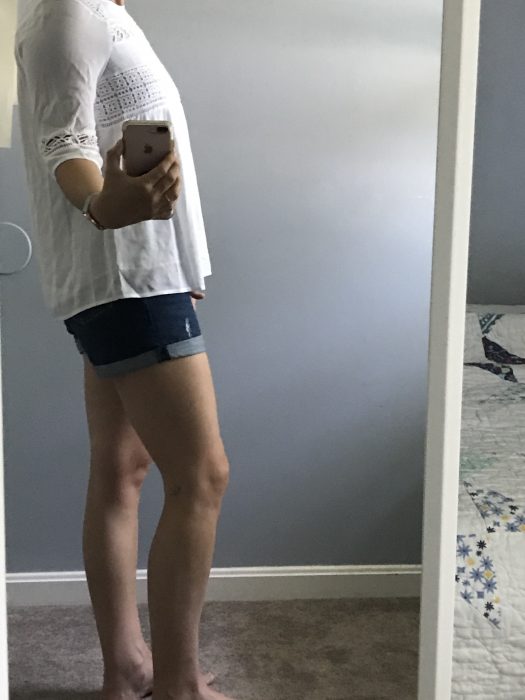 And same thing from the front.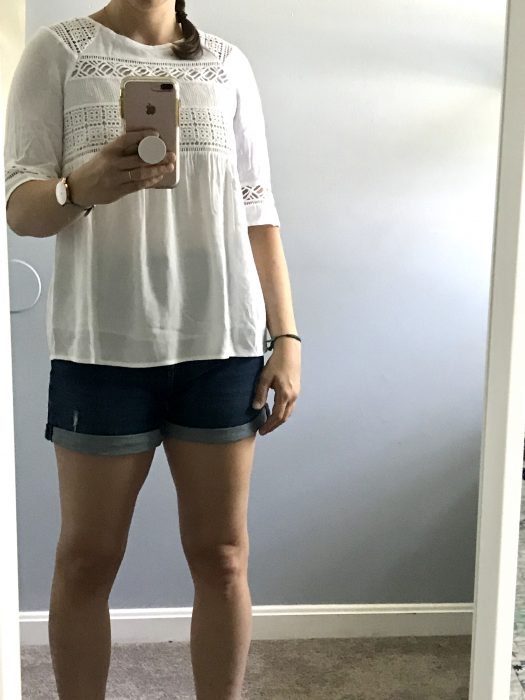 I tried tucking it in too, and I don't think that was any better. Also, please note the very square shape these shorts give me.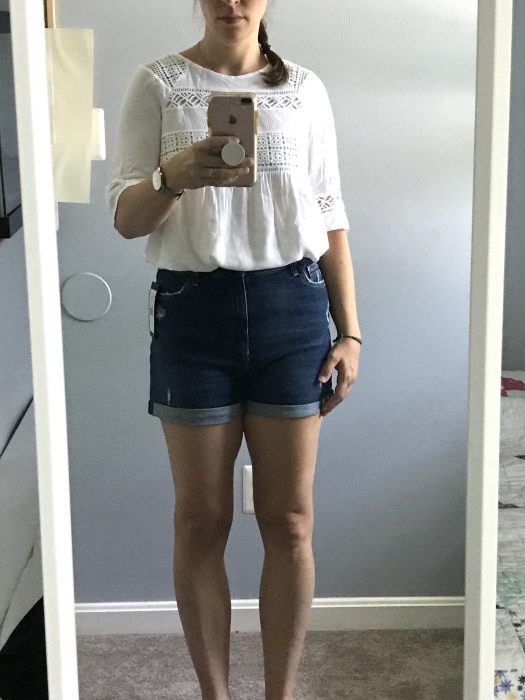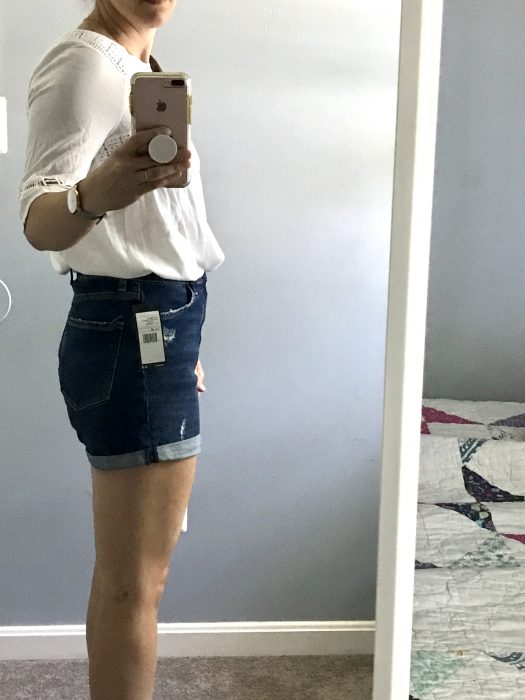 A half tuck was maybe a little better?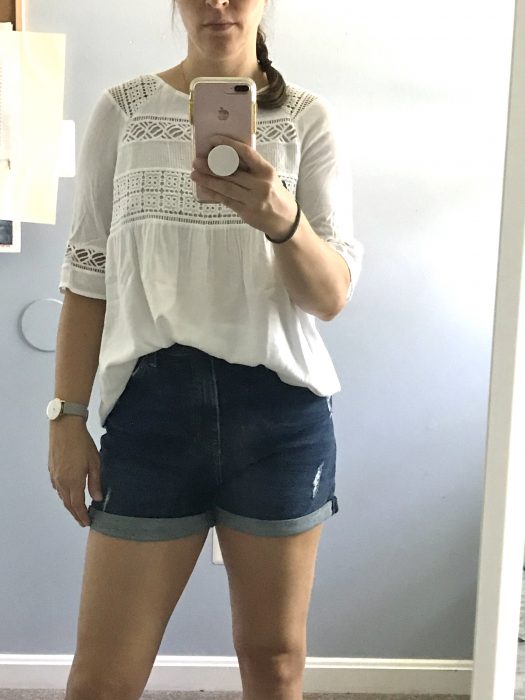 Item #5: a dress (er, chemise?)
This Free People dress does not seem like a dress to me.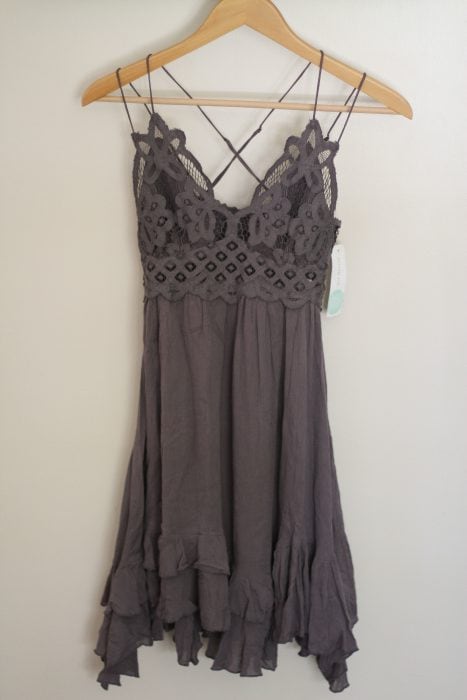 I put it on and decided there was no way I was sharing photos of it on the internet. That is just too much skin showing!
I put a white pillow inside the dress so you could see why I didn't want to model it: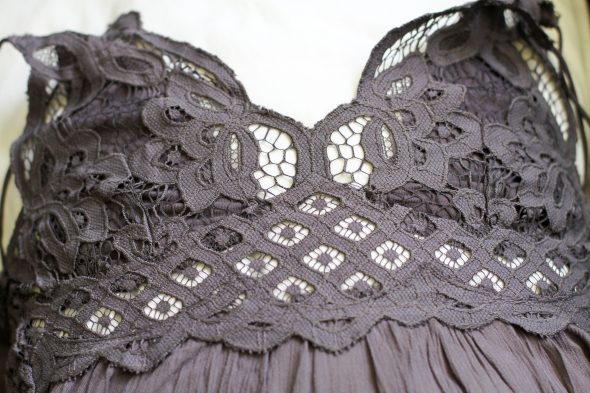 Nope, nope, nope.
I noticed that the style card suggested wearing a denim jacket with the dress: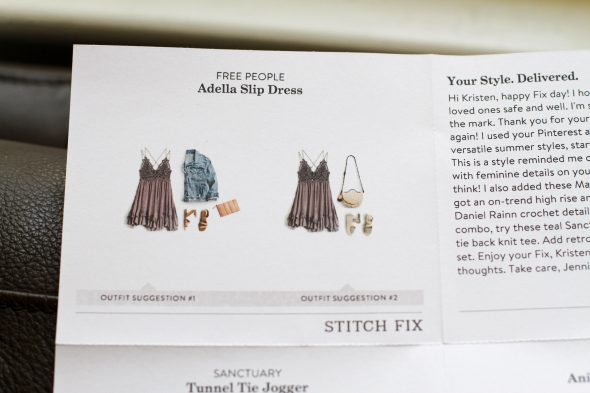 so I put that on.
A buttoned-up denim jacket is the only thing that could make me wear this dress in public! Ha.
Bonus item: a pajama set
Stitch Fix gave Lisey the option of picking some sleepwear/loungewear items to add, so she surprised me and picked a black knit pajama set.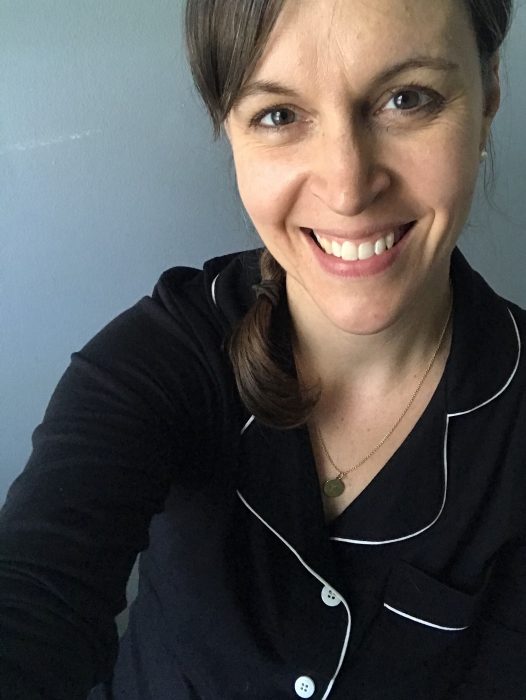 And funnily enough, the pajama set offers much more coverage than the above dress. So, I'm modeling the pajamas for you and not the dress!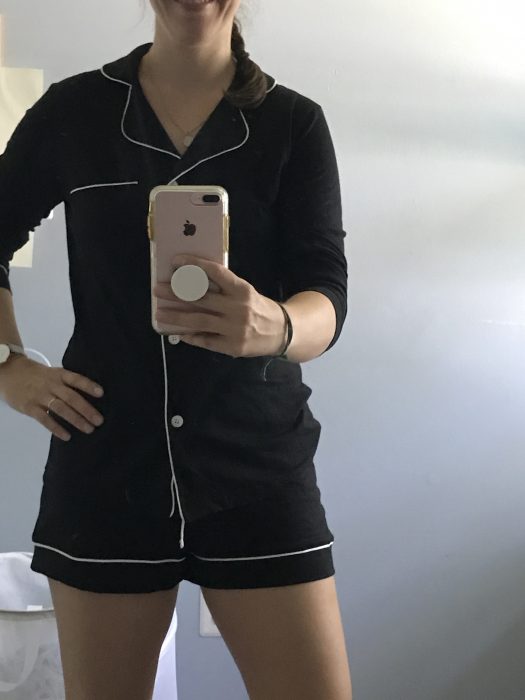 These are cute and comfortable and I am definitely keeping them.
Would I pay $64 for pajamas normally? Nah. But since I am trying to use up my Stitch Fix credit, I am happy to keep these.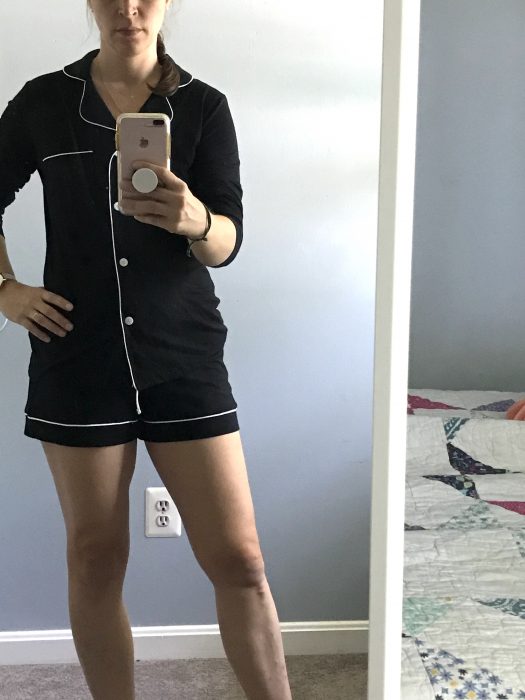 And since the credit cannot be used for anything else, I consider my efforts to use up my credits to be frugal. I'm not about to leave the dollars there!
Next steps
Since this fix was not exactly a home run, here's my next thought.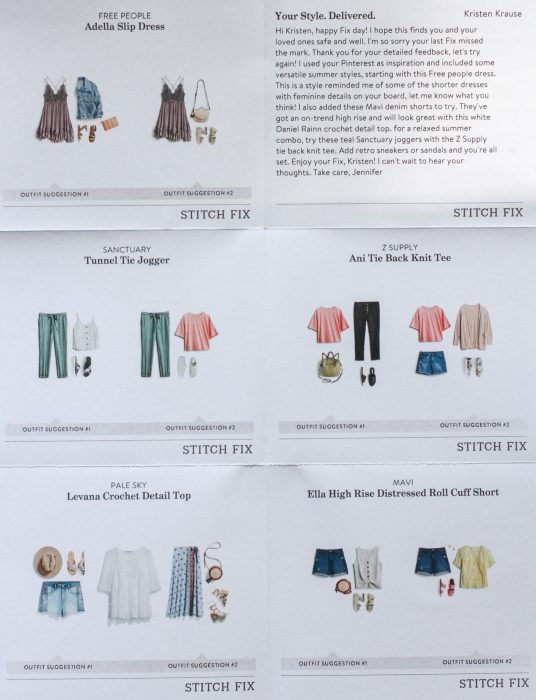 Stitch Fix lets you log in and shop for some items directly (it's called "shop your look" and it's groupings of items based on Stitch Fix items that you have bought before).
So, I'm going to have Lisey go through and choose some items for me, since she is generally better at styling me than Stitch Fix stylists are!
Stay tuned. 🙂
Oh, and here's the price sheet, since I forgot to include that last time around.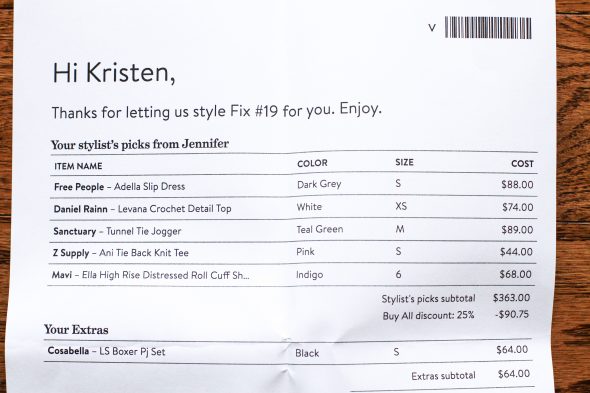 So. Would you keep any of these things?
Give me your fashion opinions!
(If you want to give Stitch Fix a try, click this link and get $25 off your first box.)