Every Monday, I answer a few of the questions that my readers send me. If you have a question you'd like me to answer in a future Q&A post, just leave me a comment here or email me (thefrugalgirl [at] gmail [dot] com) and put Q&A in the subject line. I look forward to hearing from you!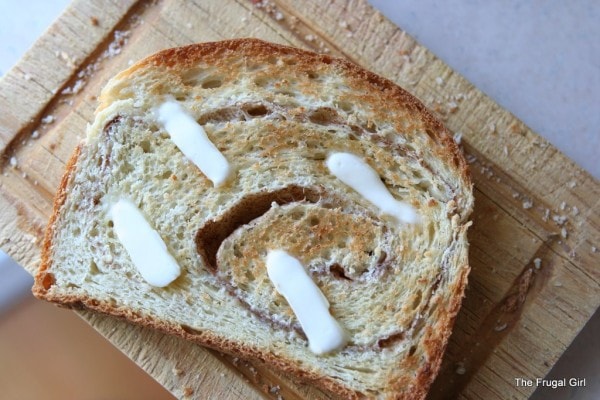 I have a baking question: How do you know when something is "doubled"? I don't have one of those super nice buckets that a lot of bakers use so I'm having a hard time knowing when things look doubled. Especially once I've rolled it out and put it on (or in) the pan and have waited the length of time, I can't tell if it's doubled or not. Any advice or suggestions on how you tell?
This is a very not-exact science, if it makes you feel better! I don't think my loaves and rolls are precisely doubled in size when I put them into the oven…I just kind of eyeball it, honestly.
I think that as with many other aspects of yeast baking, practice makes perfect. If you make some rolls and discover the end product wasn't quite as risen as you'd prefer, you'll know that you should let them get a little puffier next time. And if you let some loaves rise until they're very puffy and they spill over the top of the pans while they bake, you'll know you shouldn't let bread dough get that high in your pan.
Just keep at it…as you gain more baking experience, you'll have a better idea of what works and what doesn't, and you'll be better able to spot a perfectly risen loaf of bread.
______________________________________________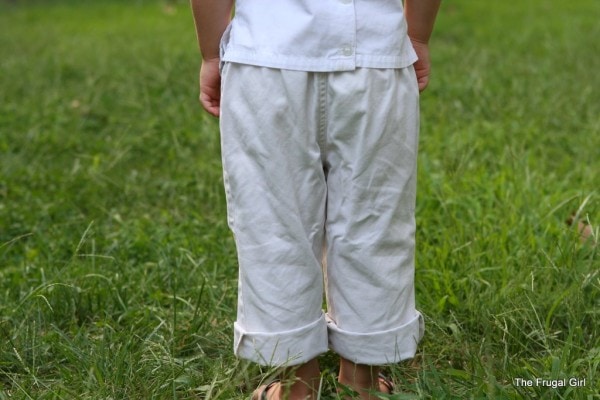 How do you save on your children's clothing? Hand-me-downs worked great for a while but daughter is developing some curves :O) and is harder to fit now. Unfortunately I never learned to sew. How do you do it with 4?

-Tracy
First, let me assure you that sewing your own clothes is often not a money-saving proposition. By the time you buy fabric and notions, it's easy to spend just as much as you would in a store, so don't fret about that, ok? There are plenty of ways to save on clothes without sewing them yourself. I don't think I have sewn a single item of clothing for my children, even though I do know how to sew!
My oldest kiddo is 10.5, so I haven't had any personal experience with clothing a teenager. However, I do manage to clothe myself pretty cheaply, and the strategies that work for me will probably work for your daughter as well. Here are my best suggestions:
Shop clearances. Doing this does usually mean shopping a bit off-season, but since stores offer the next season's clothing ridiculously early, it's not as off-season as you might expect. For instance, you can usually get great deals on winter clothing in January and February, and summer clothes are deeply discounted in August. I've found my best clothing clearance deals at Target, Kohl's, and Old Navy, though those are certainly not your only options.
Keep an eye out on Freecycle. Though I'm not really in the market for teenage girl clothes, I've noticed several offers for bags full of junior size girl clothes.
Watch for sales. This won't save you as much as the tips above, but if you have to buy something in a retail store, looking for sales when you shop will help to stretch your dollars.
Give your daughter a budget. I currently bear the responsibility for buying clothes for my kids, but as they get older, my husband and I intend to give them a monthly clothing budget to spend as they wish. Hopefully this will inspire them to shop clearances, sales, and thrift stores so that they can get more for their money. If your daughter is resistant to these shopping techniques, giving her a personal clothing budget just might help to motivate her (as long as you don't bail her out if she makes a unwise choice like spending all the money on a single pair of shoes).
Don't buy too many clothes. I'd offer up that we often think we need more clothes than we really do. All six of us here at Chez Frugal Girl get by with smaller wardrobes than the average American (except for maybe Sonia, whose drawer is bursting with hand-me-downs!), and we are all surviving and thriving. And people in generations past managed with a very minimal wardrobe. So, don't feel as though you must buy your child tons of dress clothes, school clothes, and play clothes. If you could put off laundry for two weeks before your children start running out of clothes, you might have too many. 😉
As I said at the outset, I'm not speaking from personal experience here, so if any of you readers who do have teenagers would like to chime in, feel free!