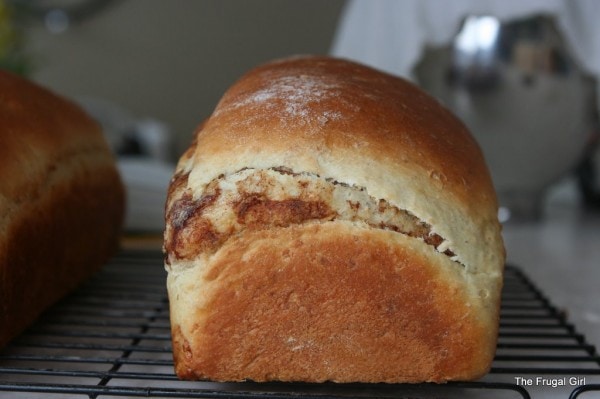 I've been teasing you mercilessly with pictures of this bread since Sunday, so I figured it would be a good choice for this week's Wednesday Baking post.
I should probably say right off the bat that I'm not so silly as to think the addition of 1.5 cups of oatmeal turns cinnamon bread into a highly nutritious food. Really, if I'm looking for health food, cinnamon bread is not the first thing I turn to. But, I figure that oatmeal does make a not-so-healthy treat slightly more healthy. The original recipe is from an old Taste of Home magazine, and I altered it ever so slightly.
Here's how to make this tasty bread.
Start the dough by dissolving the yeast in some warm water. Let it sit for a few minutes, while you're gathering the rest of the ingredients.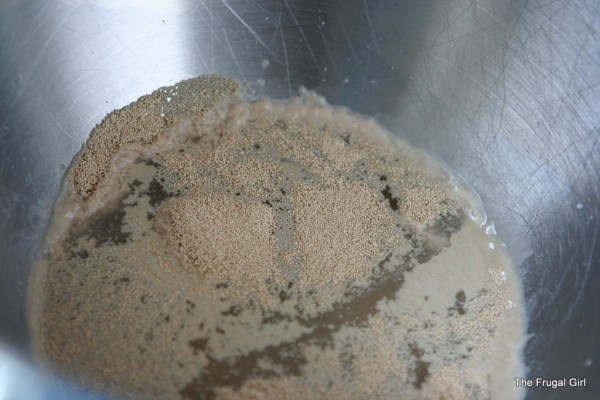 Add oats, milk, butter, 1/2 cup sugar, eggs, salt, and 2 cups flour. Mix on low speed until combine, then mix on medium speed for 3 minutes.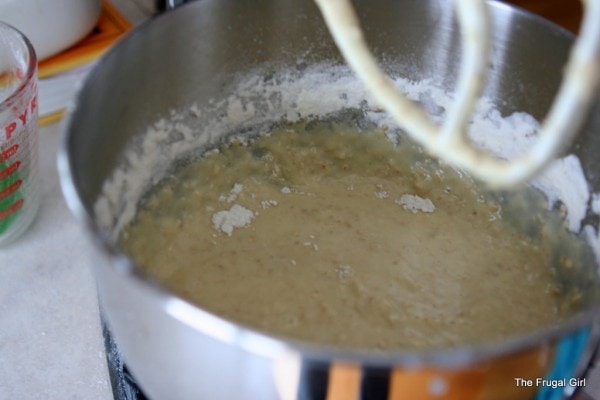 Add enough additional flour to make a soft, but kneadable dough. Turn out onto a floured surface, and knead until smooth and elastic.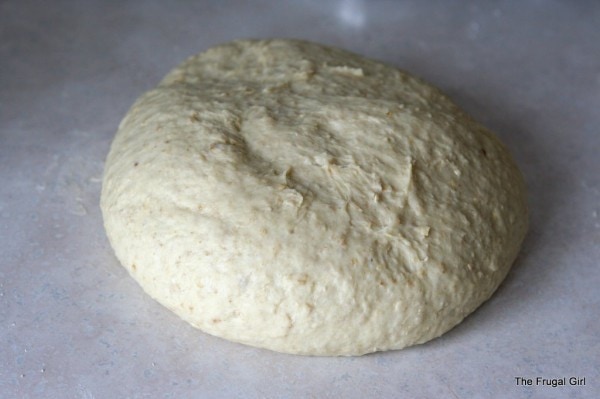 Place in bowl, cover, and let rise one hour.
Punch the dough down and divide it into two pieces. Roll each piece out into an oblong shape (don't you just live for the preciseness of my directions??).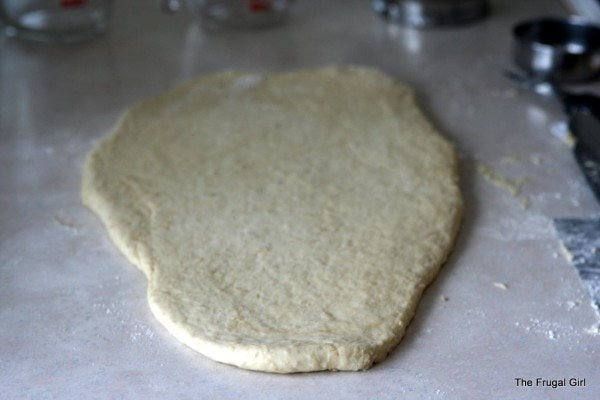 Now it's time to add the cinnamon. Mix 1/2 cup sugar and 2 teaspoons cinnamon together.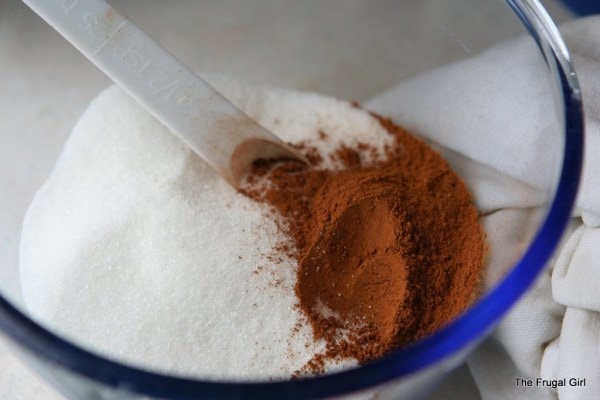 Before you sprinkle this mixture on the dough, though, you'll want to moisten the dough so that the sugar will stick. I use water for this purpose. You can use butter, but if you do, it's much more likely that your bread will end up with a gappy swirl, like so. It's not the end of the world if it does, but sometimes a gappy swirl causes problems with baking (the part that sags tends to be under-done).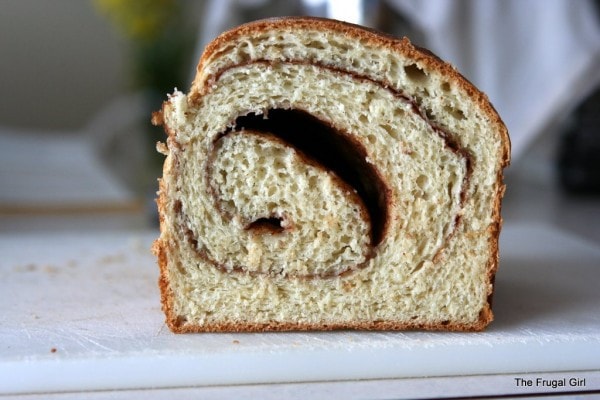 Butter keeps the bread dough from sticking to itself, which means that when the top part rises, the bottom part is loathe to rise with it. Water makes it much more likely that your swirls will stay neat, tidy, and gap-less.
So, use a pastry brush to spread a thin layer of water over the dough…just enough to make the dough tacky.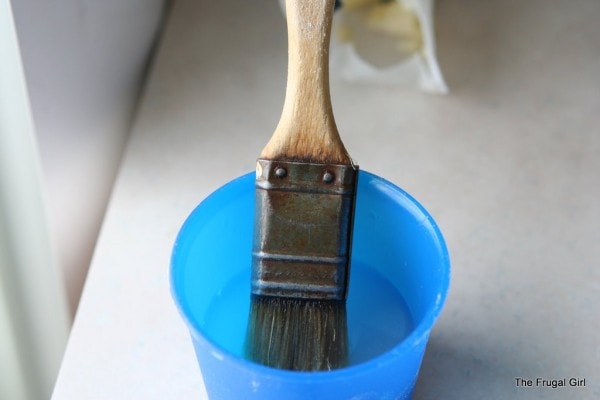 Then sprinkle half of the cinnamon sugar over the dough rectangle.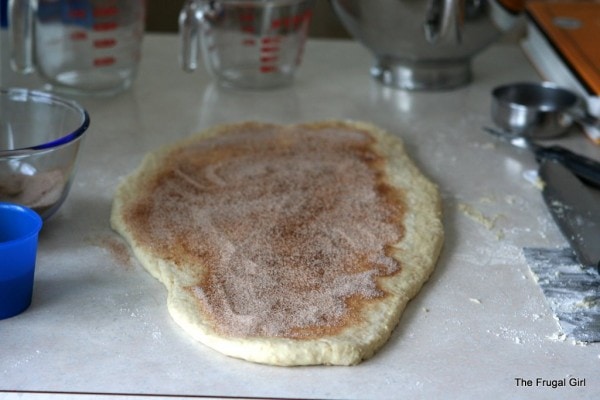 Starting from the short end, roll the dough up, pinch the seam to seal, and place it in a greased 9×5 inch loaf pan.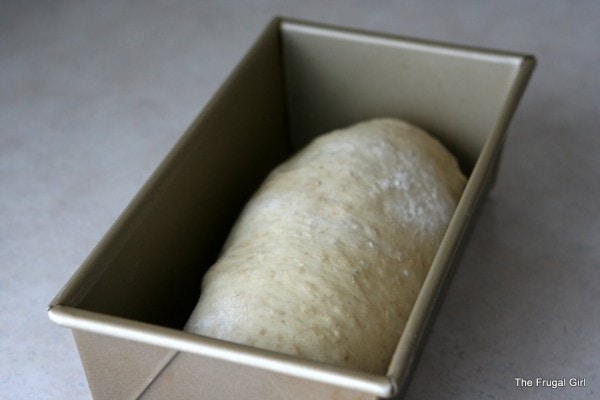 Repeat with the other half of the dough, cover both pans with a wet tea towel, and let them rise 30-45 minutes, or until doubled (y'know…approximately!).
Bake in a preheated 350 degree oven for 35 minutes, or until golden brown. Turn the loaves out of the pan, and cool them on a wire rack before slicing.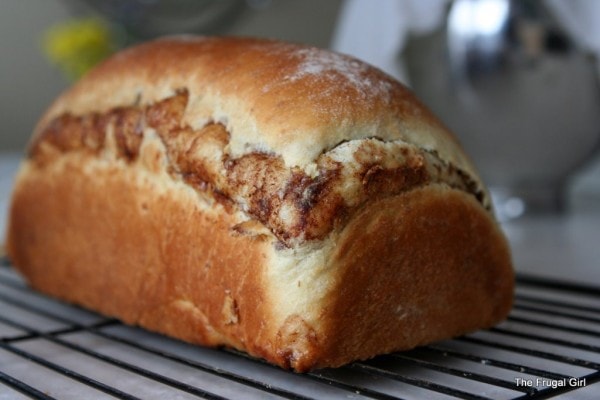 Most breads are difficult to slice when they're hot, and cinnamon swirl bread is especially difficult to manage when it's hot. So, be patient and let it cool to room temperature before you try to slice it up.
Hopefully when you slice your loaf open, you'll see a nice, tight swirl.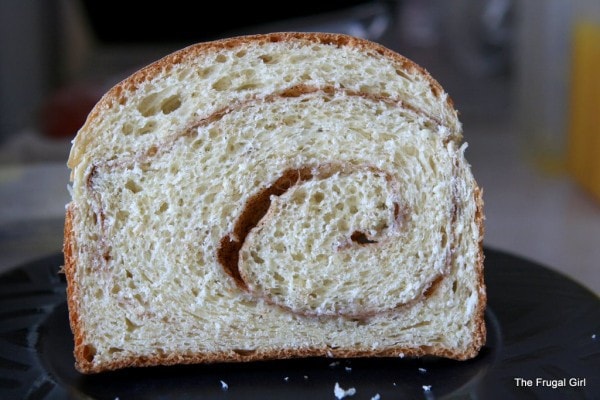 This bread is delightful as is, but it also makes really good toast.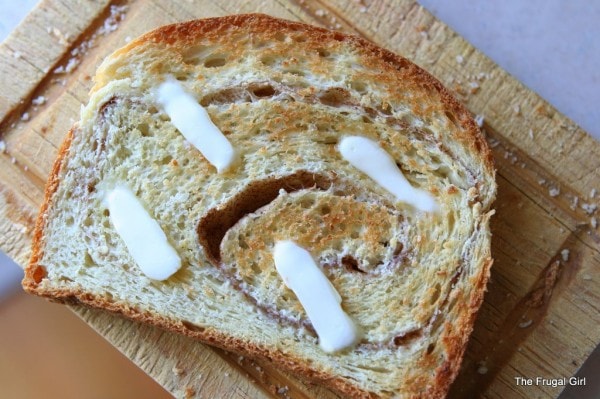 And it freezes nicely, so you can eat one loaf now, and freeze another one for later.
Printable Oatmeal Cinnamon Bread Recipe
Oatmeal Cinnamon Bread-makes 2 loaves

2 packages active dry yeast (4 1/2 teaspoons)
1/2 cup warm water (110 ° to 115 °)
1 1/2 cups quick-cooking oats
1 2/3 cups warm milk (110 ° to 115 °)
1/2 cup shortening
1/2 cup sugar
2 eggs, lightly beaten
2 teaspoons salt
5 to 5-1/2 cups all-purpose flour
Cinnamon Sugar
1/2 cup sugar
2 teaspoons ground cinnamon
1. In a bowl, dissolve yeast in warm water. Add oats, milk, shortening, 1/2 cup sugar, eggs, salt and 2 cups flour; beat until smooth (if using stand mixer, beat 3 minutes). Add enough remaining flour to form soft dough. Turn onto a floured surface; knead until smooth and elastic, about 6-8 minutes. Place in a greased bowl, turning once to grease top. Cover and rise in a warm place until doubled, about 1 hour.
2. Punch dough down. Divide in half; roll each portion into a 16-in. x 8-in. rectangle. Brush with water. Combine cinnamon and 1/2 cup sugar; sprinkle over each dough half to within 1/2 in. of edges. Roll up jelly-roll style, starting with a short side; pinch seams to seal.
3. Place loaves seam side down in two greased 9-in. x 5-in. loaf pans. Cover and let rise in a warm place until doubled, about 30-40 minutes. Bake at 350 ° for 35-40 minutes or until golden brown. Cover loosely with foil if bread browns too quickly. Remove from pans to cool on wire racks. Yield: 2 loaves.