Every Monday, I answer a few of the questions that my readers send me. If you have a question you'd like me to answer in a future Q&A post, just leave me a comment here or email me (thefrugalgirl [at] gmail [dot] com) and put Q&A in the subject line. I look forward to hearing from you!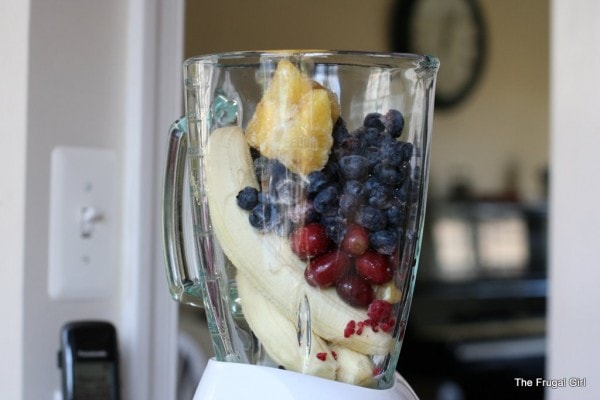 I notice you list smoothies in your menu plans just about every week – even in the winter. What types of fruit do you use in the winter when typical smoothie fruits (berries) become more difficult to find? We love smoothies and drink them quite often in the summer. I would love to figure out ways to have economical smoothies all year long.

-Jess
(I'm planning to do a more in-depth post on smoothies shortly, so stay tuned. More is coming!)
I rarely use fresh fruit in my smoothies…when I buy fresh fruit, especially summer fruit, we usually just like to eat it plain. I find that frozen fruit is the most cost-effective option for smoothies, and since frozen fruit is processed shortly after picking, it's quite possible that it is more nutritious than things like the winter strawberries that were picked a week before they arrived at your store.
Most any frozen fruit works fine, but I usually keep strawberries, blueberries, and raspberries around. Frozen pineapple also makes a tasty addition.
I do use fresh bananas in almost all of our smoothies (they add sweetness and creaminess), but those are generally inexpensive all year round, and I don't know that I've ever even seen packaged frozen bananas anyways. And of course, I use my homemade yogurt in almost all of the smoothies that I make.
Quick question- I know your kids are still really little, so do you feel like having them with you on your weekly shopping trips is a distraction, or is it okay? At what age do you think you'll feel comfortable leaving them home along for a little bit while you do errands? (I can't remember how old your eldest is, nor can I remember how old I was when my parents would let my older sister babysit me for short periods of time).

-Becky
Well, so far I haven't left any of them home alone. My oldest is 10.5, so I think it would be legal to leave him home alone. However, he's the least of my concerns when we go shopping (he's actually sort of helpful!), so I've never felt the urge to leave him behind.
I probably won't leave my kids home alone for quite a few more years…not until I feel confident that Joshua and Lisey can watch the younger two (that will depend upon their maturity level more than their age, so even when it's legal to leave them all at home, I may decide it's not time yet). And when I do start leaving them home alone, it will be for shorter outings than grocery shopping at first, as hitting Goodwill, Aldi, and Weis takes a while!
Currently, I take all four of them with me pretty much every time we go shopping. I'm so used to operating this way, it doesn't really faze me. And my kids are so used to shopping with me, they're accustomed to behaving themselves. Of course, even well-behaved children make shopping a little more difficult and distracting, but they don't make it impossible.
They really don't seem to mind coming along, and in fact, all four of them LOVE shopping at Goodwill. I think they'd be sort of sad if they missed out on that every week.
Based on how many "Are they ALL yours??" and "Wow, you have your hands full!" comments we get while we shop, I think it is sort of unusual to see a mom shopping with 4 kids, but to us, it's just normal. 🙂
(as a funny side note, which is even funnier given the discussion on the post about family size and environmentalism, I usually think of our family as being kind of small. This, I think, is due to the fact that some of my parents' siblings have 5-9 children, and also due to the fact that I grew up around homeschooling families, which tend to be on the large-ish side. So, it always seems odd to me that people think my family is unusually big.)
I'm in the UK a lot of the measurements that you use are alien to me as it is all in cups. I have looked up conversion rates and it seems to differ between a cup of liquid and a cup of sugar, a cup of flour etc… Do you have any advice for someone who really does not understand the cup measurement? Is one cup of liquid different to one cup of flour, and that is different to one cup of sugar or one cup of oats?

-Stephen

Someone who is more knowledgeable than me on this subject may pipe in, but I'll take a stab at answering this.
A US cup measures volume, not weight. So, a cup of flour weighs much more than a cup of corn flakes, and a cup of marshmallows is much lighter than a cup of butter.
Here are a few conversions that may come in handy.
1 cup butter = 8 ounces
1 cup flour = 5 ounces, or 150 grams
1 cup granulated sugar = 8 ounces, or 225 grams
1 cup oil = 7.9 ounces
1 cup milk = 8 ounces
__________________________
Readers, as always, feel free to add your answers to mine (especially if any of you live in the UK and are more familiar with conversions than I am!)