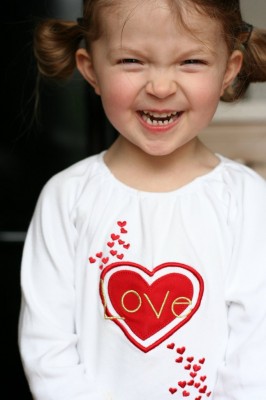 Valentine's Day seems to be a somewhat controversial holiday, both from a frugal standpoint and from a relational standpoint, and I thought I'd throw my two cents out there. I have a sort of a love/hate relationship with it, so I'll share my thoughts on that and then tell you what fun things we do to celebrate Valentine's Day.
What I Hate
I really dislike the way that marketers treat this holiday. If I never see another jewelry ad that basically says, "If you love your wife, you'll buy her an expensive piece of jewelry." or "She'll love you if you spend oodles on jewelry/She'll hate you if you don't." it'll be too soon.
(I think being nice to your wife year round is a much better way of showing love, by the way!).
It's not just jewelry either…I'm not a fan of the tons of heart-shaped doodads that fill the stores in January and February.
Oh, and how could I forget the enormous stuffed animals? Because apparently, you can't just tell someone you love them…you need to buy a giant red teddy bear with "I love you" embroidery.
Love 365
Valentine's Day comes around once a year, and I don't at all think that it needs to either make or break a relationship.
What matters in a relationship is the day-to-day relating, not the size of a rose bouquet or the number of diamonds in a necklace.
If a couple treats each other like garbage the rest of the year but goes all out for Valentine's day, I don't think that's a sign of relational health any more than I think that skipping V-day altogether is a sign of poor relational health.
On a related note, I also think that it's kind of silly for a person (usually women are the ones who do this!) to have a complete melt-down if the significant other forgets Valentine's Day or doesn't come through in the way she/he expected.
Really, what matters more? One day, or 364 days?
What We Do
We obviously don't go all commercial for Valentine's Day, and neither do we view this day as the only day of the year wherein we must be nice to each other. To us, it's just a handy excuse to do some fun things.
So what DO we do?
Well, as I mentioned on our menu plan, my husband and I have a tradition of ordering a more-expensive-than-we'd-usually-consider seafood meal for our celebration. We started this on our first Valentine's Day back in 1996 and have continued ever since. We get to avoid the restaurant crowds and restaurant prices, and we still have a delicious, special meal that I didn't have to cook.
I'm really jumping ahead of myself, though. The fun of Valentine's Day around here starts on February 1st, not February 14th.
A number of years ago, I heard a suggestion that I thought my husband would really appreciate, so I gave it a try and he LOVED it. We call it The 14 Days of Valentine's Day (sort of like the 12 days of Christmas!).
Starting on February 1st and continuing through the 14th, I give my husband a small gift every day. These gifts range from his favorite candy to a homemade dessert to a fun t-shirt to an MP3 download (and some other spicier things that I will not mention!). I repeat some of the ideas from year to year, but I try to throw new things into the mix too.
This year, my husband decided to reciprocate, and I've been getting a huge peppermint patty or a chocolate-covered marshmallow heart each day, which has been fun (and tasty!).
We also make cards for each other with handwritten notes inside (I personally think the handwritten note is the best part!).
We don't leave our kids completely out of the fun…every year, we get them a little box of chocolates, and I also usually make heart-shaped frosted sugar cookies with them (a disastrously messy but fun activity).
And this year, since Valentine's Day landed on a Sunday, I made heart-shaped pancakes for them at dinnertime by pouring pancake batter into my heart-shaped cookie cutters.
_______________________________________
What do you think? Do you celebrate Valentine's Day? If you do, share your frugal ideas in the comments!