These first questions were emailed in response to last Monday's post, where I shared pictures of our weekend activities, which included my cousin's wedding and a trip to the pool.
I loved this post. You have a beautiful family—extended family as well. I noticed your dad is in uniform. You will have to tell us about him sometime. Do your parents have a pool? That must be nice if they do. The flowers on the steps were very pretty. Do you have a green thumb that helps you make beautiful flower pots on a nickel?
-Sheila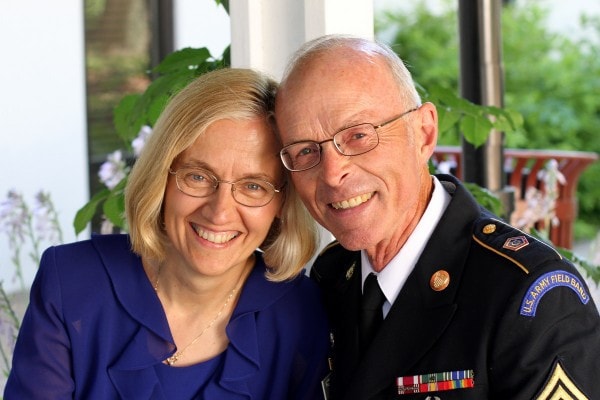 1. My dad is now retired, but he was a sax player in the U.S. Army Field Band for many, many years. He still plays at church sometimes, and he played the prelude music at my cousin's wedding along with my brother (who played the piano). I think my mom might have talked him into wearing his uniform to the wedding because she kind of has a thing for his uniform. 😉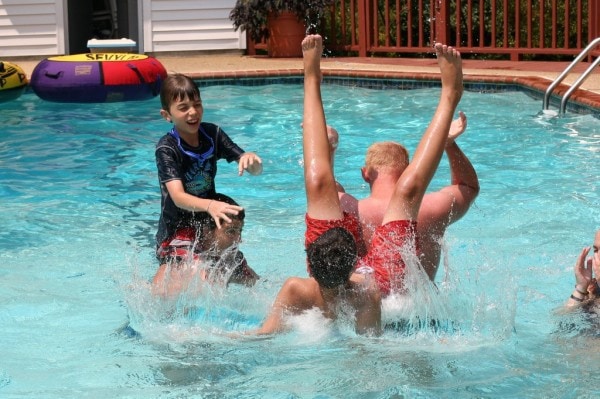 2. My parents do indeed have a pool….they got one when I was in my early teens, so I got to use it for a lot of years when I lived at home. And now my children get to use it, which is lovely. We go swimming usually once a week with my sister and her boys (you've seen her littlest here a number of times before) and my aunt and her kids (this is the aunt who is mother to my cousin who got married in June, my cousin who got married on Saturday, my cousin who graduated this spring, and 6 other cousins. This is why I often say that I "only" have 4 kids!).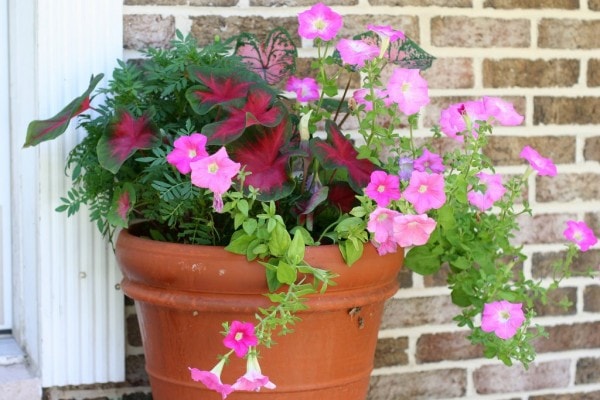 3. I wouldn't exactly say that I have a green thumb, but I do like to try to grow things! The flowers on my front steps are from Aldi (the Caladium), and Lowe's (I got the marigolds and the pink flowers when they were have a ridiculously cheap flower sale).
Hi Kristen,
What do you think about shopping at wholesale stores like BJs and Sams? Are they worth it in your opinion?
Kim
That depends…I wouldn't say a resounding yes or no to that question because the answer will vary depending on your situation and circumstances.
We have a Costco membership and I used to use it more before I discovered Aldi. That's because I've found that I can often beat Costco's prices at Aldi and I don't even have to buy items in enormous quantities.
Yeast is probably my most favorite thing to buy at Costco ($4 for 2 pounds of yeast? Yes, please!). I also buy contact solution, soy sauce, some crackers, vanilla, some spices (ones that I use often, like cinnamon), laundry detergent, and dishwasher soap among other things.
We also buy gas at Costco when it is convenient (I don't think it's worth it to drive out of my way to get gas), so that helps to make the membership more valuable.
If you don't have an Aldi or other similar discount store in your area, I'd say that a warehouse club could be very worth it. If you are like me and have an Aldi, though, it's probably not quite as great a deal (if we didn't have our membership, though, I'd have to get a friend to pick up some yeast for me. If I used supermarket yeast, I'd bake us out of house and home!).
Probably my best warehouse advice is to avoid the trap of assuming that everything will be a good deal. There are indeed great deals at warehouse stores, but some of the bulk items can be had for less money at other stores, so you need to know your prices in order to be a discerning shopper.
How did the 700 Club hear about you? What was that experience like? Was it tempting to take whoever up on the idea of a show?
-Sheila
Well, Dana Brown Ritter, who is a producer for CBN, happens to be a reader. And she happened to get the idea to do a little feature about me and my blog.
It was definitely a unique experience for me…I was really nervous about it at first, but it ended up being a lot of fun. I felt like a reality show participant with my mic clipped onto my jeans!
Though I hate watching myself on TV (I've managed to watch the interview only one time!), I'm really glad that I did the interview. I write my blog for the purpose of helping people, and I'm grateful that the interview helped me reach more people that I'd have been able to otherwise.
The reality show idea cropped up a long time ago (not from CBN), and I have to say, it wasn't very hard to say no. Though blogging and the accompanying criticism has helped me to develop a thicker skin, I know myself well enough to know that I am not prepared for the barrage of criticism that would come from laying our lives out on reality TV. Plus, I don't think any amount of money is worth the loss of privacy that would come from that. 😉
I was wondering if you only buy the groceries you need for that week or if you sometimes stock up on stuff when it's on sale?
Angie
Oh yes, I definitely stock up when I find things on sale. I do this a little less than I used to now that I shop at Aldi because Aldi's prices are low every day (for instance, I can count on paying less than $2 for a pound of butter there each week, whereas before I had to keep an eye out for a $2 sale on butter so that I could stock up).
I often buy chicken and shrimp when they are on sale and I freeze the excess to use on non-sale weeks. I also am a big fan of stocking up on flour…it often goes on sale for a great price at Easter and Christmastime, so I buy a LOT of it at those two times of year.
_________________________________________
Readers, what do you like to stock up on? And what are your thoughts on warehouse clubs?