I've known about your site since 2008 but have never asked a question before. I was wondering what your views are on free samples. There are tons of websites that gather samples together and update them daily. I just browsed today and found about ten samples that will be coming in the mail. Do you use these, and do you have a favorite?
-Kristin
I'm not actually a free sample nut, mostly because I take issue with the amount of packaging these samples use. I wrote more about that in a blog post about free samples.
I do like to sign up for full-size freebies, though, and my favorite resource for that is MoneySavingMom.
Have you considered buying a share in a CSA?
-lots and lots of people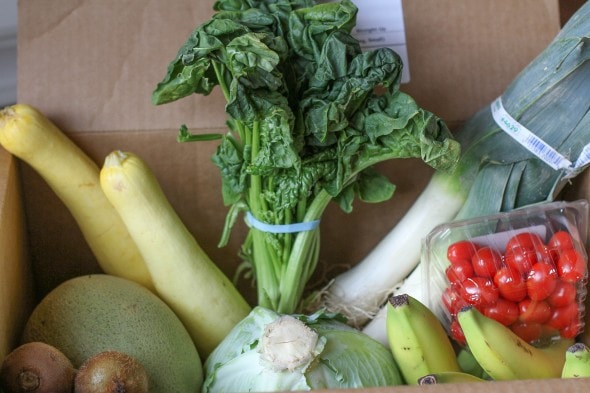 Yep, I have! I think CSAs are a fabulous idea. But all the CSAs in my area are booked, and so my only option was to be put on a waiting list.
Boo.
I'm making more of an effort to visit the local farmer's markets and produce stands, though, so we're still managing to eat some local produce even without a CSA.
I JUST got engaged (yay!) and the first thought that came to mind was: How do I plan a "frugal" wedding… but still manage to have some of the traditional bells and whistles?
I realized that your wedding was one of the things I don't know about you… would you care to share some of the minor details about it? Was frugality a major component? Did you get married at City Hall and do a small, intimate party? Or was it more traditional with a church and a more lavish celebration?
First, congrats!! Second, I'm not sure that my wedding was a classic frugal wedding, but it wasn't super expensive either. I think the total bill for everything (food, my dress, invitations, etc) was $5000.
(my mother can feel free to pipe up and correct me if I'm wrong on that!)
We did have a church wedding, and we had a fairly large number of guests (I can't remember exactly how many, though.). However, we had an evening wedding (at 7:00 pm), and so afterwards, we just had hors d'ouevres and then cake and ice cream. This was less stressful and less expensive than having a sit-down dinner. We also saved money by having the reception in the church building. Plus, a lot of our church family pitched in to help by preparing food, serving food, and decorating the church.
Hmmm…what else did we do to save money? We printed our own invitations on purchased cardstock. My dress came from David's Bridal, and cost $500, and my wedding shoes were from Payless(!). We rented a tux and shoes for Mr. FG instead of buying them. The night of our wedding, we stayed in a nearby Bed and Breakfast, and then we headed up to Cape Cod, where my parents had given us a week's stay as our wedding present.
I didn't actually have to pay for my wedding expenses, so keeping things simple didn't save me any money personally. Really, though, part of the reason we kept things simple is that I didn't care very much about all the wedding details. Quite honestly, Mr. FG and I just wanted to get married and start our new lives together, and all the wedding trappings weren't that important to us. Even our honeymoon location didn't much matter to us…we were just so happy to be married and to be all by ourselves, I think we'd have had a fabulous time no matter where we went.
Considering that we have 3 female offspring, I'll probably be full of more practical frugal wedding advice 15-20 years from now, but for the moment, my best advice is to remember that the main point of a wedding is to marry two people…it's not about impressing other people, or throwing the party of the year. If you have the resources and you want to throw a fabulous party, that's all well and good, but a small wedding can accomplish the goal of marrying two people just as well as a large wedding can.
And lastly, I'd add that what matters most is not the amount of effort you put into your wedding, but the amount of effort you put into your marriage. It seems like a lot of people get those two things flip-flopped. 😉
P.S.-I'd also put in a vote for hiring a good photographer. If I could go back, that's probably the only thing I'd change about my wedding. I wasn't into photography back then, so I didn't put a lot of effort into finding a good, creative photographer. Ah well…one of these days, I will fork over the cash to have a nice photo session done for Mr. FG and me to make up for it!
_______________________________
I'm positive that you, dear readers, have lots of fabulous frugal wedding advice to add to mine, so please share in the comments!