Every Monday, I answer a few of the questions that my readers send me. If you have a question you'd like me to answer in a future Q&A post, just leave me a comment here or email me (thefrugalgirl [at] gmail [dot] com) and put Q&A in the subject line. I look forward to hearing from you!
Ask Mr. FG
A while back I asked all of you a few questions about what you'd like to see more of/less of here on my blog, and a number of you asked for a post from my husband. He's not a big fan of writing, so I don't think he wants to write an entire post, but he's indicated that he might be willing to do an interview sort of post, where he answers questions from you. So, if there's anything you've ever wanted to ask him, send me an email or leave a comment on this post, and he and I will work together to assemble and interview post. I can't guarantee we'll answer every question, but we'll do our best.
Now, onto some reader questions!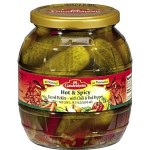 I wanted to know if you know of any uses for left-over pickle juice. I buy the big jar for our family movie night (Wednesday's special is buy one get one free, so we get two for 99 cents), and I always end up with a bunch of pickle juice left and can't seem to find any use for it. I hate to throw it away.
Thank you, hope you can answer my question.
-Jovi
We don't go through a ton of pickles at our house, but I know I've read of people putting sliced cucumbers into pickle juice and then letting the jar sit in the refrigerator for a few days. The result, from what I hear, is a kind of raw pickle.
I've not personally tried this, though, so I can't vouch for the effectiveness of this trick.
Given that your balance of concern for budget and the environment is similar to my own, I was wondering what you did for your children when they were in diapers? I am having my first in Sept and am at a loss. I hate the idea of using disposables, but I'm concerned about the cost of cloth services or even my own water bill should I go alone on cloth. I'd love to hear your take.
Jennifer
I wrote a post a while back to answer the question, "How much baby stuff do I need?", and in that post there's a small section on cloth diapering. For various reason, I never got into cloth diapering, so I didn't have a lot of helpful advice to offer, but in the comments of that post, many of my readers shared helpful tips and opinions. This FAQ page has some more specific info about the dollars and cents aspect of cloth diapering and the Green Baby Guide also addresses this question.
I was curious what you do about tv, video games, and the computer. When I have children I don't want them to have video games or free reign over the tv or computer. I was curious if you let your children earn tv or computer time or do you give them a certain amount of time per week? I don't watch tv and the only reason that we have a television in our house is that my husband likes to watch good movies every once in a while (maybe once every two weeks or so) and old tv shows on DVD or BBC tv shows on DVD. We don't have internet either and I don't really see a reason to use the computer other than doing research for school projects or typing…that is the only two USEFUL things that I used the computer for during school.
Oh and cell phones… what are your thoughts about kids having cell phones? I am pretty serious about not giving my children them until they are driving and then it will be only for emergencies.
-Faith
We do own a TV (though it is not hooked up to cable…we just have an antenna in our attic), a wii, and several computers, but our children don't at all have free reign over them. I think that the technology we currently have in our culture is amazing, wonderful, and useful (especially the internet! How would I blog without it??), but I think that it's good to exercise care in the way we use these things. Of course, different families have different needs, so the way we handle technology isn't the perfect method for everyone, but since you asked, here's how we operate.
TV
We watch TV very, very rarely, mostly because there's not much on that we perceive to be edifying. We did watch some of the Olympics, and my husband and my son sometimes watch football games together, but TV isn't even close to being a daily thing here. We do sometimes borrow movies from the library or rent movies from Redbox, but this also is not something we do on a regular basis.
Computers
My older two kids use the computer for their schoolwork (the younger two don't know how to type yet!), and they both use the internet for typing games. Joshua has an email account, which carbon copies everything to my account so that I can keep an eye on what he's sending and receiving, and he also sometimes reads articles about cars and checks the scores of various sports teams. Excessive internet use hasn't really been a problem yet, so we haven't had to place any time restrictions on internet activities. We'll adjust this in the future if necessary, though.
Video Games
My kids all get 30 minutes per day to use on video games, but this half hour can only be used after their schoolwork is all done, checked, and corrected, and when their rooms are cleaned. This ensures that video games don't take higher priority than they should, and it also motivates them to get their work done without delay.
They don't always choose to use their video game time, though…there are often days where they decide to use their free time for something else once their work is done, and that is more than fine with me.
Cell Phones
None of our kids have cell phones, and I don't anticipate that changing anytime soon (I hardly even use a cell phone!). Since we homeschool, our children are almost always with either my husband or myself which makes the need for a cell phone pretty insignificant.
I know that even as an adult, I have a hard time resisting the urge to spend more time on the internet than I should, and I'm quite sure that my kids would have difficulty resisting the distraction of a phone with texting and internet capabilities. I think we probably need to be less connected to our technological devices and not more connected (this is why I turn off my computer after I publish my blog post, and leave it off until I'm finished with my necessary tasks for the day). So, I don't think we'd really be doing our kids any favors by essentially offering them 24/7 internet and texting.
Not Just Frugal
Though the way we handle technology does save us money (we have no cable bill and our cell phone bills are minimal), we also feel fairly strongly that having less access to TV, internet, and cell phones is better for us. Because of the way we approach these things, we're less distracted and are more likely to talk to each other, do things together, read books, play outside, go for walks, and just generally spend our time in more productive and healthy ways.
________________________
Readers, as always, please share your advice in the comments. 🙂