Hey everyone! Today we're meeting Robin, a reader who lives with his wife and son in the UK.
One of the reasons I love doing this series: It's fun for me to meet readers that I don't usually hear from. Robin has been reading here for at least ten years, but I don't think we've ever interacted before.
So, now I have gotten to know another one of my readers, and that makes me happy.
Here's Robin:
1. Tell us a little about yourself
Hi – I'm Robin and I live on the south coast of the UK, in the suburbs of a medium-sized city (~200,000 people).
I'm a 'geospatial software engineer and data scientist', which basically means I write code to do things with geographic data – such as maps and satellite images.
I'm currently working for a large mining and minerals company and a satellite imaging company, and have also worked for other organisations ranging from community air quality groups to the UK navy.
I'm a typical nerd/geek, and my hobbies involve lots of things to do with computers (my last project was setting up our cheap wireless doorbell to send notifications to my phone when someone rings the bell) and reading lots of detailed books about various technical topics (particularly railway signalling and space missions).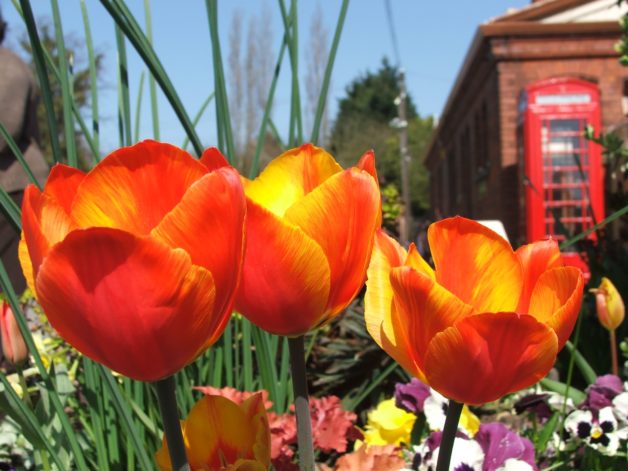 I'm also very interested in a range of crafts – I grew up thinking I wasn't 'arty' as I can't draw, but my wife introduced me to a range of crafts that are just as artistic but just require different skills.
I used to do quite a lot of papercrafts as well as glass and silk painting.
I now do encaustic art, or 'wax art' where you melt coloured waxes on to paper with a little iron, and then smear and dab them to make beautiful images.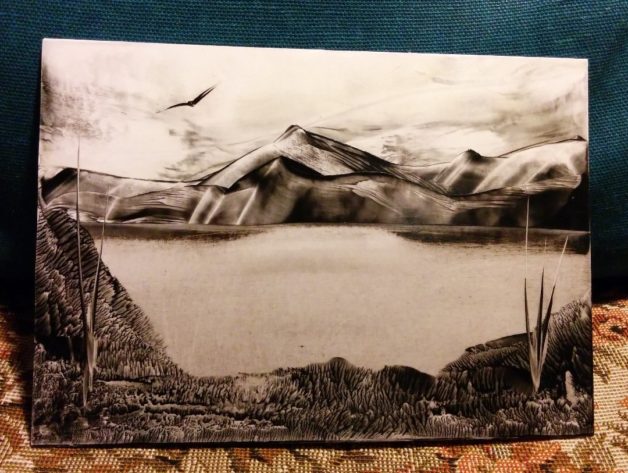 I also decorate cakes for family birthdays.
I also combine my computing and craft interests by doing 'computer-enabled' art with a computer controlled paper/vinyl cutter/plotter, and a 3D printer.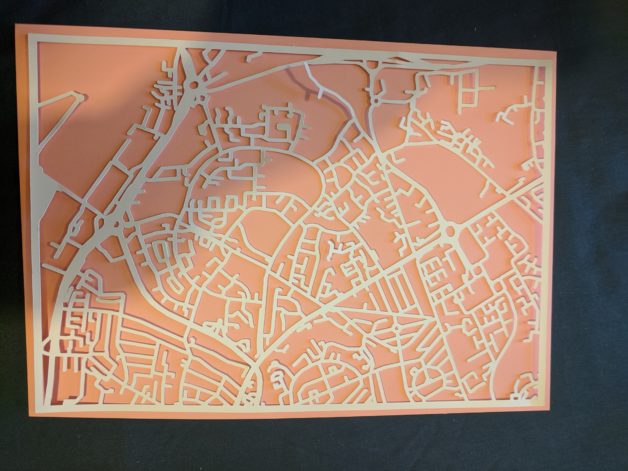 My wife also works as a software engineer – before Covid she cycled to an office 15 minutes away, but now she works from home the vast majority of the time – and my son started school last September.
I have a long-term chronic health condition which means I get very fatigued very easily. This has limited what I can do quite significantly, and because of that I only work part time, and I use an electric wheelchair for anything over very short distances.
As you'll see in my later answers, that affected my financial journey.
2. How long have you been reading The Frugal Girl?
Many years, I really can't remember how long. I think I originally found it through a link on The Simple Dollar (which I used to devour, though I don't read any more).
The Simple Dollar came up when I started getting interested in how to manage money at the end of university – so I'm guessing I've been reading for a decade easily.
The Frugal Girl is one of the blogs where it feels like I know Kristen and her family even though I've never met any of them (and am never likely to!)
3. How did you get interested in saving money?
I grew up in a frugal household – my parents definitely focused on saving money rather than spending it. We didn't have expensive foreign holidays, and didn't tend to buy expensive things for use at home. I grew up enjoying second-hand books and toys.
When I met my wife, she had the opposite experience, and it took a while for us to meld our different approaches to money into one sensible approach.
4. What's the "why" behind your money-saving efforts?
Originally it was to save as much as possible to buy a house. When we were first married my wife was still an undergraduate at university, and I was a PhD student. We felt like we were millionaires when I got my PhD stipend, as it was a lot more than my student loan had been!
We decided then to try and live on one of our salaries, and save the other – ultimately for our house, but also for other big expenses.
That felt possible at that point, because my PhD stipend was far more than my student loan had been, and we've tried to keep doing that since.
Since I became disabled in around 2014, it's become incredibly useful that we're used to living on one salary.
As my health got worse I had to gradually cut down my hours at my academic job, and then stop work altogether – so we had to live on just my wife's salary. I had no income for a few years before I started my freelancing business.
5. What's your best frugal win?
A few of them:
Making the conscious decision to live on one salary whenever possible
Having a very frugal wedding, which was still the best wedding I've been to (even compared to weddings that cost over 10x the amount)
Having an agreement to talk to my wife about any 'big' purchases before buying them – and adjusting the definition of 'big' over time (originally it was pretty much anything over £15, now it's more but we still discuss non-routine medium-sized purchases)
6. What's a dumb money mistake you've made?
Not increasing my rates fast enough when I started freelancing – I took a deep breath once and doubled my rates, and my clients still said yes, so I should have doubled them far earlier!
7. What's one thing you splurge on?
We splurge a bit on gluten-free food (it sucks being gluten-free, and buying some of the nice gluten-free options helps) and on craft supplies.
I sort-of splurge on tech stuff, but a lot of that can be put down as a business expense these days, and I'm not as keen on buying tech as I used to be.
Oh, and we probably buy too many board games (inspired by The Simple Dollar ages ago…), but if you work out the cost per play it probably works out fairly reasonable for an hour or two's entertainment.
8. What's one thing you aren't remotely tempted to splurge on?
Eating out – I don't really enjoy it that much, and it's a pain to eat out safely with my dietary restrictions. Adding a restless five year old to the mix makes it even less fun!
9. If $1000 was dropped into your lap today, what would you do with it?
Probably put it towards our savings for building an extension to our house
10. What's the easiest/hardest part of being frugal?
At times, the hardest part has been seeing other people spending money willy-nilly (is that just a British expression?) and not feeling like we're able to do the same.
However, we're now in a far better financial position than most of our friends who were spending like that, so it feels worth it.
11. Is there anything unique about frugal living in your area?
One big difference between frugal living for us and for Kristen is that healthcare in the UK is free at the point of access. There are definitely big problems with the NHS, but I couldn't imagine having to deal with health insurance, paying per doctors visit etc – and I imagine with my health conditions I'd have great difficulty getting insurance.
A nice thing about our area is that there are a lot of frugal things to do in the area – we have the New Forest just down the road (a national park near the coast with fun things to do), and there are lots of nice parks and green spaces in our city.
Unfortunately there is currently a cost of living crisis in the UK, with most prices increasing, and energy prices seeing massive increases (easily 3-5x what it was last year).
We'll definitely notice, and it may mean we can't live entirely on one salary, but a lot of people in the country are going to hugely struggle.
12.What is something you wish more people knew?
You don't have to spend tens of thousands of pounds on a wedding to 'prove' that you love your partner enough, or to satisfy family views on what is 'appropriate'.
We got married at the church I grew up in, and a lot of people from the church helped out.
We hired a local village hall for the reception, bought a second-hand dress, hired the church youth group to act as waiters, and bought sliced meat from a local butcher and made/bought salads to go with it.
I think the whole thing cost us around £3,000, which seemed a huge amount of money then (early 2010s) but was tiny compared to most wedding budgets.
13. How has reading the Frugal Girl changed you?
It's opened my eyes to day-to-day life in a different country, and how it differs (not just the medical bills stuff, but different styles of houses, different expectations for education etc.)
It's made me think more about things like food waste, meal planning and so on.
14. Did you ever receive any financial education in school or from your parents?
We had a rubbish course as part of PSHE (Personal Social and Health Education) which was meant to teach us about managing money but didn't really. Probably the best money education at school was a rather eccentric maths teacher who showed us the maths of debt and interest in great detail.
My parents taught me how to manage money fairly well, and I had a bank account from a young age. I went off to university with a fairly good idea of how to budget, and a frugal approach to spending money that lots of students don't have.
____________
Robin, thank you so much for sharing about your life. And for the record, nope, we Americans definitely say "willy-nilly". At least….I do!
Also: I love the wax art you do; I particularly like the black and white one you made. And I love the shot of the shipping docks; I think city lights at night are so lovely when they reflect in the water.
The Simple Dollar was one of the first money-saving blogs I read before I started my own blog; it's fun to hear that you found my blog through that one. 🙂
Readers, the floor is yours! Leave your comments and questions here for Robin.