After Julie saw that last week's interview with Dorinda was the last one in my queue, she wrote to say she'd love to participate.
So, funny enough, we are meeting two Colorado readers in a row!
1. Tell us a little about yourself
I, like Dorinda, live in Colorado, but I'm in Western Colorado which looks nothing like the "typical" images of Colorado.
We're a high desert area, so we have lots of cactus and juniper, red rock, and dirt. It's beautiful. We get a total of 9 inches of rain a year on average and are a tourist mecca for mountain biking.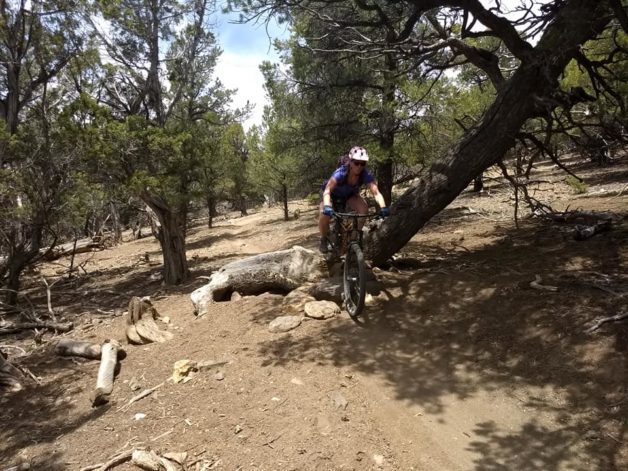 Me on my bike
I grew up in the south, so living here, even after 15 years, still feels like some sort of magical world. I didn't know a person could ever see so far in any direction! I really cannot imagine living anywhere else.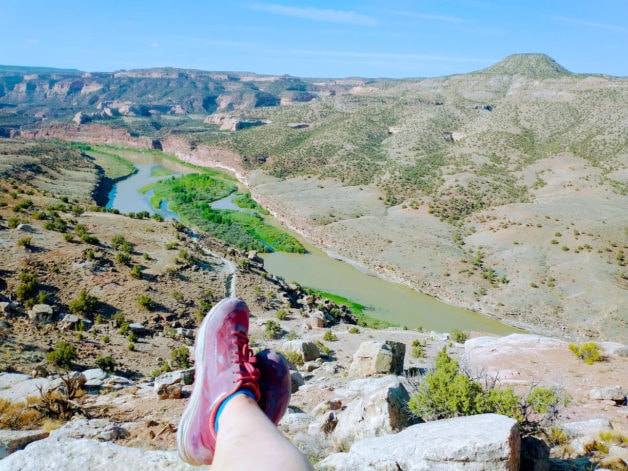 My partner and I have been together for 14 years, and we love to camp, mountain bike, ski, and golf.
We have two cats, Monica and Phoebe, who, like Kristen's kitty, are tuxedo cats. We adopted them four years ago as kittens.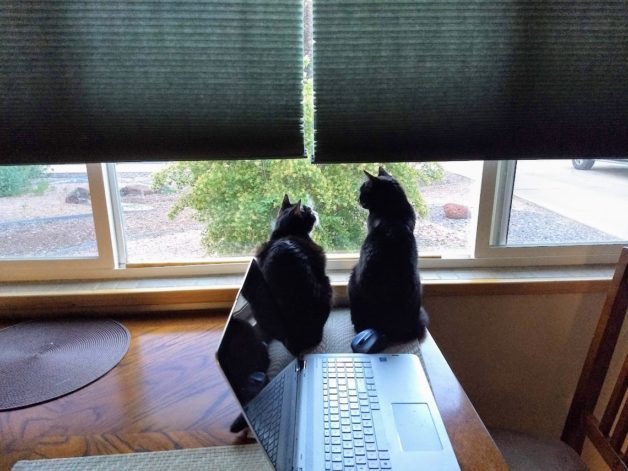 I work in digital marketing and up until 2018 had been working for our local newspaper in their digital marketing department. My partner, who is considerably older, retired and I decided to strike out on my own.
So I manage many social media accounts for local businesses, build websites, blog, etc. all on my own time. I love being my own boss and working (on occasion) from a campground.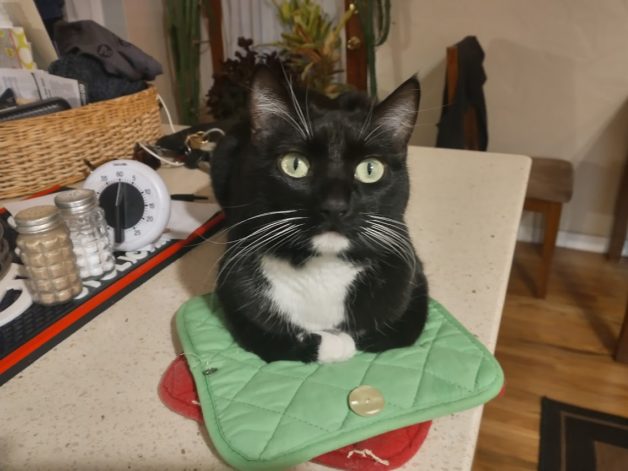 This is Phoebe!
I really enjoy cooking and baking bread, though I don't always have time for bread baking. I like experimenting with new recipes and I love reading cooking magazines and cookbooks when we're not out and about.
Magazines are definitely a favorite thing of mine. I like being able to read them and recycle them or pass them on to others, and using our Amazon Prime account I can get very cheap subscriptions to several good magazines!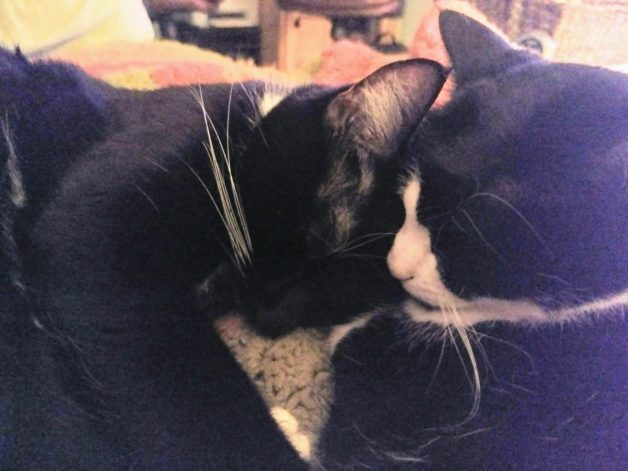 My frugality really is in the form of just not buying stuff. I rarely go into a store unless I need something and I just don't have a desire to have a ton of stuff I'm not going to wear or use.
For Christmas, since my mom loves to give things, I often ask for practical items like grocery store gift cards, clothes I actually do NEED, or outdoor gear.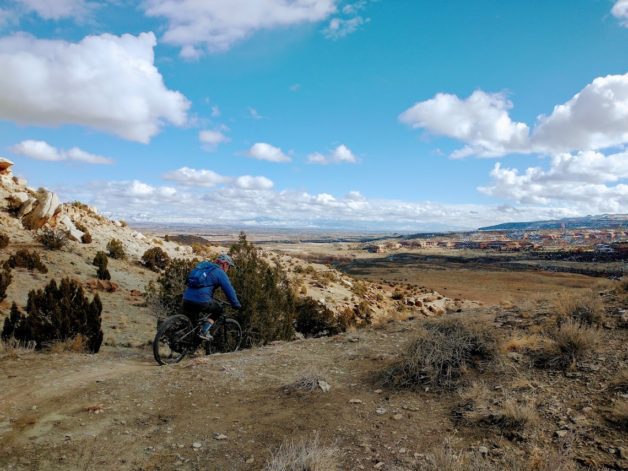 My partner biking on some of our favorite trails with the Grand Mesa and Mt. Garfield in the background
During the pandemic, I quit going to any networking events or out for coffee with people from networking groups. I ended up saving so much money!
Those two and three times a week coffee dates to "get to know" someone and their line of work really add up! I haven't gone back to doing any of that and I don't miss it. My morning at home mocha (hot chocolate and instant coffee) works just fine!
2. How long have you been reading The Frugal Girl?
I started reading the Frugal Girl probably around 2010? A coworker and friend mentioned you and so I found your site and have been a fan ever since.
It's just such a friendly and happy place! Even when something sad happens, your supporters rally and everyone supports everyone else. I love that.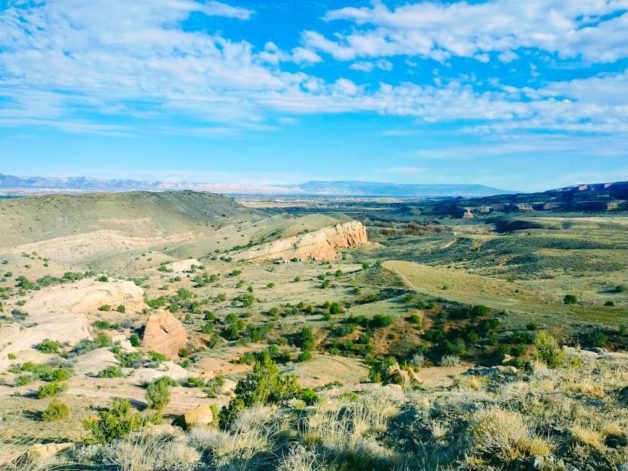 Random photo from our favorite bike trail system
3. How did you get interested in saving money?
The short answer is that I reached a point in life where I needed to think about money.
The long answer is: I was very fortunate growing up. My family was frugal, but not necessarily because we had to be. My parents have always had a garden and my dad hunts each year. So we always had preserved vegetables and a freezer full of meat for the winter. But there was no "this is the budget we have to stick to" it was more "you don't need that." I learned to save for things I wanted, but also learned about credit cards and how to use them responsibly.
But…money just wasn't a thing we talked about.
There was a long period before I ever had to really stop and think about what I spent money on. I'm sort of ashamed of that. All my bills got paid, and I was never in major debt or anything, but I could have been much savvier with funds long ago.
SO when I found myself needing to think a little bit more about money I was glad I had sources like you to turn to! These days I am frugal more because I like to be than because I have to be. I don't like the idea of wasting money.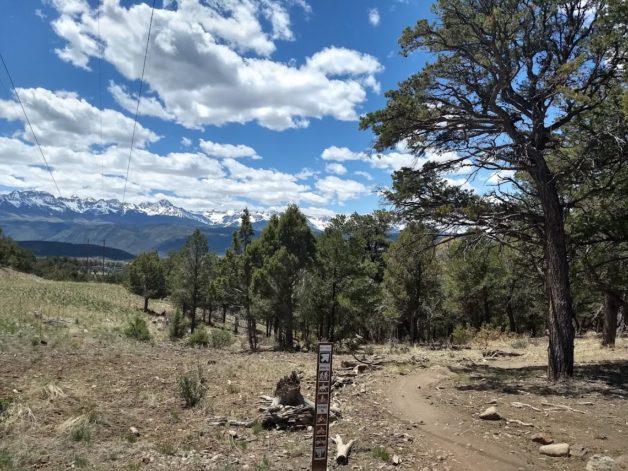 A photo from our favorite "vacation" spot 2 hrs from home. The biggest mountain, in the middle, is Mt. Sneffles. It's over 14,000 ft high and lots of people hike it in their attempts to hike all 54 Colorado 14ers. I have no plans to hike that!
4. What's the "why" behind your money-saving efforts?
I want to be able to retire, travel more around the country with my partner and spend more time on my hobbies.
I'm in my early 40s, but by 50 I'd love to be only working for one or two clients. So, saving for that now is one reason. Because I work for myself I know there will always be ups and downs.
Another "why" for me is being prepared for those times when I don't have as many clients. I can still not worry because I've been frugal and smart about what I spend money on.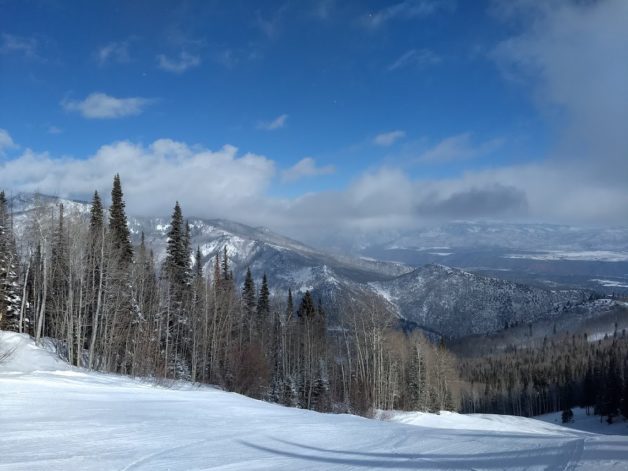 Our little ski resort, Powderhorn!
5. What's your best frugal win?
Well, this is small, but I really enjoy asking people over to dinner and then giving myself the challenge of using ONLY things I already have at home for dinner: appetizer, meal, dessert. It's a fun way to be a little bit frugal.
Having people over is always cheaper than going out, and not having to buy any special groceries is a great plus!
6. What's a dumb money mistake you've made?
Well, honestly just not paying attention to money soon enough. I hate thinking of the money I wasted in the past. That money could have gone to a non-profit or towards any number of useful things – appliances, etc., and it didn't.
Specifically, many years ago my ex-husband and I spent $3000 on a bedroom suite when two mismatched nightstands from Goodwill and a plain bedframe would have sufficed! I still cringe over that one.
7. What's one thing you splurge on?
Good recreational gear. We are outside a lot. The trails we bike are rocky, the skiing is awesome, and the sun shines 300+ days a year. So we need good outdoor gear that can hold up to all the use it gets!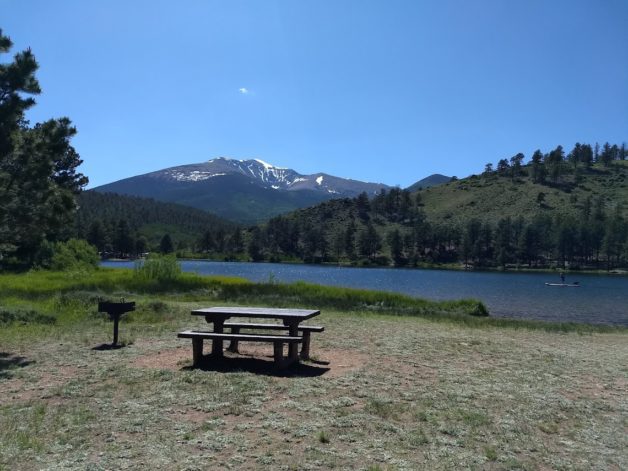 A photo from a campground near Salida, Colorado at O"Havre Lake. If you plan right, camping in Colorado offers a great option for less-expensive adventures!
8. What's one thing you aren't remotely tempted to splurge on?
Clothes, anything like massages, pedicures, etc., dinners out
9. If $1000 was dropped into your lap today, what would you do with it?
The boring answer: pay my quarterly taxes! The fun answer: give myself carte blanche at the grocery store until that $1000 ran out!
10. Share a frugal tip with other Frugal Girl readers
Oh, there are so many things you can do!
I think it really depends on the person and what's important to them. Everyone has to save in a way that's right for them, if that makes sense.
But in general: get a spare freezer and buy in bulk. It's so much cheaper to be able to buy things on sale or clearance, or in bulk at your warehouse store! Food waste is so easily prevented with a spare freezer too. In fact, tonight we're having random leftovers from the freezer. I had one container of pasta and one of jambalaya. They got put in the freezer when no one had eaten leftovers after a few days.
Also really just stop and think before you buy something. Leave it in the cart online. Walk around the store for a few minutes before you purchase. Make sure it's something you either really need or really really want.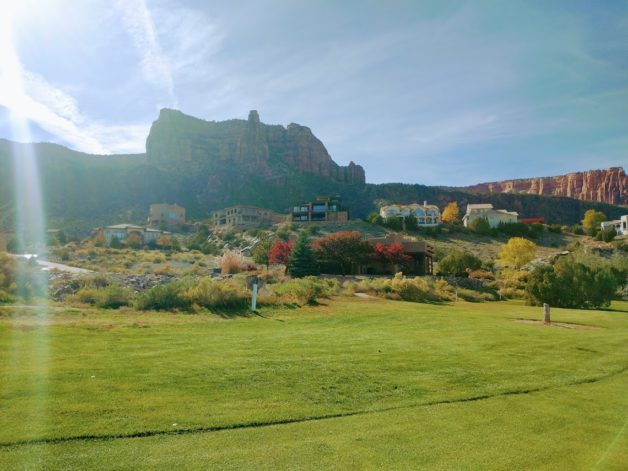 This has nothing to do with freezers but is a great shot of one of our city golf courses. City courses tend to be much less expensive than private courses!
11. Is there anything unique about frugal living in your area?
We have so much public land where I live that recreating can be unbelievably cheap.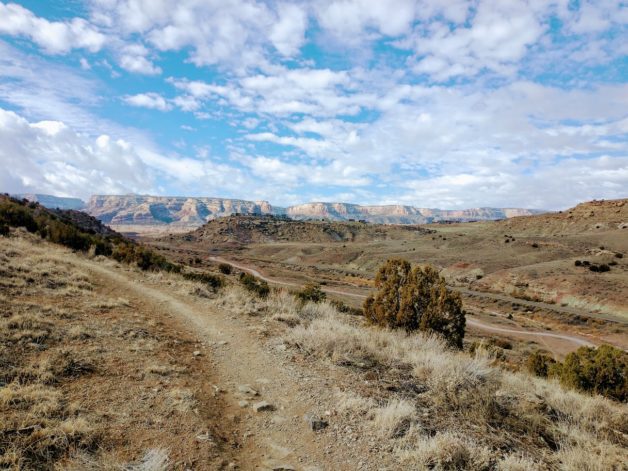 If you just want to hike, or already have your own bike gear, then the entire Western Slope of Colorado is your playground. We have a little local ski resort just 45 minutes away and we get a pass there, which gives us benefits at some bigger resorts too. If you've got outdoor "stuff" it's easy to go camp, cross country ski or snowshoe, bike, etc., for just the cost of gas and snacks.
__________
Julie, thanks so much for participating.
A few things:
I love your kitties (of course!)
I love that you have a Mount Sneffles…that's such a funny name
I think your idea of doing a dinner party from the pantry/freezer contents is awesome!
Readers, the floor is yours if you have questions/comments for Julie.