Earlier this summer, Josine promised she'd answer my questions, but she had a busy summer ahead of her and wouldn't be able to get to the questions until later. Happily, I got her email this past week, so now we get to meet a reader from the Netherlands!
1. Tell us a little about yourself
I am Dutch. I have been married over 20 years and our children are 20, 18, and 16.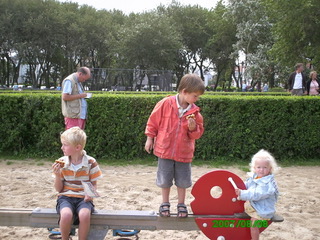 my children on a beach holiday years ago

Pieter is attending university. He started last year, so he barely had offline classes. The frugal upside of it is that he had no housing costs and that this year all universities ask half the regular tuition. I am grateful he did well in all classes. He does have a job as a volunteer, where he gets paid a little.
Joost finished 5 classes of high school. He has 3 more left to finish this year. He has had several jobs but is now not working.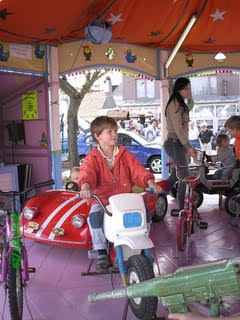 Willemijn has 3 more years of high school to go.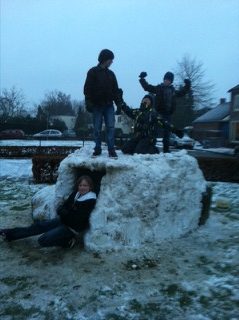 an igloo my kids built
My husband works 1 KM from home. I am a stay-at-home mom. I have done different kinds of volunteer jobs, at church, school, library and for Catholic children's summer camp. I am glad my example led our children to do volunteer jobs from a young age on; Willemijn was about 11 when she asked the library if she could help. She helps organize books or give out tickets for a meeting for younger children at the library.
We live in a city of a little over 100,000 inhabitants in the middle of the country. The old part of the city is medieval and just a bike ride from our house. We are also lucky to have a (free) swimming pond within walking distance and around that pond a lovely part of nature to walk or bike or walk a dog.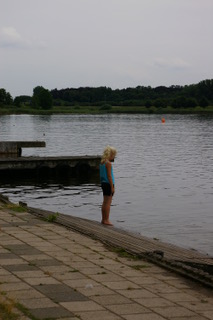 My daughter by the nearby pond
2. How long have you been reading The Frugal Girl?
I have been reading The Frugal Girl since Zoë started school. I think I found it on another similar blog. I follow you on a near-daily basis.
3. How did you get interested in saving money?
I think I have always been interested in saving money.
My parents had enough money to live conveniently, but my grandparents were in their 20's-40's during the depression. One grandfather lost his father during those years, leaving a widow (my great grandmother) and 9 children. I think that inheritance influenced my parents and in the end me and my siblings.
Being the oldest child, I remember getting secondhand clothes from cousins or friends. That wasn't a necessity, but a never felt bad about it. I remember being thrilled to get a whole box of new-to-me clothes. When our children were small, I asked a mother of a friend if I could have her daughter's clothes. I knew she had no younger girls in her family and my daughter was a few years younger than her's. Willemijn has had lots of lovely clothes that way.
Once I was known as "the mom who is happy with hand-me-downs", lots of others started offering me clothes or toys their children outgrew. I did the same when my children outgrew their clothes and toys.
And between my sisters and some friends, we also share clothes we don't like anymore.
4. What's the "why" behind your money-saving efforts?
A major reason was to be able to live off one income, so I could be a stay-at-home mom.
But I also think we have a duty not to use too much of our earth. Even if you have enough money to buy new clothes, why buy more than you could wear? Why fly around the world for a vacation to find time to enjoy yourself, if you can enjoy being around your loved ones on a walk in your own neighborhood?
5. What is your best frugal win?
Profitwise it was the first apartment I bought when I started to work. We sold it after I had lived there for 6 years and it had grown a lot in worth.
On a daily basis, it is sticking with little frugal decisions that end up being big over the years, like meal planning, mending things instead of buying something new.
6. What is a dumb money mistake you have made?
I don't think I have made very foolish decisions, but I do sometimes buy things on an impulse that I don't need and they end up on the attic.
7. What do you splurge on?
I allow myself a visit to the beautician every 6 weeks. That is a moment just for me (although I have been there with my daughter for her birthday). I enjoy being able to relax myself and feel happy and ready to face the world again after those visits.
8. What is one thing you aren't remotely tempted to splurge on?
Make-up and jewelry. I have some jewelry from my husband, parents, and grandparents that is precious to me because of the people who gave it to me. And I sometimes wear lipstick or nail polish but rarely anything more.
9. If 1,000 was dropped into your lap today, what would you do with it?
I think half of it toward driving lessons for the children and half to a charity.
Driving lessons are really expensive here. You are not allowed to teach your child yourself and an average lesson is about 50 euro. You need 30-40 lessons at least, plus 2 exams.
10. Share a frugal tip.
I think it is mostly about attitude. Your situation in life may be very different, but if your attitude is one of gratefulness, if you try to see the beauty in things (and even more in people) around you, you are more prone to be happy with what you have.
_________________
Josine, I smiled as I read about you being known as the "mom who is happy with hand-me-downs" because that's how I was when my kids were little too! And I'm also known as a person who will accept food to save it from waste, so sometimes people give me food they don't need or want.
I have a question for you that I forgot to include when I sent you the interview email: what's different about trying to save money in the Netherlands as compared to what you read about here in the U.S.?
________________
Readers, the floor is yours!