Edit: OH MY GOSH you guys. I totally messed up this poor reader's name. For some reason, I typed "Amy" this morning instead of "Ann". Mea culpa, Ann, and everyone else!
Today we're meeting a reader from Vancouver. She shares my family's love for googley eyes, and I think you will love her outdoorsy photos (the snow-shoeing one is my favorite.)
Ann worried that she had sent in too many photos and I was like, "Too many photos?? There is no such thing, thank you very much." 🙂
Here's Ann:
View from the top of Mt. Seymour, one of the local mountains. On a clear day you can see downtown Vancouver.
1. Tell us a little about yourself
Hello! I'm a 20-something living in the Vancouver area (ie. in the suburbs) in British Columbia, Canada. I'm a high school teacher and while I generally love the work, the last few years have been profoundly challenging.
I keep busy with reading (I love my library, and I've found many great books through thrifting!), listening to music, gardening and getting outside for biking and hiking adventures.
I used to read lots on my Kobo while riding the bus…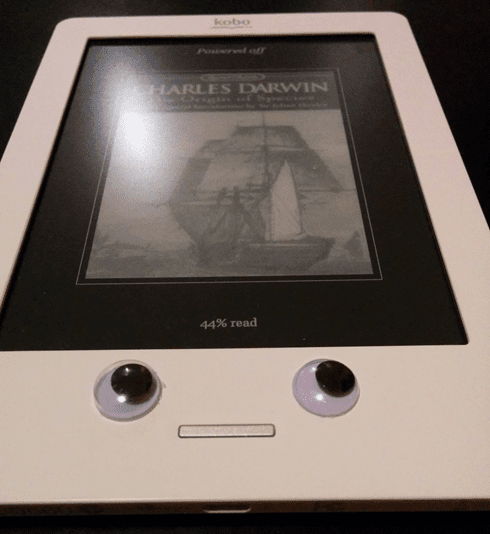 …but nowadays I read mostly physical books. Either way, googly eyes amuse me greatly. 🙂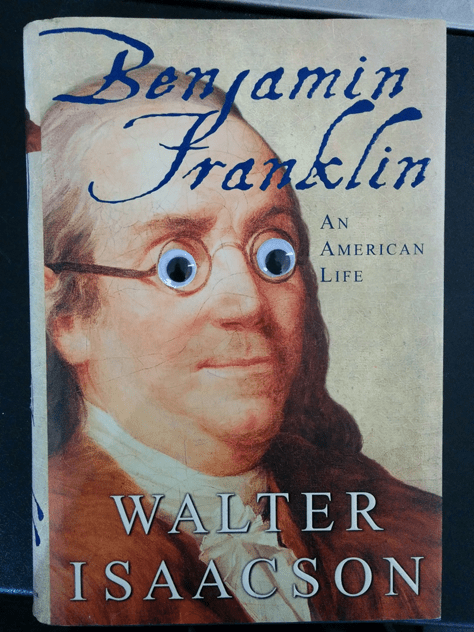 2.How long have you been reading The Frugal Girl?
I believe it's been about 10 years!
Like so many others, I came for the frugal tips/DIY project inspiration and stayed for the positivity and good vibes. I appreciate Kristen's honesty and openness and feel like we'd be fast friends.
I spent a few months in the Alps about 10 years ago. I love mountains!
3. How did you get interested in saving money?
My parents were older than most when I was born and had already retired when I was growing up. As such, I was brought up very frugally.
I sometimes resented the fact that we seemed to be the only family that would avoid restaurants or fast food, but now I am grateful for my upbringing. I saw directly how it is possible to live a full, meaningful, and joyful life without spending too much.
Now, it is easy to appreciate the abundance in my life.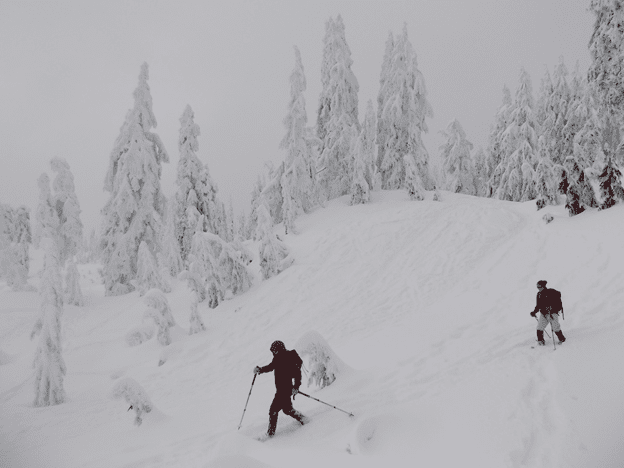 Snowshoeing in fresh powder is the absolute best.
4. What's the "why" behind your money-saving efforts?
I identify as an under-buyer, so saving money has never felt like a struggle. Also, my desire to stay in this high COL area gives me a good reason to be intentional about my spending.
Thinking long term, I'd like to achieve financial independence. The main driver for me is that I want to have options – say, for example, choosing to take a year off work to care for someone in need.
Additionally, I have found that many frugal life choices align very well with some of my other values (especially health and environmental impact).
A few examples:
When I lived closer to work, I was able to bike to work. This offers tremendous savings (less gas, reduced wear and tear, sticking with leisure-only insurance), but the other benefits were even more important to me. I found myself with less stress, increased energy and better physical fitness. It also reduced my carbon footprint.
When I choose not to be intentional in my purchases, I save some cash, but I also save myself the hassle of storing or caring for an unnecessary item and avoid increasing demand for a product that probably comes with lots of packaging.
When I choose to cook at home vs. getting take-out, I'm also saving money and reducing my garbage output, plus I am also likely to have a more healthful dinner.
Lake Opinicon, one of Ontario's many lakes
5.What's your best frugal win?
I drive a very non-fancy car (the lack of central lock throws some people off) but she is reliable, extremely fuel-efficient and very roomy!
I was lucky to have been able to continue living at home later than most of my peers. I am immensely grateful for the positive relationship I have with my parents and, as they are getting older, appreciate the time this allows me to spend with them.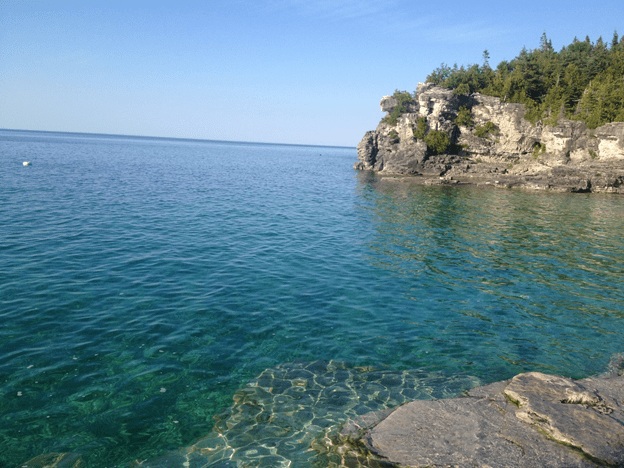 The Great Lake Huron, another of Ontario's lakes! This is the beautiful Bruce Peninsula.
Rent is a significant expense around Vancouver, so this could be something like $50 000 over 5 years. However…
6. What's a dumb money mistake you've made?
Since the housing market has gone absolutely bonkers in the last few years, it may have been a huge mistake to stay out of it for as long as I did! I try not to feel too bad about this, since you can never know how things will turn out, but this may end up being a very costly choice.
This is an example of my avoiding a choice because I don't want to make a mistake. Similarly, I let over a year (!) pass between having the means and determination to start investing, and actually going through with it.
It is always tempting to tell myself that I need to do more research to make sure I am making the "best" possible choice, but unfortunately, that often leads to inaction, which is worse than most choices! I try not to think about the wasted potential of sitting on depreciating cash for so long.
Looking forward, I remind myself that done is better than perfect, and that I can always readjust in the future.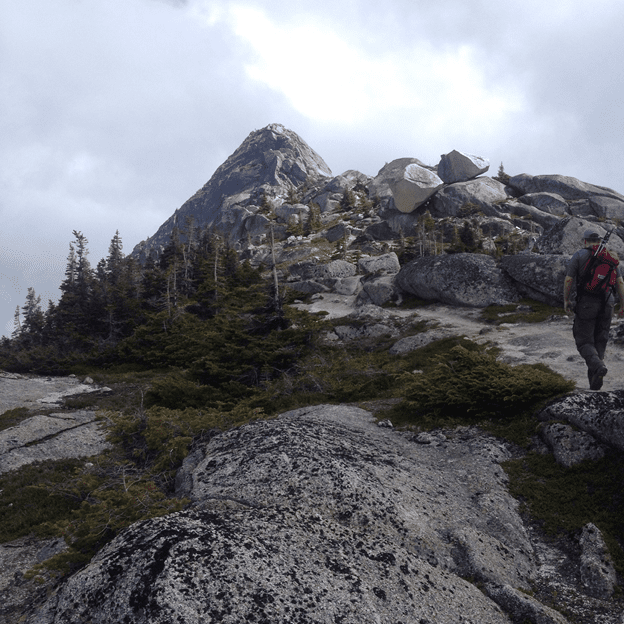 Needle Peak – one of my absolute favourite hikes!
7. What's one thing you splurge on?
Since the pandemic, this is a rare occurrence, but whenever I go out to eat or do activities with friends, it feels like a luxurious splurge! I don't order more than 1 dish and stick to drinking water but having this time to connect with people I care about is very important to me.
(We do lots of potlucks and dinners in, too!)
I also splurged on an Asus laptop a few years ago. Since I use it every day, often for many hours, having one that works well makes a big difference for me. I hope to keep it for many more years.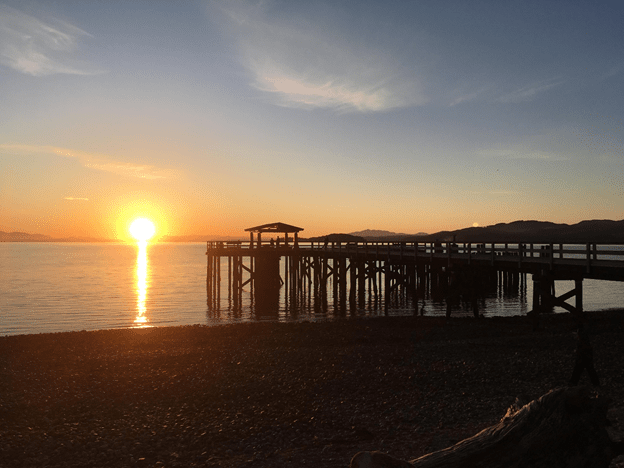 Sechelt, on the well-named Sunshine Coast, BC
8. What's one thing you aren't remotely tempted to splurge on?
I'm not tempted to have the best-ever product or to replace still-functional items, so I avoid frequent upgrades (see my wholly unimpressive car/ phone/clothes/etc).
Convenience products or take-out food don't appeal much to me, and I spend almost nothing on beauty products/handbags.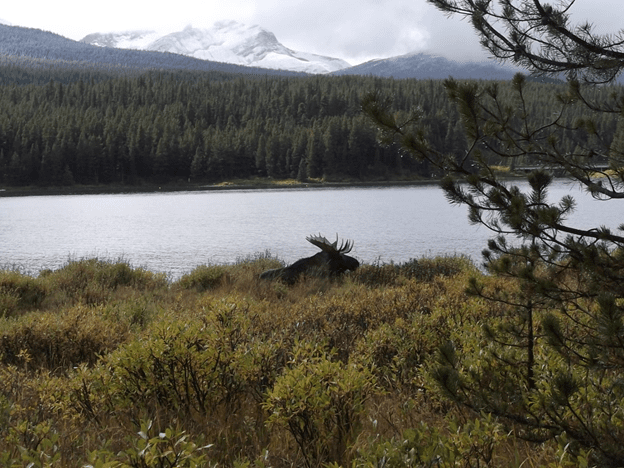 Moose spotted in Jasper National Park, Alberta. (No, we don't see these every day in Canada😉)
9. If $1000 was dropped into your lap today, what would you do with it?
I'd split it, 90/10, between my house down payment and giving back to an organization like Partners in Health or another nonprofit that has been shown to be effective.
I am absolutely in love with the west coast. This is somewhere in northern California.
10. Share a frugal tip with other Frugal Girl readers
Here are two ideas to try; one concrete, one abstract: They are not revolutionary, but they have helped me!
1. Track your spending.
Yes, it can be a bit of a pain or time-consuming to start, but I am convinced that everyone has something to learn from this exercise, especially if you keep it up for a year (or more!). Mint is very popular and requires very little effort once it has been set up, but I like using a Google sheet for increased flexibility. I started 4 years ago (thinking I'd try it for a year) and haven't stopped.
Instead, I added income and net worth tracking, too. There are plenty of templates available with a quick search online. I recommend starting with something simple.
2. Question your assumptions.
So often, there are overlooked alternatives that could be just as good (or sometimes better!) than the default. Could you enjoy a vacation centered around a road-trip, or a camping trip, or an Airbnb? What about an Airbnb with a shared kitchen?
I've traveled in unconventional ways for months at a time, including vandwelling and onebagging (backpacking with a carry-on size backpack)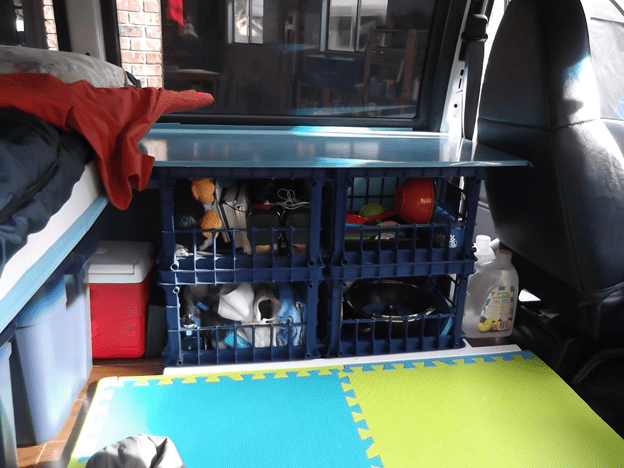 A snapshot of the super-simple DIY van a friend and I shared for 10 weeks as we visited the US.
11. Is there anything unique about frugal living in your area?
Vancouver is one of the most expensive places to live in Canada, so it can be challenging to manage living expenses, even with a good income.
Finding creative solutions to housing, such as communal living, can help!
A few more photos to finish up: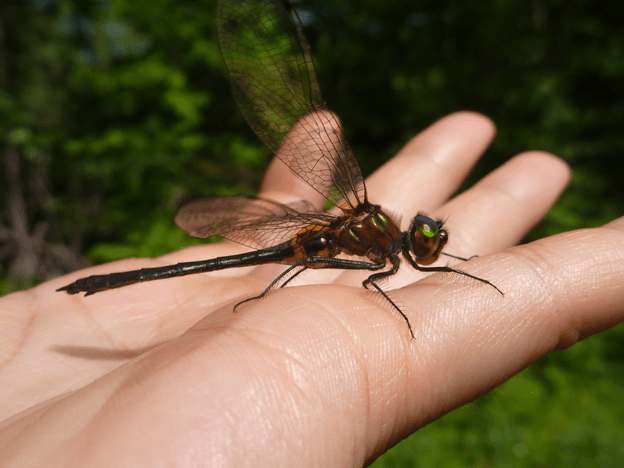 A friendly dragonfly!
Eastern Canada (this is Quebec) has amazing autumn colours (and great maple syrup)!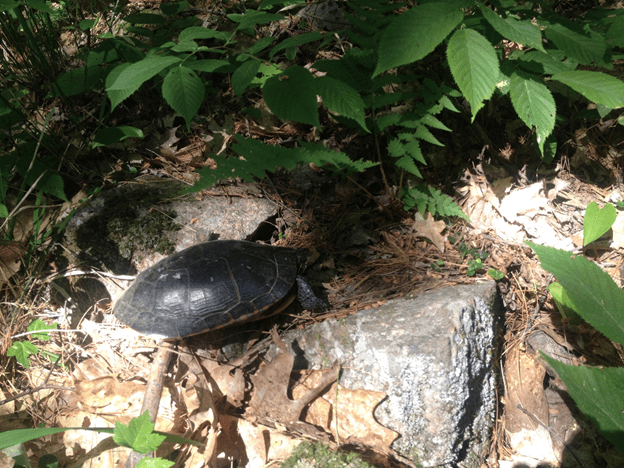 I believe this is a painted turtle!
____________
Ann, thank you! I loved to get a peek into your life with all of these photos, and I also am so touched by your reasons for continuing to read my blog after all these years.
A question from me: did you get to ski in the alps?
Readers, leave your questions and comments for Ann!