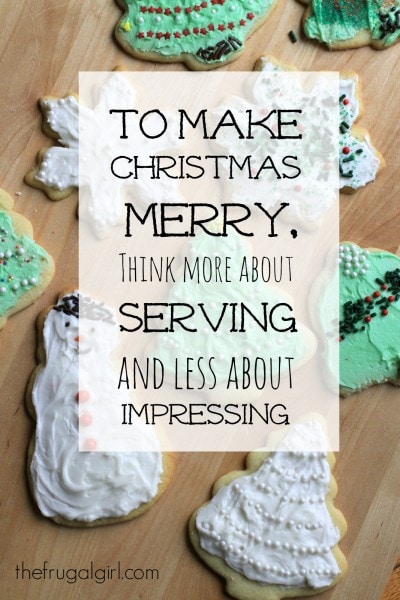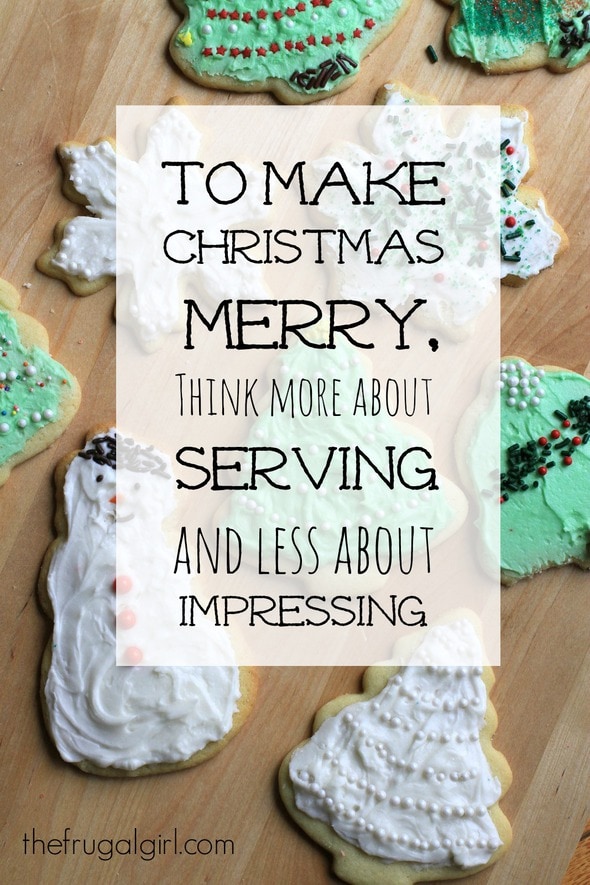 Practical Christmas-celebrating tips abound, don't they? Every women's magazine is chock full of them in November and December.
These sorts of Christmas tips have their place, certainly. But an overhaul of the way we think about Christmas is what will really change things.
So, before we get to the practical side of things, I want to share a few posts that will hopefully help you to look at Christmas a bit differently.
To start us off, here's a change-your-perspective idea:
Think more about serving and less about impressing.
Usually when I get stressed out about Christmas, it's because I forgotten this key thing. And I'm willing to wager that this is true for a lot of you as well.
Christmas is full of situations that tempt us to desire to impress people.
We want people to think that our cookies are delicious, our present-wrapping is creative, and our tree is decorated beautifully.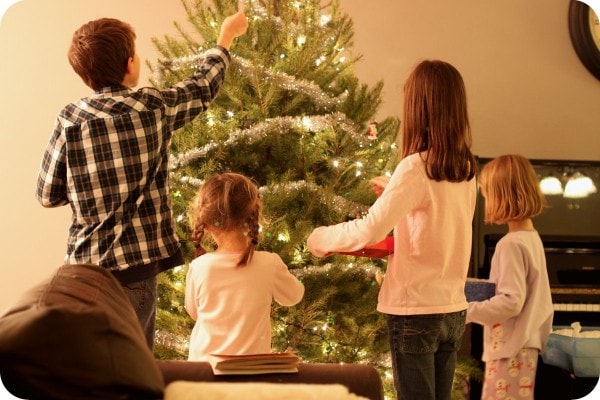 We want people to ooh and aah over our adorable Christmas card photo.
We want our guests to think the party we throw is amazing. And at the party, we want to be the envy of the other women in the room because we look thin and beautiful in our new holiday dress.
We want people to be wowed by the gifts that we give, and sometimes by the money that we spend on the gifts.
We want to have a storybook Christmas morning, complete with gorgeous photos that we can share on Facebook.
You get the idea. Maybe your temptations to impress people are different than the ones I listed here, but I bet you could come up with your own list if you thought about it.
Now, I don't think we should celebrate Christmas with nary a thought to other people. It's just that impressing them shouldn't be our focus.
Instead, I think we ought to focus on serving them. Think how freeing that could be!
If you're thinking about serving rather than impressing:
You'll let your children hang their homemade ornaments on the tree, even if they don't match your theme.
You'll let your children help you decorate the tree (though you might sneak in and fix a few ornament placements after they go to sleep)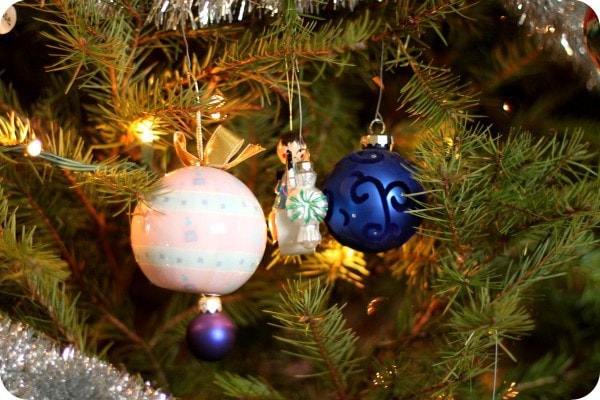 You won't buy an expensive gift just to buy an expensive gift. Instead, you'll study the person and buy something meaningful.
You won't obsess about the bodily flaws that show in your holiday party dress, but will instead think about how you can make your guests feel welcomed and comfortable (they'll be much more served by that than they will by a perfect figure.)
You will not participate in holiday activities just because it's what everyone expects. You'll use much more important criteria to decide what you will and won't do.
You won't turn into a cranky monster when it's time to take the picture for your card ("How could you get a spot on that shirt? Whyyy did you mess up your hair??") Because when you're not trying to impress people, things like that don't matter as much. And hey, your friends and family might be very well served by an imperfect picture. 😉 They'll know you're normal, just like them.
You will not have to spend a bunch of time and money buying coordinated holiday clothing for your family (though if you truly enjoy this for its own sake, go for it!)
You won't have to cook an unnecessarily elaborate meal, because your family will be better served if you stay sane than if you produce a spread fit for a king (last year on Christmas day, we had crepes, sausage, and sparkling juice for our meal. And I was a happy, relaxed person.)
You will be relatively calm even if someone in your house makes a mess before the company arrives. If you're not terribly worried about impressing your company, you can manage to be gracious to the mess-maker (in my experience, mess-makers are better served by graciousness than by yelling. 😉 )
You will not fret over it if all of your presents are not homemade.
Or conversely, you will not fret over it if all you can manage are homemade presents.
You will not attempt to do All Of The Crafts or bake All Of The Cookies, even if it seems like that's what everyone else on Pinterest is doing.
At its core, this whole idea is really thinking less about yourself (the desire to impress is self-oriented) and more about others (serving is not self-oriented).
The odd thing is, when you do that, you end up being happier too.
And anyone who is unhappy with you about the lack of impressiveness in your Christmas celebration is probably not someone that was worth impressing anyway.
______________________________________
P.S. #1-Don't hear me saying that certain activities are always done with the motive to impress. It's possible that you can Bake All Of The Cookies and throw a party and buy expensive gifts and send out perfect cards with very lovely motives. All I'm saying is that for most of us, Christmas presents us with a lot of opportunities to think way too much about impressing others.
P.S. #2– I would heartily encourage any of you that are Christians to pray for grace to think more about others than ourselves. This is a super hard thing to do, and we'd be wise to ask for help.
______________________________________
Alrighty…talk to me! Do you struggle with the desire to impress people? Do you have tips for changing your focus from impressing to serving?
_______________________________________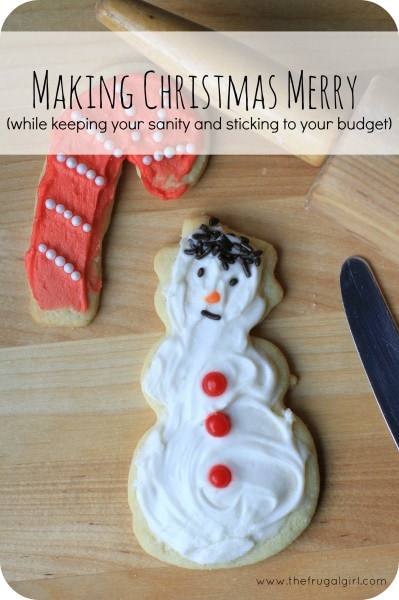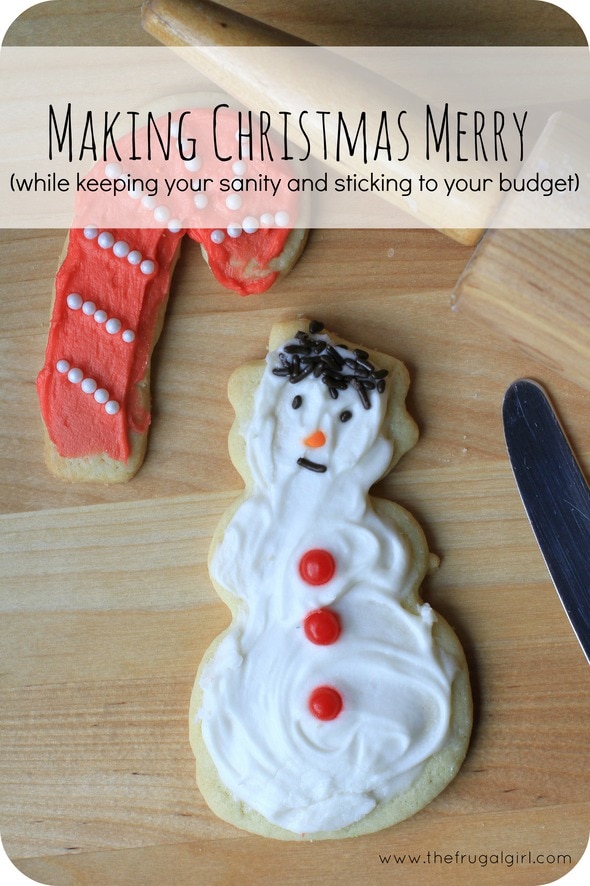 Next post in this series: Make a Priority List