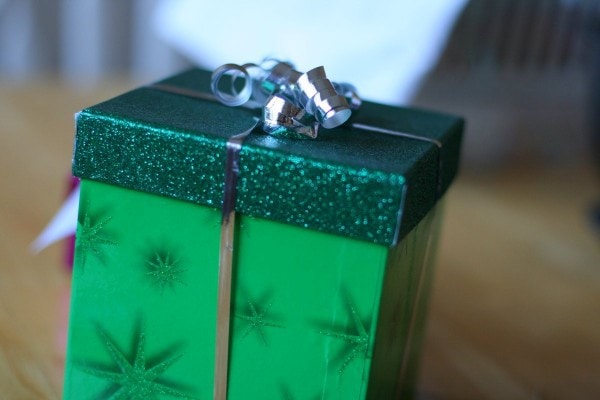 One sad effect of our give-gifts-to-everyone culture is that we often end up mindlessly buying a gift just to check it off of our list.
Because when you have a bazillion gifts to buy, you can't possibly pour a lot of thought into each one.
When your gift-giving list is too long, odds are good that there are people on your list that you don't know that well. And that makes it tough to give a meaningful gift even if you do have time to think about it (often extended family gifts fall under this heading, unfortunately.)
The results of this whole thing are pretty ridiculous…we stress ourselves out buying gifts for people we don't really know, and then the person we don't really know often ends up with a gift they don't really want.
There's not a lot of joy on either end of that exchange, and that makes me sad. Christmas gifts shouldn't be like that!
Anyway, this is part of the reason I advocate paring down your gift list. Instead of buying presents just to buy presents, you'll be able to put real thought into gifts you give.
And giving thoughtful gifts to people you know and love will bring a lot of joy to you Christmas celebration.
I think there's one main key to giving a meaningful gift, and it's this:
Study the gift recipient.
Hopefully the people on your gift list are people you regularly see or at least talk to, and hopefully you know them fairly well, so this shouldn't be crazy hard. If you pay attention, you can probably figure out what would bless them.
Think about what each person enjoys.
Do they have a hobby?
Do they enjoy pampering sorts of gifts? or do they really love practical gifts?
(Don't give a practical gift to someone who might be offended by that!)
Do they enjoy experiences more than things?
(If so, event tickets or restaurant gift certificates are great ideas.)
Pay attention when you talk to them. Have they mentioned something in conversation that you could buy for them?
Or have you noticed that they're missing an item that would make their lives more enjoyable?
I also try to think about whether the recipient might be short on time or money, and then choose an appropriate gift.
For instance, I've sometimes given scrapbooks to family members who I know would enjoy owning one but who don't have the time to make one for themselves. If your gift recipient is short on time and enjoys being served (Some people don't. They'd rather do it themselves.), you could give the promise of a service, like help with a project or chore.
If someone is struggling financially and likes practical presents, think of a need you could help meet. Or if they don't like practical gifts, think of a luxury they can't usually afford. For example, a dinner gift certificate with the promise of childcare is great for parents of young children!
And when I'm faced with buying a gift for someone who's more well-off financially than I am, I try to think of a gift that they couldn't buy, because people with enough money can usually buy what they really want. For example, a photo-related gift (like the photo calendars I sometimes make) is something you couldn't just go out and buy.
Handmade gifts are often appropriate in situations like these as well. For instance, one year I gave my parents the gift of 12 months of homemade bread. Each month, I delivered a fresh loaf of different variety of bread. It wasn't an expensive gift, but it was something that they couldn't buy for themselves.
_______________________
Do you have any tips on putting thought into the gifts you give?
_______________________
Joshua's 365 post: Written in the leaves