This is not a unique or new concept, but I still thought it was worth devoting a post to because the average Christmas celebrator does things the opposite way…fewer experiences, more stuff.
In my observation, though, that leaves us feeling kind of like this cookie.
When I was a kid, I remember just loving the Christmas season. Like any kid, I was very anxious to dump out my stocking and open the presents under the tree, but what I most loved were our family's Christmas traditions.
I forget a lot of the presents I received, but I clearly remember frosting Christmas cookies with my family.
I remember Christmas music playing in the house.
I remember frosting our tree with whipped ivory snow flakes (to resemble snow).
I remember stringing cranberries and popcorn together to make a garland for our tree.
I remember hanging ornaments on our tree.
I remember Christmas programs at church.
I remember learning Christmas carols to play on the piano.
I remember discovering pfeffernusse when we celebrated Christmas with my grandma and grandpa.
And I remember a happy, cozy feeling in our house.
Would I have been disappointed if there were no presents? Sure. But all these years later, the most meaningful memories I have are of the experiences and not the stuff. And as an adult, I feel the same way. Presents are fun and lovely and all, but the experiences of Christmas are where it's at.
Of course, I'm not representative of the whole population of the world, but I've heard so many people say exactly what I just did…that experiences are more enjoyable than stuff.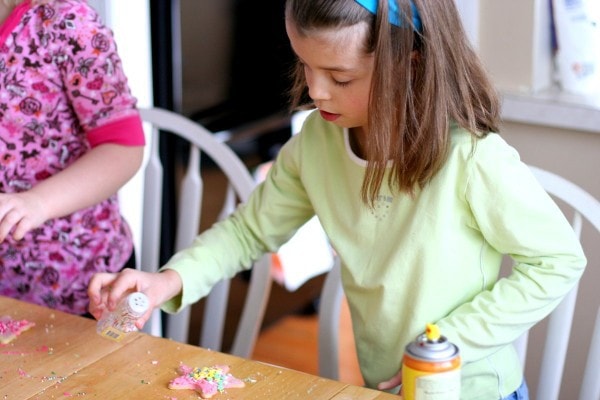 So, let's get these things ordered properly. It's just plain silly how often we get this backwards.
If we spend less money and time on the stuff side of Christmas, we'll have more money and time to spend on the experience side of Christmas.
Consumer Reports says that we women spend 20 hours just shopping for Christmas presents. Twenty hours is a lot! That's half of a work week, for heaven's sake.
What if we shopped less and spent more time with people we love, enjoying happy experiences?
What if you spent less time in the mall and more time looking at Christmas lights?
What if you spent less time shopping online and more time making cookies with the children in your life?
What if you had fewer presents to wrap and more time to spend with the people you love?
What if you could be free of financial fears because you spent less on presents?
Wouldn't that leave you with a happier feeling after the holidays? If I had to choose between a pile of stuff or pile of happy experiential memories, I'd choose the memories every time. And I bet most of you would too.
Now, don't go and get all overwhelmed-feeling at the idea of trying to create 82 memorable experiences in December. Remember? You don't have to do it all and you can say no to things.
What I'm saying, though, is that if you save some time by cutting out some stuff-focused things (shopping, wrapping, or even making presents), you should have a little bit more time in December than you usually do.
And if you're intentional about it, you can then spend that time doing something more fulfilling than shopping.
________________________________
Next post in this series: Ten Christmas Experience Ideas
Previous posts in this series:
Think more about serving and less about impressing.
It's ok to have an imperfect Christmas. And it's ok to say no.
3 ways to lower children's Christmas present expectations
5 ways to spend less time Christmas shopping
On compromise, unselfishness, and not falling out of the boat on the other side
Start a holiday activity/social plan
Make a list of giftees and plan your purchases now
On giving meaningful gifts
________________________________________
Lisey and I made a Lazy Daisy cake…go take a peek!

Joshua's 365 post: