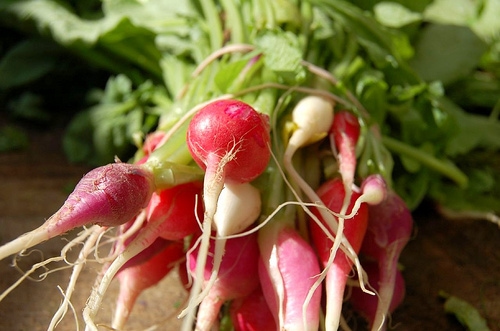 This topic has come up several times recently in the comments, and so I thought perhaps devoting a post to it would be a good idea.
Ideologically, I am 100% on board with the idea of buying local, organic food. I think it's a wonderful thing for both people and the planet.
Unfortunately, local, organic food is not always so good for the grocery budget.
This bums me out, because it's one of the places where green, healthy, and frugal don't overlap. Line-drying laundry, buying less stuff, driving less, eating less processed food, and buying used are all things that satisfy both my desire to save money and my desire to save the earth.
When I'm forced to choose between the two, though, I have to consider my priorities and make my decisions accordingly.
Serving my family is a very, very high priority on my list. I cook from scratch in order to serve my family, I try to organize my home so that I can serve my family better, and I try to manage my time so I can serve my family better. Along these same lines, one of the main reasons I work so hard to save money is that by doing so, I serve my family. If I spent foolishly and didn't save, my family would suffer in many ways, and I don't want that to happen.
At the same time, I do want to be a good steward of the earth God gave to us. I want to be responsible and live in a way that preserves the planet as much as possible.
If I had a lot of disposable income or if we had fewer people in our family, these two priorities would probably not be in conflict. With more money, I'd likely have no problem covering a higher grocery bill, and with fewer people, organic local food wouldn't cost as much as it does for six people.
As it is, though, buying nothing but organic and local food would cause me to spend far more than I can afford on groceries. This would be delightful for the planet, and probably quite good for our bodies, but it would be very bad news for our financial state.
So, here's what I do.
Whenever green and frugal intersect, I'm all there. Among other things, I line-dry, I save electricity, I drive minimally, I buy used, I freecycle, I mend clothes, I don't buy a lot of meat, I compost, I try not to waste food, I don't buy a lot of consumer goods, I grow some foods, and I bring cloth bags when I shop.
When green is sort of close to frugal, I'm usually there. I buy produce from the farmer's markets in the summertime, even though it's a little more expensive than loss-leader produce. I get milk in glass jars from a very local farm, even though it's $4/gallon instead of $2/gallon. Just today, I bought some all-natural chicken from Pennsylvania, which is fairly close to where I live. I paid $2.30/pound, which is more than I pay for regular chicken, but is not outrageous.
When green is not even close to frugal, I usually pass. I'd love to have geo-thermal heating and cooling, but I'd have to go into massive debt to procure that, and that would certainly not serve my family. I'd love to buy the chicken breasts from the little store up the road (they don't even come in a package, which is fabulous!), but spending that much on a pound of meat would be bad for our finances, and thus would not serve my family.
My frugal vs. green strategy will probably change over time. Someday, we won't need to buy as many groceries (although that's going to get worse before it gets better, seeing as our kids are all sort of young right now!), and when that happens, I'll be happy to spend more on local and organic food. And if something wonderful happens with my husband's career, and we have more money to put into the food budget, I'll certainly use it to buy local and organic food.
If your situation is different than mine, you may need to operate differently. But this is what works for me and my family in this phase of our lives.