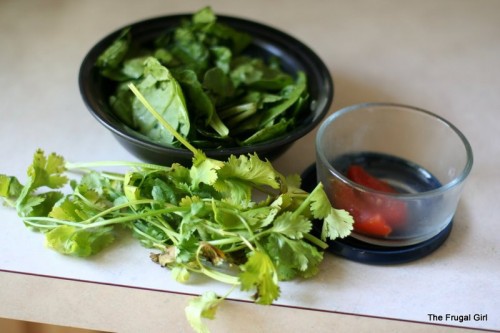 The bad news is that there are three things in my food waste photo this week. The good news is that everything is compostable.
I don't think I've ever wasted spinach before, but I guess there's a first for everything. I did pick out a bunch of spinach leaves that were still good, but these ones were just too far gone.
I don't even remember what the two small pieces of tomato are from.
The cilantro is from the bunch I bought two weeks ago. I used up the whole bunch that I bought last week, happily, but these sprigs were underneath something else in the fridge and so I didn't use them.
Not wasting food is an exhausting job, I've decided. I put a lot of effort into not wasting food this week, and still I have stuff to throw away.
I ate leftovers, I made banana bread out of some black bananas, I made applesauce to use up some soft apples, and I even purpose bought a little less produce last week.
Oh well. This is a huge improvement over the way I used to waste food, so I'll keep trucking on.