This post contains affiliate links.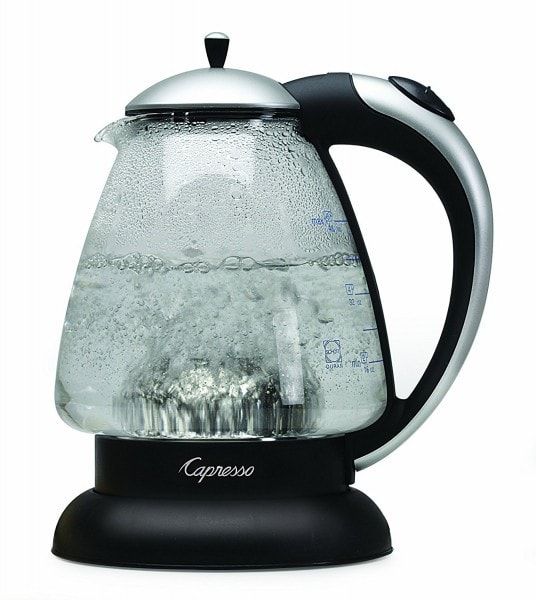 Sometimes, I do review of things shortly after buying them (like with the Luxi mattress), but my favorite thing is to own an item for a while and then write about it.
(I did that with my Vitamix, which I reviewed a good year after purchase.)
Anyway, I wanted to write a few words about my electric kettle, which I thought I didn't need and which I can't imagine living without now.
Mr. FG and the kids bought the Capresso electric kettle (recommended by Cook's Illustrated) for me 2.5 years ago on my birthday, and it's one of my most favorite small kitchen appliances.
Years ago, I remember hearing about electric kettles from my online European friends and I really did not understand the point of them. Why not just heat water on the stove?
But you guys, I am converted. Heating water in an electric kettle is SO SO SO SO much faster than heating it on the stove.
A stove heats the pot, which then has to heat the water. But in an electric kettle, the heating element touches the water directly and that heats the water up insanely fast.
It actually uses less electricity than a stove too, so, yay!
(Though I imagine it takes a while to recoup the $59.99 purchase price of the kettle.)
We mainly use the kettle for hot drinks…the girls and I use it for heating water to brew tea, and Joshua uses it to heat water for his pour-over coffee.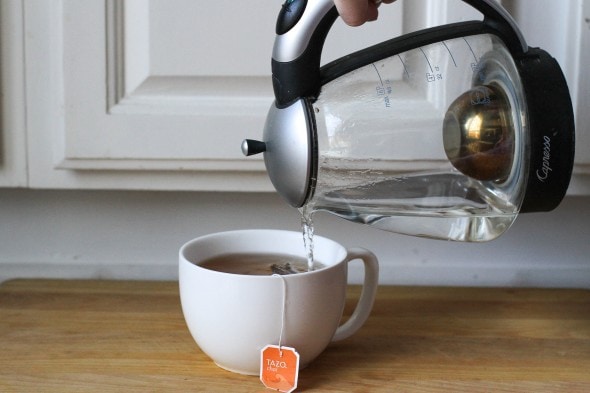 But I also use it to heat water for things like cooking pasta. I put the regular pot on the stove with a little water and start heating it up, and then start some water in the kettle. Once that boils, I pour it into the pot on the stove. Way faster than starting with cold water on the stovetop!
I've never owned a kettle besides the Capresso, but I'm really happy with this one.
It's fast, it's still going strong after several years of being used multiple times per day, it looks nice on my counter (unlike this one) and I love the the kettle part is glass, not plastic.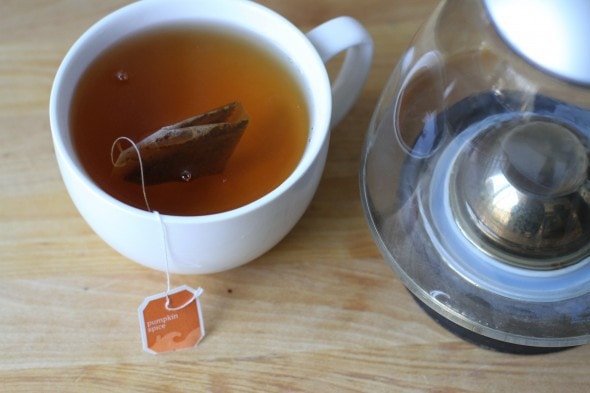 Also helpful: the cord is only attached to the base, not to the kettle, so when you lift it off the base, the kettle is cordless.
And the kettle automatically turns off once the water boils, which is a nice safety feature.
You can definitely get a plastic kettle for less than this one, but Cook's Illustrated says that plastic kettles can impart off-flavors to the water. So, I think it's probably worth it to pay more for a stainless steel or glass model. And as glass/stainless steel models go, the Capresso is pretty fairly priced.
(More money doesn't necessarily mean a better product. For instance, CI puts this $90 DeLonghi kettle in their "not recommended" category!)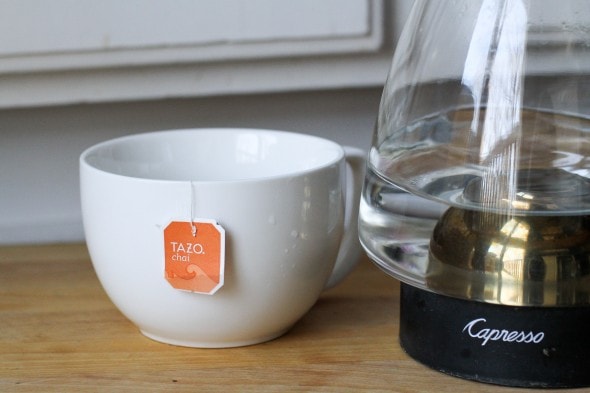 Anyhoo!
I think the Capresso is really great, and I highly recommend it.
If the $59.99 is out of your price range, though, CI does recommend one cheaper model…this Hamilton Beach version is only $26.99 and their only quibbles are that it's easier to burn your hand on the steam due to the handle placement and that the lid is a little difficult to close properly.
Boy, I thought I was just going to say a few things about my kettle and here I am, 550 words later.
I am not brief via keyboard. 😉
P.S. Doesn't the kettle look a bit like it's levitating in this photo? I decided kettle photos are better if you can see the hand of the person pouring the water!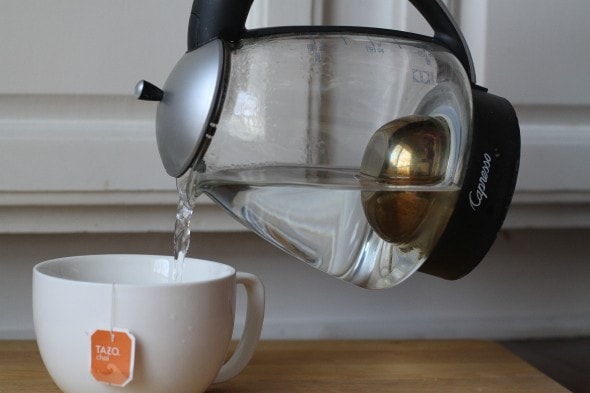 Save