This giveaway is now closed. Congrats to Geneva! Don't forget that Third Day is offering 20% off to all FG readers ! Use code TDN20 to receive 20% off through December 14th.
I've blogged many times about Third Day Naturals, but for those of you who are new, here's what you need to know to get you up to speed:
Third Day Naturals is a small family company from New York state that makes totally natural (and totally fabulous) skin care products.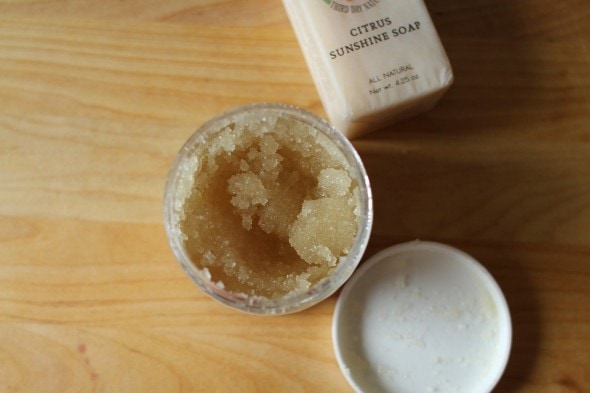 Because everything is natural, you can feel great about putting their soap, lip balm, lotion sticks, sugar scrubs, and body butter on your skin (and your family's skin!).
Lip Balm
My hands-down-tip-top favorite item is the lip balm. There are a lot of lip balm products out there, but many of them have petroleum based formulas and that makes me feel a little uncomfortable. Plus, a lot of them don't work super well.
Third Day's lip balm, though? It's made of things like coconut oil, shea butter, and lanolin, and I feel marvy-fab about applying that to my lips.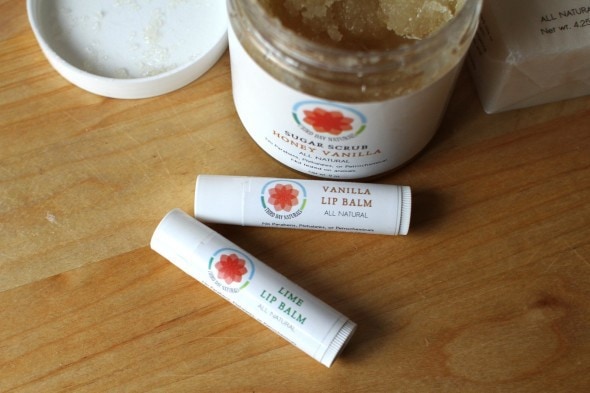 It works better than any lip balm I've ever tried, and it comes in really great flavors, none of which taste artificial. Lime is one of our favorites, and the chocolate is nice for adding just a teeny bit of tint to your lips.
(These make great stocking stuffers-I bought four to put in my kids' stockings last year.)
Body Butter
One of my other faves is the body butter. I don't struggle much with dry skin in the winter except on my face. I've tried some other lotions in the past, but they haven't really helped a lot. So last winter when my cheeks started to get dry, I just put a little bit of body butter on before bed each night, and it worked great.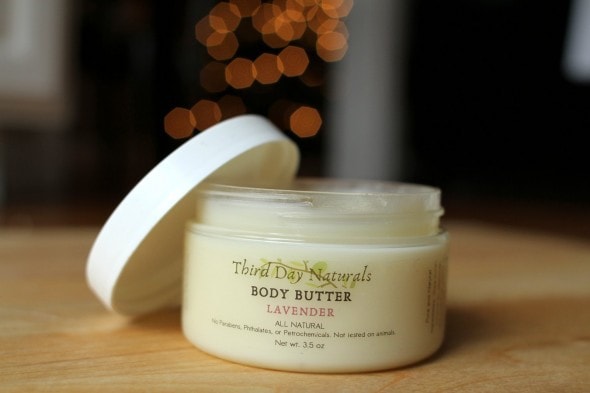 Oh! That reminds me of another great feature of Third Day's products…they are super for sensitive skin. This past spring, I was babysitting a friend's daughter (the one standing next to Joshua in this post!), and she's got crazy sensitive skin.
Her tummy skin had broken out into a rash, and when I applied the organic something-or-other lotion from her diaper bag, it made her skin hurt worse and she cried inconsolably. So, I washed it off and gently applied the body butter. Amazingly enough, her rash started to look better in just hours, and the body butter didn't irritate her skin at all.
The body butter costs $16, but a little goes a super long way, so one jar will carry you through an awful lot of dry skin. And if you've looked at similar products, you know this is a great price. In fact, I saw a nearly identical product in a salon this year and it cost $25 for a teensy container.
Lotion Sticks
Third Day Naturals just sent me a new product to try out- a lotion stick.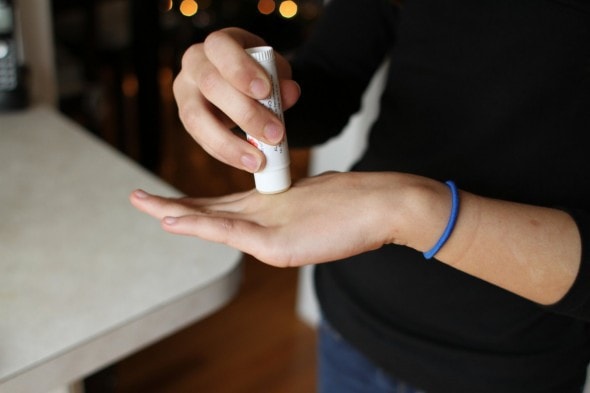 It's kind of like a really big lip balm container, and it's got a super concentrated lotion that promises to stay on even through handwashing.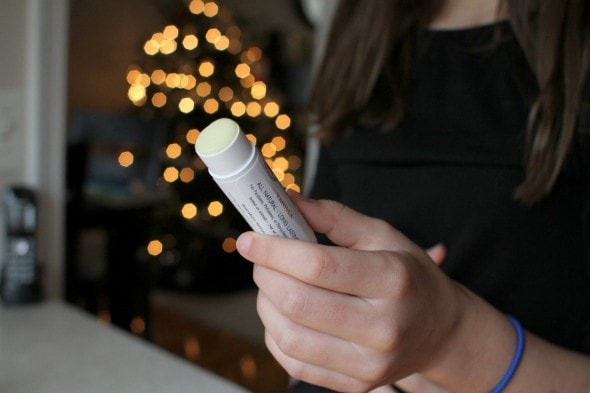 It's a really handy size for keeping in your purse or coat pocket in the winter, and like all Third Day products, it's completely natural.
What's in the giveaway box?
One lucky Frugal Girl reader will win a box containing:
1 sugar scrub
1 soap
1 lotion stick
2 lip balms
You get to pick the scents, so your prize is totally customizable.
(Not that you asked, but if it were me, I'd get a honey vanilla sugar scrub, evergreen soap, a vanilla lotion stick, and lime and chocolate lip balms. Just saying.)
To enter, just leave a comment telling me what Third Day Naturals product you'd like to find in your stocking.
(Go visit the website to see what's available!)
I'll leave this giveaway up through the weekend and announce the winner Monday morning.
A discount for Frugal Girl readers
Anyone can visit Third Day Naturals' site this month and get 15% off their order, but since you guys are extra special, Third Day is offering 20% off to you! Use code TDN20 to receive 20% off through December 14th.
____________________________
NO PURCHASE NECESSARY. Void where prohibited. Odds of winning depend on the number of entrants. Winner will be chosen at random. Giveaway closes at 11:59 PM EST on Sunday, December 7th. Third Day Naturals, an advertiser for the month of December, has furnished samples and the giveaway prize, but this post and giveaway are not sponsored in any other way.