Click here to go straight to the printable recipe.
Whole wheat pizza? What??
I know.
Earthy, nutty whole wheat flour is not what you associate with pizza.
And honestly, neither do I! I still do think that the tastiest homemade pizza I've ever made is comprised of 100% white flour.
However, Mr. FG and some of his co-workers took on a four week eating challenge that, among other things, prohibited refined grains.
So, that's been giving me a nudge to try some new recipes, including this Cook's Illustrated recipe for whole wheat pizza.
It's not actually 100% whole grain…there's a 60/40 ration of whole wheat flour to bread flour. But I figured it was close enough to count as whole grain.
And while it's not quite as good as white flour pizza crust, it's surprisingly tasty!
Anyway, I planned to take some step-by-step photos and then post the recipe, but my friend Stacy from Humorous Homemaking sent me a message asking for whole grain pizza help, and I decided to just go ahead and write this post with fewer photos than normal.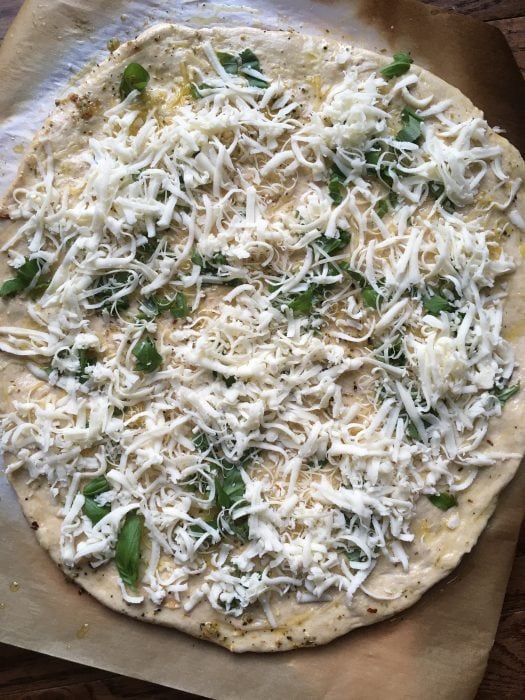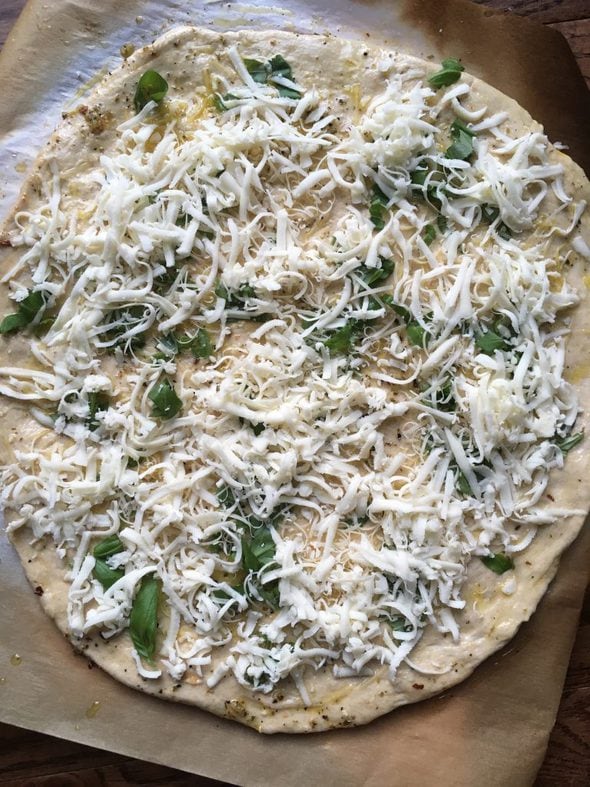 Cook's does not recommend putting traditional tomato sauce on a whole wheat crust (they think it clashes), but I tried it and thought it was fine. So I'll share the no-tomato and the tomato versions for you.
A couple of things to know:
1. You need to plan ahead.
Cook's Illustrated likes to make whole wheat dough ahead of time so that the bran and such have time to soften. Something about the make-ahead process helps to mellow and sweeten the whole grain flavor as well.
So, this dough needs 18-24 hours in the fridge, which means you need to decide ahead of time that you're going to make it.
2. You're going to need a pizza stone.
There are ways to make pizza without a pizza stone, but dear ones, hear me:
If you're going to make homemade pizza on the regular, GET A PIZZA STONE.

(Yes. Yes. I am actually yelling that part.)
A super hot, preheated pizza stone will take your pizza from flabby and pale to brown and bubbly.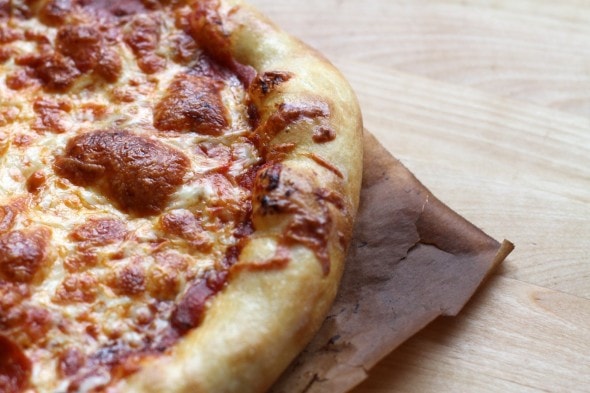 I know stones are big and heavy and annoying, but you know what's also annoying? Flabby, uninspiring pizza.
Pizza stones are not that expensive (Cook's recommends a $39 stone), you can find them pretty cheap at Bed, Bath, and Beyond, and I've even had luck finding them at thrift stores. You could also ask around to see if a friend has an unused stone.
Also of note: a pizza stone pays for itself super quickly if it saves you from getting carryout pizza.
3. You have to put your pizza stone under the broiler.
Not always, but for this recipe, at least. The broiler can make some stones crack. Luckily, I have one that's already cracked, so I just put the two pieces together and go boldly forward. 😉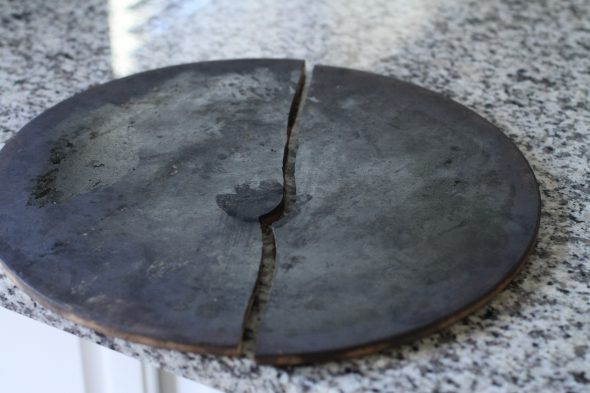 Cook's Illustrated recommends this square baking stone from Old Stone Oven, and it promises to hold up under the heat of a broiler.
4. You need to buy King Arthur bread flour.
I know it seems like white flour should all be equal, but it is not. King Arthur bread flour is expensive as flour goes, but it makes a big difference in pizza crust.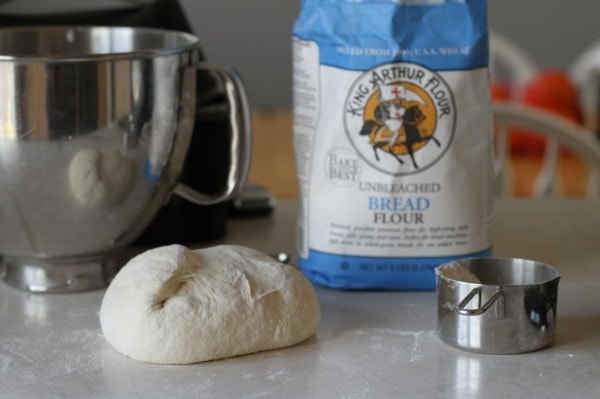 You only need a cup of flour for two pizzas, so a 5 pound bag will last you a long time and the price per pizza is very minimal.
I've tried using other flours instead and it is never quite the same. Trust me! Fork over the cash for the blue bag of flour, ok??
On to the recipe!
Whole Wheat Pizza (makes two large pizzas)
Printable Whole Wheat Pizza Recipe
1 ½ cups (8 1/4 ounces) whole-wheat flour
1 cup (5 1/2 ounces) King Arthur bread flour
2 teaspoons honey
¾ teaspoon instant or rapid-rise yeast
1 ¼ cups ice water
2 tablespoons extra-virgin olive oil
1 ¾ teaspoons salt
Dough
Combine whole wheat flour, bread flour, honey, and yeast in the bowl of a food processor and whirl to combine.
With the food processor on, add the water and process until all the flour is mixed in (10 seconds or so.) Let the dough sit in the food processor for 10 minutes.
Add oil and salt and process until a smooth, satiny dough forms. Turn dough out onto oiled or lightly floured counter and knead for a minute, or until it forms a neat ball. Place dough in lightly oiled bowl; cover and refrigerate for a minimum of 18 hours (up to 2 days).
To bake:
One hour before baking, adjust oven rack to 4.5 inches below broiled, place pizza stone on rack, and heat oven to 500 ° F. Take the dough out of the fridge, divide it in half, shape each half into a smooth ball, and place balls on a lightly greased baking sheet. Cover dough balls with greased plastic wrap (or damp tea towel). Let stand at room temperature while oven and stone preheat.
Once and hour is up, heat the broiler for ten minutes. Meanwhile, coat one ball of dough with flour and place on a lightly floured countertop. Stretch dough into an 8-inch circle. Let it rest for a few minutes, and then stretch it, rotating as you go, into a 12-inch round.
Place the dough on a large square of parchment paper. Top with tomato sauce, cheese, and pepperoni, or garlic oil, basil, and cheese (see directions below.)
Use a pizza peel or an overturned baking sheet to slide pizza onto preheated stone. Turn oven to 500 ° and bake 8-10 minutes, rotating pizza halfway through baking.
Removed pizza from oven, set on wire rack, and brush crust with garlic oil or butter.
Repeat with second crust.
To make a traditional pizza:
Use whatever tomato sauce you love. Spread a thin layer over the dough, top with shredded mozzarella (about 1.5 cups), and add pepperoni.
To make a white pizza:
Spread 2 tablespoons garlic oil over pizza, sprinkle with 1/2 cup of basil leaves, and top with 1.5 cups shredded mozzarella (can add some shredded Parmesan as well).
Garlic Oil
¼ cup extra-virgin olive oil
2 garlic cloves, minced
½ teaspoon pepper
½ teaspoon dried oregano
â…› teaspoon red pepper flakes
â…› teaspoon salt
Heat oil in an 8 inch skillet until shimmering; add remaining ingredients and cook for 30-60 seconds, stirring constantly. Remove from heat.
P.S. Here's the cheese I love for making pizza. It really makes a difference!