Spiced nuts are often considered to be a holiday food, but I love having them around for topping summer salads.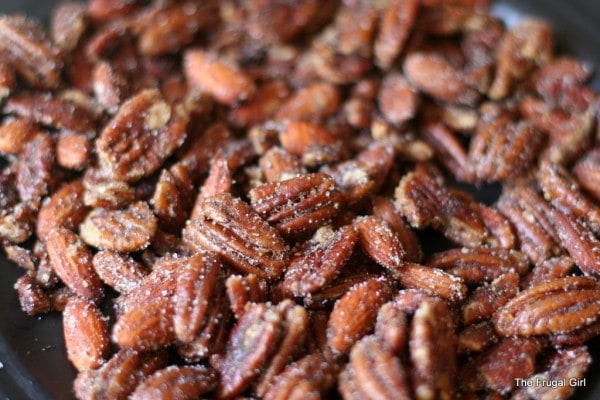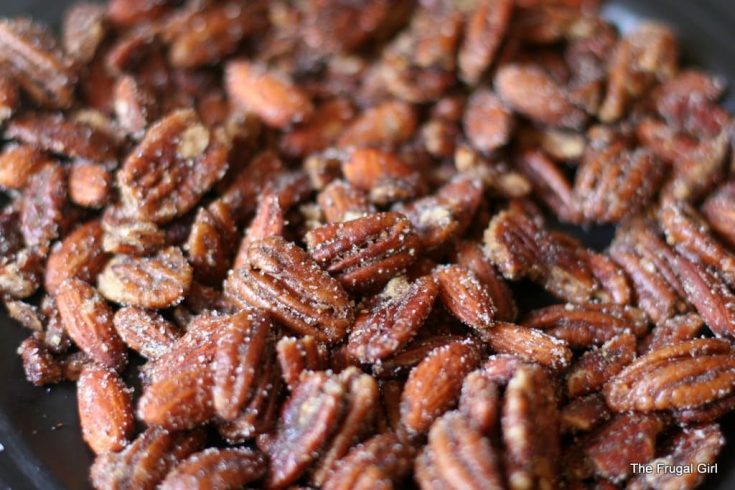 This recipe, which I found in a Cook's Illustrated library book, probably doesn't really qualify as a frugal recipe, simply because pecans (and nuts in general!) are not cheap foods.
However, nuts are really nutritious, and they are what I would consider to be real food.
Plus, they're kind of snacky, and it's hard to find snacky foods that are at all nutritious.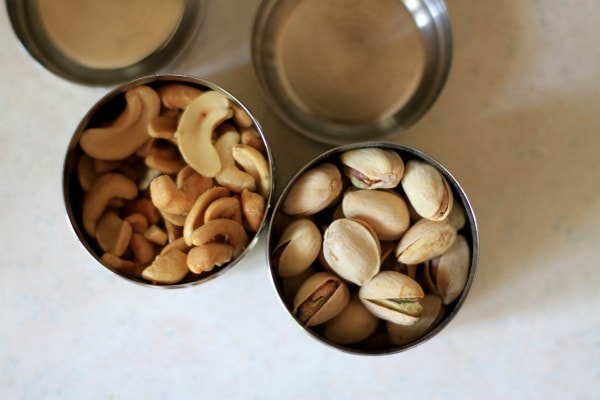 Anyway, I consider nuts to be worth the money, because frugality isn't always about saving as much money as possible.
To me, frugality has more to do with getting great value for my dollar, and sometimes that means doing stuff like buying nuts instead of cheese puffs.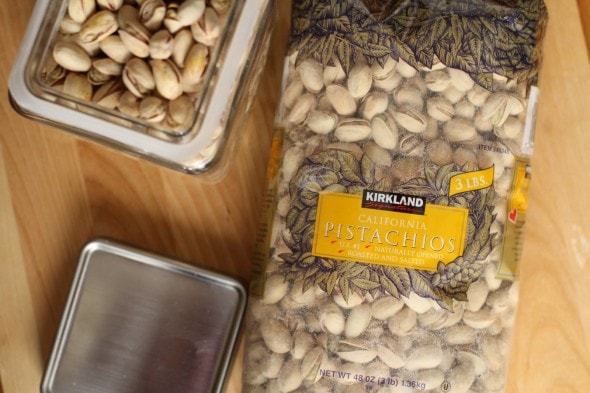 I usually buy mine in the huge bags they sell at Costco because that makes the price per pound a little bit easier to swallow. I do not EVER buy those tiny little packets they sell in the baking aisle at grocery stores because the price per pound on those is, well, insane.
I believe nuts are at their most nutritious when they're raw, and we do eat a lot of them that way, but I sometimes like to use this simple little glaze recipe to turn pecans into a delicious salad topping.
Most of the flavor in the recipe comes from the spices, and though the recipe only contains a tablespoon of sugar, the nuts taste quite sweet.
If you don't eat all of these on your salad, you should know that any leftover nuts make a delightful snack. 😉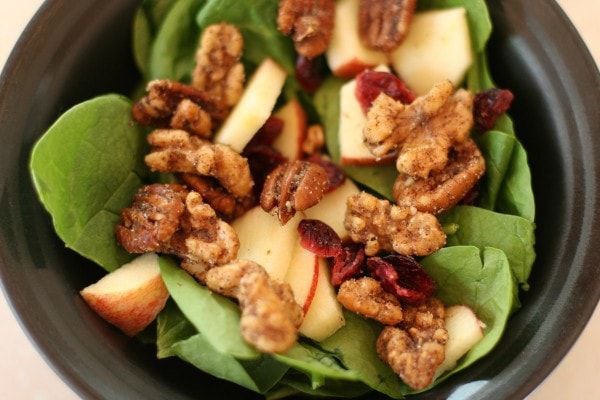 And come to think of it, if you compare the price of these to the price of glazed/spiced nuts sold as snacks at the store, this might well be a frugal recipe.
These are super easy to make….I'll show you.
First, combine salt, pepper, cinnamon, cloves, and allspice in a bowl. You could, of course, change the spices to reflect your personal preferences.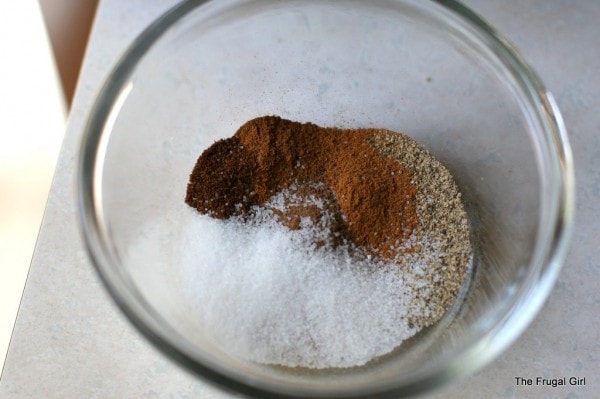 Melt 2 tablespoons of butter in a large skillet, and add the spices.
Add two cups of pecans, or whatever nuts you prefer, and toast over medium heat for 6-8 minutes, stirring frequently. I used a combo of pecans and almonds this particular time.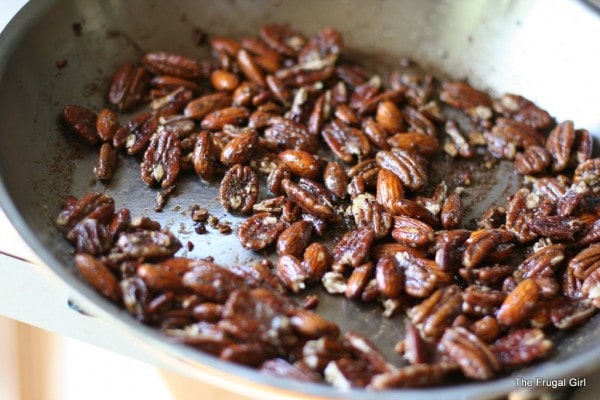 Keep an eye on the nuts while they're cooking!
Should you be tempted to leave your nuts to go check your email or something, remind yourself that the last time I did that, I burned my pecans.
Stay close by so that you can keep stirring the nuts.
Place the spiced nuts into a bowl and toss with a tablespoon of sugar. Spread the nuts out on a plate to cool.
Store them in an airtight container once they are completely cool.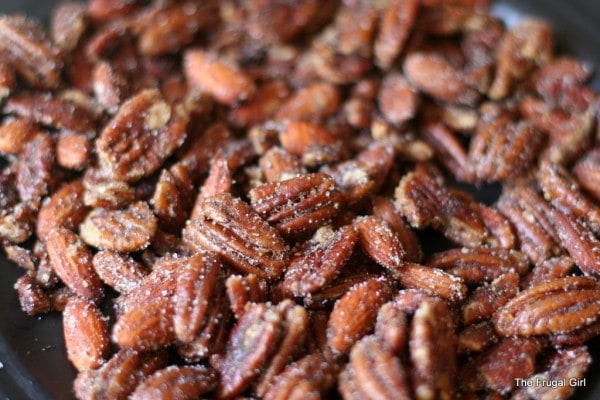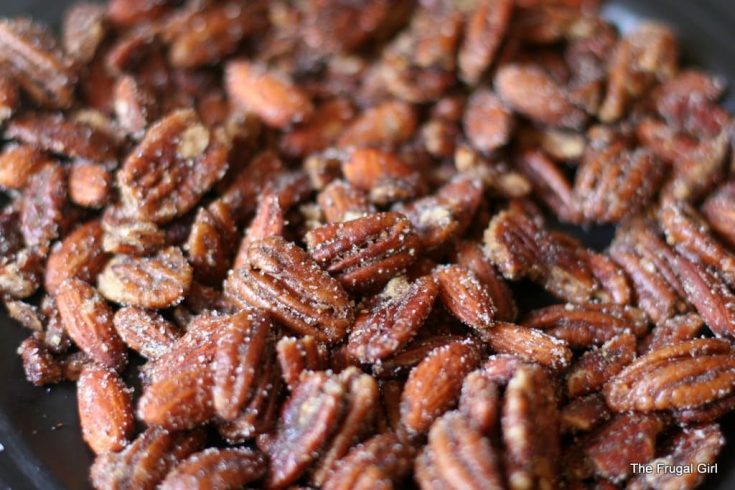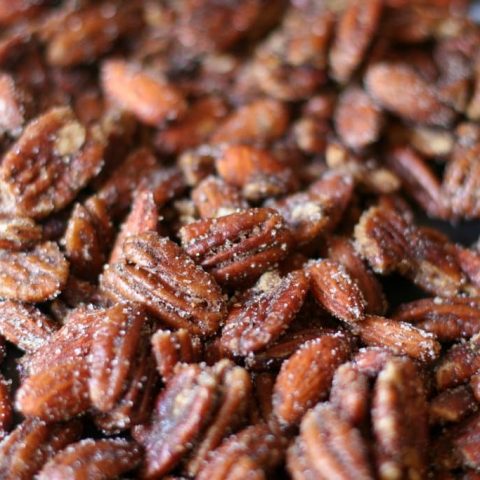 Easy Spiced Pecans (or other nuts)
These are super quick to make and are a great salad topping or snack.
Ingredients
1/2 teaspoon salt
1/4 teaspoon ground black pepper
1/2 teaspoon ground cinnamon
1/8 teaspoon ground cloves
1/8 teaspoon ground allspice
2 tablespoons unsalted butter
2 cups pecan halves
1 tablespoon sugar
Instructions
Combine salt, pepper, cinnamon, cloves, and allspice in a small bowl
Melt the butter in a 12-inch nonstick skillet over medium-low heat; add the spice mixture, followed by the pecans.
Toast the nuts, stirring often, until the color of the nuts deepens slightly, 6 to 8 minutes.
Transfer the nuts to a bowl and toss with the sugar. Spread the coated nuts on a plate to cool.
Notes
You can substitute almonds, walnuts, or cashews for the pecans, or you can use a mixture of nut types.
Nutrition Information
Yield

8
Serving Size

1/4 cup
Amount Per Serving
Calories

212
Total Fat

22g
Saturated Fat

3g
Trans Fat

0g
Unsaturated Fat

17g
Cholesterol

8mg
Sodium

133mg
Carbohydrates

5g
Fiber

3g
Sugar

3g
Protein

2g