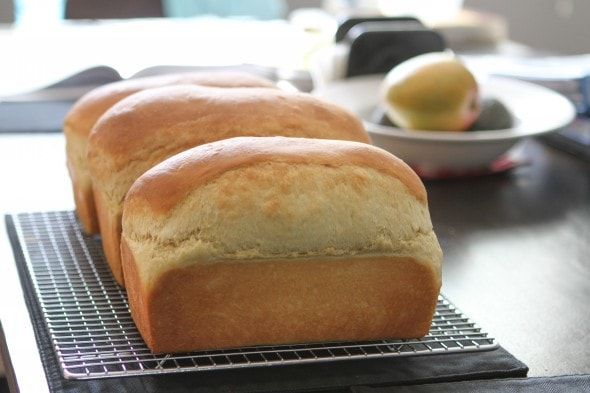 This has popped up on my menu plan a few times here and there and lots of you have asked for the recipe. But it's taken me FOREVER to get around to posting it.
Sorry 'bout that!
This is a soft, slightly sweet white bread. It's got a more tender crumb than regular white sandwich bread, partly because it's made with milk, not water, and partly because it has more fat in it, in the form of eggs.
It's a bit like the dough you'd use to make cinnamon swirl bread, and it's pretty darn delicious.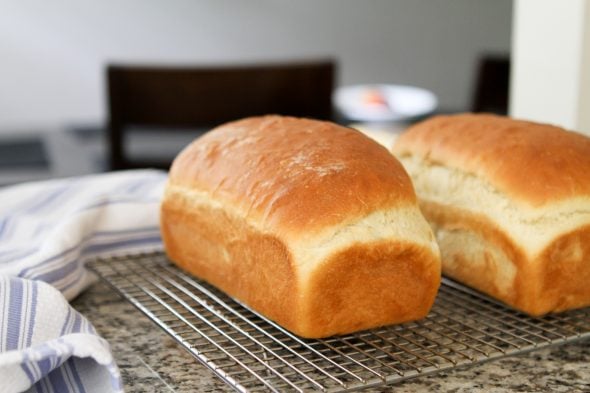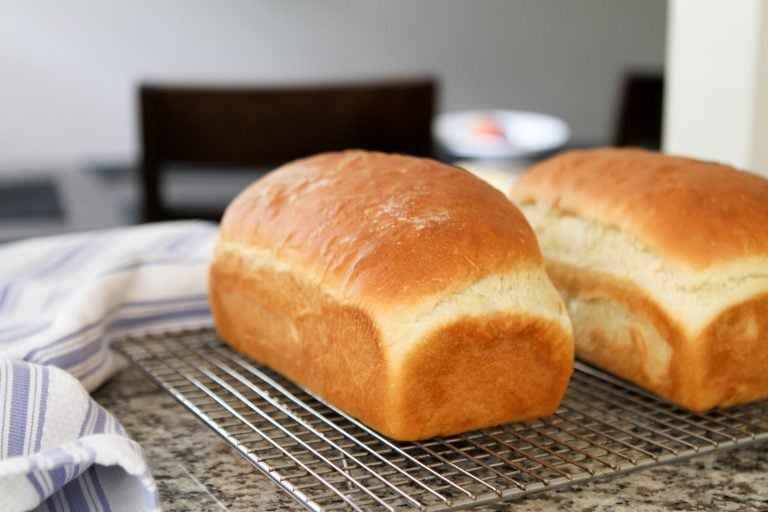 I often use it to make panini because it's firm enough to hold up to the grill pan but also soft enough to compress the way a panini should.
But it's also delicious as-is, and it makes delightful toast.
To start, combine flour and yeast in your mixer bowl.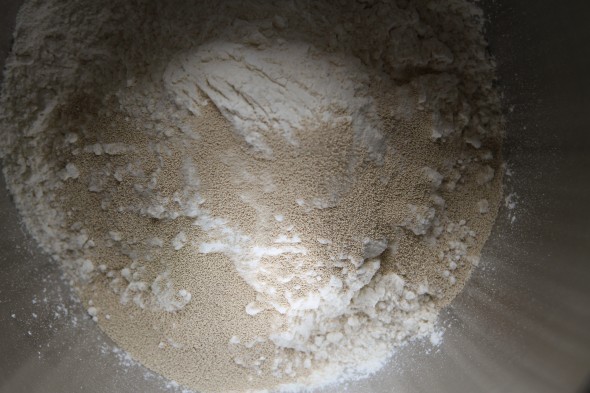 Heat your butter, milk, salt, and sugar to 120°F, at which point the butter should be pretty soft.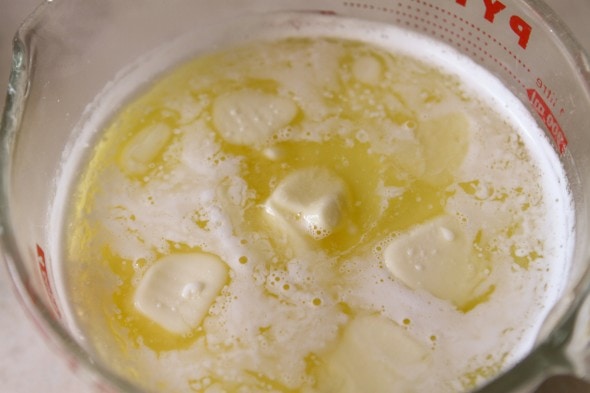 Add the warm milk mixture to the mixer bowl, and beat until combined.
The add in the eggs.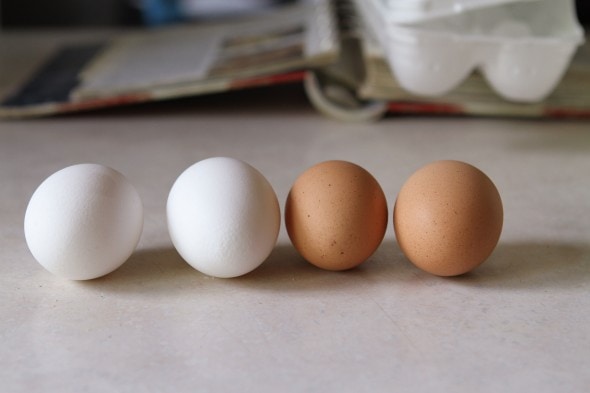 Beat for 3 minutes on medium speed, then stir in enough of the remaining flour to make a soft dough.
(IMPORTANT NOTE: Add only enough flour to make the dough soft. The amount of flour necessary will vary depending on the type of flour you use, how you measure your flour, the humidity of your home, and so on. Go by touch, not by the cups of flour.)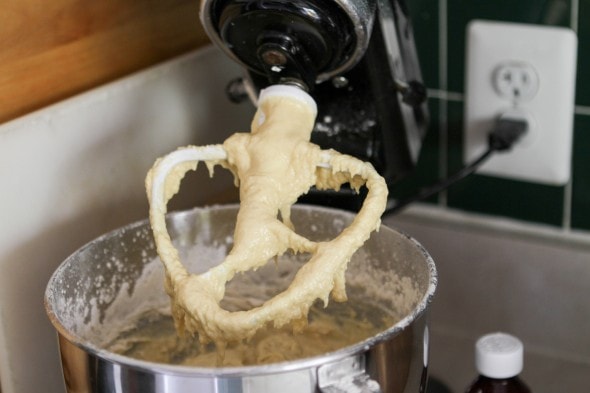 Turn the dough out onto a floured surface, and knead for 2-3 minutes (alternatively, you can finish kneading in the mixer.)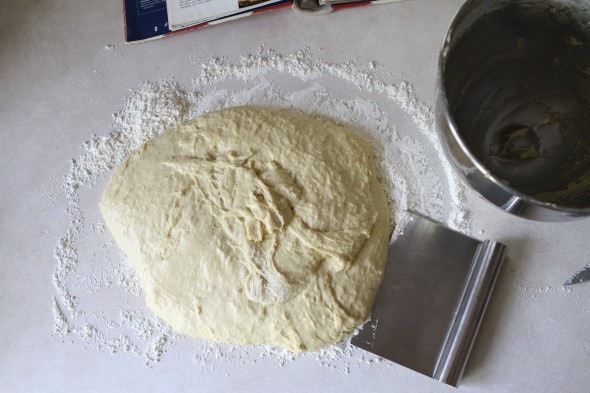 When you're done kneading, your dough should be a nice cohesive ball, but it should not be stiff.
See how this kind of flattens out a bit on my counter in the photo below?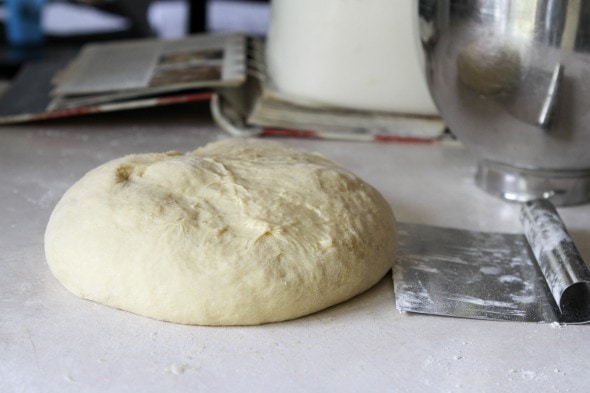 It should not be firm enough to hold its shape (way softer than cookie dough, for instance.)
If your dough is too hard, it's not going to rise well and you'll end up with a dense loaf.
We're going for a nice, soft dough here, people! Again, add flour based on feel, not so much on the cup measurements.
Put your dough into the bowl, cover it with a wet tea towel, and let it rise for an hour.
After it rises, turn it out onto a floured surface and divide it into three pieces.
Note: you can make four loaves out of this dough if you don't want super tall loaves.
But I like my loaves pretty tall, and besides, three loaf pans fit in my oven better than four.
So three loaves it is for me!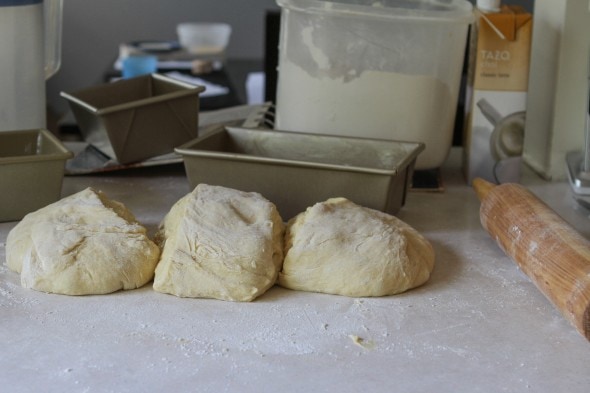 Roll one piece out into an oblong shape, then roll it up, starting at the short end.
Place the loaf into a greased 4×8-inch loaf pan, and repeat with remaining pieces of dough.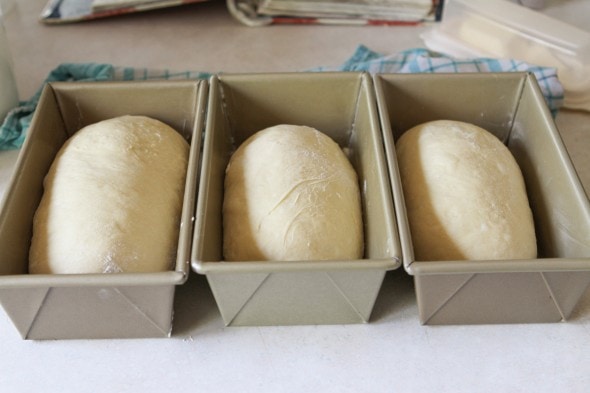 (I use Williams-Sonoma Goldtouch loaf pans.)
Cover the loaves and let them rise for about 30 minutes, or until they're doubled in size.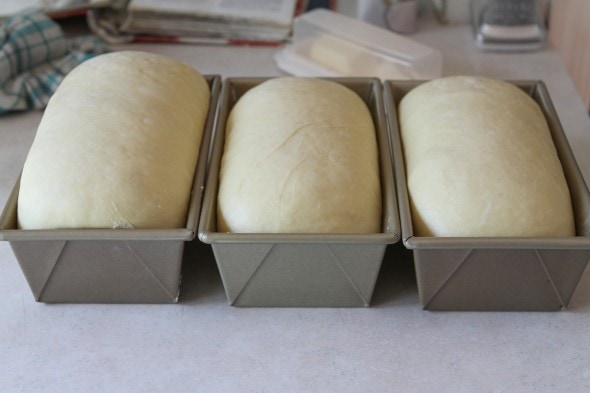 (I am not the awesomest at dividing dough evenly. And I am also too lazy to weigh my dough!)
Before the loaves are done rising, turn your oven on to 350°F.
You want it to be nice and hot by the time your dough is done rising because loaves that go into a hot oven will rise better and brown better than loaves that go into a cold oven.
Bake the loaves for 25-30 minutes, or until they're nicely browned.
Remove the loaves from the pans and let them cool on a wire rack.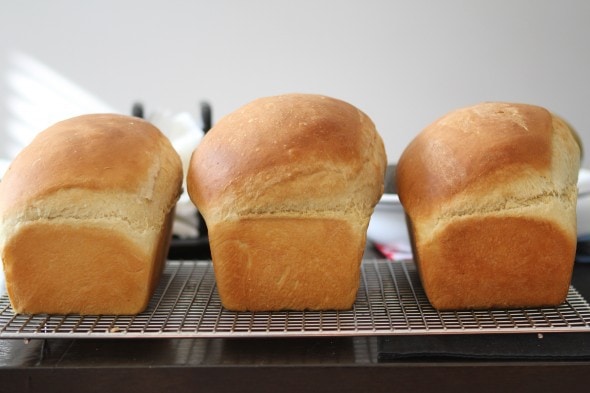 These are the cooling racks I own.
They are so, so, so much better than the rickety ones I use to own, and I love that the cross-hatch design on these means that baked goods don't sag down between the bars.
So.
That's how I make egg bread. Go make some for yourself!
(By the way, if you've been having trouble with your yeast bread and you need some help figuring out what went wrong, read this post all about troubleshooting common yeast bread problems.)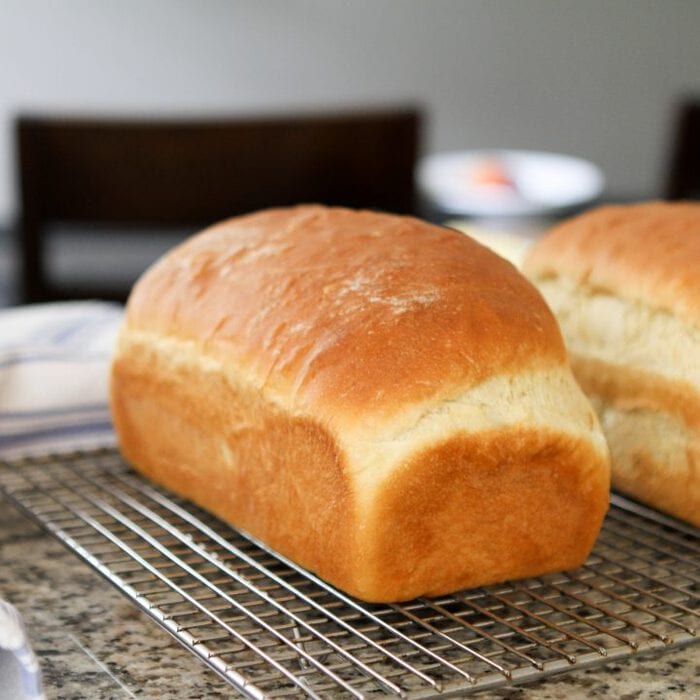 Homemade Egg Bread
Yield: 3-4 loaves

Prep Time: 20 minutes

Cook Time: 30 minutes

Additional Time: 2 hours

Total Time: 2 hours 50 minutes

This soft, slightly sweet bread is lovely on its own but also makes great sandwiches.
Ingredients
9 1/2-10 1/2 cups all purpose flour
2 pkg. (4 1/2 teaspoons) active dry yeast
2 1/2 cups milk
6 tablespoons sugar
6 tablespoons butter
2 scant teaspoons salt
4 eggs
Instructions
In a mixer bowl, combine 4 cups of the flour and the yeast.
Heat milk, sugar, butter, and salt together to 120-130 ° F. Add to flour mixture; beat until combined. Add eggs, and beat for 3 minutes.
Stir in enough of the remaining flour to make a soft dough. Turn dough out onto floured surface and knead 3-5 minutes, or until smooth and elastic. Place dough in bowl, cover with wet tea towel, and let rise in warm place for an hour.
Turn risen dough out onto lightly floured surface; divide into three pieces. Roll one piece out into an oblong shape, then roll up, starting with short end. Place into greased 8x4 loaf pan (or 1-pound Williams Sonoma bread pan); repeat with remaining dough.
Cover loaf pans with wet tea towel; let rise in warm place until doubled, about 30 minutes.
Bake in preheated 350 ° F oven for 25-30 minutes, or until nicely browned. Remove loaves from pans and cool on wire rack.
Notes
You can make shorter loaves by using larger loaf pans. Or you can halve the recipe and make two loaves in the 8x4 inch loaf pans.

adapted very slightly from my old Better Homes and Gardens New Cookbook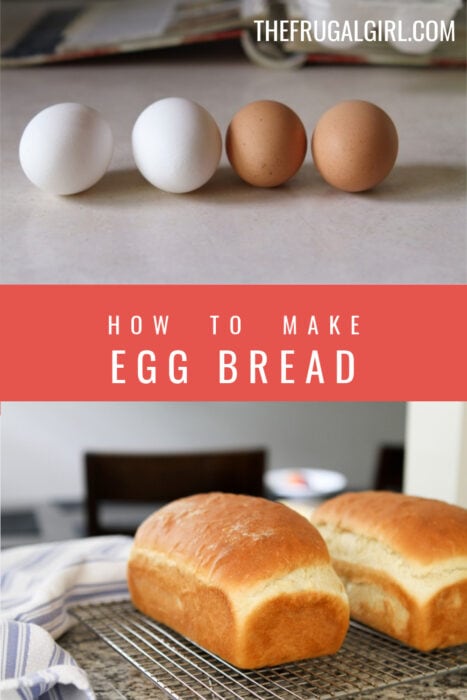 Save