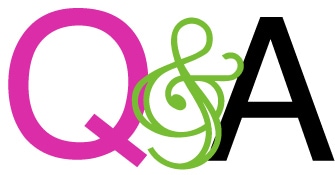 Every Monday, I answer a few of the questions that my readers send me. If you have a question you'd like me to answer in a future Q&A post, just leave me a comment here or email me (thefrugalgirl [at] gmail [dot] com) and put Q&A in the subject line. I look forward to hearing from you!
I know you are a fan of dying clothing. I just bought a nice pair of new Eddie Bauer bermuda jeans. I don't like the light wash. It's particularly light on the backside seat area – so unflattering. I'm wondering if I could dye them a dark blue jean color. Any suggestions? I'd so appreciate your help. I'm wondering if I should return them or try fixing them.
-Nancy
While I do love to dye clothes, I'm torn on what to recommend to you because dying things is always a bit of an iffy proposition. It's hard to predict exactly how each piece of clothing will turn out, and so I generally prefer to dye older clothes that have faded, hand-me-downs, or clothes from Goodwill. That way if the dye job turns out sort of oddly, I won't have ruined anything of great value.
So, if you paid a lot for those jeans, I'd probably just return them. If you got 'em for a steal on a clearance or something, though, you might want to throw them in the dye bucket.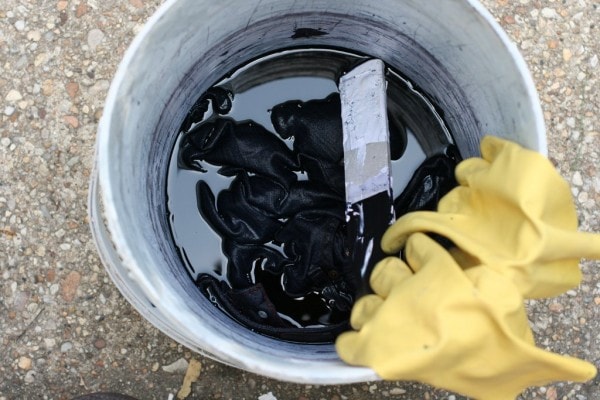 If you do decide to dye your jeans, I'd strongly recommend that you use either black dye or a combo of dark blue and black. When I've tried dying denim with just navy blue dye, it has always, always come out with very purple tones.
I do believe you can buy denim blue dye, but I haven't tried that myself.
Why do you try to avoid using plastic for food storage? In a recent post you said you were using glass mason jars. I have been re-using glass spaghetti jars for leftovers in the freezer. Are mason jars better than the jars I have been using?
Thanks,
Jill
Well, I'm mostly concerned about the possibility of the plastic leaching chemicals into my food. It's not like I think using plastic containers is the most horrible thing in the world, but since glass containers (which don't leach) are readily available, I prefer to use them.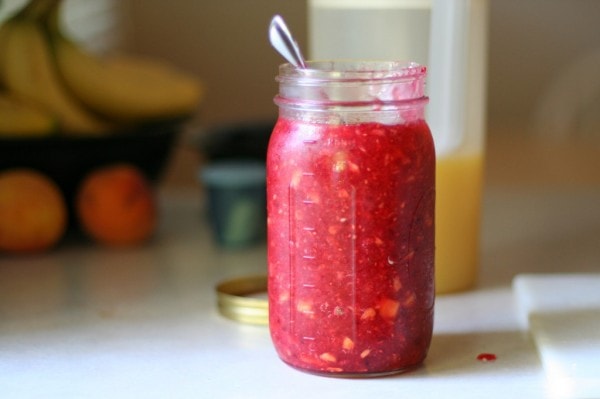 I also don't like the way plastic containers stain and absorb smells from food.
I'm happy to tell you that your glass spaghetti jars are just as marvelous as Mason jars (maybe even moreso, since you're repurposing something!) They're only inferior if you're wanting to actually process and can something, but for storage, they're a-ok.
I love the fact that you clean using all-natural products and avoid chemicals whenever possible. I have a very messy oven and wondered if you had a foolproof way for cleaning ovens without using a strong product like Oven-Off. Whenever I try to use the self-cleaning function my smoke alarms go off like crazy, so I need another solution!
Misty
I feel your pain with the smoke alarm. Mine sits right outside of my kitchen, so every time I heat my oven up to anywhere above 400 ° it's almost guaranteed to go off. Fortunately, it does have a hush button, so I just push that and go on about my business. Do your smoke alarms have anything like that?
Or could you use the self-clean function on a warm spring day when you can open up the sliding glass doors and windows to provide some ventilation?
My ovens have always had a self-cleaning feature, so I'm not very well-educated about alternative oven cleaners. I am very confident that some of my readers are experienced with natural oven cleaners, so I'm going to open up the floor to them.
Have at it, people! If you've got some good advice for Misty, leave it in the comments. And feel free to pipe in on any of the other questions as well.
__________________
Joshua's 365 post: Interlaced Stone