Just want the PDF printable cinnamon knots recipe? Click here!
For the last few years, I've made cinnamon knots to give out at Christmas, and apparently, I've never posted the recipe.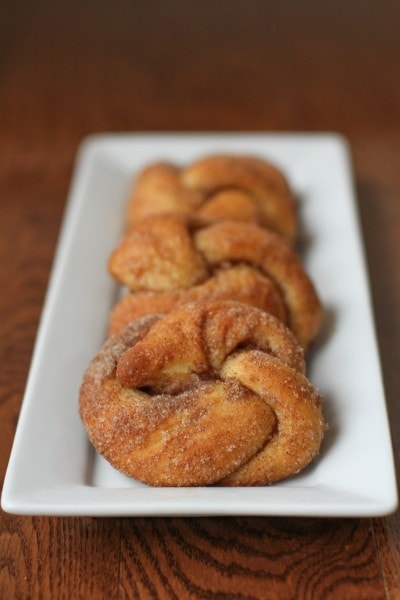 This is likely because I only make them at Christmastime, and December is not a month when I have lots of extra time to do things like posting baking recipes.
Plus, it gets dark so stinking early in December, it's never a good time to take pictures.
(Stupid short days!)
Anyway, when I posted a picture of these on Instagram, several of you asked for the recipe. Soo, I made a new batch and took pictures this time, despite the dark, short days.
Done is better than perfect.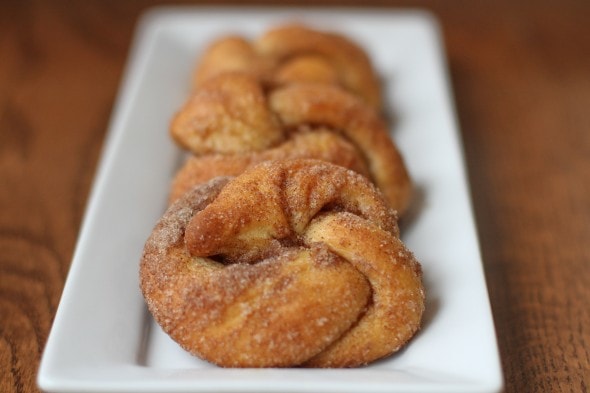 My children were not displeased to see another round of these come out of the oven. 😉
These are made with a pretty basic sweet dough recipe, and the method is just like the one I use to make rosettes in my basic dinner roll recipe. But this time, you dip the dough ropes into butter and then cinnamon sugar before you tie 'em into a knot.
The butter and the cinnamon do a lovely job of caramelizing while the knots bake, so they have a delightful buttery, sweet, and slightly crunchy outside texture when they're fresh from the oven.
They are totally not healthy, but they ARE super tasty.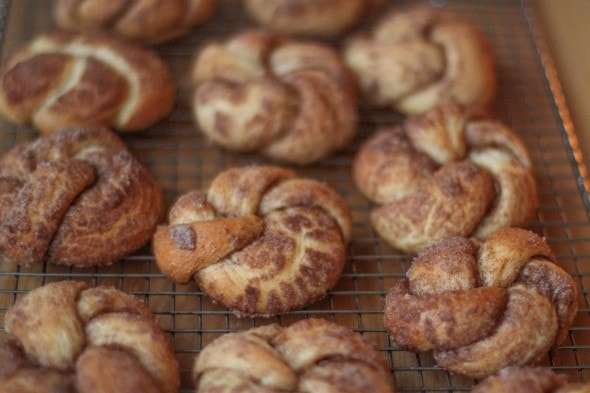 Ok!
Start out by dissolving yeast in warm water in your mixer bowl.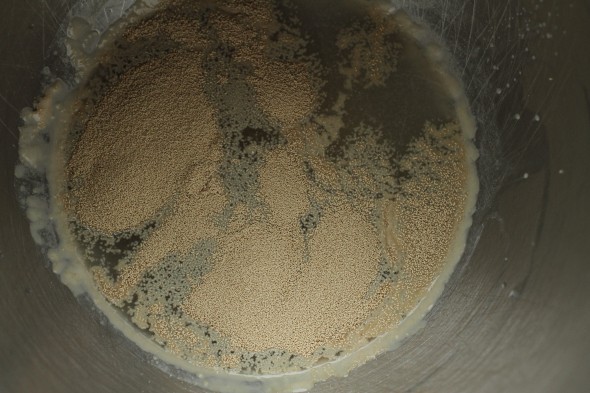 (I buy my yeast in bulk from Costco because it is stupid cheap that way. If you don't have a bulk club membership, buy your yeast on Amazon. SO MUCH CHEAPER than at the grocery store.)
Next, you'll need warm milk, softened butter, plus sugar, salt, and eggs.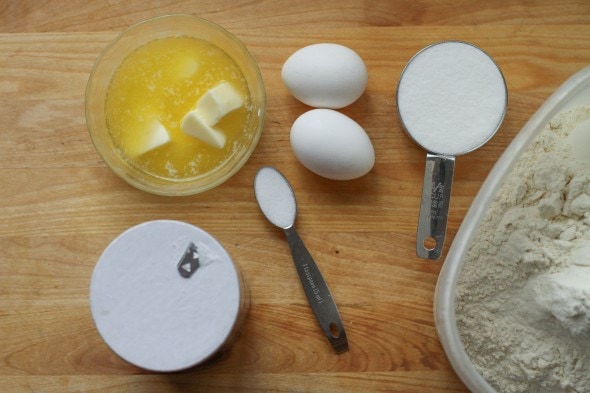 Softened butter, melted butter. The line is so fine. Heh. Your butter will be fine either way, as long as it's not screaming hot.
(Screaming hot liquids kill yeast.)
Add your milk, butter, sugar, salt, eggs, and 1 cup of flour to your yeast and mix it all together. Once it's combined, beat it at medium speed for 2-3 minutes.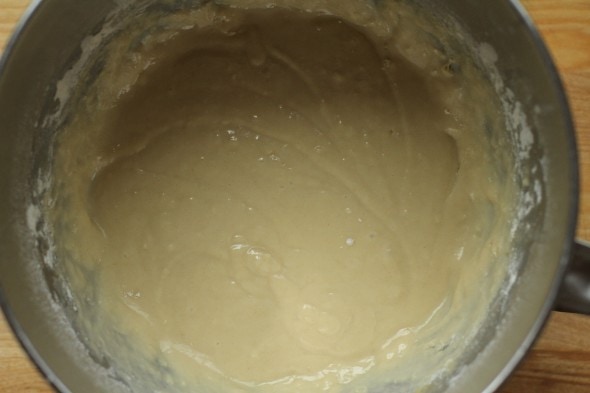 Stir in enough of the remaining flour to make a soft but kneadable dough. Do not make your dough stiff and hard or it will have a dreadful time rising.
It should be way more sticky and soft than, say, Play-Doh.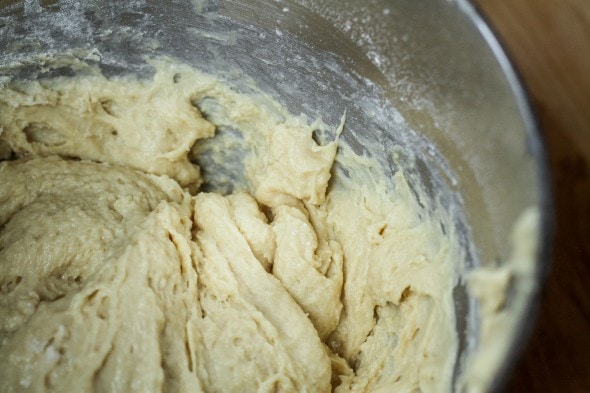 Turn it out onto a floured surface and knead it for 2-3 minutes, or until it bounces back when you poke it with a finger.
Before kneading: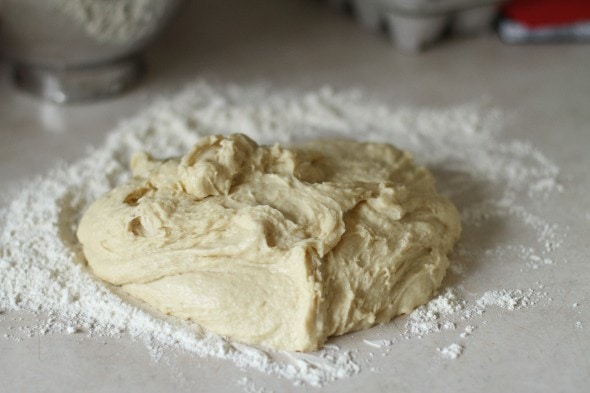 and after kneading: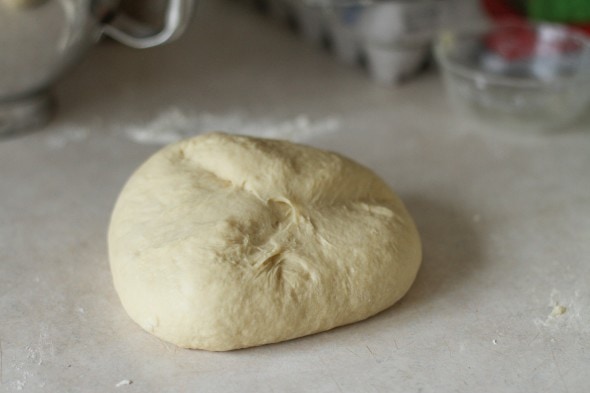 So tidy!
Put your kneaded dough back into the mixer bowl, cover it with a wet tea towel, and let it rise until it's doubled. In cold weather, this might take an hour and a half. But if it's warm in your kitchen, you might only need an hour.
While the dough is rising, melt your butter and combine the cinnamon/sugar in a small/medium bowl.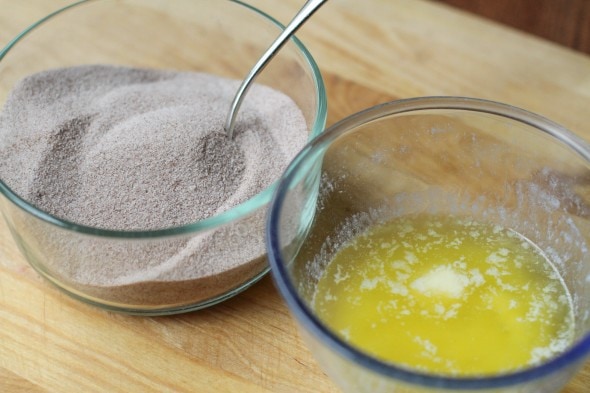 The recipe calls for 3/4 cup of melted butter but I find that 1/2 cup is usually fine. And I think 2 cups of sugar is also a bit much…I always have a fair amount left over.
Once your dough is risen, turn it out onto a floured surface, divide it into 36 pieces, and roll each one into an 8-inch rope.
Then you'll dip each rope into the butter, then the sugar, and then shape it into a rosette. Here's how the rosette-shaping process goes (I did it without cinnamon and sugar so you could see better.)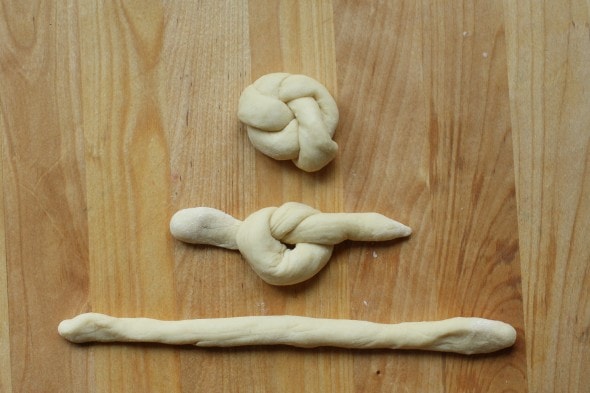 One end of the knot goes thru the center of the roll, and the other loose end gets tucked underneath.
Place knots onto greased baking sheets, 12 to a sheet.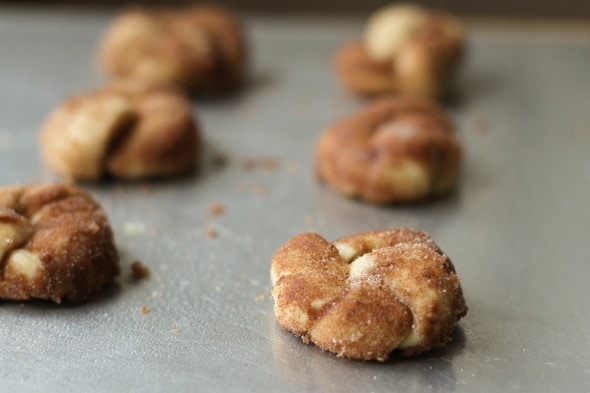 Cover with a light tea towel or plastic wrap and let rise until doubled, about 30 minutes.
Preheat your oven to 375 °F (never put yeast bread into a cold oven!), and bake for 12-14 minutes, or until your cinnamon knots are lovely and browned.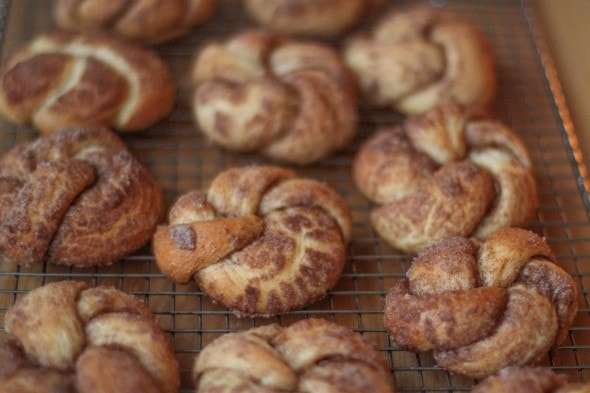 These are at their very best fresh out of the oven, but they're also pretty good the next day, especially if you heat them up.
Also, I tried letting some of them rise overnight in the fridge so I could bake them in the morning, and while it wasn't an abject failure, the cinnamon sugar mixture tends to kind of melt right off the rolls when you bake them this way. So, you get a messy baking sheet and less awesome knots as a result.
I'd say it's best to make these and bake 'em right after they finish rising.
Cinnamon Knots
Printable Cinnamon Knots Recipe
(makes 36)
2 packages (1/4 ounce each) active dry yeast
1/2 cup warm water (110 ° to 115 °)
1/2 cup warm 2% milk (110 ° to 115 °)
1/2 cup butter, softened
1/2 cup sugar
2 eggs
1 teaspoon salt
4-1/2 to 5 cups all-purpose flour
TOPPING:
2 cups sugar
2 tablespoons ground cinnamon
3/4 cup butter, melted (I use 1/2 cup)
In the bowl of a stand mixer, dissolve yeast in 1/2 cup warm water.
Add 1 cup flour plus milk, butter, sugar, eggs, and salt. Mix until well-combined, then beat for 2-3 minutes.
Stir in enough remaining flour to make a kneadable dough (don't make it too firm!), and then turn dough out onto floured surface. Knead 2-3 minutes, or until the dough bounces back when you poke it with your finger.
Place dough in bowl, cover with wet tea towel, and let rise 1 to 1.5 hours, or until doubled.
In a medium bowl, combine sugar and cinnamon.
Turn risen dough out onto floured surface and divide into 36 pieces.
Roll each piece into an 8 inch rope. Dip rope in butter, then in sugar. Tie rope into a knot, then tuck ends under. Place onto greased baking sheet.
Repeat with remaining dough pieces.
Cover and let rise until doubled, about 30 minutes.
Bake in a preheated 375 ° F oven for 12-14 minutes or until golden brown. Let cool on wire rack.
slighty modified from this Taste of Home recipe
Save
Save
Save