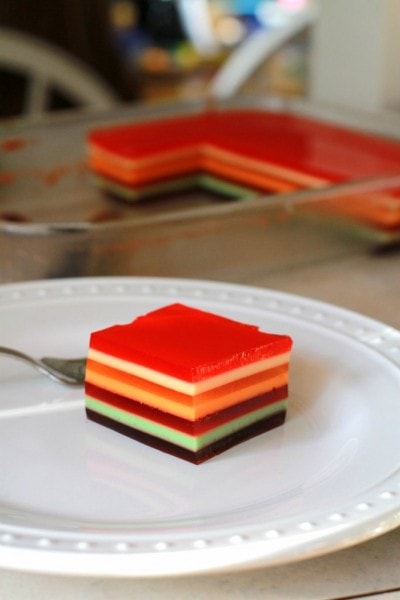 This is neither a frugal recipe nor a healthy one. BUT, when I posted a picture of this jello (which Lisey requested for her birthday meal this year) a number of you were really intrigued and asked for the recipe.
And since I aim to please, I'm sharing the recipe today. I'm not sure where the recipe originally came from, but when I was a kid, it was an oft-served dish when company came to visit.
If I'm going to eat a very-bad-for-me jello salad, I'm sort of partial to the Mandarin Orange Jello Salad, but I will admit that this pan of jello has much more show-stopping looks.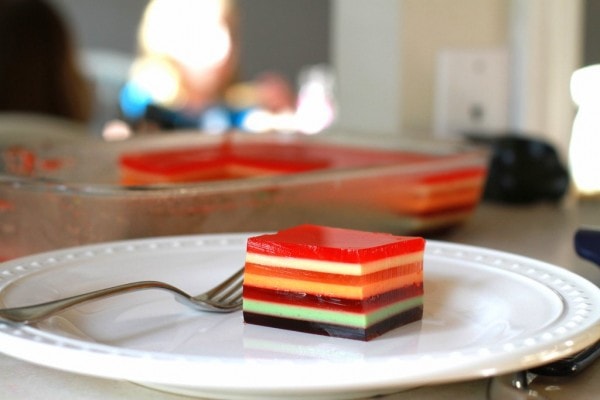 It's not very complicated, but it does require a big ol' stack of jello boxes. You probably won't be able to find store-brand boxes for the lemon or peach flavors, but it's easy to find orange, strawberry, and lime in private label varieties.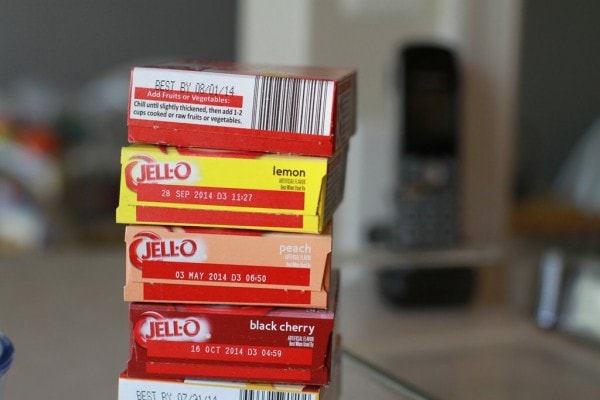 Interestingly enough, when I bought these seven boxes, I was also buying ingredients to make a quadruple recipe of the mandarin orange jello salad for a family birthday gathering, so my cart was chock full of boxed jello and pudding. It was kind of ridiculous. And very out of the ordinary!
Anyway. Every other layer of this jello has evaporated milk mixed in with the water, so layers 2, 4, and 6 have an opaque look to them.
You can mix up all seven layers at once, or you can mix them up one at a time, which might be a good option if you don't have tons of smallish bowls!
The first layer is just a box of jello, 3/4 cup of boiling water, and then 3/4 cup of cold water. Pour the jello mixture into a 9×13 inch pan (I spray mine with nonstick spray first), and put the pan in the fridge.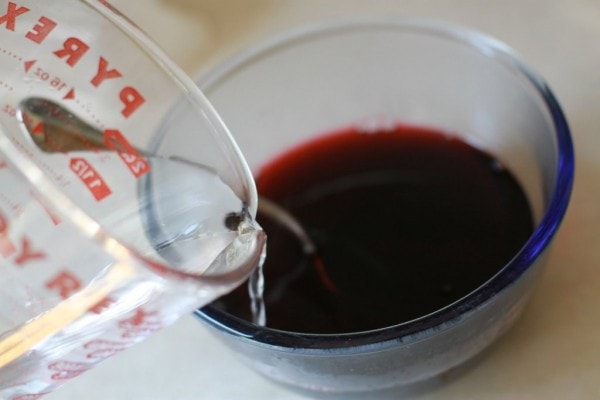 Your fridge is probably not perfectly level, so you might need to shim your pan a little to make a level first layer (I use a grippy pad under one end, the sort you use to open a stubborn jar lid.).
Leave the pan in the fridge, and when it's set (about 30 minutes later), you can pour the opaque lime layer over the black cherry layer.
To make the opaque layers, pour 1/2 cup of boiling water over the jello, mix to combine,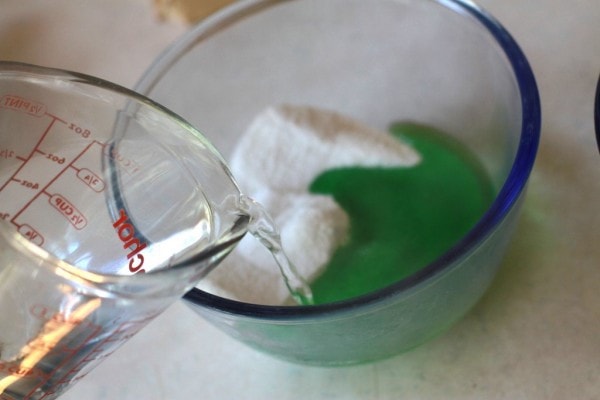 and then stir in 1/2 cup of cold water and 1/2 cup of evaporated milk.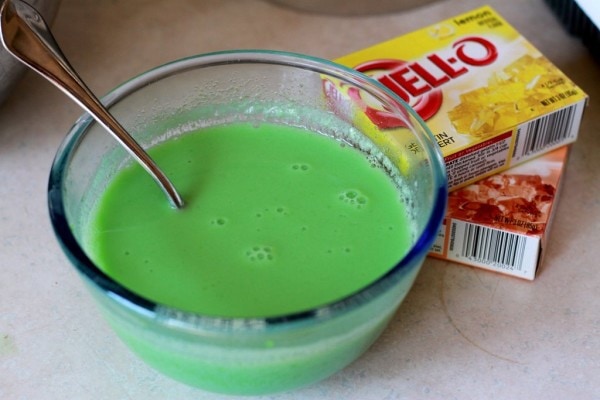 This is NOT sweetened, condensed milk, just so ya know. That would be…weird. You need evaporated milk, which is a much thinner milk product.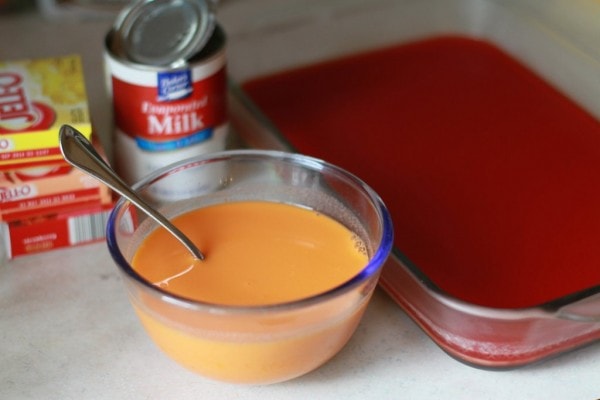 Each layer takes about 30 minutes to firm up in the fridge, so I just set a timer and add another layer every half hour.
The jello isn't SUPER firm after 30 minutes, so it helps to pour the new layer of jello into a spoon and then onto the jello…that way the liquid jello won't make a hole in the existing layer.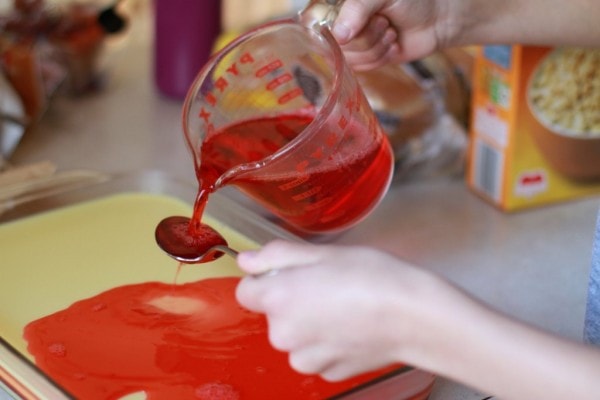 You probably could use any combination of jello flavors you want, as long as you keep the clear-opaque-clear pattern going.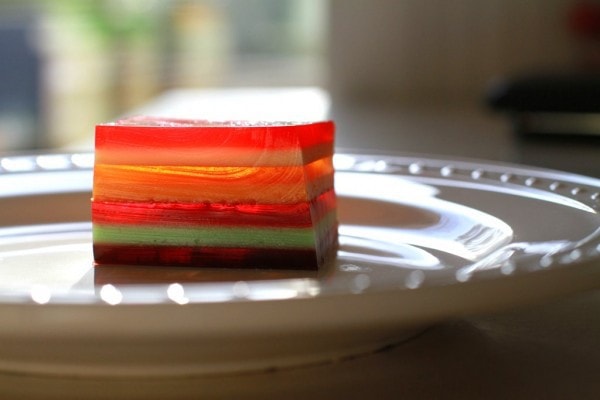 In fact, I inadvertently did this pan differently than I did my last one. Here's the original one I posted: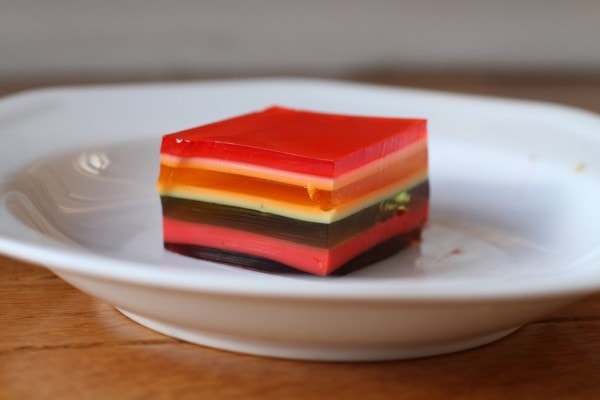 Anyway, it's quite customizable, and no matter what flavors you choose, your jello will probably still look all fancy-like. 😉
Seven Layer Jello
Printable Seven Layer Jello Recipe
Empty each of the following 3 oz. Jello packages into separate bowls:
black cherry, lime, raspberry, orange, peach, lemon, strawberry
Mix in the order given above.
For the 4 clear layers, mix ¾ cups hot water, stir, then add ¾ cups cold water.
For the 3 creamy layers, mix 1/2 cup hot water, stir, then add 1/2 cup cold water, and 1/2 cup evaporated milk. This will use up one can of evaporated milk.
The 1st, 3rd, 5th, and 7th layers are clear.
The 2nd, 4th, and 6th layers are creamy.
Mix all and then pour the 1st layer into a greased 9x 13 pan. Set the timer for 30 min. Then add the next layer and repeat the process until all layers are finished. Make sure pan is level.
_____________________________________