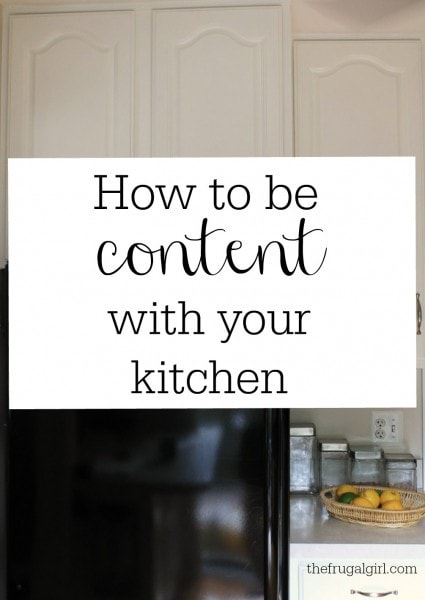 Actually, this is about how I stay content with my kitchen. But hopefully it'll help you figure out how to be content with your kitchen too!
My house was built in the 1970s, an era when open floor plans with an airy feel were just not something most people did. In fact, in its original shape, I believe my kitchen had actual doors at both entrances.
(Based on the door jambs that were there, at least.)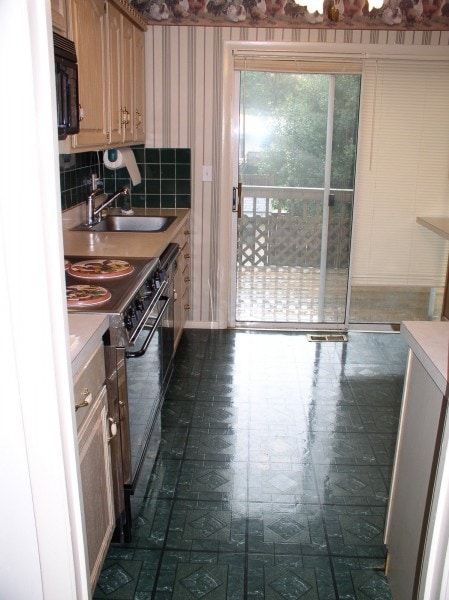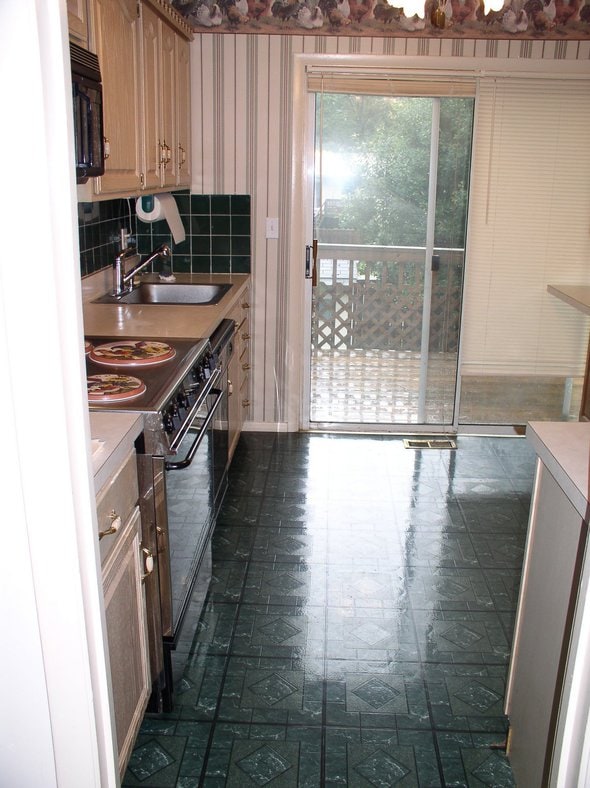 (my kitchen the day we bought the house.)
Also, my kitchen, while not teeny-tiny, is not exactly spacious.
The bigger my kids get, the smaller it seems, actually…there's more and more running into each other at meal times.
And while I have a respectable number of cabinets, there aren't many deep ones and there's no pantry to be found.
I run out of counter space all the time too.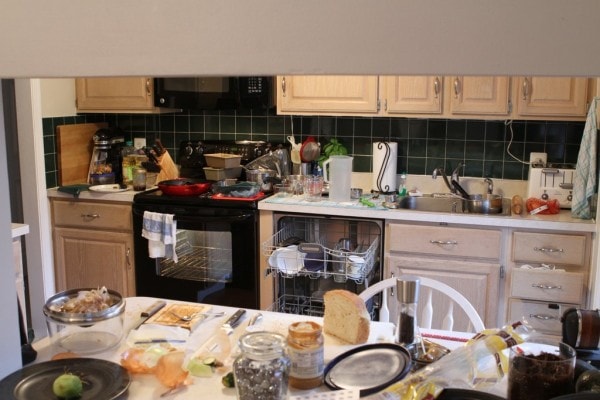 What's that? I should clean up as I go? Oh, I dunno…
Anyway, there are lots of reasons that I could wallow in a state of discontent over my kitchen, but mostly, I've managed to maintain a cheerful attitude about it, and 95% of the time, I am indeed content.
The other 5% of the time? Well, following are the top ways I shoo away those clouds of discontent.
Fix what you can.
To make this a spacious, open kitchen, we'd have to knock down walls, gut the kitchen, move a sliding glass door, and so on.
This is a little a lot out of our budget, though, so instead, we've worked with what we have to make things better.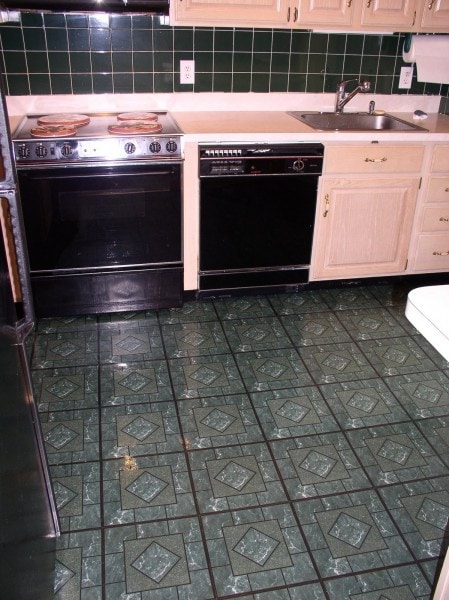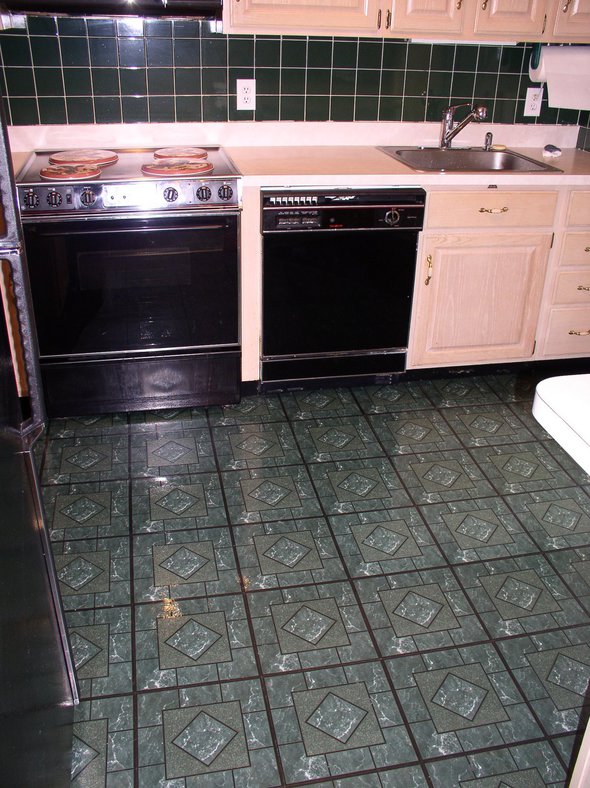 (my kitchen the day we bought the house.)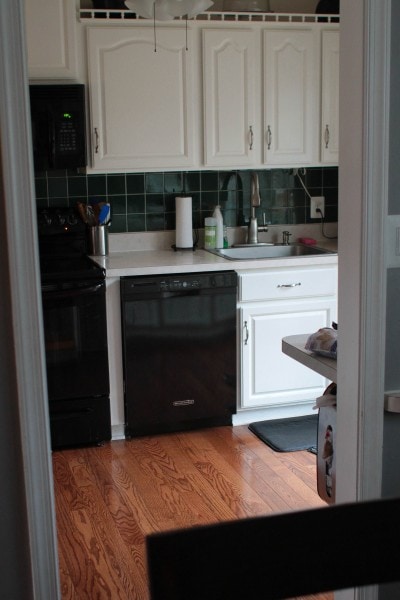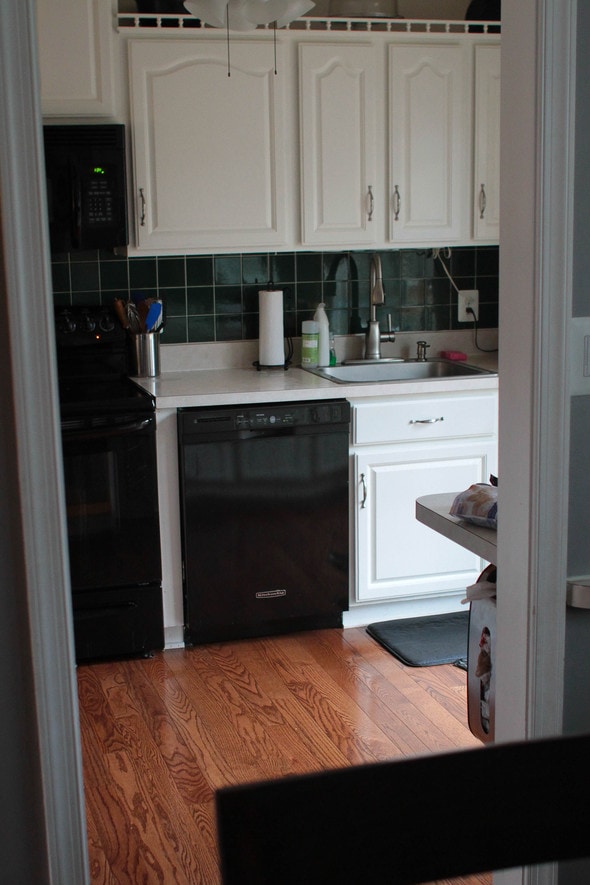 (my kitchen now)
Here's what we've done to our kitchen in the last decade:
-bought new appliances (we brought our dishwasher from our townhouse)
-removed wallpaper (So. Much. Wallpaper.)
-painted walls
-painted the cabinets
-put new hardware on the cabinets
-put new flooring down
-put in a new faucet
Then: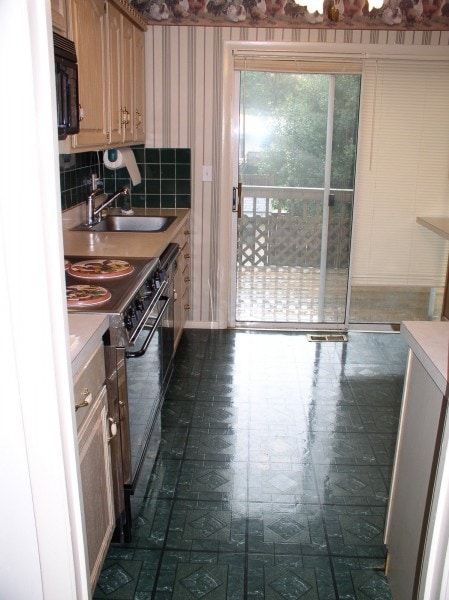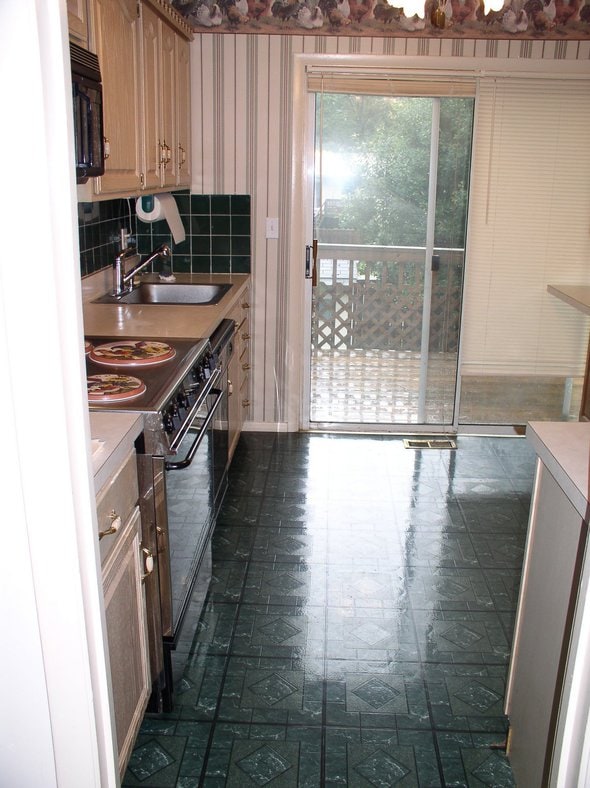 Now: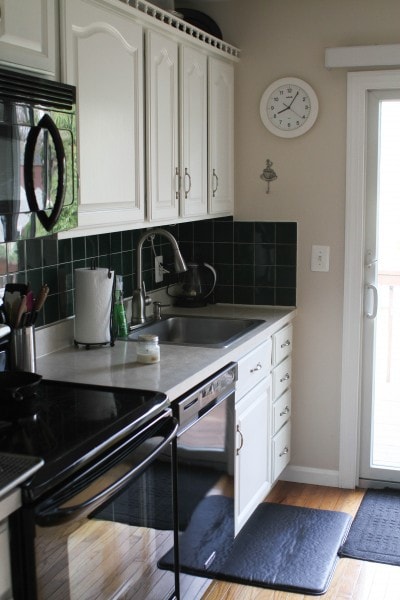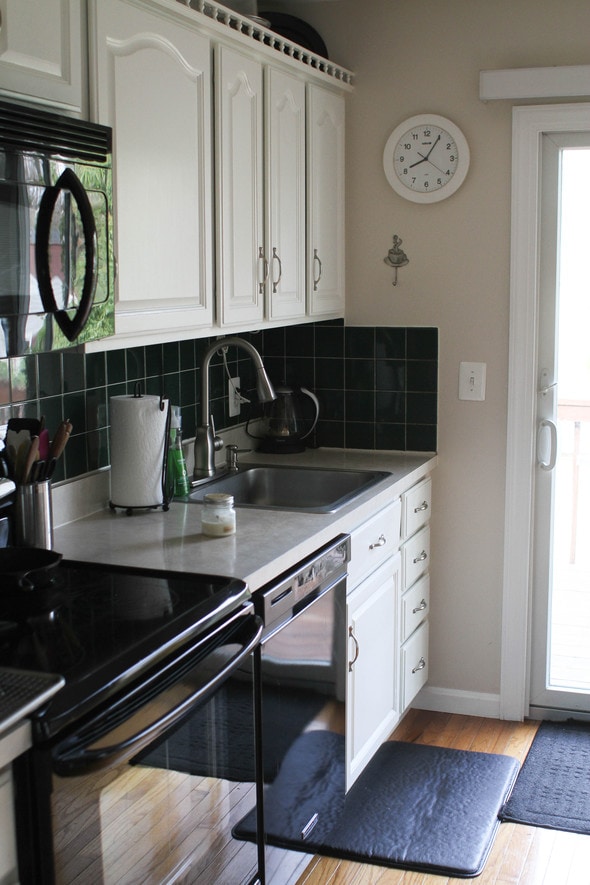 We still plan to eventually buy granite remnants to replace our old formica countertops, and we'll replace the green backsplash then too, because it won't match up properly with the new countertops.
Even when we do get new countertops, the total cost of bringing our kitchen more up-to-date is far, far less than the cost of a total remodel.
It's not perfect, but it's way, way better than it used to be.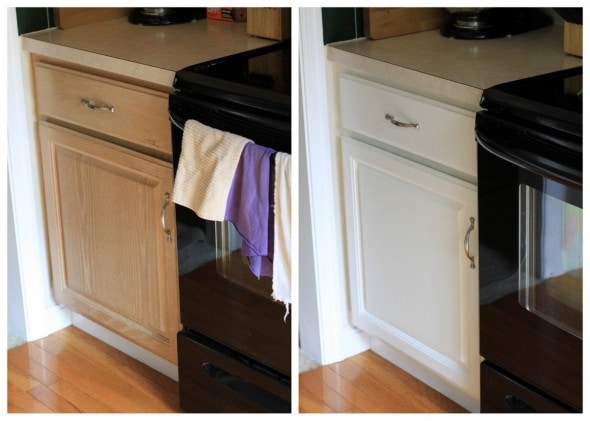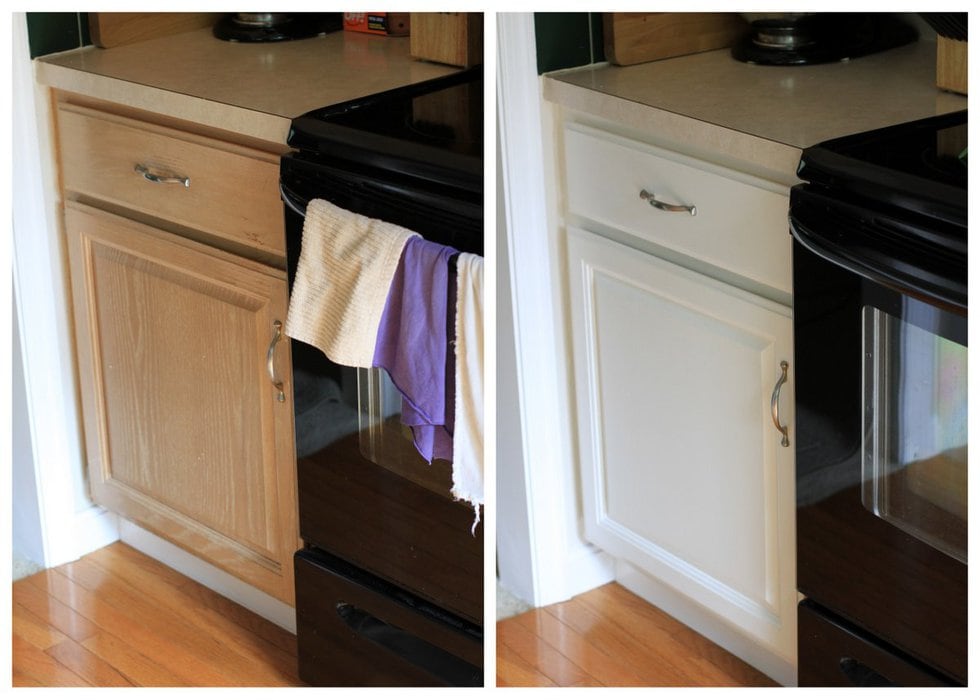 Declutter your kitchen items.
I may not be able to make my kitchen larger, but I can make my possessions smaller! I've pared down my kitchen items to the things I use regularly, and I've donated most of the rest.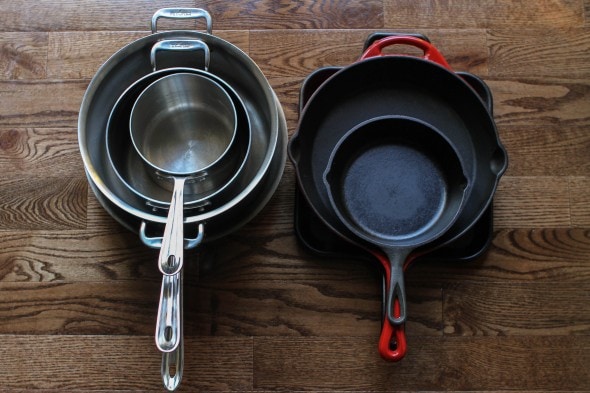 Keeping only what I really need in my kitchen helps it to feel more spacious.
(Here are the 7 pots and pans I use.)
Don't own lots of small kitchen appliances.
Because I don't have a pantry or deep cabinets or lots of counter space, it's hard to make room for appliances in my kitchen. So I keep those to a minimum.
Think outside the box.
I don't have a pantry, so I use some of my cabinets for food items.
(Decluttering kitchen tools helps free up room for that!)
I also have a rack in my laundry room that I use like a pantry.
Is it super handy?
Nope. It's about as far away from my kitchen as you could get without going outside. But it works!
And since I have little space for appliances in my kitchen, my grain grinder lives on a shelf in my coat closet and my electric griddle sits at the top of my linen closet.
(Owning minimal linens helps to free up space there.)
Focus on practicality.
Could my kitchen be more awesome? Yup.
But does it do what it's supposed to do?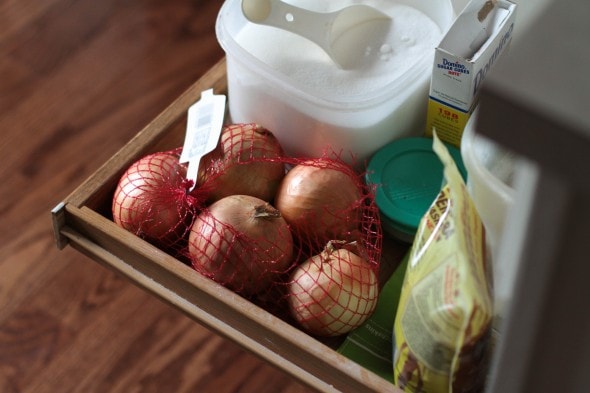 Well, yes. I mean, I've been churning out three meals a day for my family for over 10 years now, so I'd be hard-pressed to say this kitchen isn't working for me.
Consider how much harder you could have it.
When I feel like this amount of counter space I have is REALLY not cutting it, I remind myself of the women who for centuries before me have fed their families in teeny tiny kitchens with almost no counter space at all.
My own grandma had quite a small kitchen, no bigger than my own, but she raised four hungry boys there. And she cooked way more stuff from scratch than I do.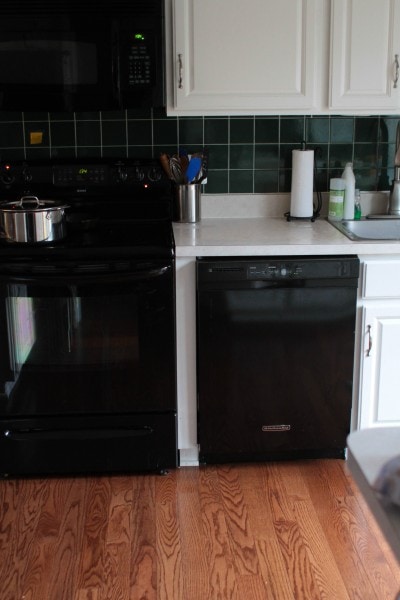 Or I think about Deb Perelman's (Smitten Kitchen) tiny NYC kitchen, where she cooks and blogs and writes cookbooks. If she can manage that in a teeny-weeny kitchen, then surely I can feed my family in my much larger kitchen.
And if I want to bring out the big guns to fight discontent, I think about how fortunate I am to have a kitchen at all, with workspace! and cleaning running water! and refrigeration! and electricity!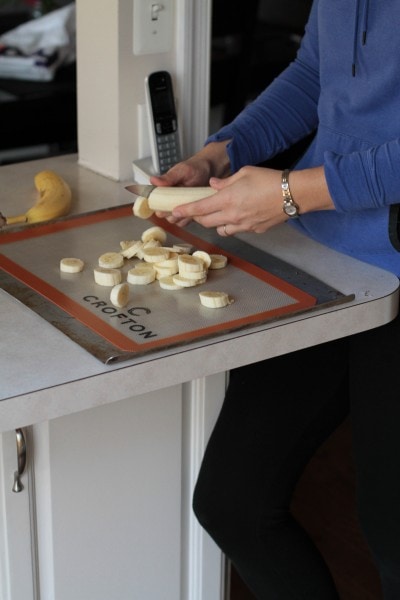 An awful lot of people would be delighted to have what I do, and that's good to think about.
Look at the upsides.
I can make a long list of downsides about my kitchen, but there are also upsides.
-The existing backsplash and formica counters are not a terrible color. The counters could be mauve, or the backsplash could have tiles with turkeys* on them, you know? I'm so fortunate that they're both pretty neutral.
*You did notice the overwhelming poultry theme in the original photos, right??
-I have a big sliding glass door in my kitchen, which gives me a pretty decent place to take pictures, even in the winter.
-My cabinets are solid wood, they have classic lines, and they look pretty good now that they're painted white.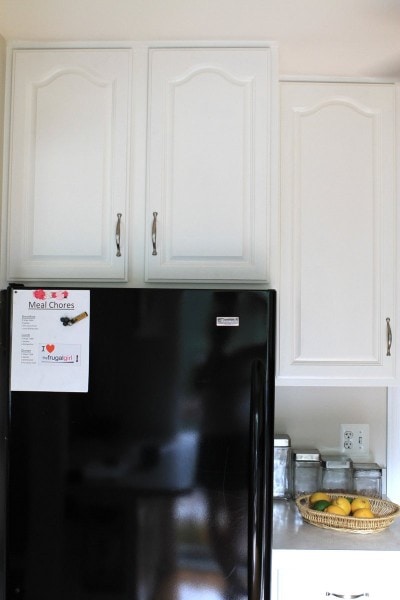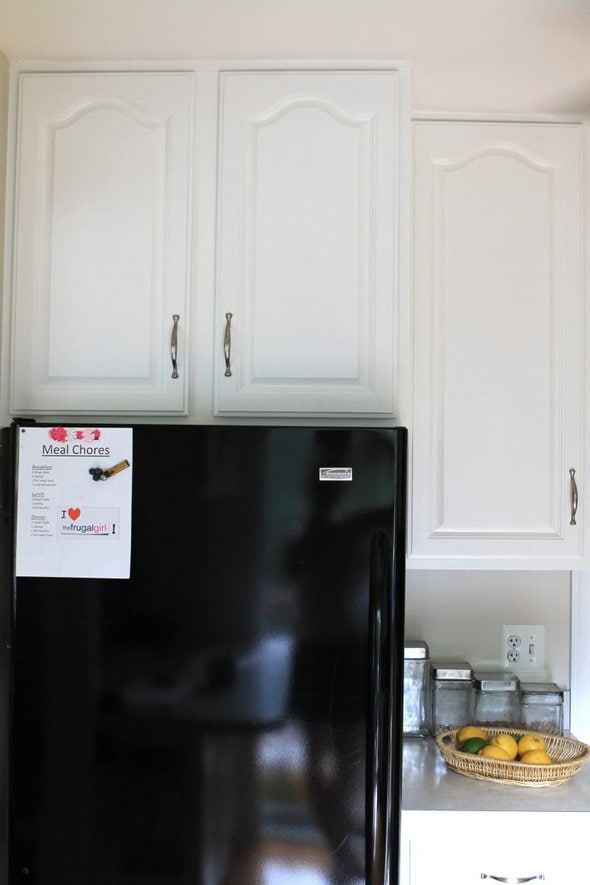 -My wood floors are beautiful.
-I have enough cabinets to house what I need to cook.
-I have one large-ish counter area that works nicely for food prep/kneading.
-Two of my cabinets have sliding drawer/shelves, and I love, love, love them!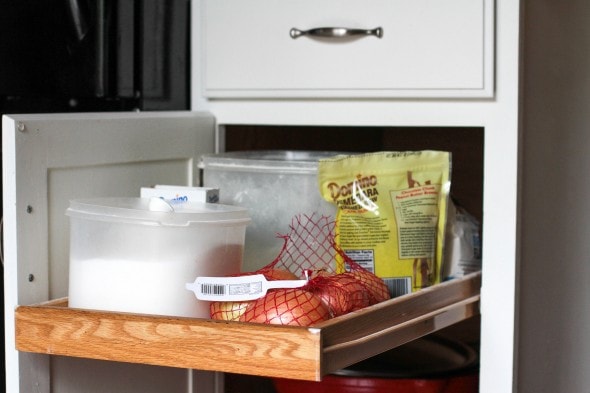 -Since my formica counters are old and scarred, I don't stress if they get further scarred.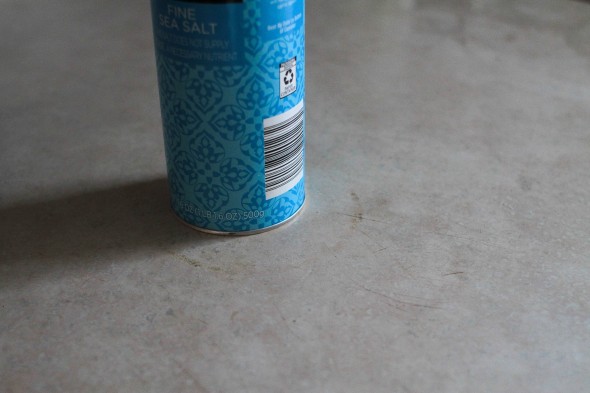 -There's an open pass-through type area between the kitchen and dining room, which helps it to feel a bit more open.
Whew.
In case you got lost in the forest of words above, here's a review:
Fix what you can
Declutter your kitchen stuff
Don't own lots of small appliances
Think outside the box
Focus on practicality
Consider how much harder you could have it
Focus on the upsides
I'm sure there are some other kitchen contentment techniques out there…would you share yours in the comments? What helps YOU shoo away the clouds of kitchen discontent?