(Note: if you happen to be one of those lucky people who doesn't sweat, you can just skip right over this post.)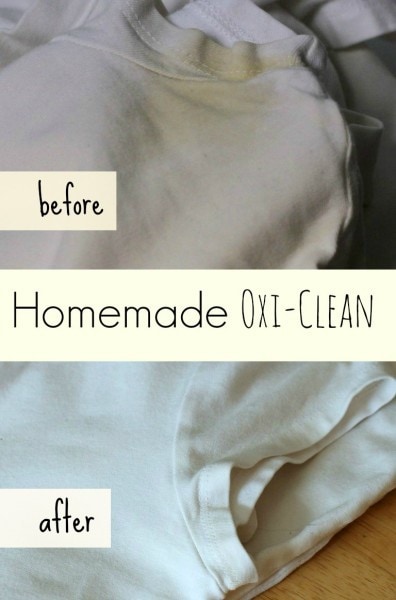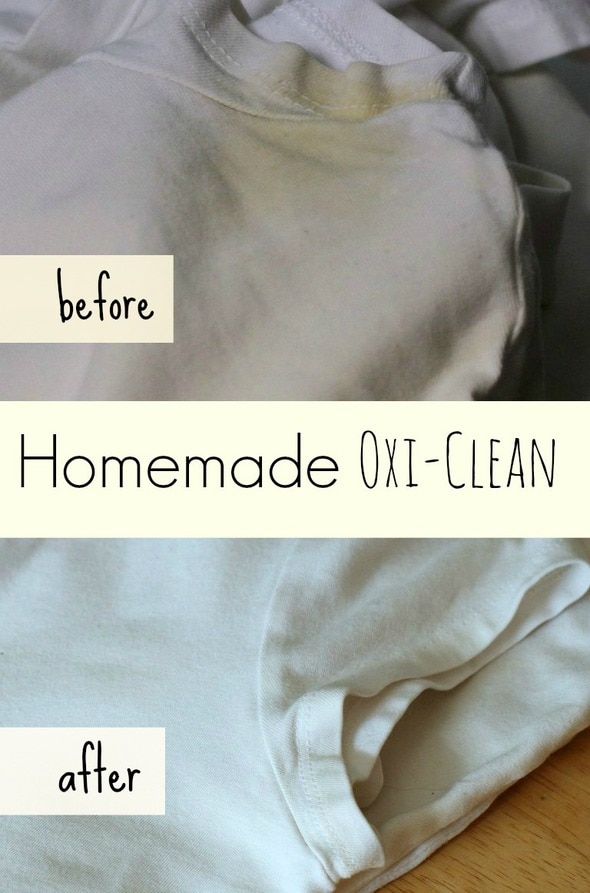 When I posted about what I'm doing about my clothes, I mentioned that I had a pile of shirts with deodorant stains that I was going to try to clean.
I had done some googling and it appeared that Oxi-Clean was indeed the ticket to success (which I vaguely remembered, though it's been a while since I've bought any).
Since I didn't have any in the house, I searched for a homemade version, and all the recipes I came across combined hydrogen peroxide, baking or washing soda, and water.
(I used the recipe that Money Saving Mom posted , which she got from this blogger.)
You just mix up the ingredients, pour it on the stained part, let it sit overnight, and then launder it.
Here's a before of one of the bad shirts.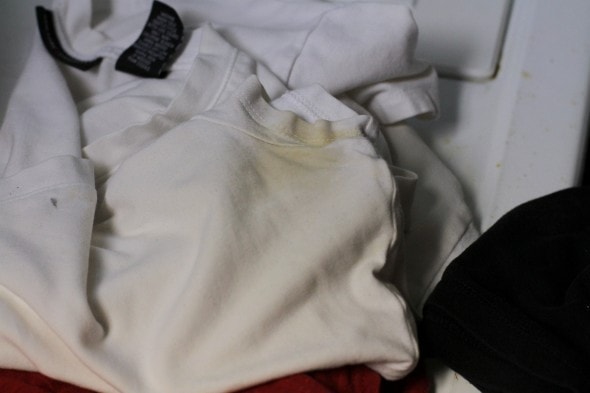 Here it is (along with a few other shirts) with the "oxi-clean" applied.
(I put them in my cooler just to have a contained spot to let them sit. The cooler is not actually necessary!)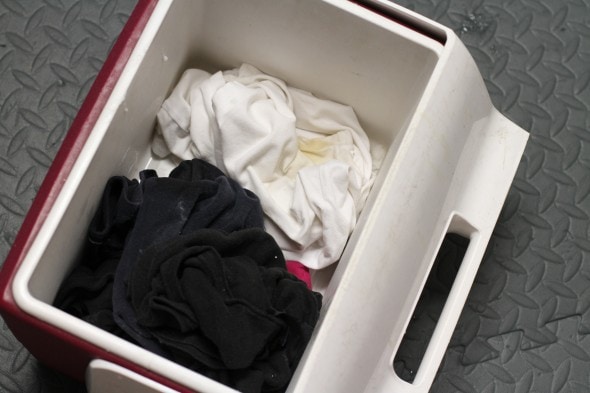 After an overnight soak, I washed the shirt, and it looked a whole lot better. It wasn't quite perfect, though, so I gave it another treatment and this time it came out of the wash looking almost new.
Seriously, isn't that amazing? I would never in a million years have guessed that this shirt could look that clean again.
And it smells really fresh…no lingering odors anymore!
This gave me new hope for lots of my shirts, so I've been on a tear with the homemade Oxi-Clean, applying it to all the shirts I'd mentally filed in the hopeless pile. I'm so, so delighted to be able to make them like new again.
The proportions I use are as follows:
Homemade Oxiclean
1/2 cup baking soda or washing soda
1/2 cup hydrogen peroxide
1 cup water
Mix all ingredients together and pour over stains. Let garment sit overnight, then launder as usual.
A few notes-
Baking soda and washing soda appear to work equally well, so I'd just use whatever you have on hand.
This has worked like a charm on my darker colored shirts as well as my white shirts.
The very best results come from shirts that haven't been put in the dryer because the stains aren't heat-set. I've still had great success with previously dried clothes, though (the shirt in this post is one that routinely visited the dryer.)
For a less watery mixture, once I just mixed up the soda and the peroxide without the water and that seemed to worked fine too.
I read in multiple places that this mixture loses its effectiveness if you mix it up ahead of time, so just mix it when you're going to use it right away.
Feel free to halve the recipe if you only need a small amount.
When I've mixed this up, the soda has never quite dissolved completely, but that doesn't seem to keep it from working.
Ok. That was actually a lot of notes, not a few.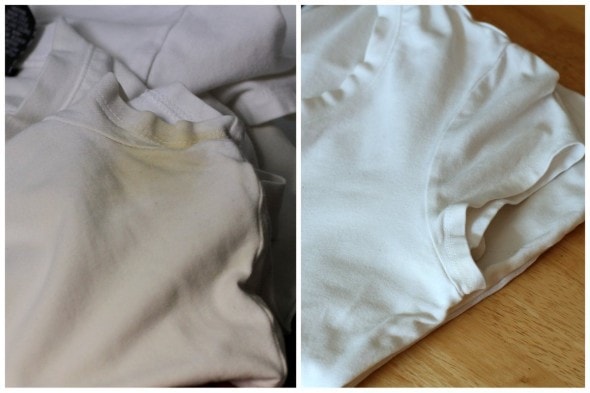 Hydrogen peroxide is dirt cheap, as is washing soda or baking soda. And of course, water is nigh onto free, so this mixture costs very little, and I'm sure it's less expensive than using real Oxi-Clean.
However, a reader told me that Dollar Tree has a really inexpensive private label brand of Oxi-Clean, so if you're comparing that to this homemade version, I'm not sure which would come out ahead.
Since I already keep these ingredients around the house, though, I'm inclined to stick with the homemade version so that I don't have to keep another container in my laundry room.
Edit: I tried the dollar store version, and concluded that it is not as effective on underarm stains as the homemade version.
______________________________
Have you ever tried this? If you haven't, and you've got stubborn stains to deal with, you totally should. It's kind of addicting, actually.