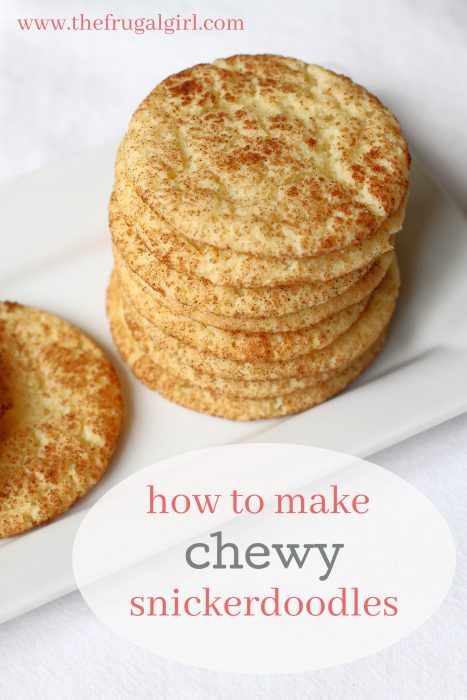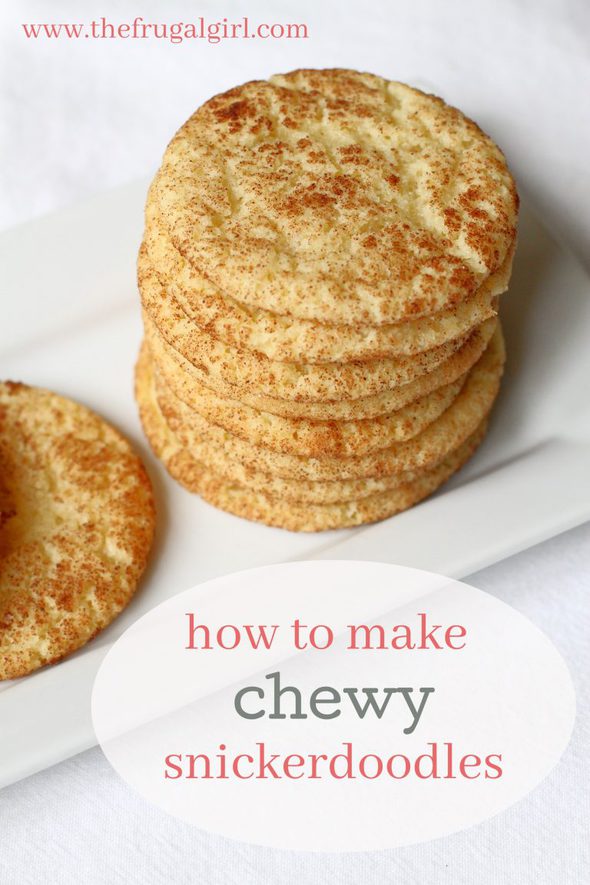 Recently, I was out with Mr. FG for dinner and I saw a big snickerdoodle cookie at the cash register.
I hadn't had a snickerdoodle in ages, so I decided to give it a try.
Friends, let me tell you:
It was a crushing disappointment of a cookie.
The flavor was kind of ok, but the texture was just all kinds of wrong.
Cookies should not be disappointing…otherwise, what IS the point of eating them??
So I decided I needed to dust off the recipe and make a batch of proper snickerdoodles at home.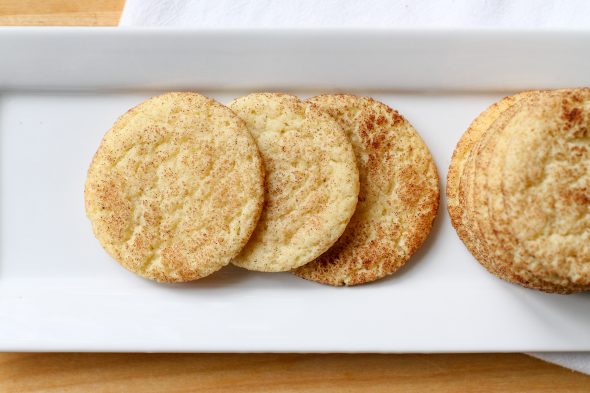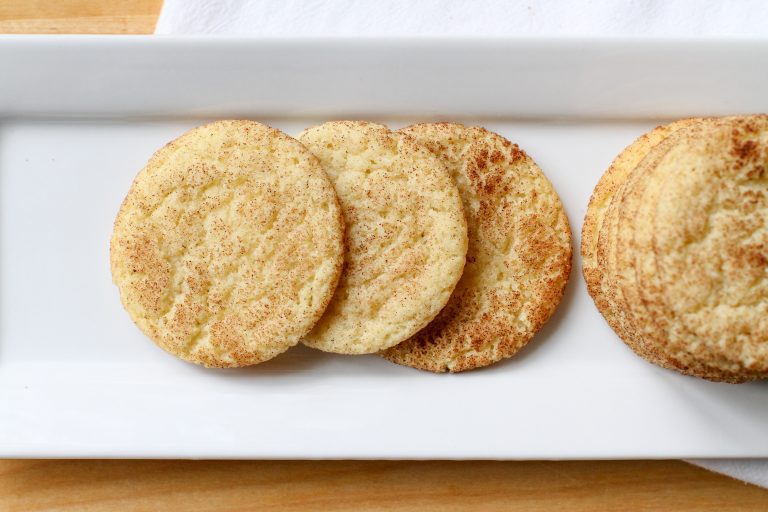 They were SO much better. Chewy middles, crispy edges!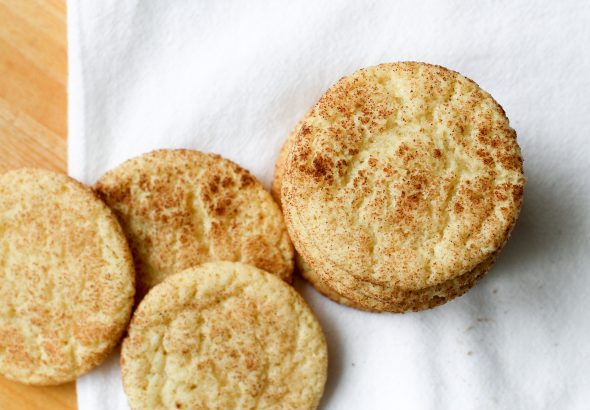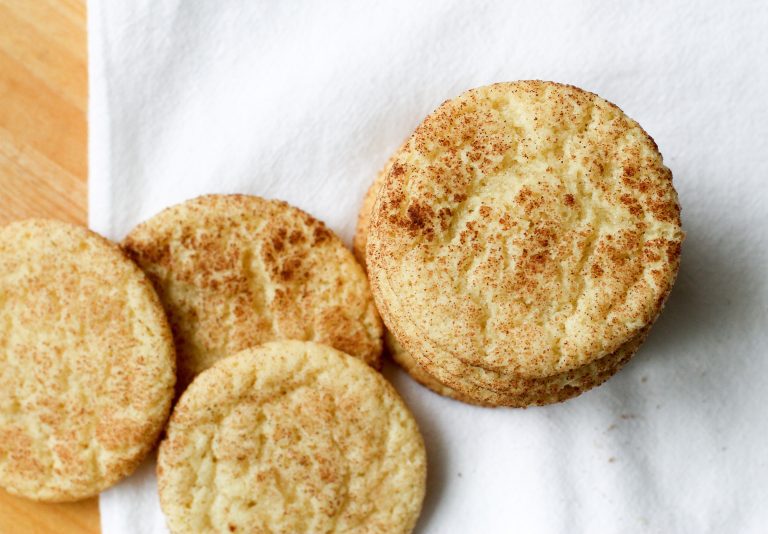 I shared this story on Instagram, and much to my surprise, some of my readers didn't know what a snickerdoodle was.
And I got some recipe requests.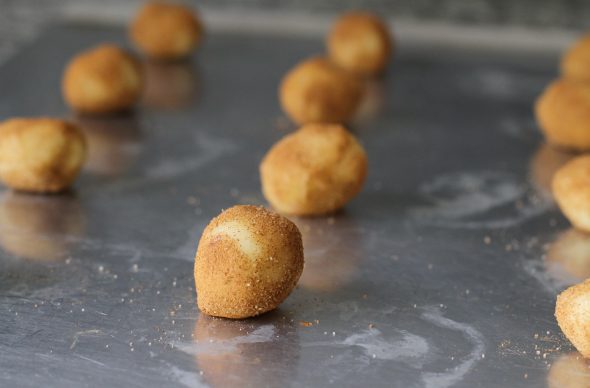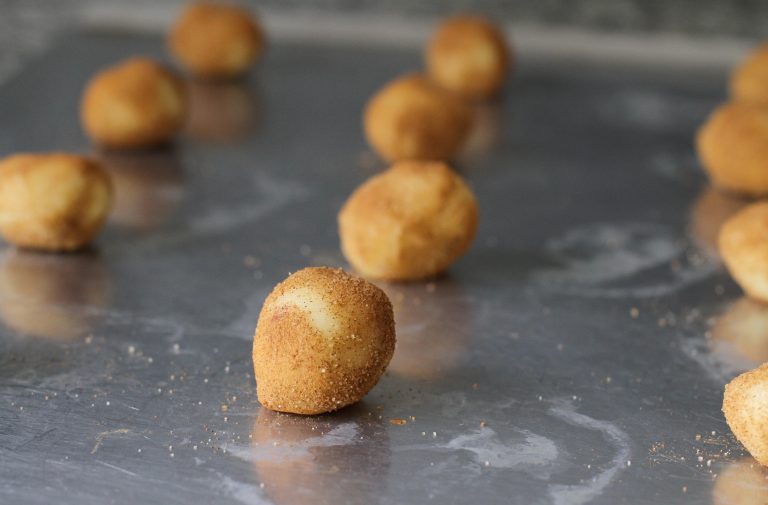 I thought snickerdoodles were nearly as common as, say, chocolate chip cookies, so it had never occurred to me to post the recipe!
What IS a snickerdoodle?
It's basically just a sugar cookie that's rolled in cinnamon sugar before baking.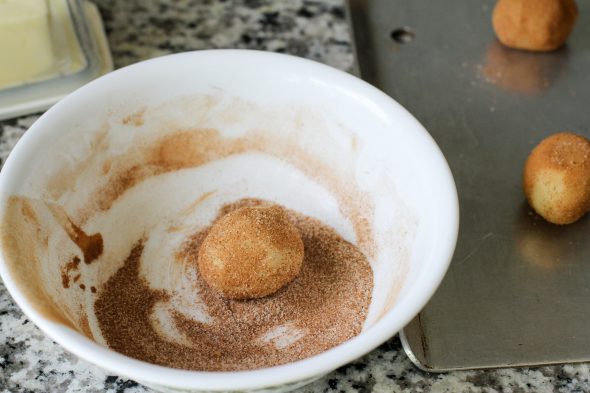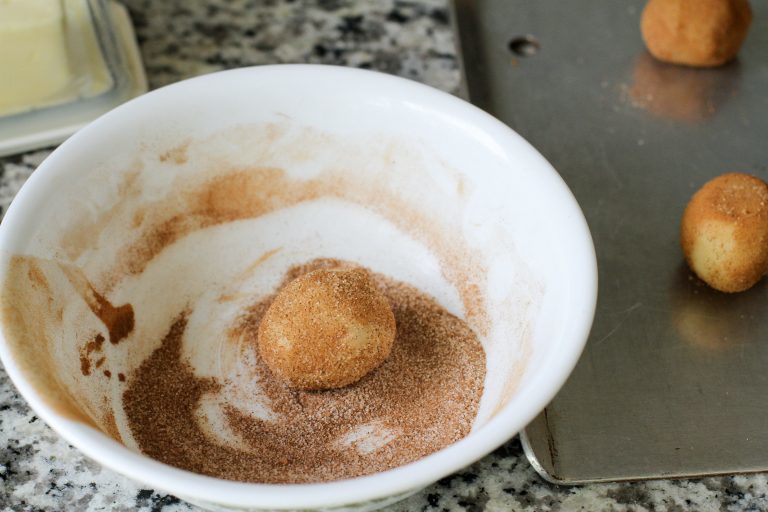 Snickerdoodles usually include cream of tartar as a leavener, and they have crackly tops and a chewy texture.
(At least, they SHOULD. The cookie I got at the restaurant was completely lacking in chewiness!)
I've seen some photos on the internet of snickerdoodles that are taller and sort of cakey looking (here's an example), but I think they should be flat and chewy.
What's with the name of snickerdoodles?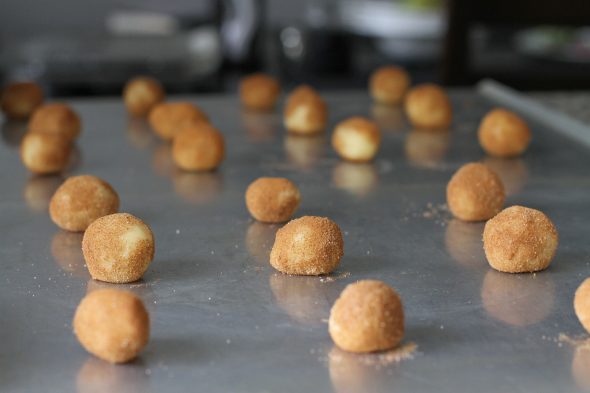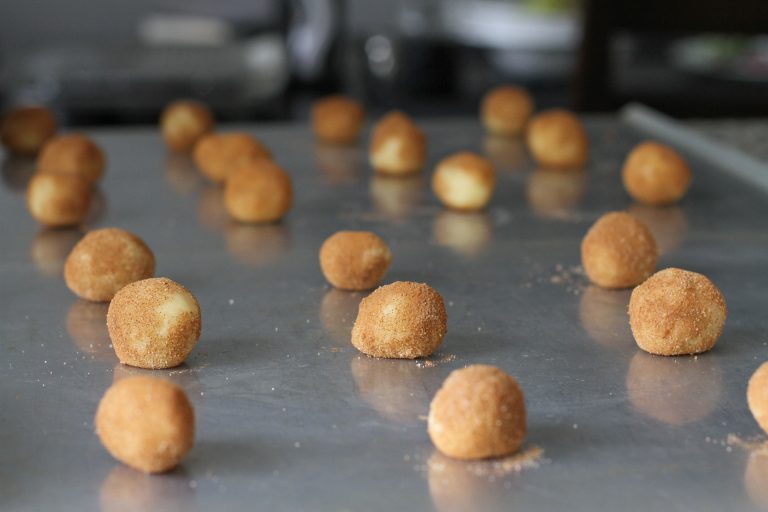 The origin of the snickerdoodle name seems to be a little ambiguous, but the Joy of Cooking says, "Snickerdoodles are probably German in origin, and the name is a corruption of the German word Schneckennudeln, which means 'snail dumpling."
Other sources say it's just a fun nonsense name. Who knows?
Regardless, they're really easy to make and I've never met someone who didn't like them.
A few Snickerdoodle tips
It's very important for your butter to be room temperature or the cookie texture will be wrong.
Be sure you have fresh cream of tartar on hand.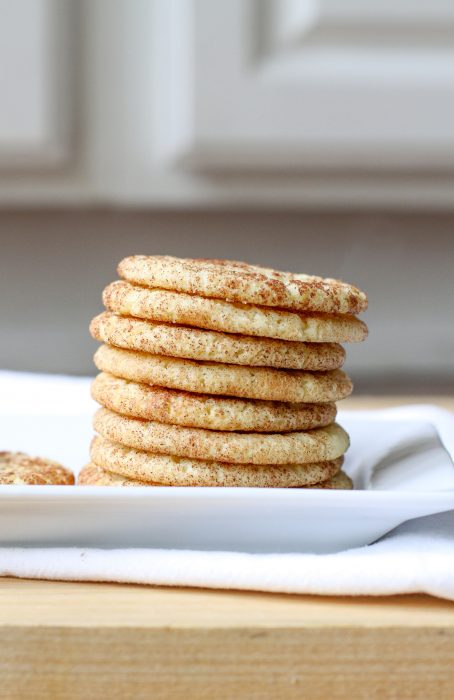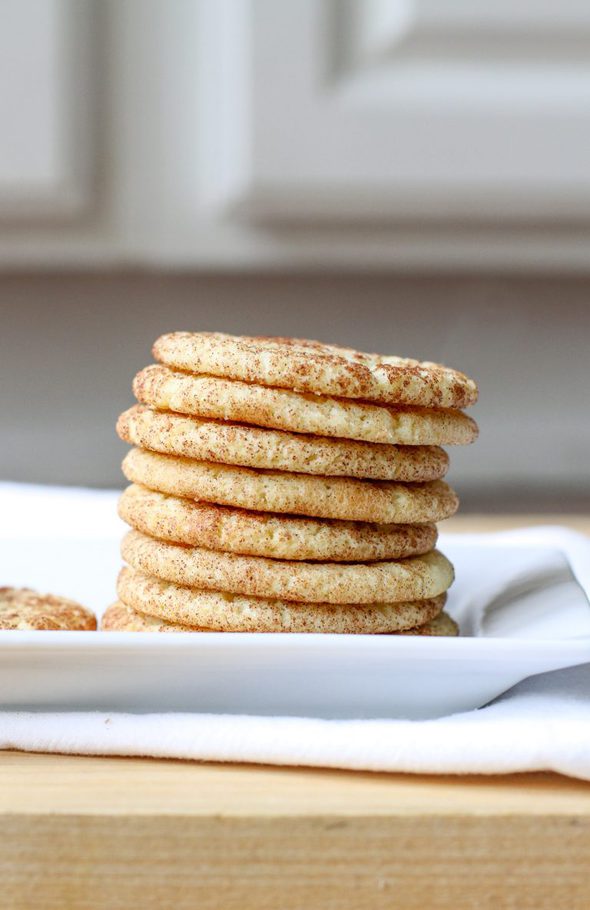 To make sure your cookies are chewy, take them out when they still look slightly wet in between the cracks.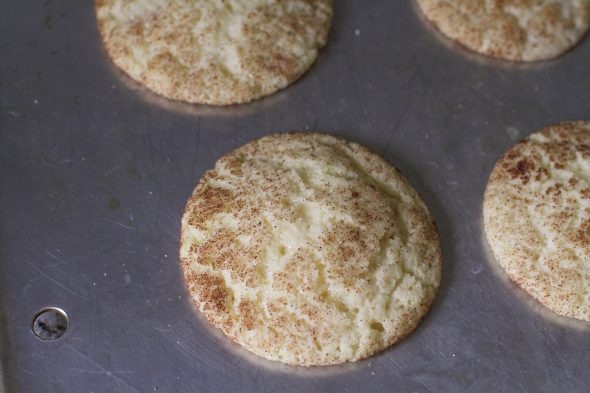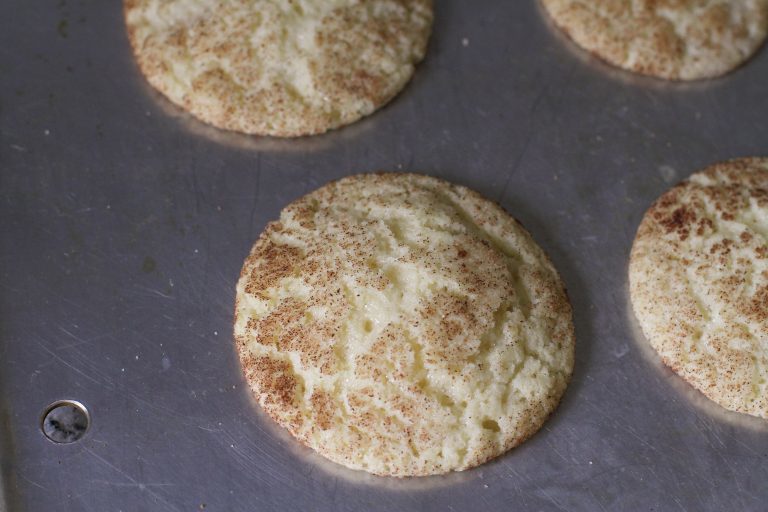 You can freeze the unbaked dough balls for fresh cookies later. I like to freeze half and bake half.
You can use half shortening and half butter, but I go with all butter.
I hope you enjoy these!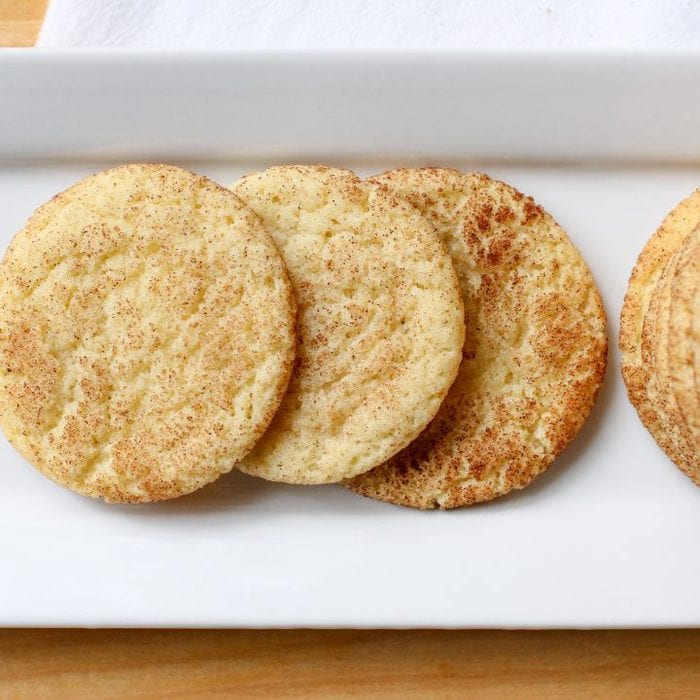 Snickerdoodles
These cinnamony cookies are easy to make and taste so much better than the store-bought version.
Ingredients
1 cup (two sticks) butter, at room temperature
1 1/2 cups granulated sugar
2 eggs
2 3/4 cups flour
2 teaspoons cream of tartar
1 teaspoon baking soda
1/4 teaspoon salt
2 tablespoons sugar
2 teaspoons cinnamon
Instructions
Heat oven to 350°F.
Cream butter and sugar together; stir in eggs.
Combine dry ingredients in a separate bowl, then add to butter mixture and stir until no dry flour remains.
Mix 2 T sugar and 2 t. cinnamon together in a small bowl.
Roll dough into 1 1/4 inch balls; roll each ball in cinnamon and sugar to coat, then place on ungreased baking sheets.
Bake cookies in preheated oven for 8-10 minutes, or until barely set. Remove from oven; let cool on cookie sheet briefly, then remove to the counter to fully cool.
Store in an airtight container.
Notes
You can freeze the unsugared dough balls so that you can bake fresh cookies multiple times. I let them thaw completely, roll them in cinnamon sugar, and then bake.
Nutrition Information
Yield

48
Serving Size

1 cookie
Amount Per Serving
Calories

90
Total Fat

4g
Saturated Fat

3g
Trans Fat

0g
Unsaturated Fat

1g
Cholesterol

18mg
Sodium

71mg
Carbohydrates

12g
Fiber

0g
Sugar

7g
Protein

1g