Sonia is turning 7 today!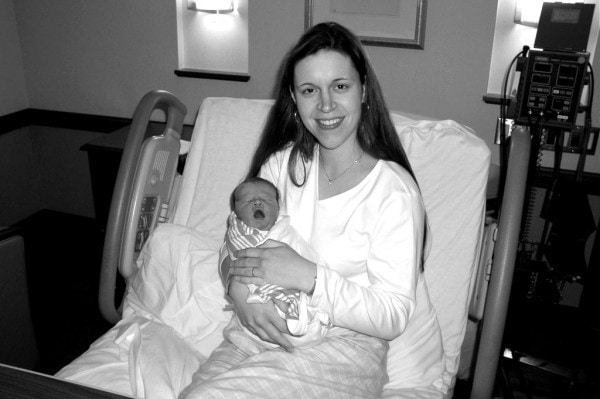 (Sonia's less than 24 hours old here, which explains why I look kind of tired.)
It's hard to believe that someone so small could actually be 7 years old, but it's true.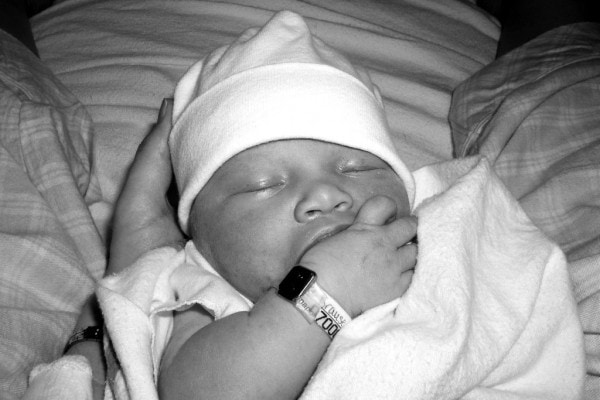 There's a 3 year gap between Lisey and Sonia, so Lisey had enjoyed a good long run as the baby of the family. I love these two pictures of her with Sonia because they perfectly express how she felt about having a new baby around.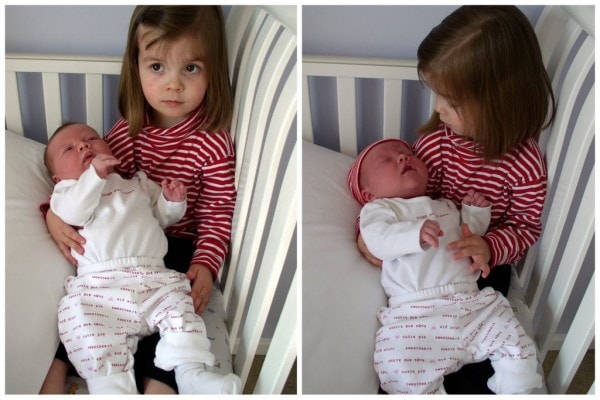 She did eventually come to terms with it, but it took a while!
Joshua, though, was quite the proud big brother from the start.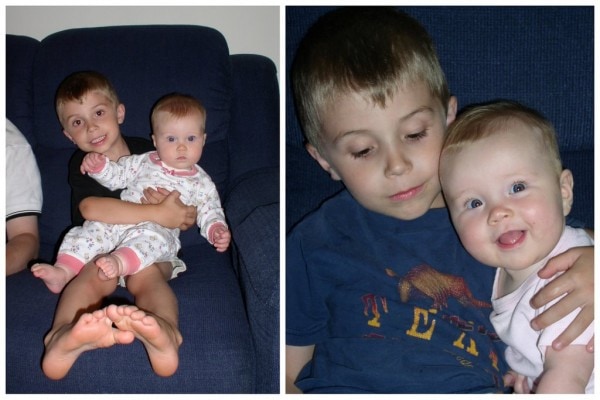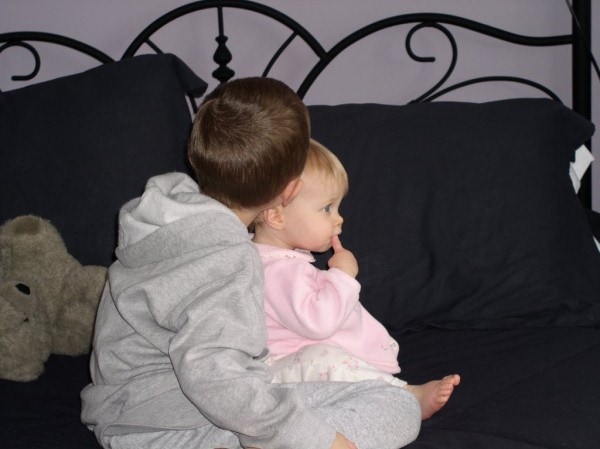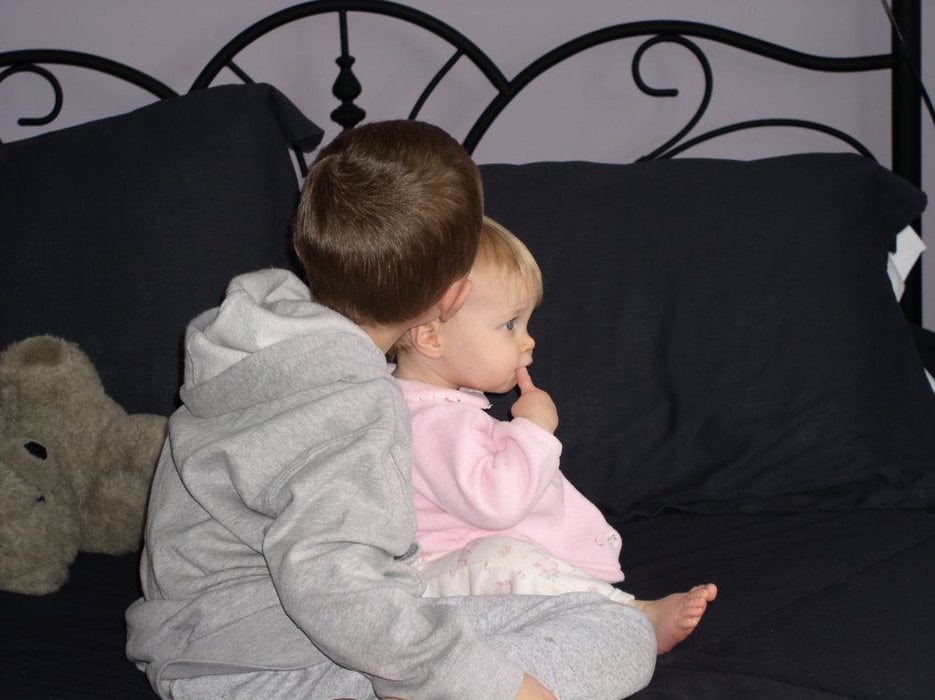 Just for fun, here are some pictures of Sonia through the years. This is her first birthday cake.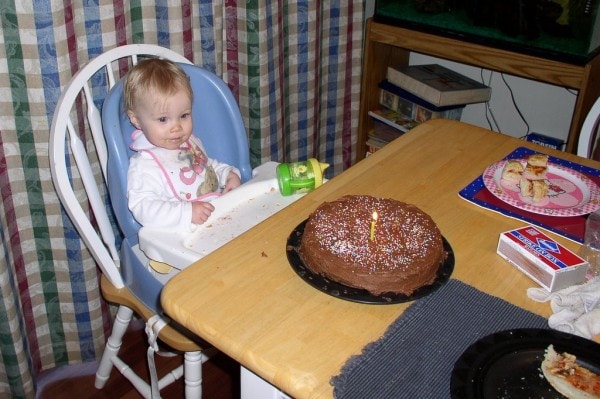 (this cake and all the other ones in these photos are my not-from-a-box chocolate cake recipe)
This one was taken right about when she turned 2.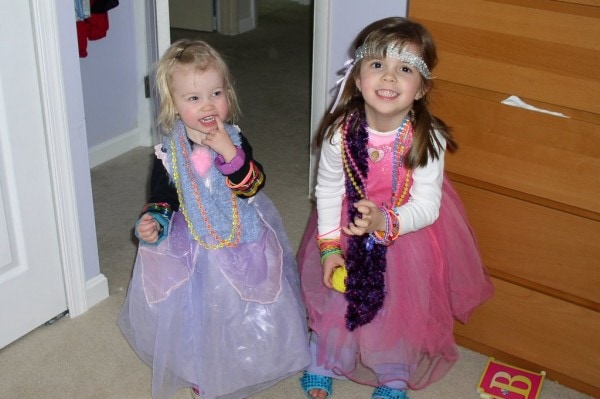 When Sonia was 3, she was waaay into "sprinklies", so this was her cake of choice.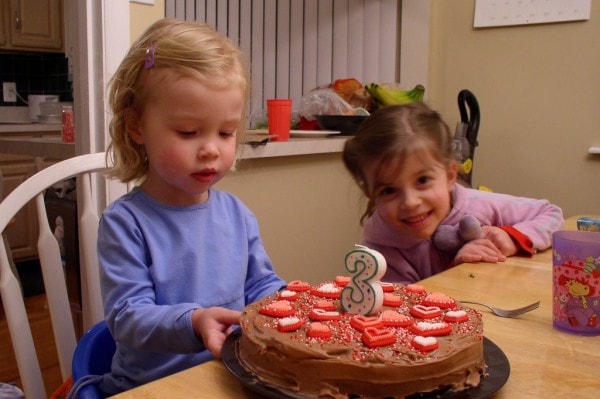 Here's a 4 year old Sonia (I'd gotten my SLR recently, but I had a not-so-great lens, and was kinda clueless about my camera anyways!).
Here she's licking the birthday cake frosting for her 5th birthday cake (and we notice that I now have a lovely lens for my camera).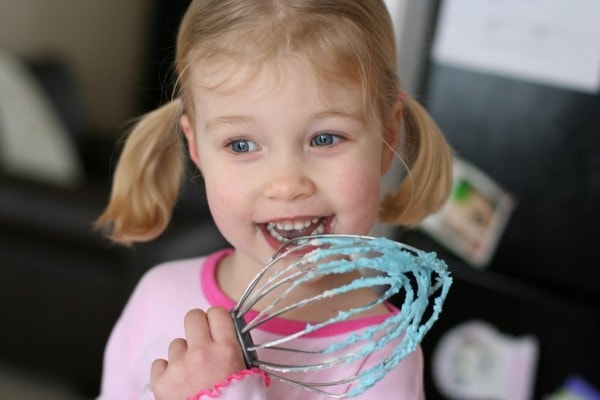 And here she is just last year, at the age of 6.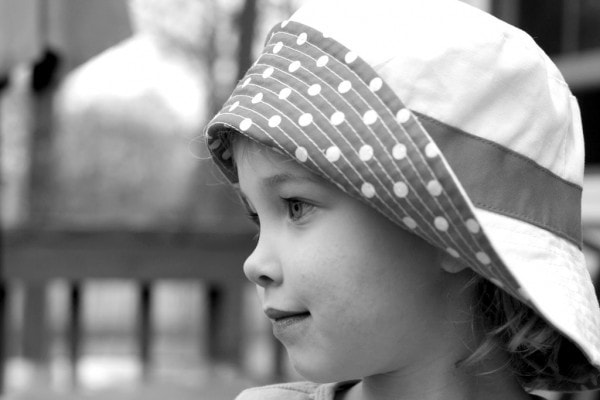 Happy birthday, Tooties! We love you to pieces.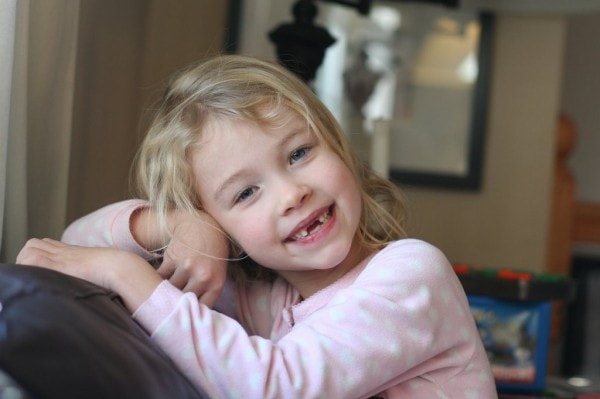 (Sonia often looks like she's been posed by a mall photographer…she's always doing the arm shelf kind of thing!)
Our Paint Bin
Yesterday's 365 question was apparently much easier than I thought. 😉 The paint container in question is indeed an old refrigerator shelf. It was an extra from our old fridge, and it works very well as a corral for our watercolors and paintbrushes.

Painting at our house is an activity that needs pre-approval from me, so this container lives in the cabinet above the fridge, far out of Sonia and Zoe's reach. 😉
Wednesday Baking
In my quest to simplify my life a little bit, I'm going to turn Wednesday Baking into a slightly more occasional feature. Wednesday Baking posts are without a doubt the most labor-intensive type of post I do (and maybe because of that, I don't enjoy writing them as much), so running them a little less frequently will help to free up some time and also not make Wednesday blogging feel like a chore.
Because I don't want blogging to be a chore. Blog authors who feel like blogging is a chore end up with blogs that read like a chore, and I don't want to end up there.
Joshua's 365
Joshua was gone this past weekend visiting his best friend, so he got a little behind on his blogging. But there are several new posts up on his blog, so go check them out. 😉
Now I'm off to work on birthday stuff…gotta make and frost a cake, wrap presents, make Sonia's birthday dinner, and pick up her cousin (who is sleeping over tonight).
And I have a nagging feeling that there are a number of math papers that need correcting as well. Boo.
Have a happy Wednesday!
Today's 365 post: Where DOES the clutter come from?