Both when I posted this photo in September (while we were on vacation) and when I used it as an illustration for my Walmart post, several people have been vaguely horrified at the pile of plastic bags in the back of my van.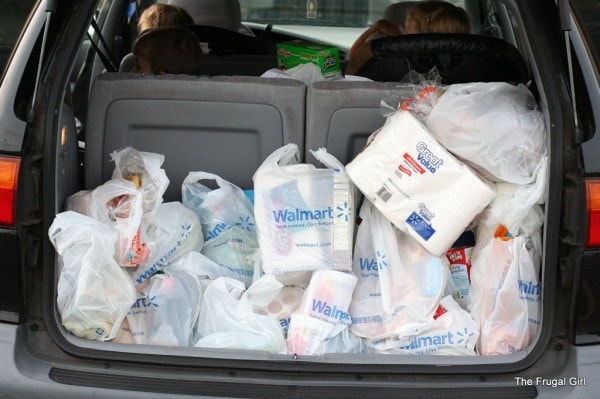 So, to make you feel better, here is a picture of what the back of my van usually looks like after a grocery shopping trip.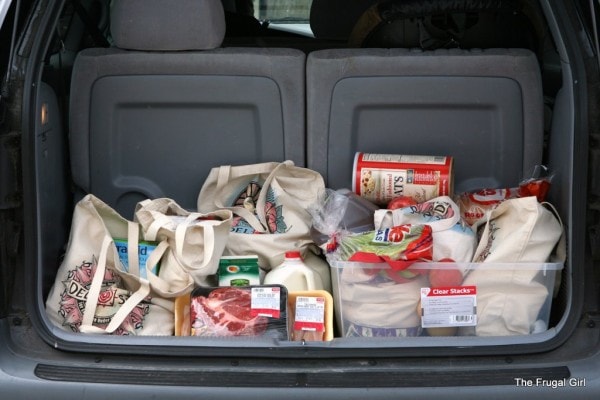 See? I really do think reusable bags are the way to go (yay for reducing plastic consumption!). I bring my reusable bags with me when I shop, almost without fail. It's only on vacation that I end up using plastic bags, and that's because my reusable bags are filled with beach towels, sand toys, and shoes (they double as luggage in our house!). Incidentally, I ended up being highly grateful that we got plastic bags because on the way home from vacation, one of our kiddos came down with a stomach bug, and reusable bags are nowhere near as handy as plastic bags in that situation. 😉
Here's the stuff that was inside my reusable bags (I apologize for the dizzying effect this photo angle may have upon you…I will not do that again!).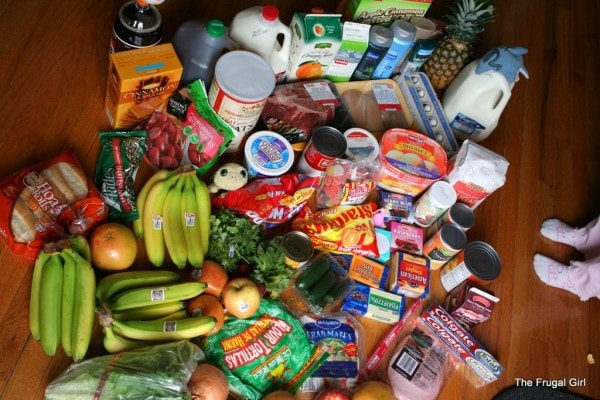 You might be wondering why in the world I bought 3 whole bags of candy…stay tuned, and I'll show you later this week. 😉
For breakfast this week, we'll be eating muffins, oatmeal, toast, yogurt, bananas, and maybe some granola if I manage to make some.
Lunches will be homemade yogurt, yogurt smoothies, fruit, sandwiches, and leftovers as necessary.
And here's our dinner plan:
Saturday-Due to a belated menu planning session, we ended up having our usual Saturday night pizza on Thursday (this confused Zoe no end…she was sure it was Saturday night because we were having pizza!). So tonight's meal is the meal originally slated for this past Thursday.
Seafood Subs (on purchased buns, no less. Chalk this up to chef who is a little overwhelmed right now!)
potato chips
fruit salad
Sunday
Monday
Chicken Tacos
fruit salad
chips and fresh salsa
Tuesday-This is Sonia's birthday, so she's picked this meal. 60,000 bonus points to her for choosing such an easy meal, because her birthday falls on my piano teaching day this year!
Grilled Cheese Sandwiches (that's what the loaf of purchased bread is for)
Chicken Noodle Soup
Jello (a combo of Berry Blue and Rasberry…she chose these at the store herself)
Birthday Cake and Ice Cream
Wednesday
BBQ Beef Sandwiches
green salad
Thursday
Friday
Orange-Honey Glazed Chicken Breasts
green beans